The Canadian Liberal Party's anti-Islamophobia motion, M-103, is not a law; it is a non-binding formal proposal, an opinion by Parliament. The motion's text calls on the government to "condemn Islamophobia and all forms of systemic racism and religious discrimination."
However, the House of Commons Heritage Committee heard on September 27 that it is more likely to lead to "thought control, oppression, disharmony and criminalization of non-Muslims, " according to the National Post.
The hearing also revealed that there are many doubts about the motion's vague language. Committee members spent much of the time, the National Post added, trying to explain exactly what M-103 means.
The controversial motion passed 201 votes to 91 in March, after months of bitter debate, and protests and counter-protests, across Canada, and in the aftermath of the January 29 mosque shooting in Quebec City, where six Muslim men were murdered.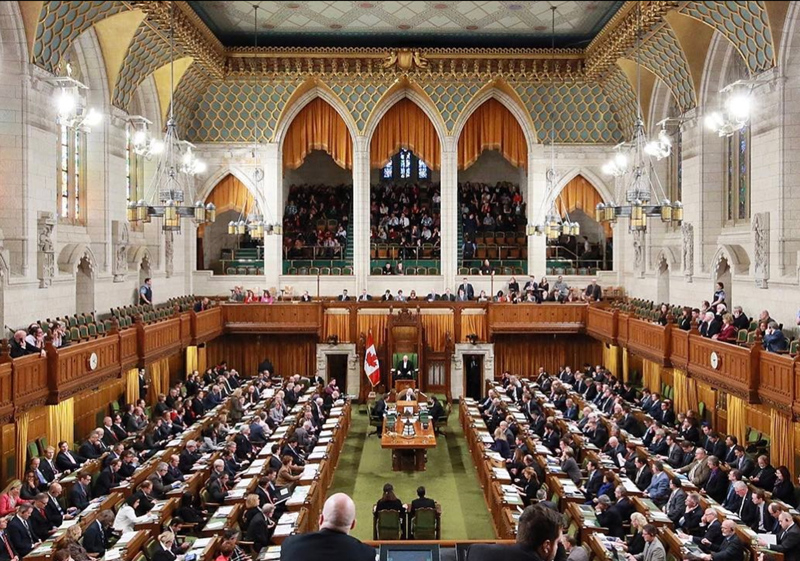 (Image source: Parliament of Canada)
Careful, objective reading of the latest hate crime statistics in Canada, for 2015 (released in June 2017), exposes that the motion is biased in both its wording and priorities. It is also an act of favoritism in that it singles out Islam and only Islam for special treatment.
The motion sets forth the term "Islamophobia," mentions it twice by name, places the government's condemnation of "Islamophobia" first, and "all forms of systemic racism" and "religious discrimination" only after it.
This privileging could lead many Canadians and others believe that Islamophobia is now the greatest hate problem and crime in Canada.
Meanwhile, statistics show that out of all hate crimes reported to the police in 2015, the highest (48%) were motivated by hatred of a race or ethnicity while the next highest (35%) were motivated by hatred of religion.
Statistics also indicate that of all hate crimes, 17% targeted Black people and 13% targeted Jews, while only 12% were against Muslims. So, if one has to single out a specific population in Canada because it is the most frequent victim of hate crime, they should single out Black people.
Considering the relative sizes of each of the Jewish and Muslim communities, the estimated rates of hate crimes per 100,000 individuals who reported that they were Jewish was 54, and for Muslims 15.1 -- meaning that Jews were 3.58 times more likely than Muslims to be the victim of a hate crime
Although statistics show that hate crimes against the Muslim population increased by 61% and against Catholics by 57%, those against Jews declined by 16% in 2015. Jews, however, are still the targets of more hate crimes than Muslims and Catholics.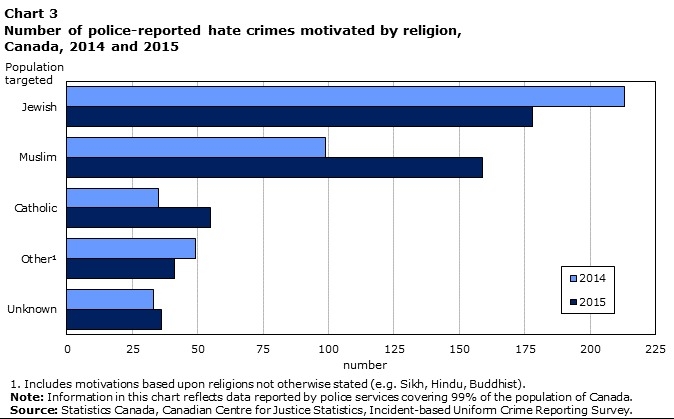 (Image source: Statistics Canada)
All attempts to amend the motion have so far not been successful.
An amendment put forward by Conservative MP David Anderson to remove the word "Islamophobia" and include all religious communities was rejected by liberals, CBC News reported.
Even though at this stage, M-103 is non-binding, as one of its supporters -- Samer Majzoub, president of the Canadian Muslim Forum and affiliated with the Muslim Brotherhood -- wrote, "Now that Islamophobia has been condemned, this is not the end, but rather the beginning."
It sounds as if the next step is to try to make a non-binding resolution binding; and as if the eventual aim is to reinforce and legitimize the term "Islamophobia," to limit freedom of speech, and to prevent Canadians from criticizing radical Islam, Islamic sharia, and practices such as wife- beating, honor killing and female genital mutilation (FGM).
Fear or anger toward radical Islam and Muslims are unlikely to be caused by an "irrational hatred and fear of Islam," or "Islamophobia". They are, however, likely to be triggered by global radical Islamic terrorist attacks and more people becoming aware of the aggressive and intolerant nature of many Quranic verses, of the Muslim Prophet's hadiths, of what Canadian Muslim clerics are preaching and of radical Islam.
Islamists and even some mainstream Muslims talk and behave in ways that reflect both supremacy and victimization; both faces are recklessly adopted by many in the governments, parliaments, academia, and media of the West. This awareness, in turn, might well provoke perfectly rational fear among non-Muslims.
A.Z. Mohamed is a Muslim based in the Middle East.