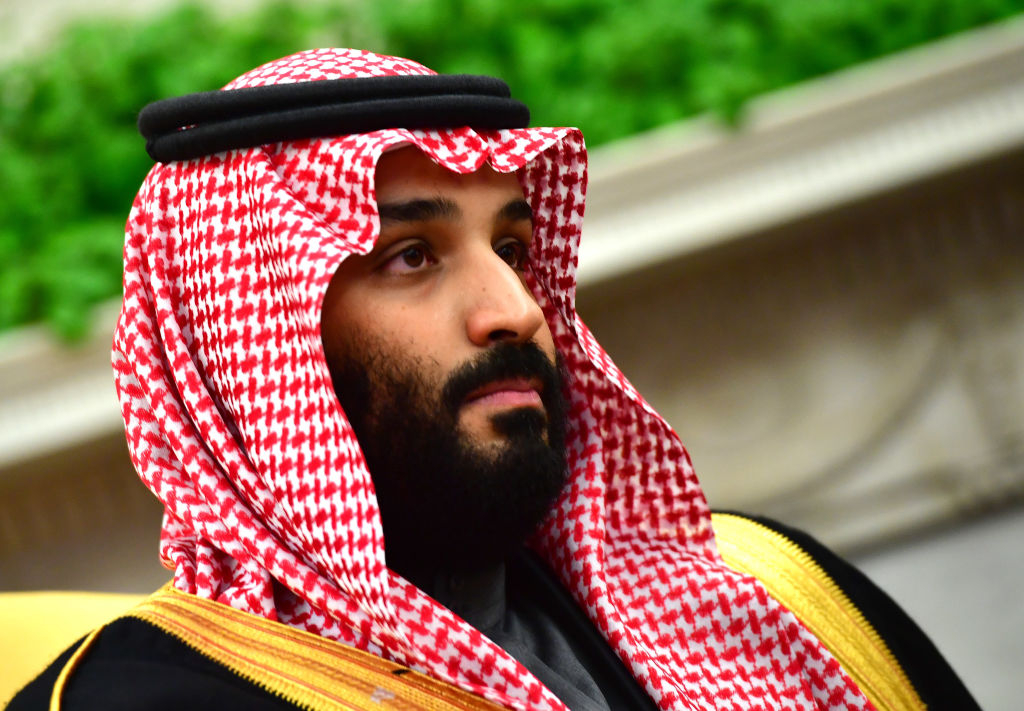 Saudi Arabia's Vision 2030, the strategic plan of Crown Prince Mohammed bin Salman to boost the kingdom's economy, is facing a major challenge. (Photo by Kevin Dietsch-Pool/Getty Images)
Saudi Arabia's Vision 2030, the strategic plan of Crown Prince Mohammed bin Salman (MBS) to boost the kingdom's economy, is facing a major challenge. Its cornerstone -- the opening up of the state-owned oil company Saudi Aramco to outside investors -- is possibly being postponed by at least a year, to 2021.
Since early 2016, the Saudi government, Aramco's sole shareholder, has been working to place up to 5 percent of Aramco on the stock market. In October 2017, MBS told Reuters that Aramco's IPO was on track for 2018, and that it could be valued at more than $2 trillion. In an interview in Washington, DC in March 2018, Saudi Arabian Energy Minister Khalid al-Falih said, "We have prepared all documentation to be ready to do both domestic and international listings." He added, however, that the kingdom needed to be sure whether "this [is] an optimum time to execute."
Falih also said that a New York exchange is in the running for the IPO, but Saudi officials needed to weigh the potential legal risks of a listing in the United States, due to possible "frivolous lawsuits and litigation." He was likely alluding to the Justice Against Sponsors of Terrorism Act (JASTA), which states:
"Persons, entities, or countries that knowingly or recklessly contribute material support or resources, directly or indirectly, to persons or organizations that pose a significant risk of committing acts of terrorism that threaten the security of nationals of the United States or the national security, foreign policy, or economy of the United States, necessarily direct their conduct at the United States, and should reasonably anticipate being brought to court in the United States to answer for such activities."
In August, Reuters reported that Saudi Arabia had called off its plan to list Saudi Aramco on the stock market and "disbanded" the financial advisers working on the plan, "as Saudi Arabia shifts its attention to a proposed acquisition of a 'strategic stake' in local petrochemicals maker Saudi Basic Industries Corp." Al- Falih immediately denied the report. He claimed in a statement:
"The government remains committed to the initial public offering of Saudi Aramco, in accordance with the appropriate circumstances and appropriate time chosen by the Government."
A month later, on September 24, Saudi Aramco CEO Amin Nasser told CNBC that he wasn't sure if or when the company would go public, and that he didn't "want to talk about dates at this stage."
In a recent interview in Riyadh with Bloomberg, MBS reiterated his intention to make Aramco public, and attempted to dispel claims that the plan was not going to happen any time soon, if at all. "Everyone heard about the rumors of Saudi Arabia canceling the IPO of Aramco, delaying that, and that this is delaying Vision 2030," he said. "This is not right."
"So Aramco today, it produces oil, and it has a few downstream projects. But if we want to have a really strong future for Aramco after 20, 30, 40 years from today, Aramco has to invest a lot in downstream because we know that the new demand for oil 20 years from now, it will be from petrochemicals. If we see the rising demand from petrochemicals, I believe it's growing about 2-3 percent today. So definitely the future of Aramco has to be in downstream and Aramco has to invest in downstream.

"So when Aramco does that, it will have a huge conflict with Sabic [Saudi Basic Industries Corp], because Sabic is about petrochemicals and downstream. And the main source of oil for Sabic is from Aramco. So if Aramco does follow that strategy, Sabic will definitely suffer. So before we do that, we have to have some sort of agreement to be sure that Aramco benefits from Sabic and Sabic doesn't suffer in that process...

"So the deal in 2019, one financial year in 2020 and then immediately Aramco will be IPOed. We've tried to push to IPO it as soon as possible, but this is the timing, based on the situation that we have."
MBS went on to insist:
"This will not harm the plans of Vision 2030... We will produce, we believe, more than 3 million barrels of petrochemicals in 2030, most of it in Saudi Arabia, part of it outside of Saudi Arabia, and that will be done by Aramco and Sabic and this will create huge opportunities for economic growth and jobs."
When asked whether he still thinks that the IPO is in Saudi Arabia's interest, MBS replied, "Of course, 100 percent."
To execute the IPO of Aramco in a successful and timely way, however, the Saudi government needs to deal appropriately with definite issues. These include claims that Aramco has been overvalued by Saudis; "concerns about minority shareholder rights, the transparency of oil reserves," and "how the Saudi government will balance national interests and its duty to shareholders"; meeting the New York Stock Exchange's stringent transparency standards; and the possibility that a New York listing places the IPO at risk of being seized in lawsuits claiming Saudi Arabia's involvement in the 9/11 attacks.
A. Z. Mohamed is a Muslim born and Raised in the Middle East.