When a minister from the Gulf warns European countries that their mosques or imams should be licensed, you know you have a problem on your hands.
While France and Germany marked memorial days for the 2015 Paris and 2016 Berlin terrorist attacks, many Islamists seem to remain undeterred. The October 31 terror attack in New York and the arrest of three suspected ISIS militants in Germany are merely reminders of how determined many Islamists are to rattle the foundations of modern civilization and move their plans forward inch by inch.
As ISIS retreats in Syria and Iraq, its adherents show up in the West as "inspired" home-grown or would-be terrorists. Anyone believing that these homecoming terrorists were merely hostages of ISIS or were only given air-guns is misinformed.
So many terrorist attacks this year have made people in the West doubt the ability of governments to counter terrorist aggression. Some political leaders, such as London's Mayor Sadiq Khan, have said that people will just have to get used to terror attacks -- a response the public might understandably find less than satisfactory.
Meanwhile, President Trump's tweet after the October 31 attack in New York -- "We must not allow ISIS to return, or enter, our country after defeating them in the Middle East and elsewhere. Enough!" -- resurfaced skepticism about how terrorism is being handled.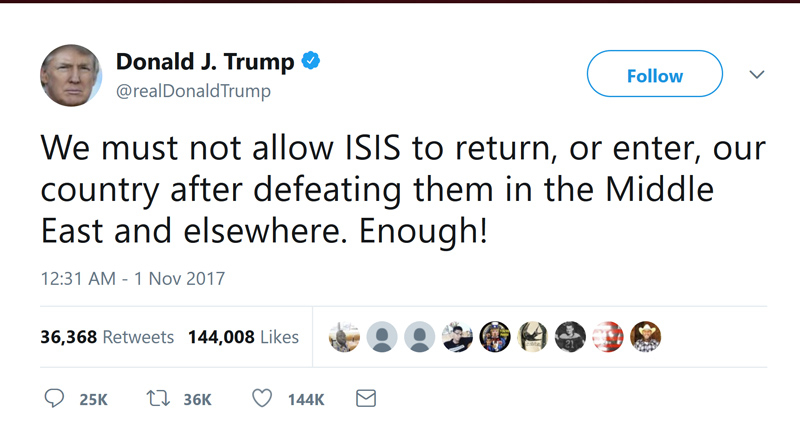 The Soufan Center, a US-based think tank, reported that some 5,000 ISIS recruits were likely to return in European Union states alone. So far around 1,200 jihadists have arrived in their home countries; the United Kingdom, with 425 returnees, had the most.
Germany and France have received 300 and 271 ISIS fighters respectively.
Only seven out of 129 ISIS jihadis from United States went back home after an embarrassing end to their violent expedition.
Governments may finally be forced to address security issues at home. Pandering to extremists has taken enough of a toll.
German authorities, for instance, immediately shut down the extremist mosque which had colluded with Berlin's terrorist attacker, Anis Amri, from last year, but that was still "too little too late".
According to German domestic intelligence agency, Bundestamt für Verfassungsschutz (BfV), 24,400 Islamists including roughly 10,000 Salafists are currently in the country.
There have been demands by members of the ruling Christian Democratic Party for compulsory measures, such as the sermons of imams to be only in German, and restricting the position of imams to those who have studied in Germany. So far, German Chancellor Angela Merkel and her like-minded colleagues have rejected the idea.
Similar demands were also raised by local politicians across Europe.
After a humiliating defeat in Syria and Iraq, thousands of European jihadis are set to return home; Western governments seem set to roll out the red-carpet for them as if they were heroes rather than turncoats.
The lower house of the French Parliament recently passed an anti-terrorism law that allows the search, seizure and house arrest of suspected terrorists without judicial review.
Meanwhile, French Interior Minister Gerard Collomb stated that because of homecoming ISIS fighters, the terror threat in France remains "very high".
The UK has launched an integration program, Operation Constrain, for its homecoming jihadists to provide them with assistance in finding a job and living a "normal" life.
Similarly, in Sweden, authorities, perhaps hoping that a humane welcome might bring about deradicalization, seem keen to introduce a program to reintegrate ISIS fighters and other extremists by giving them housing, employment, education and financial support.
Such theatrics, however, are not expected to deter determined terrorists, unless the authorities are equally determined with brutal honesty to see what is said in extremist mosques and seminaries, and know their sources of funding.
If Western governments permit jihadists to return, there are likely to be more terrorist attacks. What is important, as the Gulf minister warned, is knowing what is being said in mosques that could potentially bring harm to the community. There also still needs to be a more serious job of explaining to newcomers, and even Westerners, what is valuable about the principles of the West. These include free speech, equal justice under law, the rejection of cruel and unusual punishment, fact-based reality, separation of church and state, and an independent judiciary, to name just a few. Finally, it is crucial to retain these values, instead of promoting and reinforcing the values of others.
Khadija Khan is a Pakistani journalist and commentator, currently based in Germany.