A new Barbie doll has been launched as part of Mattel's "sheroes" line. It is a doll in full hijab modeled after American-Muslim Olympic fencer, Ibtihaj Muhammad, the first American athlete to compete in the Olympics wearing a headscarf, which -- apparently -- Mattel felt was something for little girls worldwide to emulate. That and the possibility of selling millions of toys in the burgeoning Muslim market, of course.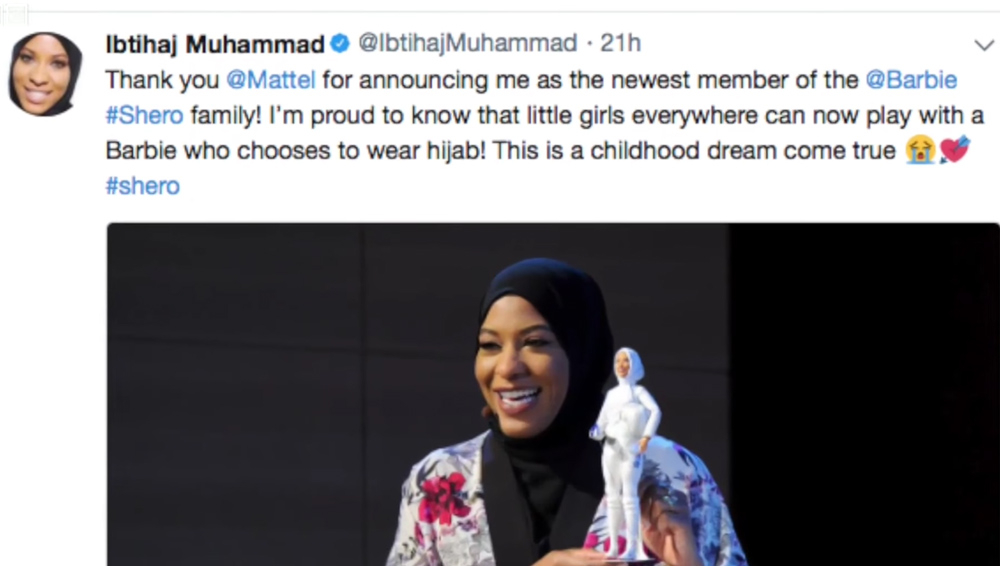 (Image source: Facebook screenshot via BBC/YouTube)
According to a statement from Mattel:
"Barbie is celebrating Ibtihaj not only for her accolades as an Olympian, but for embracing what makes her stand out," said Sejal Shah Miller, Vice President of Global Marketing for Barbie. "Ibtihaj is an inspiration to countless girls who never saw themselves represented, and by honoring her story, we hope this doll reminds them that they can be and do anything."
The attempt to paint the new Hijab Barbie as a symbol of empowerment for girls is, however, quite disturbing. Girls "being and doing anything they want" is considerably different from what this hijab-clad doll represents. Hijab Barbie represents, on the contrary, the often violent oppression that Muslim girls and women experience throughout the Muslim world. It also represents the gender-apartheid the Quran mandates, which limits the freedoms of Muslim girls and women in the extreme.
Far from reminding girls of a world of opportunities, the hijab reminds them of all the things they cannot do in many Muslim countries. These include decisions about their own lives and bodies, such as not having their genitals mutilated; not being married off to older men at a young age; not being able to leave the house without male permission or accompaniment; not wearing the clothes they might like and generally not leading the free lives that women in the West -- including the ones working at Mattel -- probably take for granted.
The new Hijab Barbie was presented at the fashion magazine Glamour's Women of the Year awards. Unfortunately, this would appear fitting, given that terrorist sympathizer and pro-sharia activist Linda Sarsour -- who has threatened jihad against US President Donald Trump and said she wishes she could take away the vagina of prominent author Ayaan Hirsi Ali, who herself underwent female genital mutilation (FGM) -- was named one of its "women of the year," along with the other organizers of last January's Women's March.
"I hope that little girls of color across the heartland will be inspired to embrace what makes them unique," said Ibtihaj Muhammad at the launch of the new Barbie doll. But Muslims are not "girls of color". Islam is a religion and an ideology, not an ethnicity.
Far from being a symbol of empowerment, the new Hijab Barbie is an example of a cultural and civilizational jihad -- and the submission of a Western company, Mattel, to that jihad.
Cultural jihad is the attempt to change and subvert Western culture from within, or more simply put: to Islamize it. The Muslim Brotherhood's strategy for the United States, as spelled out in a foundational Muslim Brotherhood document from 1991, openly states:
"The process of settlement is a 'Civilization-Jihadist Process' with all the word means. The Ikhwan [Muslim Brotherhood] must understand that their work in America is a kind of grand jihad in eliminating and destroying the Western civilization from within and 'sabotaging' its miserable house by their hands and the hands of the believers..."
The document then goes on to list the Muslim Brotherhood organizations and the organizations of its friends: Organizations such as CAIR, ISNA, ICNA among others.
Another example of recent cultural jihad are the attempts, in the wake of the terrorist car ramming attack in downtown Manhattan on October 31, to claim the war cry "Allahu Akbar", a supremacist term for "Allah is greater" -- meaning, greater than all other deities -- as something innocent and benign. A spokeswoman for the Council on American-Islamic Relations (CAIR) wrote in a piece for the New York Daily News:
"The next time you hear Allahu Akbar, whether... on an airplane, or in a shopping mall -- remember that the phrase used by millions of Muslims and Christians daily to praise God regardless of their circumstances, can never be justified for use when harming His creation."
The real purpose is more probably an attempt to condition people to the lie that "Allahu Akbar" is an innocent term -- so that the next time people hear it, they will not question its meaning, or fight or flee from a terrorist scene either from ignorance, or for fear of being labelled an "Islamophobe".
Another example of cultural jihad is the attempt to portray "jihad" as something other than what it really is -- war in the name of Islam against all non-Muslims. Instead, it is being portrayed as an "inner struggle" to "better oneself". All of this has as its purpose to condition people into believing that Islamist designs for Western society are benign and to distract from the fact that Islam is a supremacist ideology wishing to impose its rules of sharia upon the West, through peaceful or, if necessary, violent means [Sayyid Qutub, Social Justice in Islam].
Most successful of all the attempts at cultural jihad thus far has been the contention that Islam is a "religion of peace." In Islam, the phrase means that peace that will reign over the world after everyone has been converted to Islam. Nevertheless, many in the Western political, cultural and media establishment have accepted the inaccurate rendering to such an extent that years of evidence to the contrary and thousands of dead and wounded bodies from Islamic terrorist attacks have not been able to change this pretense. Furthermore, the constant repetition of this deception, just as the Muslim Brotherhood planned, has created a deep division between the establishment of the West and its citizenry.
Western civilization is indeed "destroying itself from within" by, among other things, giving in and submitting to Islam.
Mattel's new Hijab Barbie is an example of Western regression -- a development that women, especially those who define themselves as feminists, should be ashamed to promote, let alone celebrate. If, despite this, they decide to celebrate it anyway, they should at least do so in the knowledge that, far from creating more equality for women, they have quite simply been made the useful idiots of cultural jihad.
John Richardson is a researcher based in the United States.