To understand the development of Islam in Western countries, I make a habit of visiting Muslim-majority areas such as Lakemba in Australia, Lodi in California, and Lunel in France. But London, England, is unique in the extent of its Islamic impress.
Muslim-majority areas typically consist of poor, unattractive housing projects, remote from the city center, which long ago were abandoned by their original indigenous, working-class populations. They often feature men sitting around cafes and women cooped up at home. They suffer from a range of social pathologies, including unemployment, criminal gangs, and drug-trafficking.
London too has such areas, and they are very large; but what makes the English capital unique is the intense Muslim presence in the very most central and expensive parts of the city, where Muslims do not constitute a majority. This presence takes two main forms.
First, there's the posh Muslim element. According to a CBRE study, Middle Easterners invested over $4.2 billion in London commercial real estate in 2015 (the most recent full year with statistics); this money tends to go into high-profile properties such as the Shard, the city's tallest building; Harrods, its most glamorous department store; Claridge's, its most luxurious hotel; and purchasing the former U.S. embassy building.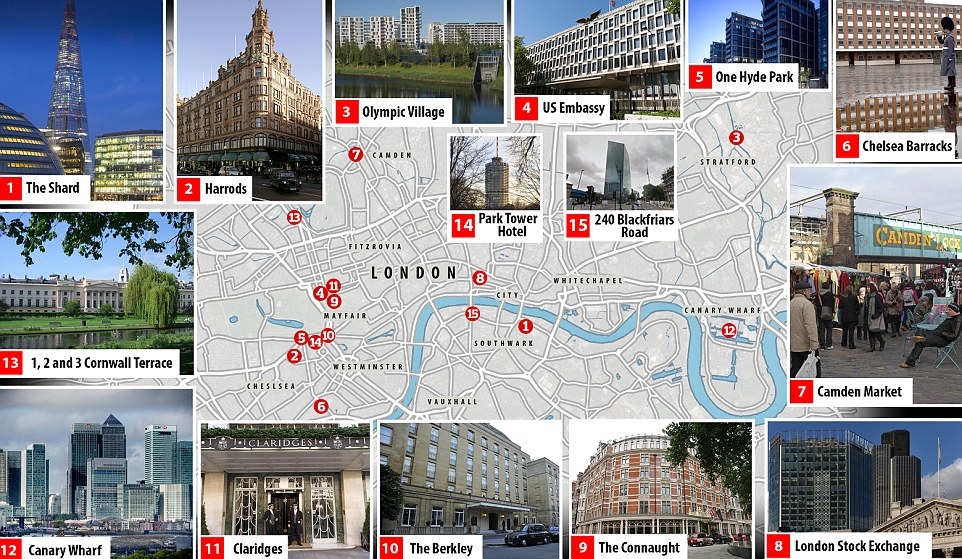 Middle Easterners own some of London's most prominent buildings.
In sometimes obvious ways, Muslim proprietors make their ownership felt. Harrods, for example, prominently features halal signs in the food hall and mannequins wearing hijabs.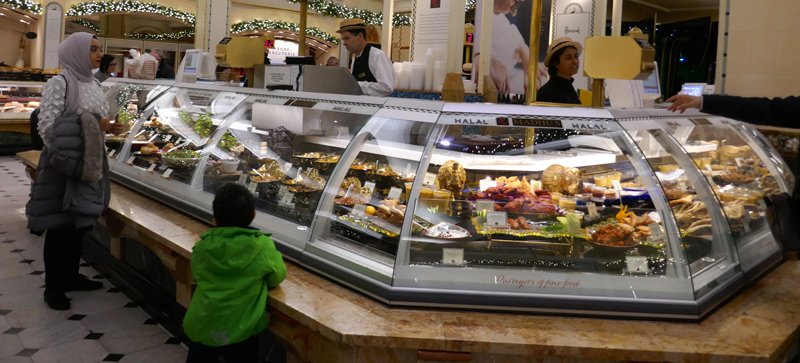 Harrods Food Hall prominently marks its halal food.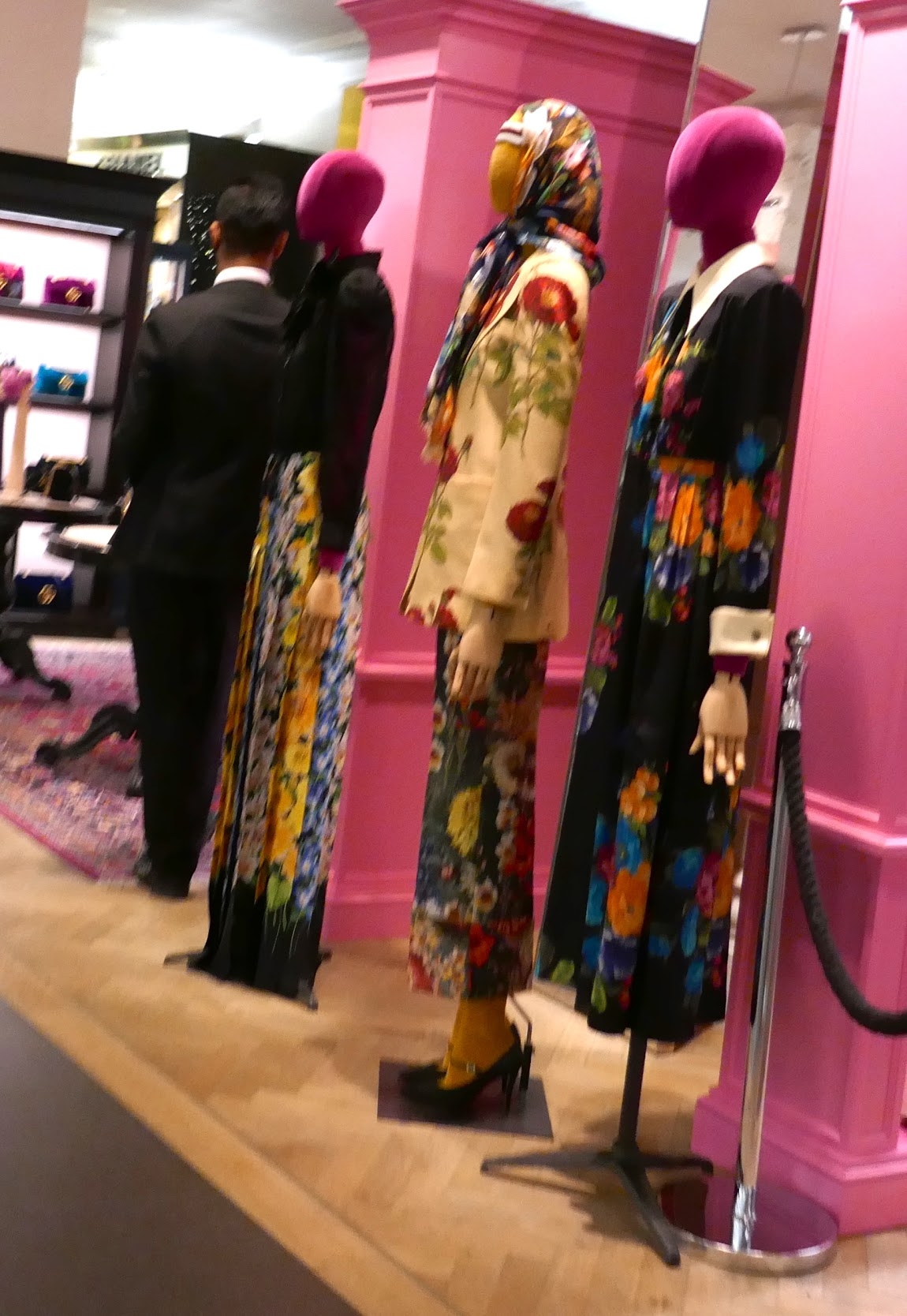 Some mannequins in Harrods wear hijabs.
Middle Eastern restaurants, clothing stores, and hair salons abound, of course, but more surprising are the Arabic-, Persian- and Urdu-signed stores that have no special connection to Muslims, such as a pharmacy, a spa, a clinic with Chinese medicine, and an airport transfer company.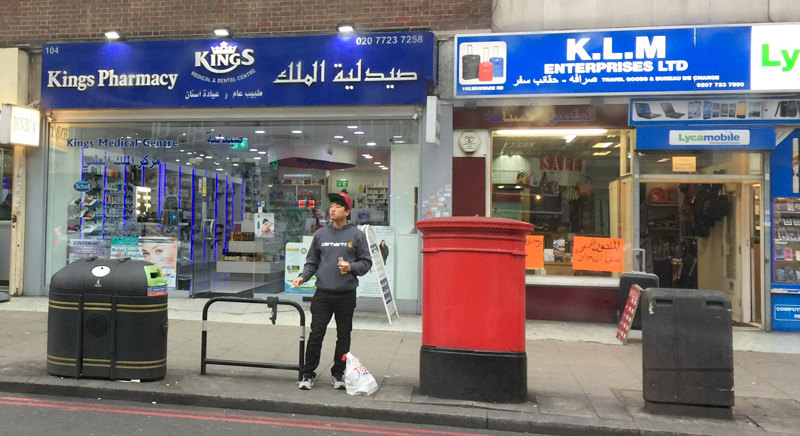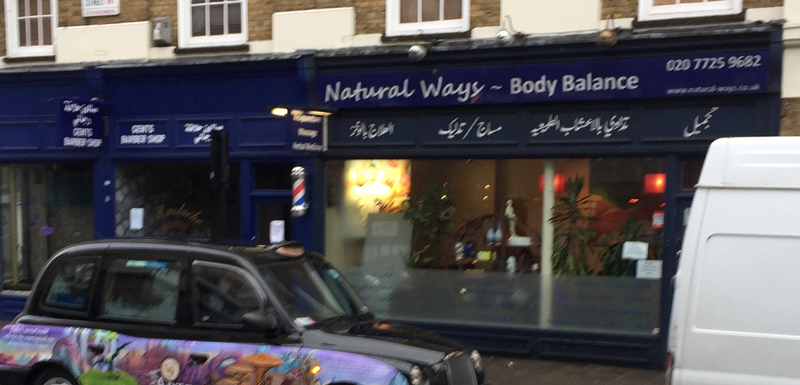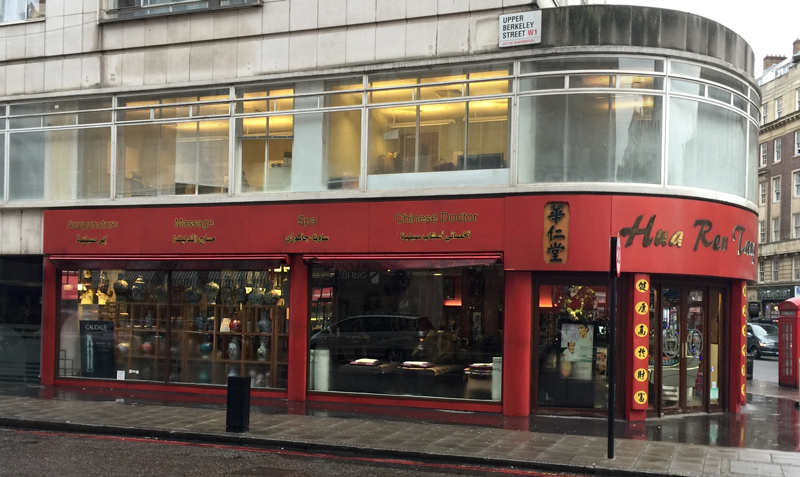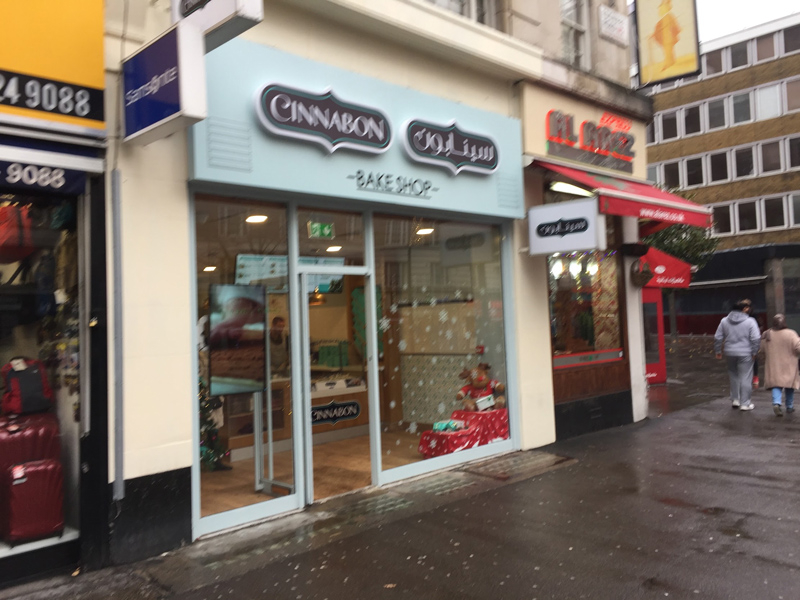 Even the American chain Cinnabon sports an Arabic sign.
In some cases, the name of the store is only in Arabic.

"Sawt was-Sura," ("Voice and Picture").
Second, the Muslim presence is implicit in the intense, pervasive, and depressing security measures installed against jihadi threats of violence. These range from signs urging "Run, Hide, Tell," to bollards, barriers, and gates.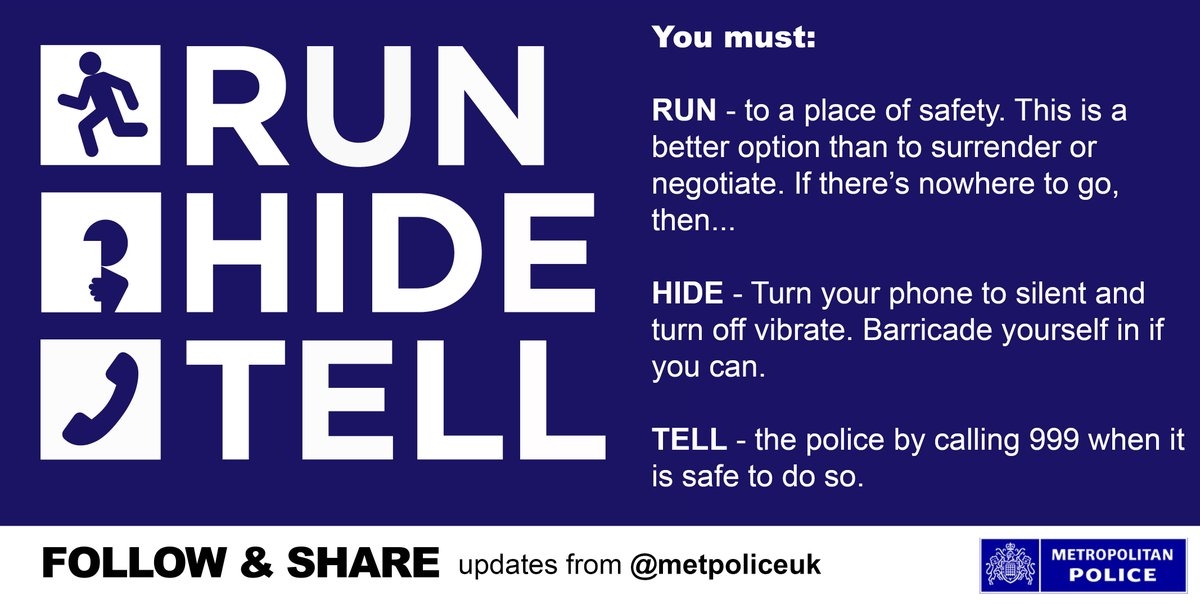 Especially evident are the many protective measures installed in March 2017, immediately after a violent Islamist, Khalid Masood, killed five people on Westminster Bridge. During a recent visit to central London, I puzzled over one of these installations, a metal barrier that completely surrounds Green Park.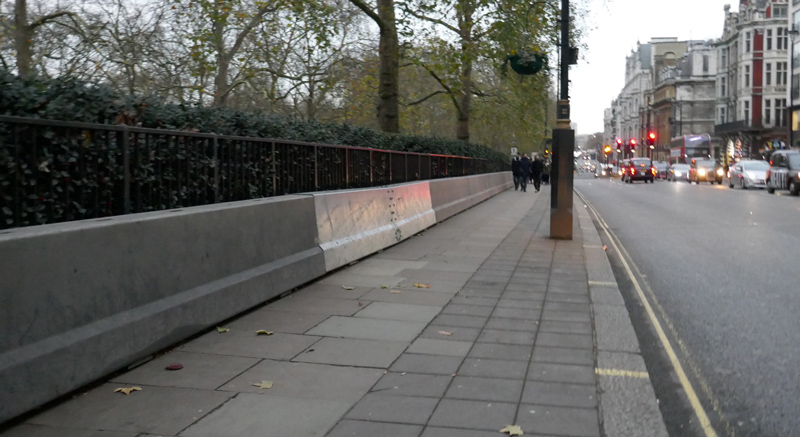 The barrier surrounding Green Park.
The barrier is continuous, interrupted only by occasional narrow gates, either yellow or grey, which allow pedestrians to enter the park. No one checks bags at these gates, so the security perimeter prevents only cars and trucks from barging into the park. But why would anyone drive a vehicle into this park? Granted Buckingham Palace is nearby, but across a wide street, so surrounding Green Park with a barrier does nothing to protect it. The barrier seemingly protects grass and trees.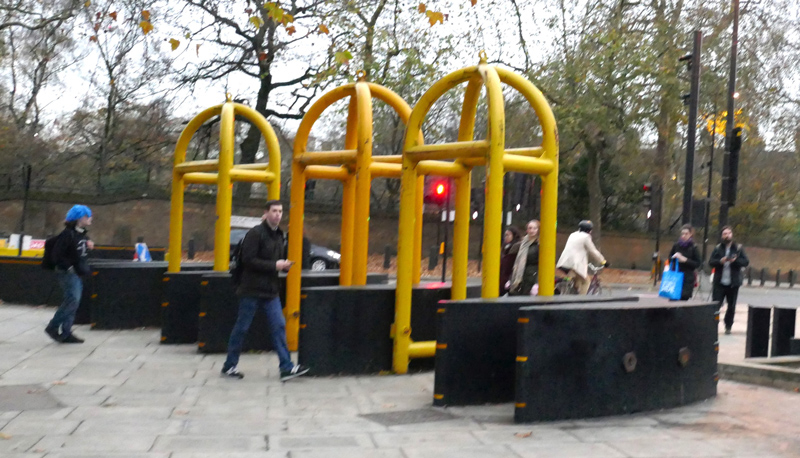 An entrance into Green Park.
Perhaps the saddest aspect of this security is the glorious blue Devonshire Gate obstructed by the ugly grey barrier.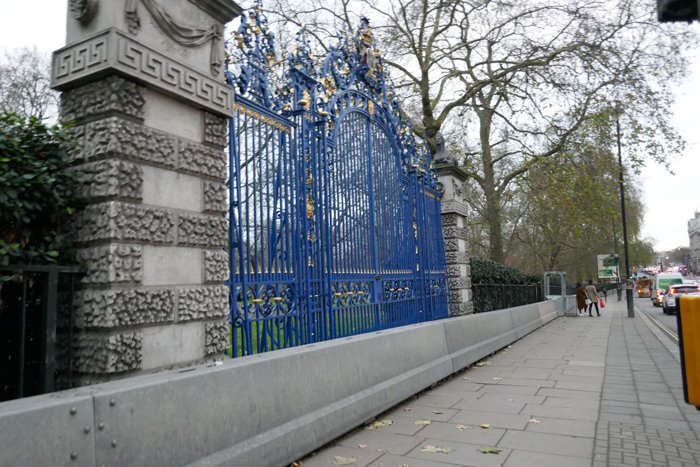 The seventeenth-century Devonshire Gate, designed by famed architect Inigo Jones.
Nor are bollards, barriers, and gates unique to London. In Birmingham, for instance, the Christmas Market featured the familiar yellow gates (complete with helpful entrance and exit markers).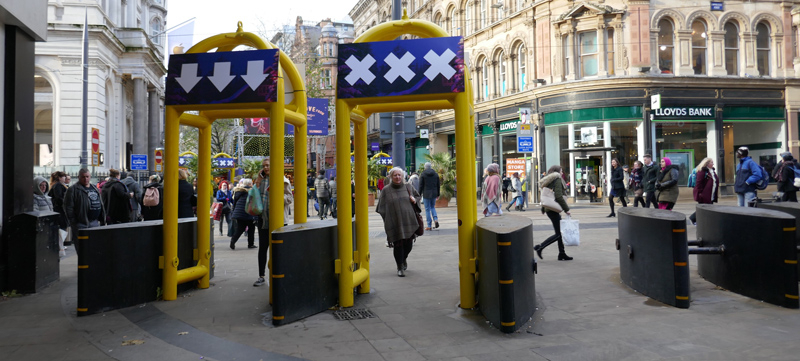 An entrance to Birmingham's Christmas Market.
This security extended even to the smallest alleyway.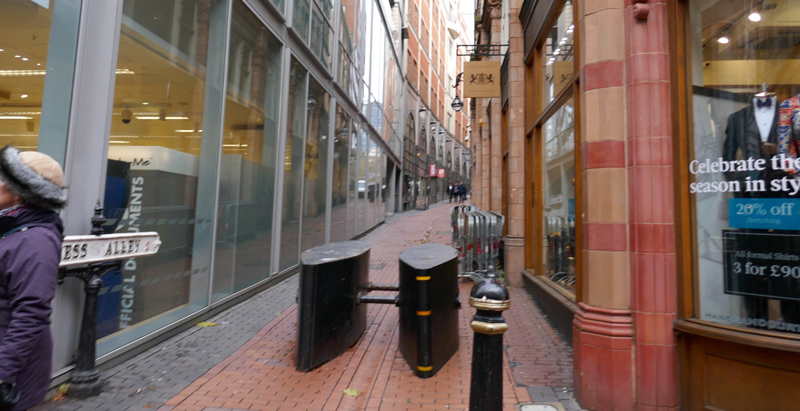 An alleyway approaching Birmingham's Christmas Market.
More than any other major Western city, London bears an Arabic, Middle Eastern, and Islamic impress, from its mayor to its commercial real estate market. I wish I were optimistic about the outcome of this experiment, as the majority of the English population remain even today.
Mr. Pipes (DanielPipes.org, @DanielPipes) is president of the Middle East Forum. © 2018 by Daniel Pipes. All rights reserved.