Deputy Attorney General Rod Rosenstein should not be fired. He is a distinguished public servant with a bipartisan reputation for fairness. But there is a real question whether he should be recused from participating in any investigation by the special counsel of alleged obstruction of justice by the president.
Five facts are indisputable. First, Rosenstein is currently supervising Robert Mueller, who he appointed to be special counsel to investigate the Russia matter and all ancillary issues. Second, these ancillary issues include any possible obstruction of justice growing out of the Russia investigation. Third, President Trump's firing of former FBI Director James Comey may be an important building block in any possible obstruction case against the president. Fourth, Rosenstein played a central role in that firing, having written the memorandum justifying the president's action. Fifth, Rosenstein would be an important — perhaps the most important — witness in any investigation of the reasons behind the firing.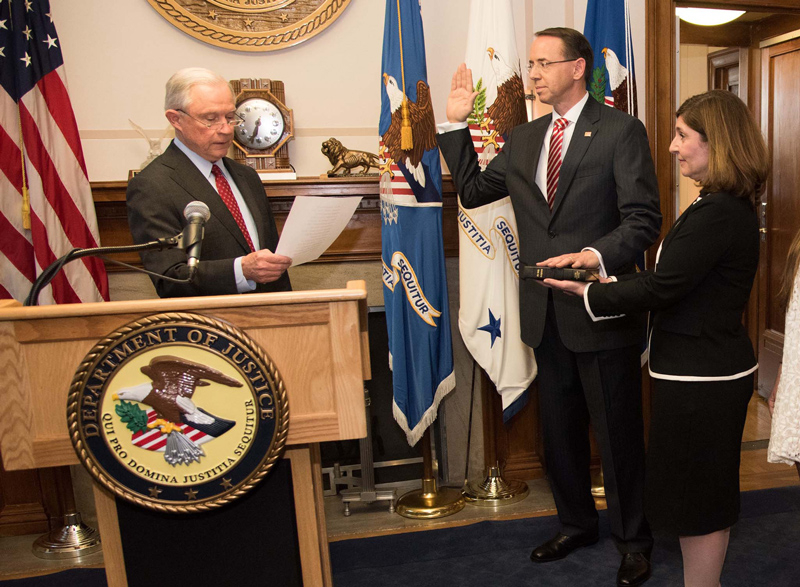 Pictured: Attorney General Jeff Sessions (left) administers the oath of office to Rod Rosenstein (center) to be the Deputy Attorney General of the United States, on April 26, 2017. (Image source: US Department of Justice)
The question is whether a lawyer should both supervise an investigation and be an important witness in that very investigation. Attorney General Jeff Sessions recused himself because he might have been a witness or subject of the Russia investigation. Rosenstein might be a more central witness in any obstruction of justice investigation by the prosecutor who he is supervising.
One possible reason for why Rosenstein should not recuse himself would be if Mueller were not investigating alleged obstruction of justice by the president based on his firing of Comey. Perhaps Mueller realizes that charging a president with obstruction of justice for performing a constitutionally authorized act such as firing the director of the FBI would raise grave constitutional issues. Perhaps, therefore, that is not part of his current investigation. If it is not, then Rosenstein has no clear conflict of interest. But the available evidence suggests that Mueller is looking into the Comey firing.
Although Rosenstein's remaining on the case does not violate the so-called "advocate-witness" rule that prohibits a lawyer being both an advocate and a witness at the same trial, it raises concerns about potential conflicts of interest. The advocate-witness prohibition is designed to prevent confusion over roles by the jury at trial. It does not deal with the broader issues of conflict of interest and the appearance of conflict.
In the Rosenstein matter, the supervising prosecutor has a potential stake in whether the line prosecutor will call him as a witness, or will cross-examine him if he were to be called as a defense witness. Even more worrisome is the possibility – unlikely as it seems — that the supervising attorney may become a subject or target of the investigation. He could be named as a co-conspirator if Mueller believed that he knowingly provided a cover to hide the president's real intentions in firing Comey.
The more likely problem grows out of the possibility that President Trump's lawyer would try to shift the responsibility for the firing of Comey from the president to the author of the memo justifying the firing, namely Rosenstein. "Advice of counsel" is a recognized defense, especially where state of mind — alleged corrupt intent — is at issue.
If President Trump's lawyer were to make this argument to the special counsel and his supervisor, could Rosenstein fairly consider and assess it? Would he have a conflict if he had to evaluate his own role in the firing? In an ordinary criminal case, recusal is not required based on speculation possibilities. But this is no ordinary case. When it is the president, or those around him, who are being investigated, everyone involved in the investigation and charging decisions must be "Caesar's Wife," beyond any suspicion or even appearance of conflicting interests.
Does Rosenstein's continuing involvement in the Russia probe and possible obstruction of justice pass that daunting test? That is the relevant question, and more attention should be paid to that ethical issue than to the political question of whether or not he should be fired.
Alan M. Dershowitz is the Felix Frankfurter Professor of Law, Emeritus, at Harvard Law School and author of "Trumped Up: How Criminalization of Political Differences endangers Democracy."