"If you thought it was challenging for women to come forward and accuse Harvey Weinstein of rape, consider accusing the Islamic theologian Tariq Ramadan", wrote Sylvie Kauffman, the former editor of Le Monde.
Tariq Ramadan, the grandson of the founder of the Muslim Brotherhood, Hassan al-Bana, is a Swiss lecturer on Islam with millions of followers and one of Time Magazine's "men of the year". Accused of rape by three women, however, Ramadan is now in custody of the French police. In denying the allegations of sexual violence, his #MeToo case has turned into a political and religious affair.
The Algerian writer Kamel Daoud summarized the response of the Arab-Islamic world to the Ramadan affair: "Silence, discomfort, embarrassment and theories of mass conspiracy".
The Muslim communities likely know what is at stake in the case of Ramadan, which the Muslim sociologist Omero Marongiu-Perria has called a "crumbling myth". But if the Muslims' silence and defense of Tariq Ramadan is something regrettable, Western silence is worse.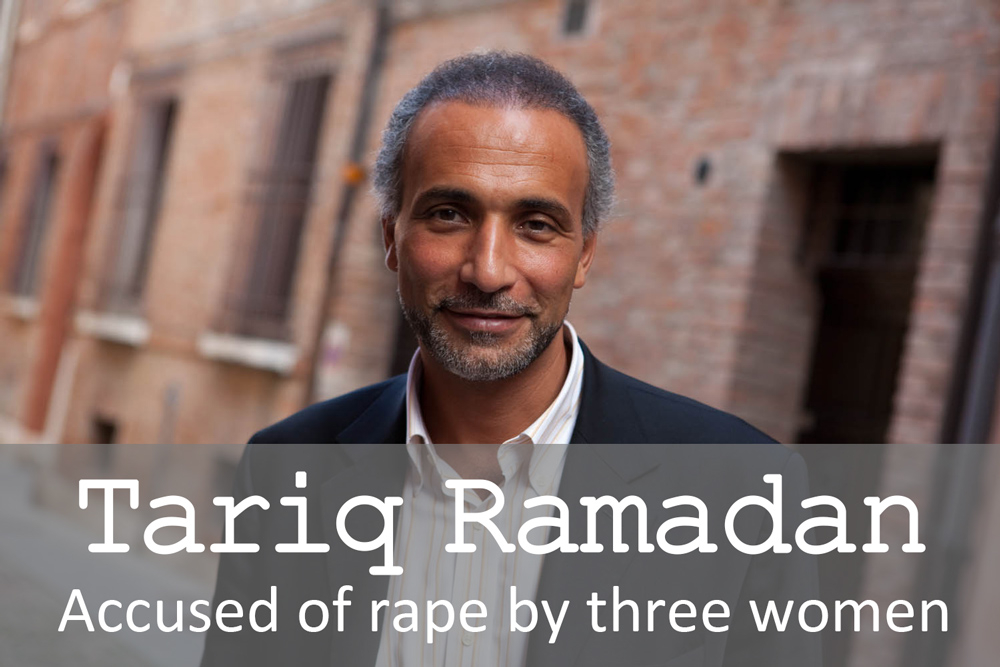 (Ramadan image source: Internaz/Flickr)
Ramadan's ethnic and religious identity -- as is becoming increasingly common (for instance, here, here and here) -- has been evoked as part of his defense. After the first sexual accusations came out against Ramadan, Professor Eugene Rogan, Director of Oxford's Middle East Centre, where Ramadan also teaches, defended his colleague. Ramadan, Rogan said, is a "prominent Muslim".
According to the French philosopher Pascal Bruckner, "the blindness of the Anglo-Saxons on political Islam is frightening. In the United States, as in the UK, attacking Tariq Ramadan earn you a charge of racism".
130 personalities, including the economist Thomas Piketty and the French feminist Caroline De Haas, have defined the case against Ramadan as "a political campaign that, far from defending the cause of women, imposes on our country a destructive agenda of hatred and fear".
Thousands of people in Europe and millions in the Arab world are simply not willing to accept that Tariq Ramadan can be judged and found guilty by a system of democratic, Western and secular justice. That is the question at stake: will we witness the triumph of extremists over powerless Muslim women who will most likely never again have the courage to denounce their Muslim aggressors? This desire to perpetuate inequality seems why enormous amounts of money are being collected to defend Mr. Ramadan.
107,000 euros were immediately raised to defend Ramadan. Then, in just two days, an additional 26,000 euros were collected.
The imprisonment of such a legend -- the grandson of the founder of the Muslim Brotherhood -- has caused a stir in the French and Swiss Muslim communities and mobilized a powerful propaganda machine. First the "Free Tariq Ramadan" website was created. Then 137,000 people signed an appeal to free him. Nadia Karmous, head of the Association of Muslim Women in Switzerland, supported the theologian as "a reliable and caring person". At a recent "Annual Meeting of Muslims of France" in Bourget, a "support committee" for Ramadan was launched. His books were sold, and people collected funds and signed letters to French President Emmanuel Macron and the Minister of Justice, Nicole Belloubet, asking for the release of their idol.
The goal seems to be to turn Ramadan into a martyr. According to Asmar Lafar, the president of the "Muslims of France" organization, Ramadan's pensée ("thinking/worldview") is still "intact" despite the accusations. People holding placards saying "Free Tariq Ramadan" rallied in Paris.
Meanwhile, the three women who accused Ramadan of rape have been the subjects of intimidation, violence and threats.
Their daily hell has been exposed by the French weekly Marianne. "You only get what you deserve" is one of the many messages "Marie" (one of the two women who uses a pseudonym) receives every day. Except that message came from one of Ramadan's brothers.
"I go out less and less", she said. A few days ago, she was attacked on the street. "Dirty bitch", four young men shouted at her.
One day, while "Marie" was bringing her son to school, a car stopped and the driver shouted, "Shut up; watch out for your children". On March 24, she was violently assaulted in the hall of her home by two men who beat her up, sprayed water on her and said: "Next time it will be gasoline".
"Christelle", the second woman using a pseudonym, receives emails from strangers containing "very specific information about her private life and schedule".
Henda Ayari, who filed the first complaint against Ramadan on October 20, 2017, no longer receives any support: "My family does not speak to me any more". Her name, phone numbers and addresses were disclosed on social media.Her care was vandalized. "I cannot go shopping anymore," Ayari said, "I cannot walk down the street, I go out with a cap, sunglasses and my head down... "I have not received any message [of support] from feminist organizations" she told Marianne.
All the testimonies are similar: "Phone calls in the middle of the night, people who are breathing or laughing at the other end of the phone".
Very few talk about this #MeToo of multiculturalism, or about those who blame Ramadan's alleged victims. According to The New Yorker:
"Ayari, who has received death threats, is a former Salafist who broke with Islam and has became a devout feminist and secularist à la française. She is something of a heroine in the extreme-right circles of the fachosphère, where Islamophobia is a ticket of admission".
So according to this, the "real" problem is "Islamophobia", not the Muslim subjugation of women.
Tariq Ramadan is extremely lucky. If he is judged according to Islamic law, he will almost certainly be found innocent. In Islam, the testimony of a female in court is worth half that of a man (Quran 2:282). If Ramadan is found guilty, he should thank France for having a secular democratic justice system. Otherwise, under Sharia, he would be stoned to death for adultery, as done in Somalia. Not so bad for an "Islamophobic" country such as France. Ramadan's alleged victims are less lucky. Either way, they will have to continue to live in a society that treats them not as victims but as enemies.
Giulio Meotti, Cultural Editor for Il Foglio, is an Italian journalist and author.