On June 12, Canadian Prime Minister Justin Trudeau led the Liberal Party in supporting a Conservative Party motion condemning "the current regime in Iran for its ongoing sponsorship of terrorism around the world, including instigating violent attacks on the Gaza border." It also called for designating the Islamic Revolutionary Guards Corps (IRGC) as a terrorist organization.
Trudeau's vote marked a sudden, unprecedented U-turn from more than 10 years of his personal and very public support for pro-Islamist causes and Iran, beginning in 2008 when he entered the parliament.
Since Justin Trudeau's election two and a half years ago, however, the U.S. has grown increasingly worried about the Canadian government in general, and the prime minister in particular. Trudeau has called those who oppose the return of ISIS fighters to Canada "Islamophobic." He also has said that ISIS fighters can be a "powerful voice for preventing radicalization" in Canada, even though his government does not have a deradicalization program. In addition, the government has yet to appoint a leader for the Canada Centre for Community Engagement and Prevention of Violence.
The approximately 60 ISIS fighters who have returned to Canada roam the country freely. None has been charged or convicted. The government has shown no will to deal with them, not even when one was caught on tape describing how he had executed prisoners. Canada also has stopped sending the names of known ISIS fighters to the UN registry of terrorists, in spite of the fact that some of them are reported to be a chemical-weapons risk.
Most alarming to the U.S., however, has been Trudeau's position on Iran, where the regime seems to want to increase its influence in Canada due to its proximity to the U.S. Trudeau has been enabling this penetration. He allowed Tehran to re-open its embassy in Canada. He has already lifted Canadian sanctions against Iran, and his government has downgraded its travel warnings to citizens wishing to go there, despite ongoing arrests and torture of Canadians and others. In the run-up to his election, Trudeau told a Khomeinist newspaper with Hezbollah sympathies that he would have a special immigration program for Muslims.
Justin Trudeau's father, former Prime Minister Pierre Trudeau, had held rather radical views in his youth. Typical of the days of his youth and education (1930s to early 1940s) he held views which included anti-Semitism and pro-fascism, not unusual in many intellectual circles at the time. views. He also held pro-separatist views for Quebec. As he matured, and certainly after assuming the role of prime minister, he moderated his positions and became a Canadian Federalist who was tough on terrorism. But he remained overtly friendly with dictators, such as Cuba's Fidel Castro.
Like his father before him, Justin Trudeau too has maintained an admiration for dictatorships. After the death of Cuba's Fidel Castro in 2016, Justin Trudeau wrote a fawning eulogy for him. When questioned in an open and friendly forum about which country he admires most outside of Canada, Trudeau said he admired the basic dictatorship of the Chinese Communist government.
In a column for the Toronto Star, Justin Trudeau's brother, Alexandre "Sacha" Trudeau, wrote that Castro's "intellect is one of the most broad that can be found ... Combined with a Herculean physique and extraordinary courage, this monumental intellect makes Fidel the giant that he is." He did not address the issue of Castro's having been one of the world's most brutal dictators, who systemically imprisoned, tortured and murdered his own people for more than five decades.
Four years earlier, Sacha -- who is also a filmmaker -- cooperated with Iran's state-owned PressTV to co-produce a flattering documentary, entitled "The New Great Game," about the Islamic Republic. According to the documentary, Iran's nuclear program is for "defensive" purposes only, and serves as an effective "deterrent" against supposed Israeli aggression and belligerence. While not initially disclosed at the time of the program's airing, it became clear later that Al Jazeera Arabic had also contributed to it. Al Jazeera is the media mouthpiece of the government of Qatar and under the heavy influence of the Muslim Brotherhood.
In another documentary ("The Fence"), Sacha Trudeau profiled Zakaria Zubeidi, the then-leader of the terrorist group, the Al Aqsa Martyrs Brigade, the military arm of Fatah. The film portrayed Zubeidi as a Robin Hood-like "leader of the resistance;" he did not focus on the suicide bombers who gave the group its "martyrs" name.
So extreme has Sacha been that even Canada's state broadcaster, CBC, called one of his anti-Israel films -- "Peace, Propaganda, and the Promised Land" – itself a piece of propaganda that never should have been broadcast. His mother, Margaret Trudeau, has observed that, from a very young age, Sacha has always been a bit of a revolutionary,
As for Justin Trudeau: Although he himself is not an Islamist, his cooperation with Islamists is part of his overall ideology in relation to Canada's political, cultural and value systems. According to him, Canada has "no core identity" with "no mainstream." He believes that Canada is the "first post-national state," and that the nation is no longer shaped by its European national origins, but by a "pan-cultural heritage." This is false. Canada simply is not that different from many other Westphalian states in being "post-national" or any other way.
The totalizing nature of Trudeau's positions, however, appears to be a goal, rather than a statement of the current reality. His views appear to include the belief that only the so-called globalist "elites" can be trusted to shape the future of the world, and that the populace cannot be trusted with such things as referenda or a direct role in governance.
In December 2015, newly elected Prime Minister Trudeau sent a video message to the Toronto-based "Reviving the Islamic Spirit" conference -- which has morphed into a virtual "Who's Who" of Islamists in Canada and the U.S. Its speakers have included Tariq Ramadan, the grandson of Muslim Brotherhood founder Hassan al Banna; and Imam Siraj Wahhaj, an unindicted co-conspirator in the 1993 World Trade Center bombing. The conference was also sponsored by IRFAN Canada -- until it lost its charitable status for funding terrorism.
Trudeau had the option of not sending any message at all, or of conveying one of assimilation. The message he did send, however, included repeated and direct references to how he shared the values and vision of the conference. What values, exactly, did he mean by this? Those similar of the Muslim Brotherhood and other radical Islamists?
That brings us to the question of why Trudeau supported the Conservative Party's anti-Iran motion. What happened for him to make a complete policy reversal on one of his only consistent beliefs throughout his political career?
The answer lies in the events at the G7 summit in Quebec on June 8-9. The discord between Canada and the U.S. was evident on a series of matters related to the North American Free Trade Agreement, but what went on behind the scenes was far more critical.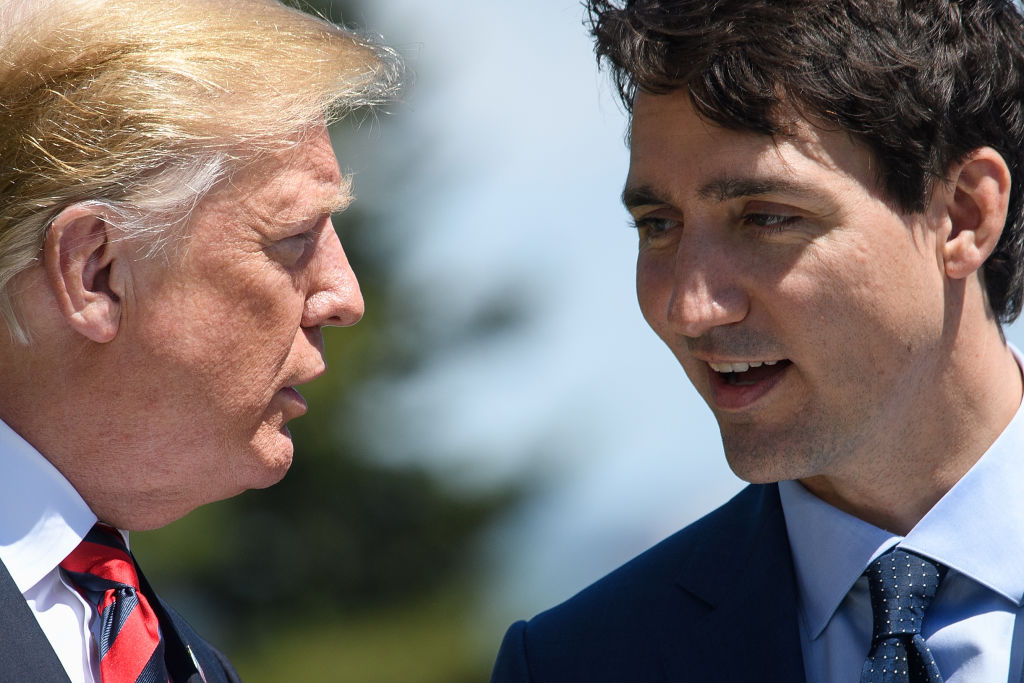 Pictured: U.S. President Donald Trump and Canada's Prime Minister Justin Trudeau converse at the G7 Summit, on June 8, 2018 in La Malbaie, Canada. (Photo by Leon Neal/Getty Images)
In attendance at the summit was President Donald Trump's recently appointed National Security Adviser, John Bolton, whose hard-line views on the Middle East in general and on Iran in particular have not exactly been a secret. Under his watch, the U.S. has threatened sanctions against Iran, especially in the wake of America's withdrawal from the "nuclear deal." Trudeau, on the other hand, was instrumental in the deal that would see Canadian company Bombardier sell aircraft to a firm in Iran owned by the Revolutionary Guards.
It is interesting to note that on June 12 -- the day of the Canadian vote -- U.S. Homeland Security Secretary Kirstjen Nielsen addressed the first International Homeland Security Forum in Israel, which dealt with threats to the West, and stated: "From Ottawa to Berlin, our communities are now on the frontlines." Her referring to Canada first should not be lost on Canadians.
Two things are clear from all of the above. The first is that Trudeau did not vote willingly for the Conservative motion; he seems to have been encouraged into it by Trump and Bolton. (In any event, the motion did not succeed in having the IRGC designated as a terrorist group. Doing so requires a long process that can be dragged out for months, most likely past the next election in November 2019.)
Second, and most important, Trudeau's temporary aberration is not likely to change his ideology. As long as leaders in the West who hold such views remain in power, Canada will be on the watchlist of those who oppose the spread of Islamic extremism and theocratic dictatorships. This does not bode well for Canada. It may well be living through its highest-risk moment since World War II.
Tom Quiggin is a former military intelligence officer, a former intelligence contractor for the Royal Canadian Mounted Police and a court appointed expert on jihadist terrorism in both the Federal and criminal courts of Canada. He is the author of SUBMISSION: The Danger of Political Islam to Canada – With a Warning to America, written with co-authors Tahir Gora, Saied Shoaaib, Jonathon Cotler, and Rick Gill with a foreword by Raheel Raza. The book is available on Amazon.com in both paperback and Kindle versions. He is also the primary contributor to the QUIGGIN REPORT podcast.

Parts of this article originally appeared in a QUIGGIN REPORT podcast.