On July 22, two youngsters -- 18-year-old Reese Fallon and 10-year-old Julianna Kozis -- were killed, and another 13 people, ranging in age from 17 to 59, were wounded in a brutal shooting attack at a number of restaurants on Danforth Avenue, in Toronto's popular Greektown neighborhood. The perpetrator, who was later identified as Faisal Hussain, killed himself after exchanging gunfire with police.
Hussain's firing stance and ability to reload his 40-caliber Smith and Wesson handgun while on the move suggested that he had experience with firearms.
The following morning, the Toronto Police Service issued a statement that indicated they had already identified the shooter, yet did not release his name until later that afternoon. Meanwhile, a statement allegedly from the Hussain family made the rounds in a number of news outlets.
The statement read, in part:
...We are utterly devastated by the incomprehensible news that our son was responsible for the senseless violence and loss of life that took place on the Danforth.

Our son had severe mental health challenges, struggling with psychosis and depression his entire life.

The interventions of professionals were unsuccessful. Medications and therapy were unable to treat him.

While we did our best to seek help for him throughout his life of struggle and pain, we could never imagine that this would be his devastating and destructive end...
Much of the media, led by the CBC and the Toronto Star, accepted this version of the tragedy, and asserted that the mass shooting had not been a terrorist attack, while blaming a breakdown in the mental-health-care system for Hussain's actions and calling for stricter gun-control regulations.
Canadian Public Safety Minister Ralph Goodale said of Hussain, "There is no connection between that individual and national security."
It emerged, however, that the so-called Hussain "family statement" had not been written by the murderer's parents at all, but rather by Mohammed Hashim, a professional activist who served as chairman of the "Stronger Together" program of the National Council of Canadian Muslims (NCCM, formerly the Council of American Islamic Relations Canada or CAIR CAN). Its American parent organization, as stated in its own documents, is CAIR, designated as a terrorist entity by the United Arab Emirates.
CAIR was also identified as an unindicted co-conspirator in an American terrorism-funding trial whose judge determined it to be one of many organizations involved in funding Hamas.
In 2016, Hashim was instrumental in getting the Toronto Star to stop using the term "Islamic State" and refer to the terrorist group only as "Daesh," presumably to dissociate Islam from terrorism.
In 2017, Hashim was a speaker at an event held at the ISNA Islamic Centre of Canada facility in Toronto. (Three years earlier, the ISNA Development Foundation lost its status as a charity on the grounds that it had been funding terrorism.)
In addition, contrary to what Hashim purportedly wrote in the statement, there is no evidence that Hussain was diagnosed with or treated for a mental illness, even after one of his high-school teachers reported to the police 10 years ago that Hussain had said "I want to kill someone... I just feel it would be really cool to kill somebody." Although he was apprehended at the time under the Mental Health Act, he was released and deemed as not an immediate threat.
As for Faisal Hussain's actual family: Faisal has a brother, Fahad, who -- while awaiting trial for crack-dealing -- overdosed last summer on a cocktail of cocaine and heroin, leaving him in a vegetative state. Both Faisal and Fahad were friends with 33-year-old Maisum Ansari, who, according to the Toronto Sun, "was charged last September with possessing 53 kilograms of carfentanil, an analog of fentanyl and 100 times stronger than the painkiller and notoriously deadly street narcotic... the largest such seizure of the synthetic opioid in Canadian history."
During the investigation into Ansari's drug operations, police discovered a weapons cache in the basement of his rented-out house. This is possibly an example of the intersection of the drug trade and terrorism. Furthermore, carfentanil, specifically, has been of concern to the US government as a drug that also could be used as a chemical weapon.
The question of whether the Danforth shooting was an act of terrorism has yet to be answered. Although ISIS claimed responsibility for the attack, Toronto police said they "have no evidence to support these claims."
Nevertheless, Faisal Hussain's actions need to be taken in a wider context. Since 2013, several low-scale terrorist attacks with an extremist Muslim connection have taken place in Canada. Among these were: the attempted 2013 bombing plot on a Via Rail train; the 2014 car-ramming attack that killed a Canadian soldier; the 2014 gun attack on the National War Memorial and Parliament; a 2016 botched suicide bombing that ended with only the terrorist dying; a 2016 knife attack on a Canadian Forces recruiting center, a 2016 knife attack in a Canadian Tire store by a woman claiming to work for ISIS; and a 2017 vehicle-ramming and knife attack.
More recently, a restaurant bombing in Mississauga on May 24, 2018, which left 15 people wounded, is still being investigated.
Since Faisal Hussain is dead, it is unlikely that a complete picture of what motivated him to commit a mass shooting will be painted. However, given the global climate, to which Canada most certainly has not been immune -- as well as Hussain's dubious connections -- the attempt by the government and the media to dismiss potential links to terrorist groups or inspiration from jihadist ideologies, is both premature and politically transparent.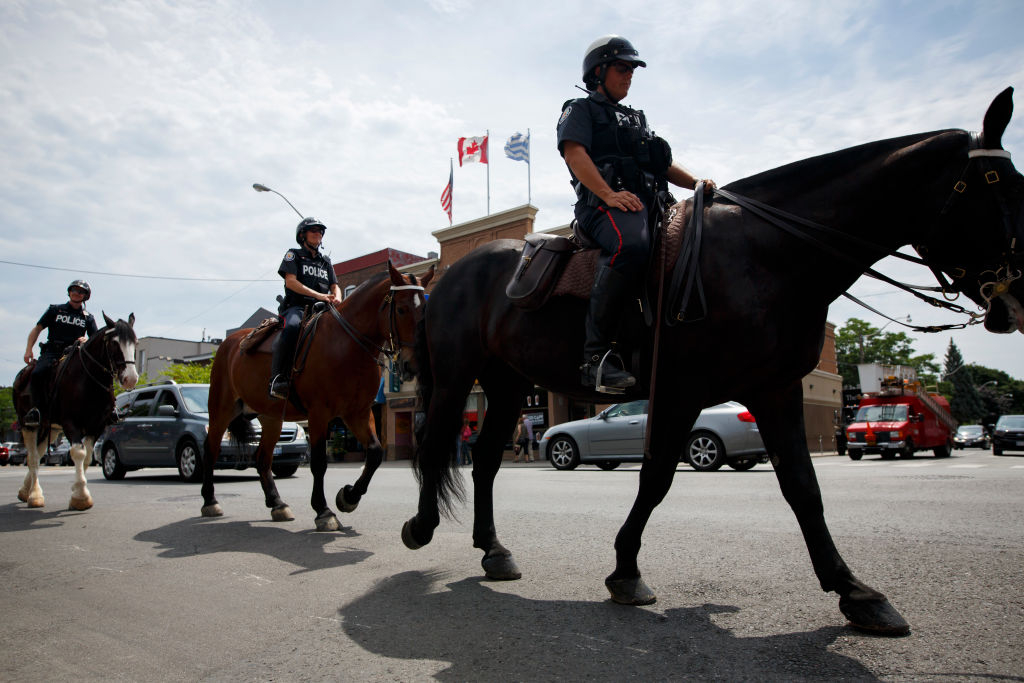 Pictured: Toronto Police officers ride on horseback as they patrol Danforth Ave. in Toronto on July 24, 2018, the day after Faisal Hussain murdered 18-year-old Reese Fallon and 10-year-old Julianna Kozis, and wounded several others in a shooting attack in the area. (Photo by Cole Burston/Getty Images)
Tom Quiggin is a former military intelligence officer, a former intelligence contractor for the Royal Canadian Mounted Police and a court appointed expert on jihadist terrorism in both the Federal and criminal courts of Canada. He is the author of SUBMISSION: The Danger of Political Islam to Canada – With a Warning to America, written with co-authors Tahir Gora, Saied Shoaaib, Jonathon Cotler, and Rick Gill with a foreword by Raheel Raza. He is also the primary contributor to the QUIGGIN REPORT podcast.