The leaders of Ethiopia and Eritrea signed a declaration on July 9, ending a state of war between the two countries. It was a major step toward resolving one of post-colonial Africa's bloodiest and most protracted conflicts.
The U.N. Security Council said the peace declaration signed by Ethiopia and Eritrea after 20 years as enemies "represents a historic and significant development with far-reaching positive consequences for the Horn of Africa and beyond."
The council commended Ethiopian Prime Minister Abiy Ahmed and Eritrean President Isaias Afwerki for signing the agreement and welcomed their commitment "to resume diplomatic ties and open a new chapter of cooperation and partnership."
A statement by the governing party of Ethiopia, the second-most populous country in Africa, said it would "fully accept and implement" the agreement with Eritrea, a former province of Ethiopia, which was signed but never honored.
The countries also fought a war from 1998 to 2000 over their border dispute, which left about 80,000 people dead. They signed a peace agreement in 2000, but the Ethiopians never accepted the findings of a boundary commission established by the agreement.
The border has been a deadly point of contention ever since, and the dispute had been widely regarded as a diplomatic stalemate.
A thawing relationship between Ethiopia and Eritrea could bring economic revival to the Horn. The countries are natural economic partners; peace would create access to ports, cross-border trade and jobs. But creating lasting peace will not just be about forging diplomatic ties between Addis Ababa and Asmara; it will be about demining and demilitarizing the border and restoring the livelihoods of communities that have long lived near each other.
For the United States it is a good opportunity, as it will allow for increased stability. The Trump administration can try to disown the old policies and get a fresh start.
U.S. President Donald J. Trump has the opportunity to make a historic course correction, and to do so in a manner consistent with his administration's stated goals. By renegotiating the U.S. African Growth and Opportunity Act, he can strengthen American exports, create new export-related jobs and foster development-oriented investment on the continent. By reforming U.S. humanitarian aid to Africa, he can cut considerable bureaucratic waste, and effectively increase assistance without increasing the cost.
Meanwhile, Trump's commitment to strengthening U.S. military capacities can and must include due attention to AFRICOM. All these measures — in benefiting Americans, winning goodwill among Africans and strengthening U.S. military capacities in the area — will, in turn, challenge China's dominance of Africa, gaining America leverage as it moves to challenge Beijing in other ways.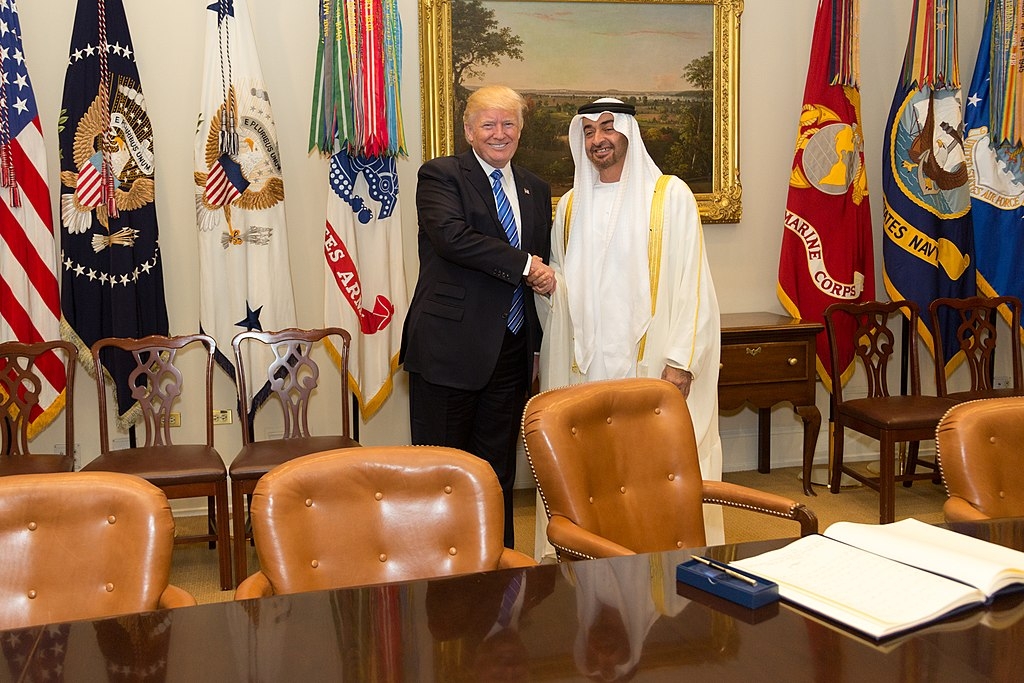 President Trump with Abu Dhabi Crown Prince Sheikh Mohamed bin Zayed at the White House. Washington can use its alliance with the UAE to strengthen ties with Africa. (Official White House Photo: Shealah Craighead)
Washington can also take advantage of the close relationships between them and one of its biggest allies, Sheikh Mohammed Bin Zayed, Crown Prince of UAE, who has a strong ties with many African leaders and who has played an important role during the different negotiations between Ethiopia and Eritrea.
UAE's Minister of Foreign Affairs and International Cooperation, Sheikh Abdullah bin Zayed Al Nahyan, has welcomed the reestablishment of cordial relations between Ethiopia and Eritrea. He has stressed that such an agreement will positively reflect on boosting security and stability in both countries, the Horn of Africa and the MENA region.
Sheikh Abdullah voiced the UAE's aspiration to ensure a durable peace between the two nations.
Workneh Gebeyehu, Ethiopian Foreign Minister, said the historic accord between his country and Eritrea was a result of the extensive efforts made by His Highness Shaikh Mohamed bin Zayed Al Nahyan and thanked him for the seminal role he played in the diplomatic breakthrough.
Dr Anwar Gargash, Minister of State for Foreign Affairs, said the UAE has become a key partner in the Horn of Africa, ahead of all other Arab nations that have a presence in such a vital region.
In a series of tweets, Dr Gargash said: "Maintaining political communication with the Horn of African countries has both risks and opportunities, but it is essential because the Horn of Africa is important for the security and progress of our Arab world. The long term policy the UAE is pursuing is gaining respect in the Horn of Africa and internationally."
Strangely, America's first African-American president turned a blind eye to the continent of his father's birth. Trump again has an opportunity to promote peace, prosperity and development while calming waves of violence. Making America great again, as Trump's campaign slogan goes, means helping Africa rise and stabilize.
President Trump will find that helping Africans achieve their dreams is a cause that constructively complements his plans and goals to benefit the United States.
Ahmed Charai is a Moroccan publisher. He is on the board of directors for the Atlantic Council, an international counselor of the Center for a Strategic and International Studies, and a member of the Advisory Board of The Center for the National Interest in Washington and the Advisory Board of Gatestone Institute in New York.