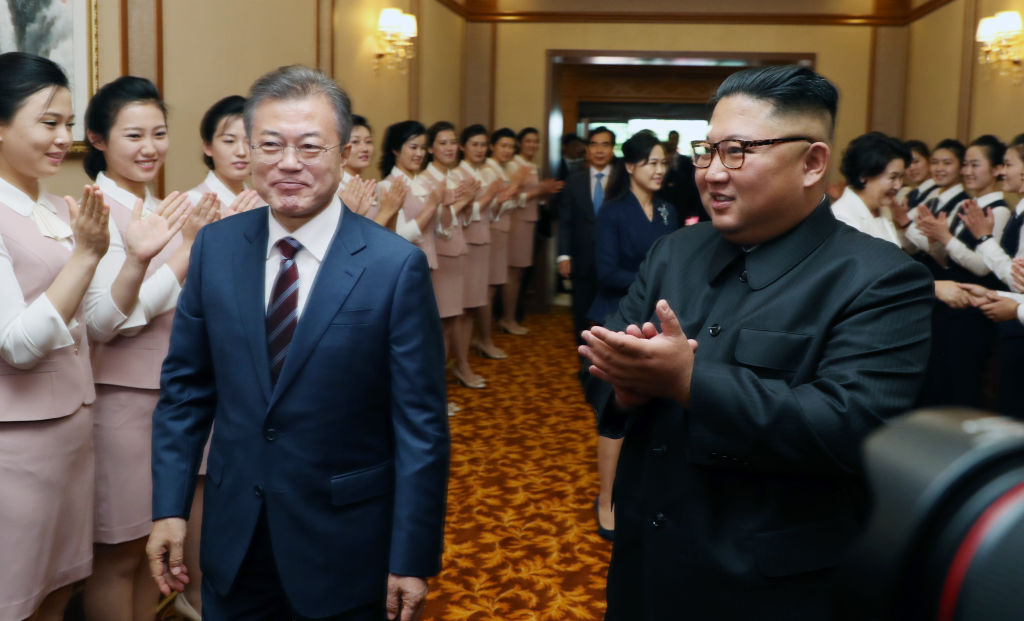 North Korean leader Kim Jong Un (right) guides South Korean President Moon Jae-in during his visit in Pyongyang, North Korea, September 18, 2018. (Photo by Pyeongyang Press Corps/Pool/Getty Images)
Kim Jong Un assembled a reported 100,000 people, many waving his North Korean flag or the blue-and-white unification standard, to greet Moon Jae-in, the president of South Korea, as he arrived in Pyongyang on September 18.
President Moon did not seem to mind that no one was holding the symbol of his country, the Republic of Korea. "What was glaringly missing was the South Korean flag," Taro O of the Pacific Forum told Gatestone in e-mailed comments. "Maybe South Korean people take comfort in seeing that Samsung's Lee Jae-yong wore the South Korean flag badge on the lapel of his jacket while in North Korea. No one in the Moon administration did."
Nor did Moon himself. In fact, throughout the trip Moon went out of his way to downplay the legitimacy of the government he leads and the country he was elected to represent. As Ms. O observed, Moon on the trip often used "nam cheuk," literally "south side" or "south," when the custom has been for South Korean leaders to say "Hanguk," literally "country of Han people." Similarly, Moon while in the North said "nam cheuk gookmin." That translates as "south side citizens." South Korean presidents would normally use "uri gookmin," literally "our citizens" and figuratively "my citizens."
In contrast, Kim Jong Un did not reciprocate Moon's rhetorical gestures. During Moon's visit, he used the communist term "uri inmin," "our people" or "my people."
Kim's Democratic People's Republic of Korea does not recognize Moon's Republic of Korea as sovereign. Similarly, South Korea does not recognize the North. Moon's choice of terms signaled -- subtly but significantly -- he was not asserting South Korea's right to exist.
Moon obviously wants to change Seoul's core position, which it has maintained since the founding of the South Korean state in August 1948. His Ministry of Education, disturbingly, has already changed textbooks. Up to now, the South's textbooks have stated that Seoul is "the only legitimate government on the Korean Peninsula." New textbooks, however, do not include that declaration. And, as Ms. O points out, the South's Unification Ministry has also deleted the critical phrase from training materials.
To pave the way for unification, Moon's long-cherished goal, he has also tried to make the South more compatible with Kim's horrific state. Most fundamentally, his Democratic Party of Korea led an attempt to remove the notion of "liberal" from the concept of "democratic" in the constitution.
Fortunately, the South's "conservatives" rebuffed the effort, but the Education Ministry in June tried to change the country's textbooks, proposing to describe the nation's political system as just "democracy." The ministry had to relent, permitting the concept of freedom to be included in the materials.
Moreover, Moon's government has given only a lukewarm endorsement to the South's National Community Unification Formula, which affirms that a unified state should be a liberal democracy. Since September 1989, every South Korean president has backed the document as official policy.
The Kim regime in the north rejects the label "liberal" but maintains it too is "democratic," so Moon's various changes would have reduced a high barrier to the union of the two Koreas.
President Moon, unfortunately, has undermined democracy in tangible ways. Since becoming president in May of last year, he has used control of big broadcasters to reduce access to dissenting views and to promote North Korea's. "An American expert recently visiting [South] Korea was warned by a state-funded media outlet to avoid any remarks critical of Moon's approach to North Korea," Lawrence Peck, a leading expert on pro-North Korea activities in the U.S., told Gatestone this month.
Now, Moon's government is going after free expression on social media. Minjoo, as Moon's party is known, is behind a "broadcast law reform" bill, which if enacted will give the government the right to take down YouTube videos it does not like. "YouTube remains the only open venue for those Koreans who want to safeguard their country as a democratic republic," writes In-ho Lee, a former South Korean diplomat and once president of the Korea Foundation, in e-mail comments.
Is South Korea becoming North Korea? It is certainly moving in that direction. Its leader, in Peck's words, "attempts to stifle dissent, both under color of law and by unofficial and more subtle forms of pressure." A favorite tactic has been, as he explains, "extremely dubious criminal defamation charges against critics." Moreover, the South Korean government is pressuring North Korean defectors to keep quiet about the North.
Conservative voices, Peck says, are being "persecuted, censored, fired, prosecuted, pressured, or otherwise retaliated against or harassed."
And they are not the only ones targeted. Moon has created an atmosphere where pro-North Korea elements are waging what Lee calls "a reign of terror." In the terror, these forces feel free not only to speak but also to deny freedom to others. The North's radical proponents now hold rallies urging the arrest of "scum" -- those who have escaped from the North to live in the South. Moreover, radicals have put up in Seoul wanted posters naming two defectors, asking citizens to report on their whereabouts. Because the pair is believed to be targeted by Pyongyang for assassination, the posters put their lives in danger.
It is not clear whether "free democracy" is "currently on the verge of a collapse," as charged in the September 4 Statement of the Congress of the Republic of Korea on the National Emergency on the Situations that Face the Nation, but alarm is now widespread.
If all this were not enough, Moon is taking down defenses along invasion and infiltration routes into Seoul and proposing substantial reductions in the South Korean military. Americans should care because by treaty they are obligated to defend the South, which for decades has anchored their western defense perimeter.
Many speculate as to Moon's motives, but, whatever his intentions, he has kept as senior advisors those who, as members of the so-called juchesasangpa groups, advocated North Korea's juche self-reliance ideology and have refused to disavow their views to this day. And to this day concerns continue to swirl around Im Jong-seok, Moon's radical chief of staff. Moon, according to Peck, has continued to hire far-left advisors.
Therefore, Moon's refusal to insist that the North Koreans fly his country's flag, something a host country would do as standard diplomatic protocol, is deeply troubling. As David Maxwell of the Foundation for Defense of Democracies notes, the North continually attempts to undermine South Korea with "subversion, coercion, and use of force."
And now, Kim appears to have recruited a sympathizer, Moon Jae-in.
Gordon G. Chang is the author of "Nuclear Showdown: North Korea Takes On the World" and a Gatestone Institute Distinguished Senior Fellow.