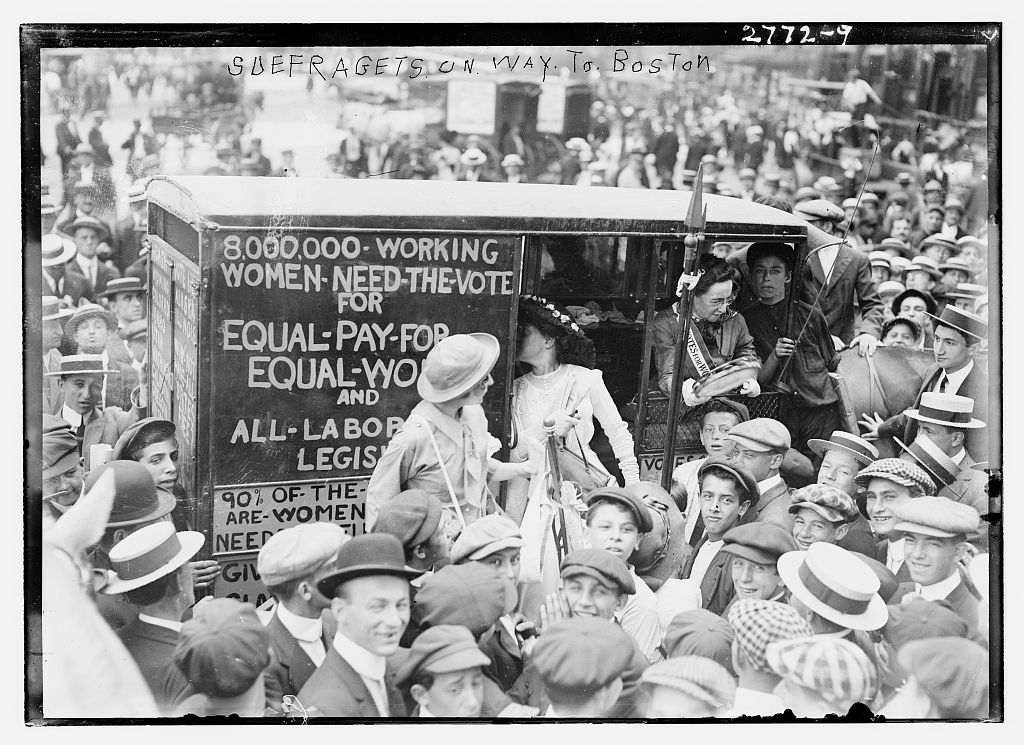 In the West, women's dress, behaviour, and rights to autonomy have been freed from religious control only in the 20th and 21st centuries, with the rise of the suffragettes, feminism and the availability of safe contraception. Pictured: Suffragettes on way to Boston, sometime between 1910 and 1915. (Image source: George Grantham Bain Collection, Library of Congress)
Men, after a certain age -- as nature seems to have intended to preserve the human race -- are often sexually attracted to women. Women, similarly, are often sexually attracted to men, even if many cultures try to keep that proclivity a closely-guarded secret.
Different cultures handle human sexuality in different ways, presumably to avoid the potential social disruption it could create. This control has traditionally been affected by religious doctrines, laws, and patriarchal priests, ministers, rabbis, muftis and other clergy. In the West, women's dress, behaviour, and rights to autonomy have been freed from religious control only in the 20th and 21st centuries, with the rise of the suffragettes, feminism and the availability of safe contraception.
Judaeo-Christian culture has involved restrictions of this kind, with monogamy enforced, adultery condemned, divorce often hard or sometimes impossible to obtain even for women suffering physical and psychological abuse, a lifetime of childbirth and nurturing, often while turning a blind eye to men's sexual independence. Changes that have taken place in Western culture for the past century are unlikely to undergo much reversal in the years to come. Most women today in the West dress as they choose, some modestly, others in inviting ways. Women insist on civil rights, play increasingly important roles in politics, business, the military, education, and all professions, and there are even female members of the clergy in many churches, such as the Anglican Church and the synagogues and temples of the Jewish Reform and Conservative movements.
This is the new, Western world in which immigrants from other cultures now live, some with relief, others too bewildered to find safe pathways through which to negotiate their way between our freedoms and their inherited assumptions about women, their place in society, and their sexuality. Nowhere is this dilemma sharper than between Muslim immigrants in the West and the democratic values they encounter.
In part, this is because traditional and current Islamic culture with regard to sexuality differs markedly from that of the West. As in the Judaeo-Christian universe, women are restricted and men are given superior rights, but Islam, both as a religion and a culture, has a very different set of rules and legal codes for relations between the sexes, both in the obvious ways (burqas, niqabs, and hijabs) and in less familiar concepts. It is possible that these differences that go far to explain why child sexual grooming gangs and the collective sexual harassment of women have taken hold in some places.
Here are a few of those differences. Shari'a law allows a man up to four wives, but women only one husband. Shari'a law also allows a man the right to have sexual relations with as many slave girls or concubines as he can afford (hence the sometimes massive harems kept by Muslim rulers, officials, and wealthy men). Shari'a law also allows a man the freedom to divorce a wife sometimes by as little as saying three times "I divorce you". The practice was outlawed in India only this year, and rights for divorce are much harder for a woman to exercise.
Shari'a law allows a man in Shi'i Islam the liberty of taking a temporary wife in mut'a ("pleasure") marriage in a contract for as short as an hour; and, in some places in Sunni Islam, to have a "traveller's wife" or wives in misyar marriage when travelling from home. To add to all this, men are granted houris (beautiful virgin companions) when they pass into eternal life, with some 70 reserved for martyrs. In one famous statement by a religious scholar, "the erection is eternal".[1]
To a certain type of Western man, this might seem to be sexual heaven: almost as many women as you want on a flexible basis. No alimony in case of divorce, automatic custody of children once they turn seven, no guilt. The 19th-century ruler of Iran, Fath-'Ali Shah (1769-1834), was famous for his long beard, his more than 1,000 wives, his 60 sons, his 55 daughters, and his royal family of over ten thousand by the mid-century.
Although Muslim men are, of course, no different from the rest of us, nevertheless, all the rules governing sexuality may be easily found in the learned tomes of Shari'a law, enforced by fatwas from jurisprudents, and enshrined in the judicial systems of more than one Islamic country in the present day. The result is the perpetuation of attitudes towards women that often appear to debase them and allow men to treat them with contempt.
The most painful modern examples of this contempt may be found in Muslim countries that carry out public floggings (see here, here and here) for offences such as "standing too close" to a man or for running away from husbands who beat them and stoning women to death, even for being raped (for example, here and here).
These take place in Sudan, Indonesia, Iran, in some Gulf States such as Saudi Arabia and the UAE, in parts of Pakistan, the Maldives, and, of course, in areas controlled by the Islamic State.
As often cruelty to women happens not only behind closed doors, but in the public square, one can only guess how this display affects both women and men. Sons see how their mothers are treated; this too doubtless informs their behaviour.
In Iran, the use of sexual torture on women in prisons is the subject of a full-length study. Shadi Sadr and Shadi Amin's book, Crime and Impunity: Sexual Torture of Women in Islamic Republic Prisons details topics such as "Raping of Virgins before Execution", "Prison Marriages", "Rape of Prisoners" -- all backed by witness testimonies and case studies.
One cannot rule out the likelihood that even knowing of -- let alone witnessing -- such humiliation may have, in a way, energised Britain's child sexual grooming gangs.
A congruent practice found in some Arab states, notably Egypt, is another public spectacle that involves men watching women being chased, sexually abused, and raped. This is known as taharrush (harassment) or taharrush jama'i (mass harassment). Here is one description of what happens:
A group of Muslim men target a (non-Muslim) woman who is not wearing Hijab in a crowd, encircle her, sometimes singing, dancing and/or chanting, and push her companions, if any, out of the circle. The woman is caught off guard and at first thinks the Muslim men just want to sing and dance with her, until the circle closes around her, at which point more Muslim men join to form three layers that render the circle virtually impenetrable.

At that point, those in the inner layer rip off the woman's clothes, grope, beat, sexually assault and rape her while those in the second layer watch the assault take place, and those in the outer layer, who are too far away or too short to watch the assault, dissuade or fight off would-be rescuers, even telling them that they are just helping a woman in need.
It should be added that the woman need not be a non-Muslim. Many Muslim women are chased and handled in this way. The online journal Jadaliyya, published by the Beirut-based Arab Studies Institute, studied this activity as far back as 2013. The journal stated that, "In Egypt, sexual harassment is widespread and touches the lives of the majority of women whether on the streets, in public transportation, or at the work place, the super market, or political protests." The same article later declares:
"... one key argument in the victim-blaming that is salient in our everyday narratives is the common and vulgar perception that sexual harassment occurs when women dress 'provocatively.' In fact, the only thing that Egyptians who face sexual harassment have in common is that over ninety-nine percent of them are females."
It should not be surprising, then, that the sight of non-Muslim girls and women walking freely on European streets even in winter clothes has provoked large numbers of male refugees and migrants to engage in taharrush jama'i, starting with the assaults in Cologne and other German cities on New Year's Eve 2016. Cologne's police chief, Jürgen Mathies, declared:
"Many of the alleged attackers were from countries where this behaviour, where women are hemmed in and then abused by a large number of men at once. I must say that this phenomenon was not known to me in Germany before." [For his full statement in German, see here.]
By January 7, Germany's Federal Criminal Police Office (Bundeskriminalamt) had already identified the assaults as a form of taharrush jama'i, and on June 7 their full report on the incidents made the same link.
At this point it is necessary, however painfully, to note that the common denominator in all these forms of harassment and abuse of women is that the men involved are all members of the same religious and cultural group. There are, of course, variations between countries and even parts of countries, specific groups, and many individuals. It would be totally inaccurate, wrong and invidious to say that all Muslim men share these characteristics, but it remains clear that hundreds of thousands, if not millions, (out of 1.8 billion) do. The problem has been exacerbated since the late 1970s and the Iranian Revolution by the shift away from secularism back towards religiosity. Even Turkey, which, under Atatürk and his successors, had been the most secular Muslim state, has now reverted to pious and radical Islamism.
Turkey's educational system now rears children and young people to become obedient Muslims instead of thinking adults.
One aspect of Shari'a law exists, however, that may well have a bearing on attitudes towards non-Muslim girls and women of all ages. This is the ruling that "captive women" (who are invariably non-Muslims: Jews, Christians, Yazidis, Hindus or others) taken in jihad wars may be made sex slaves, forcibly married, used as concubines, and bought and sold in the marketplace.[2]
It is important not to assume that the members of British grooming gangs consider themselves jihadis entitled to capture non-Muslim girls. They do not even appear at all pious. But knowledge of such practices (for example here, here, and here) is likely to have some impact on Muslims coming from countries where some form of slavery or indentured servitude still exists. In December 2014, Daniel Pipes identified Afghanistan, Mali, Mauritania, Oman, rural Pakistan, Saudi Arabia, Sudan, and Yemen as Muslim-majority states holding on to enslavement, even despite some laws to ban the practice. World Atlas adds Iran and South Sudan to its list of countries with the highest prevalence of slaves in our era.
Sadly, in the case of Britain's grooming gangs, religious ideology does not play a role in forbidding child sexual grooming. It is important to examine, as we shall do in Part 3, just how crucial a factor this seems to have been in community silence about them.
Denis MacEoin PhD is a specialist in Islamic Studies who has contributed to the multi-volume Encyclopedia of Islam (2nd. Ed.), the vast Encyclopedia Iranica, the Oxford Encyclopedia of Islam in the Modern World, journals, books, and Festschrifts. He is a Senior Distinguished Fellow at the Gatestone Institute.
---
[1] Denis MacEoin writing as Daniel Easterman, "The Erection is Eternal", New Statesman and Society, UK, 12th Feb. 1993, pp. 26-27.
[2] For recent scholarly studies of slave women in Islam, see Matthew S. Gordon and Kathryn Hain (eds.), Concubines and Courtesans: Women and Slavery in Islamic History, Oxford University Press, 2017.