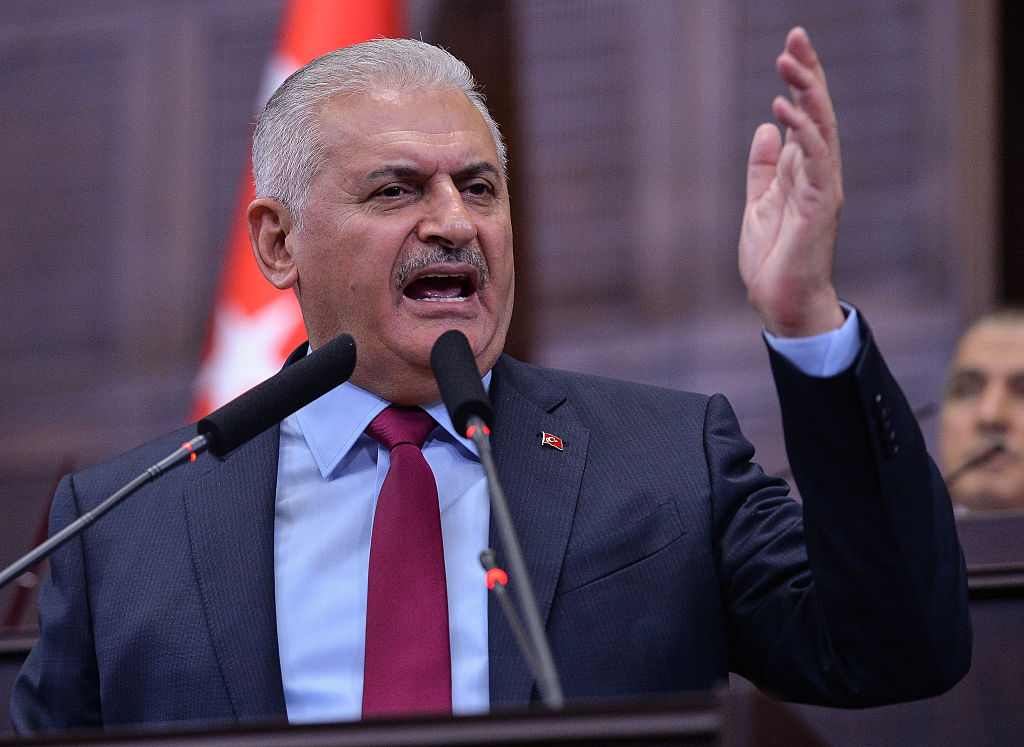 Secular Turks were shocked when Binali Yıldırım, then Minister of Transport, explained that in his youth, he changed his choice of university to avoid a school where male and female students sat together. (Photo by Erhan Ortac/Getty Images)
Secular Turks were shocked when Binali Yıldırım, then Minister of Transport, explained to an interviewer why, in his youth, he changed his choice of university:
"I visited Bogazici University and saw that girl and boy students were sitting together... I feared I could go astray. And I decided to attend the technical university."
Yıldırım who later became President Recep Tayyip Erdoğan's choice for prime minister now serves as parliament speaker.
It is not surprising that for Turkey's extremists, governance broadly means the Islamization of everything, including education at every level. In a 2017 speech, Erdoğan boasted that, after his Justice and Development Party came to power, the number of students at the religious imam hatip schools rose from 60,000 to 1.3 million.
Unsurprisingly, Erdoğan has often declared his political ambition not as raising honest, well-educated, free minds, but as "raising pious generations."
A good school, according to extremists, is not where science is taught at universal standards; it is where pious students grow.
In a 2017 study, Deniz Kandiyoti and Zühre Emanet, two scholars at the University of London, wrote:
"The drastic transformation of Turkey's educational landscape under Justice and Development Party (AKP) presents an exemplary case study of the embeddedness of the freedom to think, write and teach in the vagaries of systems of governance."
In 2017, Turkey stopped teaching evolution at secondary school: for extremist Muslims, Darwinism remains a taboo subject. Instead, school textbooks started teaching Turkish pupils "jihad."
Erdoğan's efforts to Islamize education even further have not ceased. Most recently, on September 10, the Education Ministry removed the co-education clause from its regulations, causing fears that the move could lay the groundwork for gender-segregated education on a wider scale.
Turkey's Higher Education Board, widely viewed as a council used by governments to shape education policies that reflect partisan political agendas, in 2016 asked 1,577 university deans (reportedly every dean in the country) to resign "for the sake of democracy." According to a report by World Education News + Reviews:
"Turkey's current crackdown on academic freedoms poses steep barriers to growth, as does its rocky relationship with the EU. At stake are not only student flows, but international research cooperation, financial aid, and other issues central to the quality and reputation of the Turkish education system at large."
Erdoğan's obsession about ever more religious education has transformed Turkish universities into blocks of buildings with a library, a mosque and hundreds of thousands of conservative Muslim students, run by pious academics and academic boards. Erdoğan has the power to appoint the presidents of 200 or so Turkish universities. Piousness, however, does not bring academic success.
According to The Times Higher Education's World University Rankings, Turkey, with a population of 80 million people, has only 22 universities in the top 1,000 list, with the best one ranking only in the 301-350 bracket.
Turkish academia, however, has its own success stories to please Erdoğan and his choice of hundreds of university presidents. According to a study by Rice University involving 22,525 scholars worldwide and measuring piety in academia, Turkish lecturers appeared to be the most religious. A total of 609 Turkish scientists in the fields of physics and biology participated in the study: 85% of them confirmed that they believe in God while 63% said they prayed often.
It is no wonder why Turkey does not have a single Ivy League-level university. Turks, however, do not seem unhappy that their schools are not world-class, so long as their students, scholars and university presidents are pious.
Burak Bekdil, one of Turkey's leading journalists, was recently fired from the country's most noted newspaper after 29 years, for writing in Gatestone what is taking place in Turkey. He is a Fellow at the Middle East Forum.