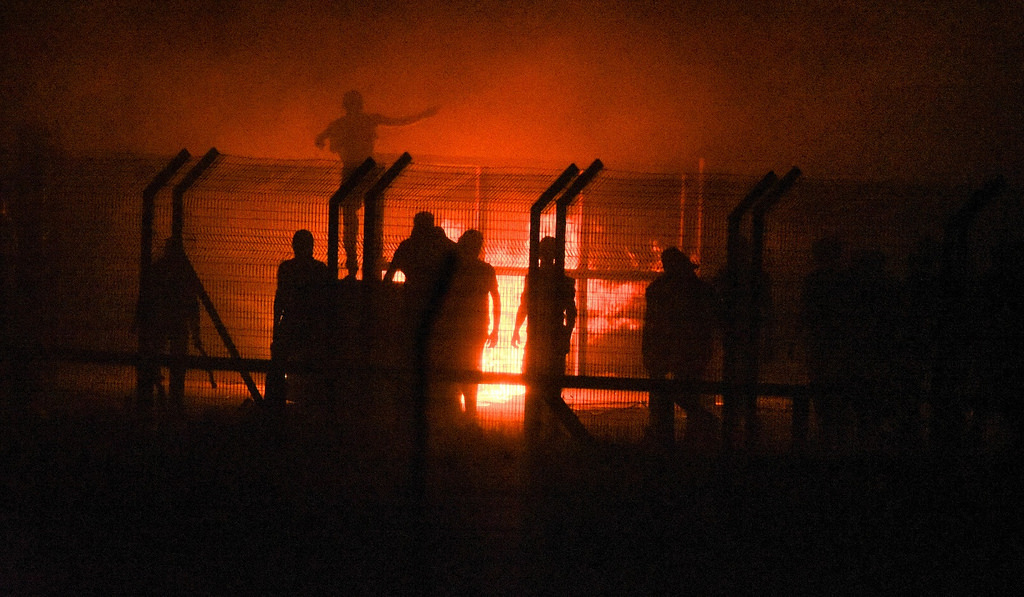 Pictured: Palestinian rioters in Gaza burn the Kerem Shalom Crossing, used to transfer goods from Israel to the Gaza Strip, May 4, 2018. (Image source: IDF/Flickr)
It is no secret that most of the Arab countries do not trust Hamas, the Palestinian Islamist group. President Mahmoud Abbas's Palestinian Authority, for instance, as well as many Palestinians, do not have any confidence in Hamas, particularly after the summer of 2007, when the Islamist movement violently seized control of the Gaza Strip. Earlier this year, Abbas threatened that "shoes will be pouring" onto the heads of Hamas leaders.
Now, however, Israel is being asked to trust Hamas. This request is coming from Egypt, Qatar, and the United Nations, whose representatives have been working hard the past few weeks to arrange a truce agreement between Israel and Hamas.
According to unconfirmed reports, the proposed truce calls for reopening all the border crossings between the Gaza Strip on one side, and Israel and Egypt on the other. The truce also apparently calls for expanding the fishing zone off the Gaza Strip coast to 9 miles; paying salaries to thousands of Hamas employees, and increasing fuel supplies to the only power plant in Gaza. Qatar -- a country that has long been supporting the Muslim Brotherhood and its offshoot, Hamas -- will be required to pay for the fuel and the salaries, according to the proposed truce agreement.
What will Israel get in return? Calm. This means a Hamas promise temporarily to stop launching terrorist attacks on Israel from the Gaza Strip. This promise by Hamas also includes temporarily halting the weekly, Hamas-sponsored, violent riots along the border between the Gaza Strip and Israel.
Last weekend, there were already signs that Hamas was interested in reaching a deal with Israel. The protests that Hamas launched on November 2 along the Gaza-Israel were less violent than the previous ones. This change was the result of direct orders issued by the Hamas leaders, who have apparently reached the conclusion that a truce agreement, at this stage, will be good for their group.
"The restless efforts by Egypt, Qatar and the UN to end the blockade on the Gaza Strip are nearing success," said senior Hamas leader Khalil al-Haya. Hamas and the other Palestinian groups in the Gaza Strip, he added, were now waiting for Israel's response to the mediation efforts made by Egypt, Qatar, and the UN.
Hamas has excellent reasons to be happy with the proposed truce with Israel. The agreement does not require Hamas to make any real concessions other than temporarily to stop its terrorist attacks on Israel.
The proposed accord does not require Hamas to disarm or dismantle its militia. Hamas is not being asked to relinquish control over the Gaza Strip, or pave the way for the return of the Palestinian Authority to Gaza. Hamas is not being asked to destroy the terror attack tunnels it has dug along the border with Israel. Hamas is not being asked to stop smuggling weapons, for use against Israel, into the Gaza Strip. Hamas is not being asked to renounce violence or recognize Israel's right to exist. Hamas is not being asked to accept a two-state solution or abandon its dangerous, genocidal ideology.
All that Hamas is being asked to do is to sit quietly and behave nicely so that the group and its supporters can get salaries and fuel, and enjoy other privileges, such as economic and humanitarian aid.
These benefits for Hamas are exactly why the proposed truce deal is dangerous and sends the wrong message to Hamas and other Palestinian terrorists. A truce now says that if you engage in violent, extortionistic acts, you get what you want.
Hamas will see any truce with Israel as a victory. The agreement will come after seven months of violent riots along the border with Israel. It will be seen by Hamas as a victory because it will look as if the violent protests, including the launching of thousands of rockets, mortar shells, and incendiary kites and balloons towards Israel have finally achieved their goal: forcing Israel and the international community to ease restrictions imposed on the Hamas-ruled Gaza Strip.
What is disturbing is that Hamas, Palestinian Islamic Jihad and other terrorist groups in the Gaza Strip already view the current mediation efforts to achieve a truce with Israel as a reward for the past few months' deluge of anti-Israel terrorist attacks.
They apparently believe that without the violent demonstrations and terrorist attacks, which began last March, the international community would not have moved to seek a solution to their economic and humanitarian crisis in the Gaza Strip.
This victory will, of course, only increase the terrorists' appetite and motivation to continue their attempts to kill as many Jews as possible. They will see any truce as a retreat on the part of Israel in the face of violence and terrorism.
When terrorists are smiling and celebrating what they perceive as victory, the world needs to worry.
Israel is again taking a big gamble by considering a truce. It also taking a big risk by putting its faith in the Egyptians, Qataris and the UN: Hamas has repeatedly and consistently violated previous cease-fire agreements with Israel.
By continuing to dig terror tunnels along Gaza's border with Israel, Hamas has violated previous cease-fires. By continuing to conduct daily rocket tests, Hamas has violated virtually all of the previous cease-fire agreements. By dispatching Palestinians to plant explosive devices, infiltrate the border with Israel, and launch arson kites and balloons, Hamas has violated every previous cease-fire. In recent months, Hamas has repeatedly broken even temporary cease-fires with Israel.
As for Egypt, Qatar, and the UN, they are acting strictly out of concern for their own and Hamas's interests. Egypt wants a truce between Hamas and Israel because it wants quiet along its shared border with the Gaza Strip. Qatar wants the truce because this wealthy Arab emirate wants to bolster the standing of the Muslim Brotherhood and Hamas in the Arab and Islamic world. The UN, for its part, wants to prove to the world that it still relevant, influential and capable of contributing to stability, security and peace.
Not one of the three parties is trying to achieve a truce in the Gaza Strip out of love for Israel or a genuine concern for anyone's security.
Hamas will be the biggest winner if and when an agreement is reached through Egypt, Qatar and the UN. Economic and humanitarian aid to the Gaza Strip will absolve Hamas of its responsibilities towards the Palestinian population there. Hamas will no longer have to worry about poverty and unemployment because the international community will now be taking care of the people in the Gaza Strip. Hamas will no longer have to worry about paying salaries to thousands of Palestinian employees or purchasing fuel needed to keep the power plant operating. Qatar has already pledged to cover the expense of the fuel and employees' salaries.
Hamas will now have more time to prepare for the next war against Israel. The proposed truce will give Hamas breathing space to smuggle more weapons into the Gaza Strip, dig new tunnels and recruit thousands of Palestinians to its ranks. Hamas will not take advantage of the truce to build hospitals and schools or create new job opportunities or improve the living conditions of the Palestinians under its rule. All Hamas wants is a break so that it will be able to strengthen itself in preparation for the next war against Israel. Egypt, Qatar and the UN are now pressuring Israel to give Hamas an opportunity to amass more weapons and terrorists.
Israel is being asked to give those who seek its destruction yet another chance. Israel is being asked to give those who seek its destruction more fishing areas that will facilitate their mission of smuggling weapons into the Gaza Strip. Israel is being asked to open its borders to oblige those who call for its destruction day and night. Israel is being asked to send fuel and medical aid to those who burn its flags and, on a daily basis, in the mosques and public squares of the Gaza Strip, call for its obliteration.
Israel is being asked to make all these gestures to Hamas at a time when most Arabs have stopped trusting the terrorist group years ago. The Syrian regime dumped Hamas shortly after the beginning of the civil war in 2011 because of its support for the anti-Bashar Assad opposition forces. In 2012, the Syrian authorities closed down Hamas offices in Damascus and expelled several leaders of the terrorist group.
Jordan also shut down the Hamas offices in Amman two decades ago, and in 1999 expelled several Hamas officials from the kingdom.
The Egyptians cordially hate Hamas: they consider it a "threat" to their national security because of its affiliation with Muslim Brotherhood and terrorist groups fighting against the regime of President Abdel Fattah el-Sisi. Some Egyptians have also accused Hamas of working with the Islamic terrorist groups in the Sinai Peninsula.
Saudi Arabia has gone even further by denouncing Hamas as a terrorist organization.
These are only a few examples of how Arab countries view and deal with Hamas. Israel, meanwhile, is being asked to help Hamas by easing restrictions on the Gaza Strip. It is a request that poses a severe threat to Israel's security. Ironically, the threat to Israel that this truce presents is far more severe than the current assaults Israel is undoubtedly hoping that the truce will stop. If Hamas's Arab brothers do not trust this terrorist group, why should Israel?
The proposed truce may bring calm along the border between Israel and the Gaza Strip, but only in the short term. Hamas is not going to change its ideology or policies as a result of any temporary truce. It will always continue to work towards achieving its goal of seeing to it that Israel is "removed from the map."
This goal is why Israel needs to remain on high alert even if a truce is reached. Hamas's goal is also why the international community needs to understand that striking deals with terrorists simply emboldens terrorists and their friends in ISIS and other jihadi groups. The only way to deal with Islamist terrorists is by making sure that they are the first to "disappear from the map." A real truce between Israel and the Gaza Strip will be achieved only after the jihadi terrorists are removed from power, and not rewarded for violence and threats.
Bassam Tawil is an Arab Muslim based in the Middle East.