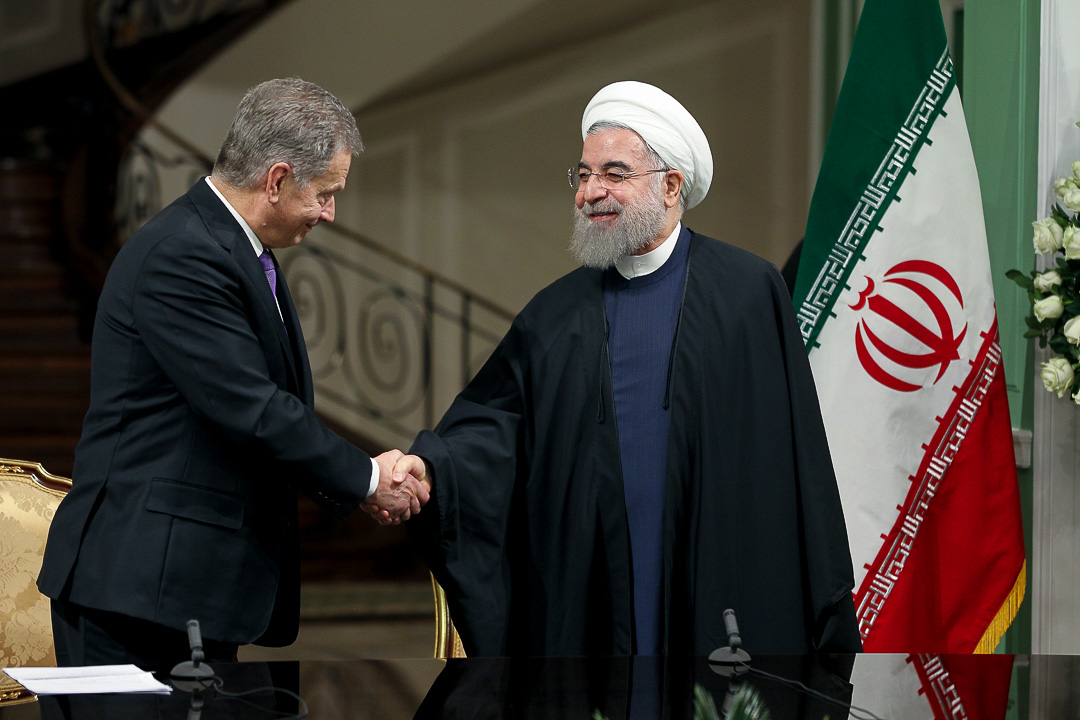 Pictured: Finnish President Sauli Niinistö (left) with Iranian President Hassan Rouhani, in Tehran, on October 26, 2016. (Image source: Office of the President of the Republic of Finland)
There is a special saying in Finland describing a person's naïvety: it is called being "blue-eyed". Unfortunately, there is not a saying that describes the same trait for an entire political class.
Successive Finnish governments could be accurately described as extremely "blue-eyed," especially during the last decade or so in their relations with Iran.
Part of the problem seems to lie with Finnish politicians, who seem truly to believe that having a dialogue -- any dialogue -- regardless of who is on the opposite side of the table, is better than having no dialogue at all. So you can easily end up with the equivalent of a businessman trying to reach an agreement with Al Capone, while each holds completely different assumptions about the underlying terms of an agreement, including whether agreements are even meant to be kept.
This kind of approach in international politics is not without its pitfalls. It is bound to be capitalized on by the less scrupulous. When it comes to states such as Iran, "the world's top state sponsor of terrorism," you simply cannot deal with them as you would with Finland's immediate neighbors. Doing so would most likely come at too high a high cost.
Evidence of this cost can be seen in how the Finnish justice system has been cracking down on freedom of speech over the past 10 years. One high-profile case that reached the international media took place in 2009, against the present day chairman of the Finns Party, Jussi Halla-aho, who recently led his party to a second-place position in parliamentary elections.
One of the possible reasons behind these blue-eyed convictions could well be trade deals with Iran. There is big money to be made, and Finland would no doubt like to be seen as "being a serious player", a country that has earned the right to have a seat at the Iranian trade table.
Iran's influence in Finland can also be seen as well in an incident that took place in 2013, when an Iranian envoy compelled the Finnish National Defense University to remove from its website a research paper by an Iranian expert. The Iranian regime said it was "offended" by the paper because it criticized their "nuclear program and its treatment of Israel, women, and minorities." Only after the incident reached the attention of the international media did the university rescind its decision and reinstate the paper.
Less than a year later, Finland's Foreign Minister, Erkki Tuomioja, known for his hostility to Israel, made an announcement:
"We are on a road leading towards the normalization of relations between Europe and Iran. This is important to both sides and to the whole world. It could lead to positive changes if things are handled correctly."
Whether naïve or just ignorant, the then-Finnish government, headed by Alexander Stubb (National Coalition), an allegedly conservative politician who cut his political teeth in the halls of the EU as a Member of the European Parliament for Finland, directed Finland to engage with the Iranians. Finland's support for EU policies seems to enjoy wide support across party lines, with the main exception being the Finns Party.
What happened since is that in 2016, Finland's President Sauli Niinistö, now in his second term, traveled to Iran with a team of business professionals, presumably hoping to tap into Iran's economy.
The U.S. group United Against Nuclear Iran (UANI) issued a press release in October, 2016, warning the Finnish president about dealing with the regime:
UANI has already warned the Finnish company Cargotec, a crane-maker with a lamentable history in Iran, and has reached out to other Finnish companies including Nokia, Kone, and Outotec.

"Cargotec's cranes have become a symbol of the Iranian regime's repressive policies,' a recent UANI letter to the company reads. UANI noted that there are two documented instances where Cargotec-tied cranes have been used for public executions. As a major U.S. defense contractor with more than $1 billion in sales to the American military, Cargotec has also been warned by UANI that it 'will be thrust to the forefront in a public debate about the propriety of corporate business in Iran."
The press release went on to include the warnings of UANI's Chairman, former US Senator Joe Lieberman, and its CEO Ambassador Mark D. Wallace:
"This charm offensive cannot hide the fact that Iran remains the world's leading state sponsor of terrorism, matched only by its deplorable human rights record. While President Niinistö recently condemned 'all forms of terrorism,' Iran's foreign minister obviously disagrees, having mourned the recent loss of Hezbollah's senior military commander and arch-terrorist, Mustafa Badreddine."
The plea went unheeded by the Finnish delegation. The Finnish president issued a statement in Tehran, saying:
"The Joint Comprehensive Plan of Action completed in July 2015 was an important milestone, which opened up new opportunities in our bilateral relations and business cooperation. I am convinced that this deal will promote nuclear disarmament and offer more opportunities in international trade for Iranian companies,"
Niinistö's statement speaks loudly of the "blue-eyed" approach that successive Finnish governments have adopted regarding the Iranian regime. Sadly, this pathway is totally detached from reality -- leading us to the organization Crisis Management Initiative (CMI), founded by Martti Ahtisaari, a former president of Finland (from the Social Democratic Party) and a Nobel Peace Prize laureate.
In 2017, CMI, which has been (in part) privately funded by billionaire George Soros, partnered with Masarat, whose general director supports the economic suffocation of Israel. Both CMI and Masarat facilitated an unofficial meeting in Geneva, Switzerland, between the representatives of the Islamic terrorist organization Hamas and Fatah. It was a blue-eyed attempt to explore common ground between the two sides in order to build a unified Palestinian government.
Apparently aware of possibly violating an EU law prohibiting EU citizens from interacting with known terrorist groups, they dressed up it as a meeting between different Palestinian NGO's. Hamas leaders were quietly allowed to participate. The meeting, naïve like all the rest that preceded it, ended in a dismal failure.
According to Gerald Steinberg, head of the NGO Monitor:
"The ways in which European officials use NGO funding in the chaotic Middle East is very disturbing. This is the new form of colonialism and, as this case involving the governments of Finland and Switzerland shows, NGO activities can be used as a cover by terrorists -- for which there is no excuse."
Notably, one of CMI's advisor's, Hussein al-Taee, who was recently voted into parliament in Finland's parliamentary elections as a candidate for the Social Democrat Party (SDP), is the son of the governor of Najaf in Iraq. According to Finland's largest subscription newspaper, Helsingin Sanomat, al-Taee knows important people in the Shiite government. The relationship between CMI and the Finnish government might also in part explain the Finnish government's policy of courting Iran during the past few years.
What suggests that Finnish politicians are actually being extremely blue-eyed and naïve, is that a Finnish website has published screenshots of Facebook posts by al-Taee that date from 2011 onward, which appear rather unflattering for a person working for a conflict-resolution foundation. The texts, which are filled with incitement-filled vulgarity and anti-Semitism, are mostly in English, and prior to recent Finnish parliamentary elections, according to the blog's author, "have been publicly available in practice, but the media has not felt the need to raise a question about them."
"The Finnish media at the time seemed to know who to go after, and who not to. After the election, however, the SDP's newly-minted MP is going through quite a maelstrom, although the SDP has considered the matter now closed and still enjoys CMI support, the controversy over al-Taee's highly inflammatory Facebook posts is still reverberating in the media."
Iran expert Alan Salezadeh, founder of the Finnish consulting firm, Menatto, has been warning about the Iranian diaspora influencing Finnish policy makers for a while. Now, using both Iraqi and Syrian Shiite communities as conduits for an Iranian lobbying system, this influence has led some in the Finnish media to present a positive picture of Shiite Iran.
The Helsingin Sanomat, for instance in an article entitled "Jews in Iran have it good," found Iranian Jews to interview who said they preferred Iran over Israel, and lauded Iran's democracy. The Iranian parliament has a Jewish MP! The journal does not mention what might happen to these Jews if they had said anything else.
This kind of positive media coverage of Iran (especially after US President Donald Trump rescinded the nuclear deal with Iran) has actually freed Finnish politicians (and its diplomatic corps) actively to pursue deepening their ties with the Iranian regime. The media, the supposed watchdog of government, is perfectly fine with the current political and business status quo. Truth and morality be damned.
Just a little more than ten years ago, Finland's flagship telecommunications company, Nokia, was found to have sold to Tehran surveillance technology, which was used a year later to suppress dissident demonstrators' use of social media. In 2017, Nokia was once again in Iran lining up at the trough, with the rest of the Finnish delegation led by president Niinistö.
How Finland behaves today is reminiscent of its behavior with the Soviet Union during the Cold War. During that time, Finnish politicians, academics and journalists practiced self-censorship. They knew whom not to talk about, let alone criticize. Today it is criticism of Islam that is aggressively prosecuted under the guise of combating "hate-speech" or "disparaging of religious groups". It is the same M.O., just a different place and time.
Kenneth Sikorski, author of the political website TundraTabloids.com, lives in Finland.