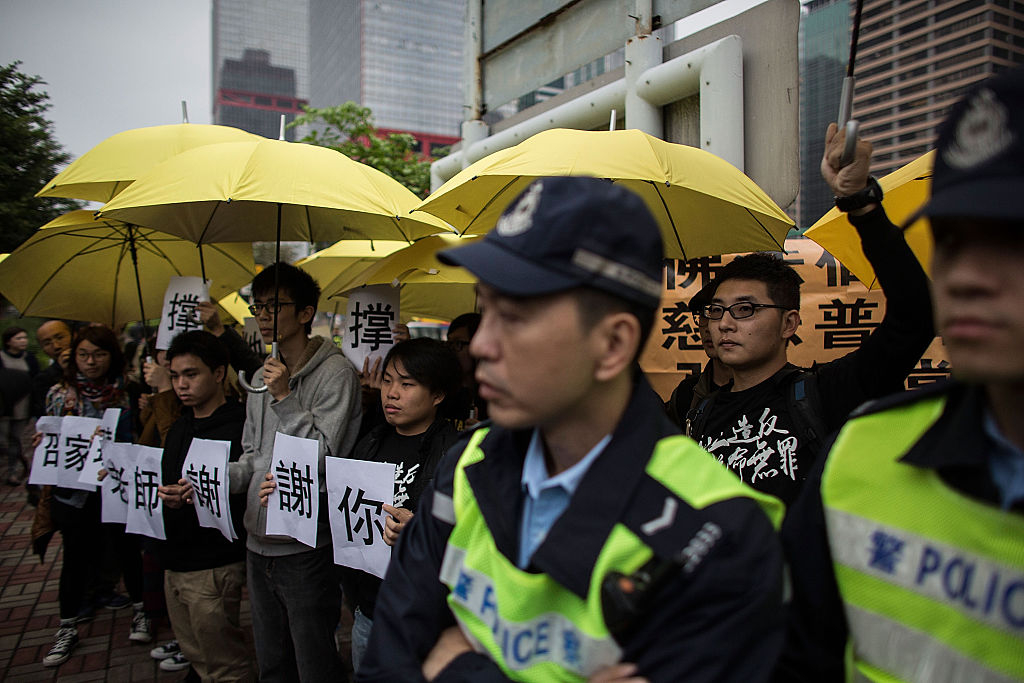 A court in Hong Kong on Sunday sentenced eight of nine democracy activists for their role in the massive "Occupy Central" protests in 2014. The prosecution was seen, both in Hong Kong and elsewhere, as a sign of Beijing tightening its control over the city. Pictured: Democracy protesters hold umbrellas to support the arrested activists of the "Occupy Central" movement, on December 3, 2014 in Hong Kong. (Photo by Lam Yik Fei/Getty Images)
Tens of thousands of people took to the streets in Hong Kong on Sunday to protest planned changes to the city's extradition law. Many believe new rules facilitating the sending of suspects to China would effectively allow Beijing to grab people at will and thereby completely control the city. "You will be screwed," said a marcher, a law clerk, to Reuters.
The turnout was high — organizers said 130,000 people took part — in part because the demonstration followed the sentencing of democracy activists for their role in the massive "Occupy Central" protests in 2014. On Wednesday, a lower court handed out prison terms of between eight to 16 months to four of the "Umbrella Nine." Three others received suspended sentences. One person was given 200 hours of community service.
The eight individuals — the sentencing of a ninth person was postponed for medical reasons — were convicted of public nuisance offenses in a closely watched proceeding on April 9. The prosecution of the 9 figures was seen, both in Hong Kong and elsewhere, as a sign of Beijing tightening its control over the city.
"It's indeed one of the darkest days in Hong Kong history," Tak Ho Fong, host of "Peking Hotel" on Hong Kong-based digital radio station D100, told the Gatestone Institute in e-mail comments.
Dark indeed. Nobody strangles democracies like communists, and no communists are more relentless in this regard than Chinese ones. Beijing, with methodical ruthlessness, is trying to bring Hong Kong to heel, and this is a hint of weakness at the center of Chinese politics and governance. China's communists, whether or not they succeed in Hong Kong, will undermine their efforts to win over Taiwan.
Hong Kong, once a British colony, was "handed back" to China on July 1, 1997 pursuant to the Sino-British Joint Declaration of 1984. In the Joint Declaration, a treaty with Britain, Beijing promised to afford Hong Kong a "high degree of autonomy" for 50 years. Hong Kong since July 1997 has been designated a Special Administrative Region of the People's Republic of China and governed under the "one country, two systems" formula. Pursuant to this formula, Hong Kong governs itself, except it does not maintain diplomatic relations and does not provide for external defense.
Beijing this month proved it could put activists in jail — prison sentences of other Occupy Central activists were earlier overturned — and in response to the Wednesday sentences human rights organizations issued warnings. "The long sentences send a chilling warning to all that there will be serious consequences for advocating for democracy," noted Maya Wang of Human Rights Watch.
Relief was nonetheless evident when Judge Johnny Chan Jong-herng of the West Kowloon Court handed down his decision. The activists could have received seven-year prison terms stemming from the 79-day "Umbrella" demonstration, so named because protestors used umbrellas to shield themselves from tear gas. Many of the extradition marchers on Sunday carried umbrellas, not only to block out the sun.
A total of 1.2 million people participated in the 2014 demonstration — peak numbers exceeded 100,000 at times — to stand against Beijing severely restricting the field of candidates for the office of chief executive, the successor post for the colonial governor. As a result of Beijing effectively dishonoring promises of universal suffrage, none of the chief executives — Carrie Lam, the current one, is the fourth since the handover — has been considered legitimate except by supporters of Beijing.
The perceived lack of legitimacy has made the chief executives ineffective. Beijing has responded by infringing on the self-rule it had promised. For one thing, it has rejected, despite the clear wording of the agreement with Britain, the notion that there are any restrictions on its power over Hong Kong like its promise of autonomy for the city. "The Sino-British Joint Declaration, as a historical document, no longer has any realistic meaning," said Chinese Foreign Ministry spokesman Lu Kang in June 2017. "It also does not have any binding power on how the Chinese central government administers Hong Kong."
Moreover, China, from behind the scenes, has infringed on Hong Kong's autonomy by, for instance, arranging the removal of legislators, disqualifying candidates, even outlawing a political party.
Moreover, Beijing, represented in the city by its "Liaison Office," is now pushing for a law to punish disrespecting the "March of the Volunteers," the Chinese national anthem.
Beijing's heavy-handed tactics have not been particularly effective, however. The more it has clamped down, the less popular it has become.
Polls on self-identification carry a chilling message for Beijing. Less than four percent of Hong Kong's young self-identify as "Chinese" or "broadly Chinese." That's down from around 30 percent in 1997. The widely followed Hong Kong University poll shows that fewer people in Hong Kong are proud of their new Chinese nationality than at the handover — 38 percent versus 46.4 percent — and that younger age cohorts are less proud than the population as a whole.
Senior Chinese leaders, by overreaching, have managed to create both an independence movement in Hong Kong and a campaign to return the city to British rule. For now, Hong Kong people express this latter sentiment by, among other things, carrying colonial-era flags and sporting Union Jack-adorned clothing. All this suggests increased activism in Hong Kong.
The continued defiance of Hong Kong's people in the face of Chinese repression is inspiring resistance in Taiwan. Beijing maintains that the self-governing island is part of the People's Republic and, going back to the era of Deng Xiaoping, has proposed to rule it under the same "one country, two systems" approach. Yet as Chinese leaders smother Hong Kong, 1C2S, as the plan is known, becomes even less attractive to Taiwan.
"Today's Hong Kong, tomorrow's Taiwan" has become the rallying cry of young Taiwanese. The 1C2S idea has united most of Taiwan, including the pro-China elements there, in the belief that becoming part of the People's Republic would be a nightmare. "In the early 1980s the 'one country, two systems' concept was created for Taiwan, not for Hong Kong," said Ma Ying-jeou to Al Jazeera when he was Taiwan's president in September 2014. "But Taiwan has sent a clear message that we do not accept the concept."
Xi Jinping, the current Chinese ruler, once held the Hong Kong portfolio in the Communist Party's Politburo Standing Committee. He certainly knows that one of the signs of Chinese regime failure is trouble on the periphery, and he is determined that the open defiance in Hong Kong does not spread to other areas far from the center of Chinese power.
Xi has no effective response to Hong Kong, however, and the growing rejection of China there must be of great concern, especially since harsh rule has already lost hearts and minds in China's west, in both Tibet and what the Chinese call the Xinjiang Uygur Autonomous Region. Traditional inhabitants of Xinjiang, the Muslim Uighurs, say their land is a separate country, East Turkestan.
"We do not give up," Chu Yiu-ming, one of the Umbrella Nine, declared from the defendant's dock on April 9. Chinese dynasties unravel at the edges, and Beijing looks desperate to keep the increasingly resistant Hong Kong, at China's southern edge, from drifting too far from its control.
Gordon G. Chang is the author of The Coming Collapse of China and a Gatestone Institute Distinguished Senior Fellow. Follow him on Twitter @GordonGChang.