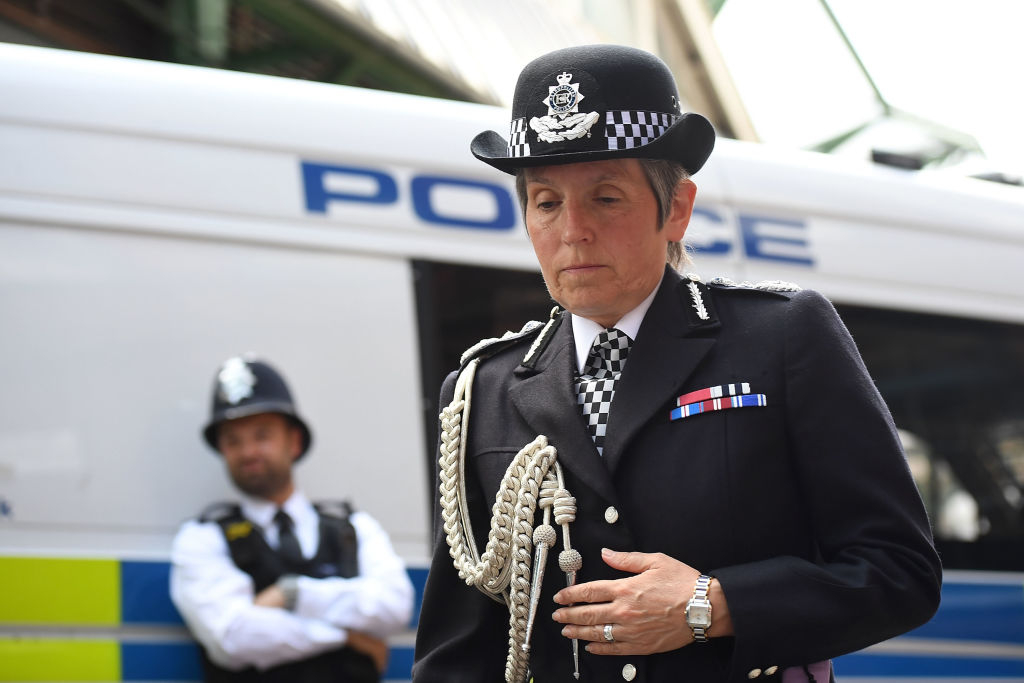 Cressida Dick, Commissioner of the Metropolitan Police Service, has stated that the security services do not know how many of ISIS's surviving British recruits intend to return, and that evidence of a criminal or terrorist offence was needed to prosecute. (Photo by Chris J Ratcliffe/Getty Images)
The West has mercilessly let down persecuted minorities in the Middle East, while showing great concern for the well-being of returning ISIS terrorists, their children and their spouses. There seems to have been no such concern for the victims of ISIS terrorists, particularly the Christians and Yazidis.
In the Netherlands, the Dutch immigration service has been sending Yazidi asylum seekers back to refugee camps in northern Iraq, and arguing that they have sufficient access to food and other facilities, Dutch media outlet Trouw recently reported. By contrast, in February, Dutch Minister of Justice Ferdinand Grapperhaus said that the Netherlands is "looking into" the option of trying to move Dutch women and children living in refugee camps in Syria to safe areas where they can return to the Netherlands.
"What we are looking into is can we get them to safe areas, with the help of the people who have power over the camps," Grapperhaus said. "Then they can register at the Dutch consulate and we can get them to the Netherlands and the children to social services. That is my main motivation." As of May, the Netherlands was negotiating the safe passage of 10 women and their children, who have been staying in refugee camps in northeast Syria. The Netherlands, according to the Dutch news outlet AD, wants to ensure that these women and children can reach the nearest Dutch consulate in Erbil, Iraq without being arrested, tried and sentenced to death.
Pari Ibrahim, the founder and executive director of the Free Yezidi Foundation (FYF), told the website Kurdistan 24 that she is very concerned about the Yezidis in Iraq. "We do not think European immigration authorities should be rejecting Yezidi asylum cases," she said. "Survivors of a genocide have special and unique needs that should be recognised."
Some officials in the Netherlands, evidently, appear to think otherwise.
In addition, some European countries are actually in the process of prosecuting nationals who travelled to Syria and Iraq to fight against ISIS.
In the UK, it is estimated that just a few dozen British volunteers fought against ISIS. By comparison, approximately 850 UK nationals travelled from the UK to join ISIS.
Jim Matthews was the first person prosecuted for fighting with the Kurdish People's Protection Units (YPG). The YPG is not a proscribed terrorist group in the UK; its forces were backed by the British military and international airstrikes to drive ISIS out of its Syrian territories. Nevertheless, Matthews was charged with "attending a place used for terrorist training" for attending the training camp used for all YPG recruits. He told the Independent, "We [British YPG volunteers] went out there because our government was not doing enough. It was a job that needed doing, we had to get Isis out of that territory." He was also evidently "jolted" to join the fight against Isis after seeing a photograph of a jihadi holding a woman's severed head on Facebook. "It seemed like one of the most evil single images I've ever seen in my life," he said.
When he came back to the UK, he was arrested and accused of terrorism. In February 2019, the charges against him were dropped, seemingly for lack of evidence.
A second British national, Aidan James, who fought with the YPG against ISIS, was arrested and charged with terror offences in February 2018. James was charged with receiving training from the PKK, before going on to fight with Kurdish YPG units in Syria. James's case, tried in April, was inconclusive: the jury failed to reach a verdict on whether he had committed terror offences by fighting against ISIS. Prosecutors said they would be seeking a retrial of his case.
Other European countries have also prosecuted fighters against ISIS for terrorism. In Denmark, Tommy Mørck became the first person sentenced under a Danish law that went into effect in September 2016, prohibiting Danish nationals from travelling to areas of conflict in Syria. Mørck fought with Kurdish militias against the Islamic State in 2016 and 2017. In June 2018, he was sentenced to six months in prison in Denmark. He appealed the sentence, but in November 2018, the High Court confirmed the verdict.
While the UK government is seemingly intent on prosecuting those who have fought against ISIS, what has it been doing about the at least 425 returned ISIS terrorists themselves?
In February 2018, the UK government was asked why it was refusing to release figures on the number of returned jihadists being prosecuted. In response, the government seemed to admit that "a significant portion" of the more than 400 Islamic State fighters who had returned to Britain at that time were at large and unpunished. They had been deemed "no longer of national security concern".
Victoria Atkins MP, Parliamentary Under Secretary of State for Crime, Safeguarding and Vulnerability, without answering how many returning jihadis had actually been prosecuted, responded:
"I am told that a significant proportion of the 850 [British nationals who joined ISIS], minus the more than 15% of those who have been killed in the region, are assessed as no longer being of national security concern... Indeed, the police and Crown Prosecution Service have already investigated and prosecuted a number who have returned... As hon. Members have identified, given the nature of this conflict, it is not always possible to gather sufficient evidence to seek prosecution".
Ben Wallace, Secretary of State for Defence, however, has admitted that only one in ten of all returned ISIS terrorists, around 40 people, "have been successfully prosecuted so far – either because of direct action they have carried out in Syria or, subsequent to coming back, linked to that foreign fighting".
Cressida Dick, Commissioner of the Metropolitan Police Service, has also stated that the security services do not know how many of ISIS's surviving British recruits intend to return, and that evidence of a criminal or terrorist offence was needed to prosecute. "The very fact of going is not an offence," she added.
"Some people returned from that area in the early days who had almost certainly done nothing other than humanitarian aid work. We talked to them and assessed their risk ... Many people have come back and just gone on with peaceful lives."
Similarly, earlier this year, then Home Secretary Sajid Javid said that all who returned had been investigated and "the majority have been assessed to pose no or a low security risk".
In October 2017, Britain's then Independent Reviewer of Terrorism Legislation, Max Hill, remarked in an interview that returning jihadists should not be prosecuted.
"... we're told we do have a significant number already back in this country who have previously gone to Iraq and Syria. That means that the authorities have looked at them, and looked at them hard, and have decided that they do not justify prosecution and really we should be looking towards reintegration and moving away from any notion that we're going to lose a generation due to this travel..."
His remarks came a few days after the head of MI5, Andrew Parker, "said the country was now facing an intense threat from violent Islamist extremists who were devising plots at a tempo he had not seen before in his 34-year-career."
Prosecuting around 400 ISIS terrorists means Britain would "lose a generation"? What about the loss of security that these terrorists pose to the rest of British society?
"[I]t's not a decision that MI5 and others would have taken lightly," Max Hill said in his 2017 interview.
"They, I'm sure, will have looked intensely at each individual on return. But they have left space, and I think they're right to do so, for those who travelled, it's beyond our ordinary experience, but who travelled out of a sense of naivety, possibly with some brainwashing along the way, possibly in their mid-teens... and who return in a state of utter disillusionment and we have to leave space for those individuals to be diverted away from the criminal courts."
His colleague, Richard Barrett, former global counter terrorism director of MI6, agreed:
"Well I think that's absolutely right, Max makes a very important point, why did they go and then indeed why did they come back? And many of them I think went to join something, join something new, something that looked bright and attractive, and to satisfy some of the needs in their lives and probably found that didn't exist out there and so came back highly disillusioned. Then also, somebody going off to join the Islamic State is not likely, initially, to be somebody going off to train to be a domestic terrorist. They seem to me to be two different motivations."
Killing, torturing, raping and abusing Yazidis, Christians and others for sport was something that looked "bright and attractive"?
The law does not appear to apply to ISIS terrorists the same way it applies to those Britons who went to fight against them. The United Kingdom's moral compass seems to be entirely broken.
John Richardson is a researcher based in the United States.