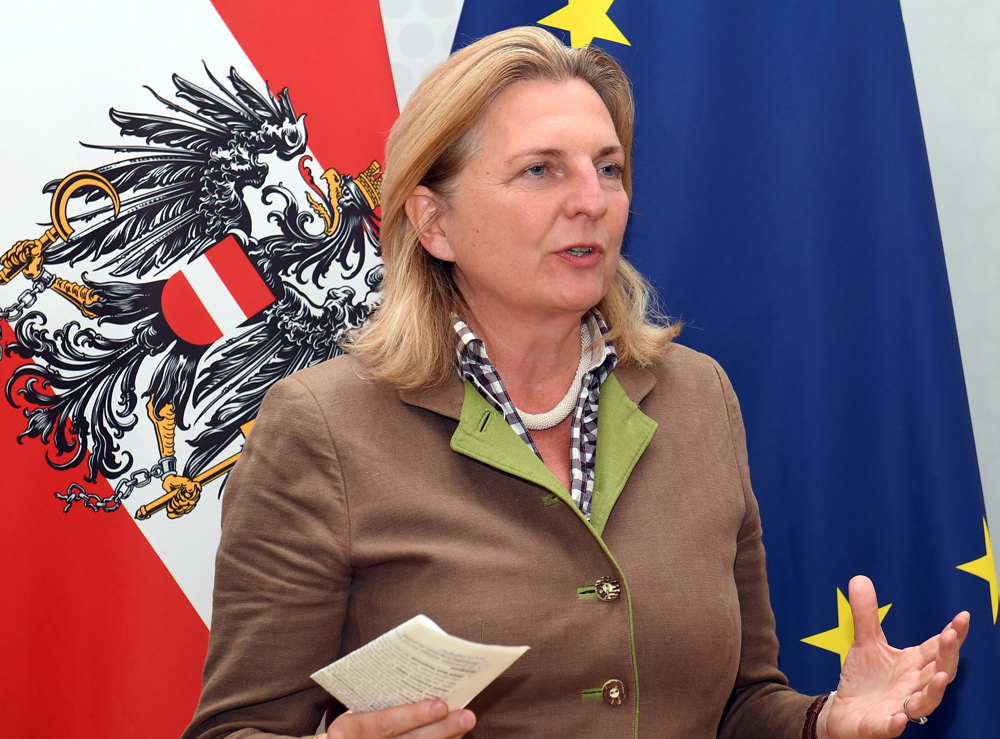 Austrian Foreign Minister Karin Kneissl recently said that she was "astonished" to learn that the legal opinion of the Legal Service of the European Commission "represents a different opinion than the previously communicated [opinion that the Global Compact for Safe, Orderly and Regular Migration is] legally non-binding." She handed over to Austrian EU Commissioner Johannes Hahn a position paper, clarifying that "UN General Assembly resolutions are not legally binding and you cannot declare parts of them binding." (Image source: Austrian Foreign Ministry/Flickr)
In December, world leaders of 165 countries adopted an ostensibly non-binding agreement that propagates a radical idea: that migration -- for any reason -- is something that needs to be promoted, enabled and protected[1].
The agreement is named the Global Compact for Safe, Orderly and Regular Migration (GCM), and now comes its implementation. The UN has not wasted any time in setting this "non-binding" Compact in motion. Already at the Marrakesh Conference in December, UN Secretary General Antonio Guterres launched the Migration Network (Network)[2], a new addition to the UN bureaucracy, and seemingly intended to "ensure effective and coherent system‑wide support to the implementation of the Global Compact". The International Organization for Migration (IOM) will serve as the coordinator and secretariat of all constituent parts of the Network in implementing the Global Compact.
The UN, in other words, has set its enormous bureaucratic infrastructure into full motion to see to it that the Compact will have maximum impact across the globe.
IOM director-general Antonio Vitorino has already sent a warning to critics of the UN migration agenda. "If we want to succeed in having a more humane and better world, we should resist the temptation of negative narratives that some want to spread about migration," Vitorino said recently.
His spokesman, Leonard Doyle, recently threatened that unless integrating migrants is taken seriously, terrorism will supposedly occur:
"Populism is certainly a toxic issue that is down to a misunderstanding of the issues... When you don't have integration then you have serious problems like terrorism... It is in everybody's interests that we work towards a better integration of migrants and refugees, not to do so is to store up problems for the future."
The Global Compact contains a provision, clearly signaling that any disagreement with its agenda will not be accepted and that the signatory states will work to dispel "misleading narratives that generate negative perceptions of migrants." According to Objective 17 of the Global Compact, member states are obligated to:
"Promote independent, objective and quality reporting of media outlets, including internet-based information, including by sensitizing and educating media professionals on migration-related issues and terminology, investing in ethical reporting standards and advertising, and stopping allocation of public funding or material support to media outlets that systematically promote intolerance, xenophobia, racism and other forms of discrimination towards migrants, in full respect for the freedom of the media." [Emphasis added.]
UN Secretary General Antonio Gutteres, in a January press conference, took it even further, not limiting himself to speech about the Global Compact:
"We need to enlist every segment of society in the battle for values that our world faces today – and, in particular, to tackle the rise of hate speech, xenophobia and intolerance... Poisonous views are penetrating political debates and polluting the mainstream. Let's never forget the lessons of the 1930s. Hate speech and hate crimes are direct threats to human rights, to sustainable development and to peace and security. That is why I have tasked my Special Adviser for the Prevention of Genocide, Adama Dieng, to bring together a UN team to scale up our response, define a system-wide strategy and present a global plan of action against hate speech and hate crimes on a fast-track basis".
This initiative should be deeply concerning and is likely to serve only to silence critics of the UN, including its agenda on migration and the Global Compact.
As part of the implementation work, on March 21-22, the Global Forum on Migration and Development (GFMD)[3], a UN-affiliated forum, organized the first GFMD Thematic Workshop on the implementation of the Global Compact for Migration (GCM) at the national level. Under the theme "Towards a Common Vision and Joint Action in Implementing the GCM at the National Level," the workshop gathered around 190 participants from 89 UN Member States and more than 40 civil society, private sector and international organizations. The agenda for the workshop states:
"Now that the GCM has been adopted, the task ahead is to ensure that its principles take root and the menu of its actionable commitments is implemented. It is a shared responsibility to ensure that more migrants will be taken out of harm's way and their lives will be saved, abuse and exploitation addressed, and migrants' increased productivity and overall positive contribution to the development of their home and destination countries promoted..."
According to a press release from GFMD:
"In her keynote address, Ambassador Laura Thompson, IOM Deputy Director General emphasized that there is no 'one size fits all' model for the GCM implementation, noting that every state will need to determine for itself what steps to take. From IOM's viewpoint, there are three possible GCM implementation approaches—(1) a systematic and robust approach which follows the four-year GCM review cycle; (2) a selective approach where governments decide to match their existing priorities to relevant GCM objectives; and (3) business as usual approach which is doing nothing at all. During the brief open discussion, interveners insisted that the third approach was not an option at the outset."
The EU, for its part, according to statements by Hungary and Austria, does not appear to agree that implementing the Global Compact should be up to every EU member state. Instead, the EU is working on making it legally binding, even for those EU countries who have not adopted the Compact.
"A 'secret document' has been published on work by the European Commission's legal service to formulate 'lengthy and devious' legal grounds for suggesting that the compact is, after all, mandatory for EU member states", said Hungarian Foreign Minister Peter Szijjarto. He added, "Although the document was not released the way the EC would have wanted it to be, the commission 'has confirmed its existence'".
Similarly, Austrian Foreign Minister, Karin Kneissl, said that she was "astonished" to learn that the legal opinion of the Legal Service of the European Commission "represents a different opinion than the previously communicated [opinion that the Global Compact is] legally non-binding." She handed over to Austrian EU Commissioner Johannes Hahn a position paper, clarifying that "UN General Assembly resolutions are not legally binding and you cannot declare parts of them binding." Hahn dismissed Austria's concern as a "storm in a glass of water". He said that the position of the European Commission has not changed, and that the Global Compact remains a "non-binding instrument".
Whatever the legal status of the Global Compact, the EU appears to be continuing to boost migration into the continent. According to a briefing posted on the European Parliament's website:
"Europe, due to its geographic position and its reputation as an example of stability, generosity and openness against a background of growing international and internal conflicts, climate change and global poverty, is likely to continue to represent an ideal refuge for asylum-seekers and migrants. This is also reflected in the growing amounts, flexibility and diversity of EU funding for migration and asylum policies inside as well as outside the current and future EU budget".
In February, the European Parliament supported the European Commission's suggested increase of the EU budget for asylum, migration and integration policies with 51%. A press release from the European Parliament noted:
"The Civil Liberties Committee endorsed the renewed Asylum, Migration and Integration Fund (AMIF), the 2021-2027 budget of which will increase up to €9.2 billion (€10.41 billion in current prices, 51% more than in the previous financial framework). It also backed the creation of a new Integrated Border Management Fund (IBMF) and agreed to allocate €7.1 billion (€8 billion in current prices) to it."
At the same time, the top bureaucratic echelons of the European Commission continue to repeat their old, soggy, clichéd mantras. At the April 3 meeting of the European Migration Forum, under the title, "From global to local governance of migration: The role of local authorities and civil society in managing migration and ensuring safe and regular pathways to the EU," Dimitri Avramopolous, the European Commissioner for Migration, said:
"Legal pathways are important to help reduce irregular migration. But we also need to face the reality of our ageing society – this is the case all over Europe. While we will continue to invest in and support all our Member States in fully activating, training and upskilling the existing EU work force and especially our youth, we know that the EU economy will need the work and skills of migrants in the future, especially the highly skilled... The Commission provides support to Member States who have shown interest, as well as to non-public actors to develop temporary labour migration opportunities for selected migrants coming from certain African countries."
While world leaders continue to push for more migration, polls show that many citizens, worldwide, do not want more migration, whether in or out of their countries. According to a December 2018 Pew report:
"Across the countries surveyed, a median of 45% say fewer or no immigrants should be allowed to move to their country [in Europe the median was 51%], while 36% say they want about the same number of immigrants... In Europe, majorities in Greece (82%), Hungary (72%), Italy (71%) and Germany (58%) say fewer immigrants or no immigrants at all should be allowed to move to their countries... In several countries, most disapprove of how the European Union has handled the refugee issue. People in other countries around the world hold views similar to those in Europe".
Even in Sweden, which is usually hailed as such a migrant-friendly country, 52% said that fewer or no immigrants should be allowed to move to their country.
Then again, world leaders seem not to be particularly bothered about what their constituents think.
---
[1] Five countries voted against the UN General Assembly Resolution formally endorsing the Global Compact – the United States, Israel, Poland, Hungary and the Czech Republic. The Compact was adopted at the Marrakesh Conference in Morocco on December 10-11 last year and was formally endorsed by the UN General Assembly on December 19, 2018.
[2] The purpose of the Network, according to its own terms of reference is to support the "UN System... implementation, follow-up and review of the Global Compact for Safe, Orderly and Regular Migration (GCM) and the network's task is to "ensure effective, timely and coordinated system-wide support to Member States". In carrying out its mandate, the Network will "prioritize the rights and wellbeing of migrants and their communities of destination, origin, and transit".
[3] The GFMD, according to its website, "Does not form part of the United Nations system, although it is open to all States Members and Observers of the United Nations. While the GFMD is an independent and separate process outside of the UN, it coordinates with important elements of the UN system in a number of ways" .It is a "state-led, informal and non-binding process, which helps shape the global debate on migration and development" which was proposed by former UN Secretary General Kofi Annan in 2006 and established in 2007, according to its website.
John Richardson is a researcher based in the United States.