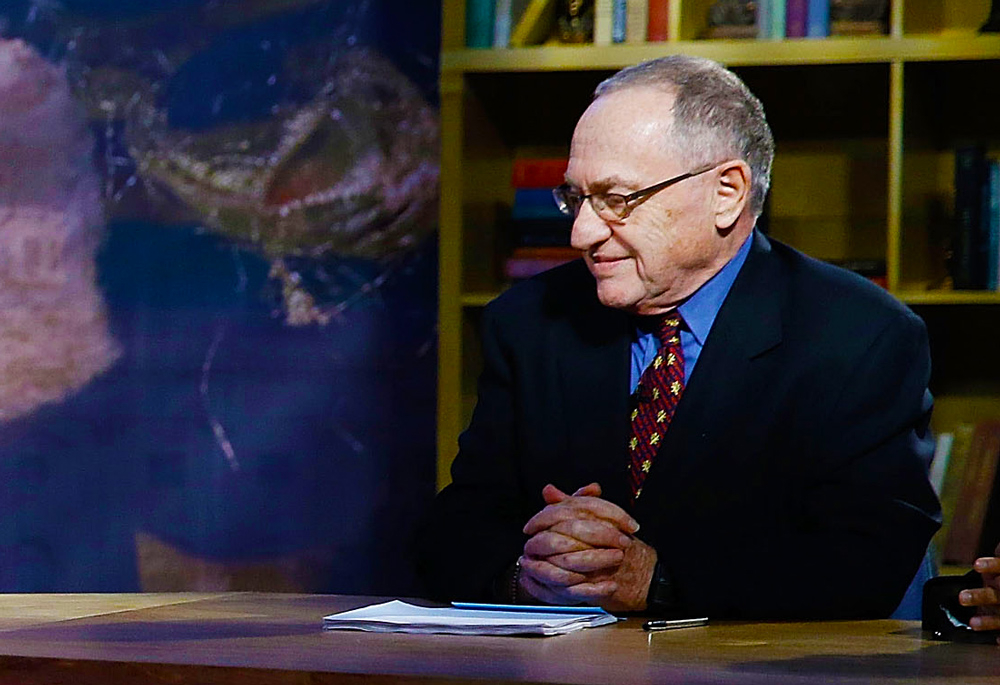 Alan Dershowitz. (Photo by John Lamparski/Getty Images for Hulu)
For nearly five years, I and my family have been victims of a premeditated, financially motivated effort to destroy me personally and professionally.
I believe if the authorities investigated the matter, they would conclude I was a victim of a serious crime. The suicide of Jeffrey Epstein last weekend has again raised the scandal involving him to national headlines.
One of Epstein's accusers, Virginia Roberts Giuffre, has accused me of having sex with her when she was below the age of consent.
It is a false accusation, demonstrably so as more documented evidence has emerged that indicates the claims against me were suggested by others who stood to benefit financially by accusing me.
Let me be clear: I never met Virginia Giuffre, who is now 36 years old.
There is documented evidence that until she met her lawyers in 2014, Giuffre never accused me.
Indeed, her own writings contained in recently unsealed emails and a book manuscript she authored did not include me in the list of men with whom she claims to have had sex.
In one email, a well-known journalist urged her to include my name because of my fame, writing that although there is "no proof " that Dershowitz had sex with you, he is a "good name for your pitch." Giuffre then included me, but as someone who she met and did not have sex with.
And later, after meeting her lawyers who are seeking millions of dollars of compensation, she suddenly "remembered" having had sex with me in seven different locations, despite incontrovertible documentary evidence that I could not have been at those locations during the relevant time periods.
The bottom line: There is not a scintilla of evidence corroborating Giuffre's accusations against me.
She also has made similar false accusations against other prominent people
For example, she was paid $160,000 by a British tabloid for a story they published.
Giuffre's false account claimed that she was present at Epstein's notorious private Caribbean Island with Al and Tipper Gore and also Bill Clinton. Here is how she described in vivid detail these meetings that evidence conclusively proves never took place:
"Virginia disclosed that Mr. Clinton's Vice-President Al Gore and his wife Tipper, were also guests of Epstein on his island.

"I had no clue that anything was up, Virginia says. The Gores seemed like such a beautiful couple when I met them. All I knew was that Mr. Gore was a friend of Jeffrey's and Ghislaine's. Jeffrey didn't ask me to give him a massage.

"There might have been a couple of other girls on that trip but I could never have imagined this guy would do anything wrong. I was planning to vote for him when I turned 18. I thought he was awesome."
She then "described" a dinner with Bill Clinton:
"I'd have been about 17 at the time, she says. I flew to the Caribbean with Jeffrey and then Ghislaine Maxwell went to pick up Bill [Clinton] in a huge black helicopter that Jeffrey had bought for her.

"She's always wanted to fly and Jeffrey paid for her to take lessons and I remember she was very excited because she got her license around the first year we met.

"I used to get frightened flying with her, but Bill had the Secret Service with him and I remember him talking about what a good job she did.

"We all dined together that night. Jeffrey was at the head of the table. Bill was at his left, and I sat across from him. Emmy Tayler, Ghislaine's blonde British assistant, sat at my right. Ghislaine was at Bill's left and at the left of Ghislaine there were two olive-skinned brunettes who'd flown in with us from New York.

"I'd never met them before. I'd say they were no older than 17, very innocent looking."
Here is the truth: Secret Service and other records prove that the Gores and Clinton were never on Epstein's island.
Giuffre invented both these accounts, just as she invented her accounts of meeting me.
Moreover, Giuffre's own employment records and a manuscript of a book she wrote prove that she did not tell the truth about being below the age of consent when she claims to have had sex with prominent people.
She vividly remembered spending her "sweet 16" birthday celebration with Epstein, but her employment records prove – and she now concedes – that she didn't meet Epstein until a year after she turned 16.
This means she was above the age of consent at the time she claimed to have had sex with Epstein's friends.
It is not just me, the Gores and Bill Clinton that Giuffre falsely accused.
She has accused a list of world leaders, prominent politicians and leading academics, of having sex with her.
Epstein's death should not let this matter be put to rest.
The time has come to investigate Giuffre's claims. Months ago, I published and op-ed asking the FBI to investigate me, as well as my accuser and her lawyers.
I met with prosecutors and investigators from the U.S. attorney's and district attorney's offices, seeking a full investigation. I did so because I have nothing to hide and because I'm a victim of Giuffre's false claims.
Lying under oath is a crime. I want both of our accounts fully investigated and the person not telling the truth to be prosecuted.
When I told a reporter from the Columbia Journalism Review that I was a victim, she replied: "You can't be a victim because you're a rich man who has a nice house and access to the media."
She rejected my claim that I had suffered from being falsely accused.
"Are you comparing yourself to a rape victim?" she demanded.
"No. I'm not suggesting any comparison," I replied. But I told her how I and my family had suffered for nearly five years from the false accusations.
She was utterly unsympathetic, because of who I am – a rich, elite lawyer with access to the media – regardless of how much I have suffered from the false accusation.
I believe that false accusations of sexual misconduct, deliberately made to obtain money, is a serious crime.
Victims of such crimes deserve justice.
Federal authorities should fully investigate Virginia Giuffre's accusations.
The death of Jeffrey Epstein does not diminish the suffering of his real victims. Nor does it diminish the suffering of those who have been falsely accused by Epstein's victims.
Alan M. Dershowitz is the Felix Frankfurter Professor of Law Emeritus at Harvard Law School and author of The Case Against the Democrats Impeaching Trump, Skyhorse Publishing, 2019. He is a Distinguished Senior Fellow at Gatestone Institute.

This article was originally published by Newsmax.com and is reprinted here with the kind permission of the author.