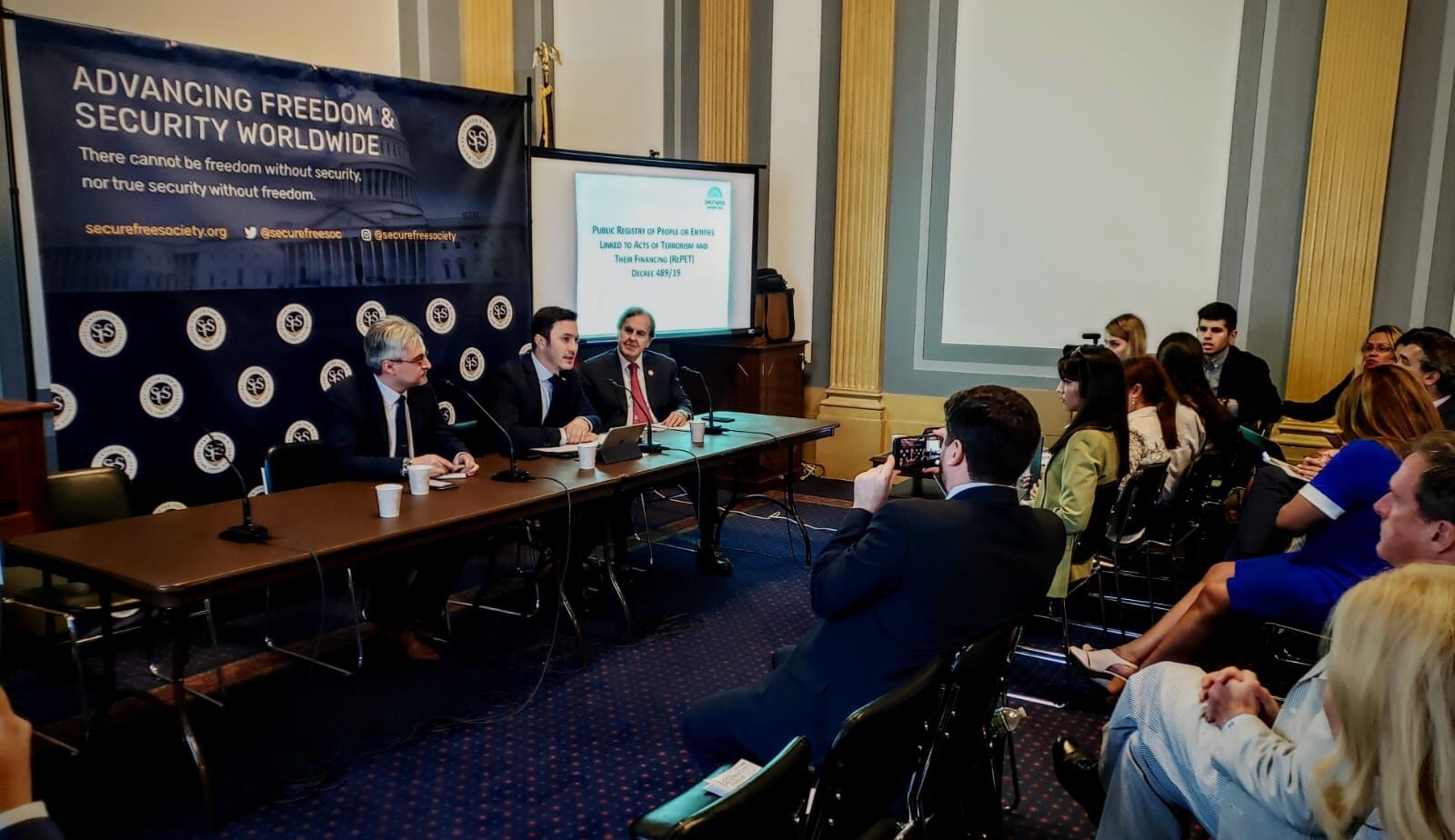 Argentine Congressman Luis Petri (center) presenting about Argentina's new anti-terrorism public registry at an event organized by the Center for a Secure Free Society (SFS) on July 25, 2019, at the Russell Senate Office Building in Washington D.C.
The following is an edited and translated transcript of a speech given by Argentine Congressman Luis Petri on July 25, 2019 at the Russell Senate Office Building in Washington D.C. during an event hosted by the Center for a Secure Free Society (SFS) in commemoration of the 25th anniversary of the AMIA attack in Argentina. This speech has been slightly modified and reorganized for clarity by the editors, with the approval from Congressman Petri.
There is a before and after when you consider the effects of September 11th in the world. But in Argentina, this "before and after" began a lot earlier. In 1992, the Embassy of Israel was bombed [in Buenos Aires], followed two years later [on July 18, 1994] by one of the worst terrorist attacks in Argentina against the AMIA Jewish community center, and causing 85 casualties and wounded many more.
In the wake of this attack, and before President [Mauricio] Macri took office, Argentina lacked a clear policy regarding [international] terrorism and condemning terrorist actions. Therefore, the attacks went largely unpunished.
In 2013, the former president [and current candidate for vice president], Cristina Fernández de Kirchner, signed a memorandum of understanding (MOU) with Iran, creating a "truth commission" supposedly to analyze evidence against those accused in the 1994 terrorist attack. The opposition, however, determined, that the only goal of the MOU was to seek impunity [for Iran] by removing the Interpol red notice against those responsible for the AMIA attack. The MOU, shortly after being signed, was declared unconstitutional by the Argentine judicial system.
On January 15, 2015, the AMIA special prosecutor, Alberto Nisman, shocked [the world] when he publicly indicted then-President Cristina Fernández de Kirchner for betraying Argentina and the AMIA victims. The MOU was at the heart of Nisman's accusation, [alleging that the Kirchner government negotiated an illegal back-door deal with Iran]. The day before Nisman was scheduled to appear publicly before the Argentine National Congress to testify about his allegation, he was found murdered in his high-rise apartment in Buenos Aires.
The assassination of Alberto Nisman represents the ongoing impunity of those who perpetrated the horrific terrorist act 25 years ago. Today, Nisman is the 86th victim of the AMIA attack.
When President [Mauricio] Macri took office in December 2015, he turned the tide and has been fighting for justice [for the AMIA victims] since his presidency began. One of the first measures President Macri made, was to instruct his Minister of Justice to uphold the ruling that declared the MOU unconstitutional.
Additionally, he asked his government to work as quickly as possible to hold a trial in absentia for those [in Iran] believed to be responsible for the AMIA attack.
For 25 years, Argentines gather every July 18th on Pasteur Street in downtown Buenos Aires in front of the AMIA building, commemorating the memory of the victims of the terrorist attack and asking for justice and truth. This call was answered in 2019, this past July, when President Macri published Argentina's first public registry (RePET) of those tied to terrorism. He made a clear commitment to the fight against international terrorism. The public registry is a historical landmark containing over 1,000 entries of individuals and entities tied to terrorism in Argentina, including Hezbollah. This registry or RePET is used to provide access and exchange information, facilitating international counterterrorism cooperation [with our allies]. Third-party countries can request to have persons or entities tied to terrorism included in RePET upon the consideration taken by the Argentine government and as long as there is a link to Argentina.
The registry will function under the Ministry of Justice, but the Ministry of Security and our Financial Intelligence Unit or UIF-AR will have the power to designate terror groups by requesting to freeze the assets of known terrorist actors. This whole-of-government approach ensures that the country can use a variety of tools when targeting terrorists. Just a day after the registry was created, the Financial Intelligence Unit of Argentina (UIF-AR), led by Mariano Federici, ordered the country-wide freeze on Hezbollah's assets in our country.
Before this executive action by President Macri, Hezbollah was not officially recognized [as a terrorist organization] in Argentina. If someone wanted to raise their flag, they would have been able to do so. Previously, the only people in Argentina labeled as terrorists were those considered terrorists by the U.N. Security Council. This [new] registry works to target all terrorist organizations in the international arena, as well as persons or entities under investigation in Argentina.
President Macri's commitment to fight against terrorism is not limited to this registry. President Macri's commitment has endured and is comprised of many smaller actions that are less known to the public, but no less important.
In addition to the new registry, Argentina is now using new measures to investigate potential terrorists. One of these new measures is the use of informants and the use of special agents in investigations that were not previously covered under Argentine law. Other measures include the possibility of seizing properties of those who are linked to terrorist activities, stronger immigration control, and Argentina is working to approve legal measures to allow trials in absentia for those responsible for terrorist activities, [including those accused in the AMIA attack].
We need cooperation, we need to work together. We need to fight terrorism wherever it takes place. The United States is a top ally in Argentina's fight against international terrorism. My commitment, and that of my government, is with the memory of the victims of the AMIA attack. This attack is an open wound for the fabric of Argentine society. Our country demands truth and justice.
Editor's note: Argentina made history this year as the first Latin American country to designate Hezbollah as a foreign terrorist organization. This is an important step forward for the region and Argentina is poised to become a leader and role model with their registry (RePET) acting as a roadmap for other Latin American countries seeking to make the same designation of Hezbollah. Less than one month after Argentina, on August 9, 2019, Paraguay designated Hezbollah as a terrorist organization, as well, giving the region and U.S. allies in Latin America more momentum than ever in the fight against terrorism.

Translation and editing by Joseph Humire.