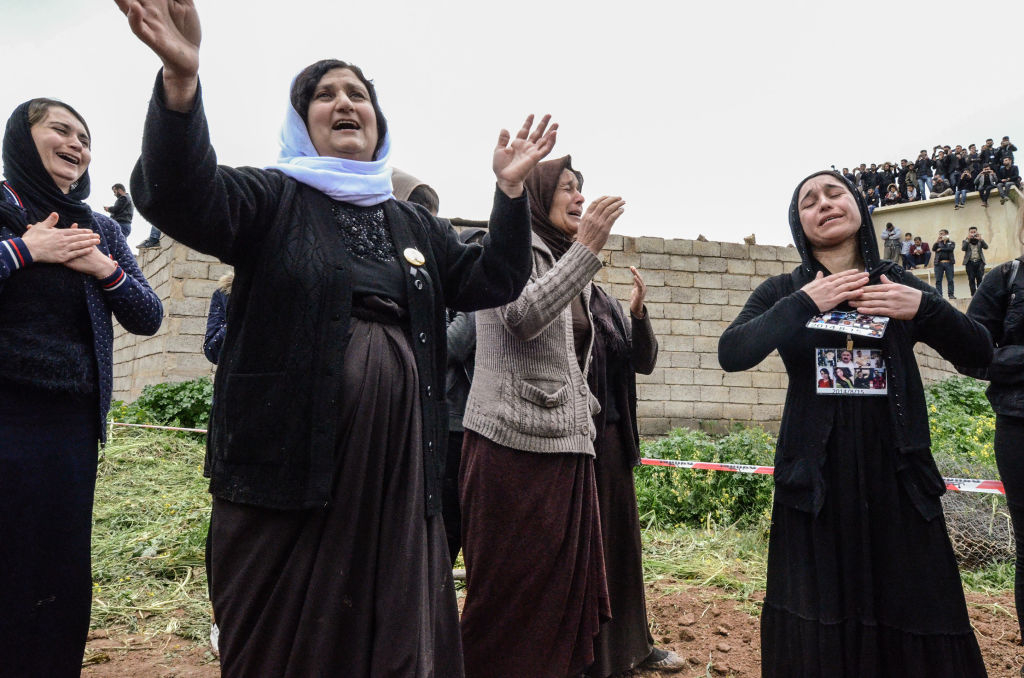 Whether the "ISIS brides" -- women who abetted men in the abduction, rape, torture and slaughter of Yezidis and Christians in Iraq and Syria -- are worthy of mercy is questionable. Pictured: Iraqi Yezidi women mourn at a ceremony during the exhumation of a mass-grave of hundreds of Yezidis killed by Islamic State terrorists in the northern Iraqi village of Kojo, on March 15, 2019. (Photo by Zaid Al-Obeidi/AFP via Getty Images)
The recent case of Samantha Marie Elhassani (née Samantha Sally) -- an American mother-of-two who left her home in Indiana to join the now-defunct Islamic State (ISIS) caliphate in Syria -- sheds light on the issue currently debated in the West about the degree of culpability of terrorists' wives, and whether they should be viewed as victims or perpetrators.
On November 25, in a U.S. Federal Court, Elhassani pled guilty to, and was convicted of "providing financial support to individuals who desired to support ISIS."
According to U.S. Attorney Thomas L. Kirsch II:
"[Elhassani] traveled with her husband and brother-in-law to Syria, both of whom became ISIS fighters, putting the lives of her children at risk. [Her] guilty plea to federal terrorism charges reflects the seriousness of her criminal conduct."
FBI Special Agent Grant Mendenhall added:
"The defendant also exposed her young, impressionable children to an environment of hatred and violence with no regard to the harm she was causing them."
Elhassani's sentencing is due to take place in March 2020.
A similar case that has gained attention in the U.S. is that of Hoda Muthana, a 25-year-old "ISIS bride." Muthana is the American-born daughter of a former a United Nations diplomat from Yemen, who left her Alabama home in 2014 to join ISIS in Syria. Now a mother, she was married at least twice to ISIS fighters who were killed, and once urged jihadists to "spill American blood." Since then, she has reportedly expressed remorse for her actions.
Muthana's family filed a lawsuit in February against the Trump Administration, to enable her to return to the U.S. from Syria, where she now resides in a refugee camp. In November, however, a federal judge ruled that Muthana is not a U.S. citizen -- just as the Obama administration had determined in 2016 -- and therefore has no right to return to the country.
In an interview with NBC News in early November, Muthana said:
"Anyone that believes in God believes that everyone deserves a second chance, no matter how harmful their sins were."
Whether women who abetted men, however, in the abduction, rape, torture and slaughter of Yezidis and Christians in Iraq and Syria are worthy of mercy is questionable.
The Free Yezidi Foundation, it "was founded shortly after terrorists attempted to eradicate the Yezidi people in August 2014 in Iraq... It also tries to create international awareness of the plight of the Yezidis." According to the organization, "Female members of ISIS are often perceived as being passive, naïve, or even as victims. This is a dangerous and wildly inaccurate characterization."
In a recent report, the Free Yezidi Foundation cited a 2017 publication by the Dutch General Intelligence and Security Service (AIVD) -- titled "Jihadist women, a threat not to be underestimated" -- which states:
"Naive girls who follow the love of their life, women who are even more radical than their husbands, or women who 'accidentally' find themselves in the 'caliphate'– the reporting on jihadist women is dominated by stereotypes. Questions such as 'What role do women play in the jihadist movement?' and 'What kind of threat do jihadist women pose?' often remain unanswered, even though they are very relevant right now. In the last two years, a number of jihadist women in Europe have attempted to carry out a terrorist attack... The role that these jihadist women play within the jihadist movement should not be underestimated. In many cases, jihadist women are at least as dedicated to jihadism as men. They pose a threat...by recruiting others, producing and disseminating propaganda, and raising funds. Moreover, they indoctrinate their children with jihadist ideology. Women form an essential part of the jihadist movement..."
In the wake of the October 27 death of bloodthirsty ISIS leader Abu Bakr al-Baghdadi, it is crucial to remember that his jihadist ideology lives on. So do the terrorists who continue to carry it out.
It is important to stress that the true victims of ISIS's hateful practices are not the thousands of women and girls who willingly joined ISIS and actively participated in the group's horrendous crimes against humanity, but rather the hundreds of thousands of Christians, Yezidis and Muslims whom they displaced, tortured and killed.
Uzay Bulut, a Turkish journalist, is a Distinguished Senior Fellow at the Gatestone Institute.