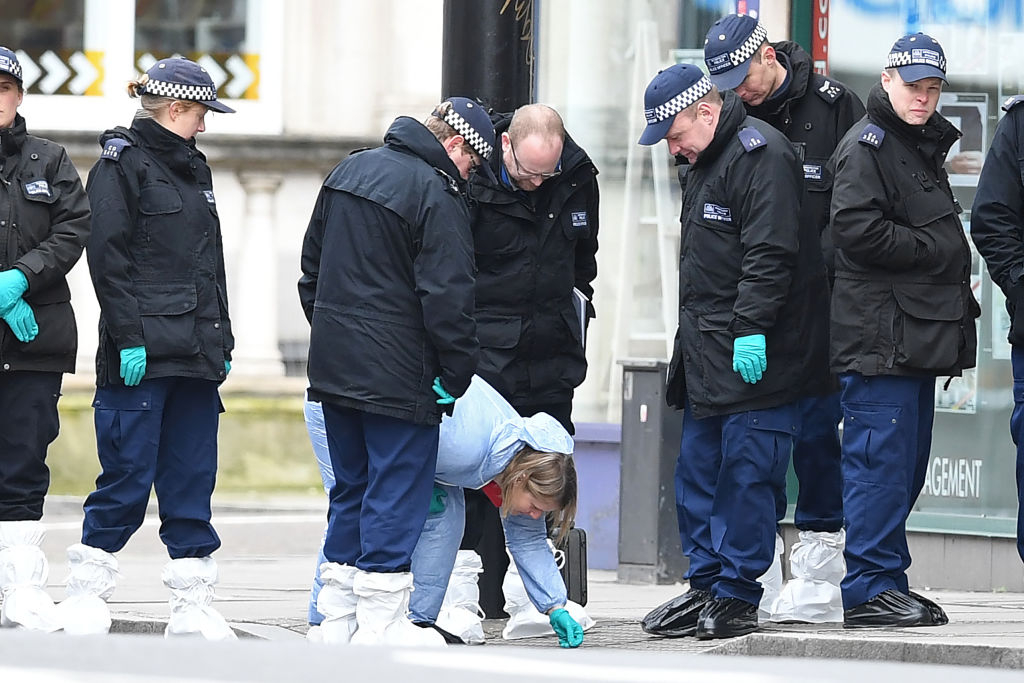 On February 3, Sudesh Amman, who had just been released from prison in England after serving half his prison term, stabbed two people in Streatham, south London, before he was shot dead at the scene by police. Later, ISIS took responsibility for the attack. Pictured: Police officers search the site of Amman's attack on Streatham High Road in south London on February 3, 2020. (Photo by Daniel Leal-Olivas/AFP via Getty Images)
On February 3, 2020, Sudesh Amman, who had just been released from prison in England after serving half his prison term, stabbed two people in Streatham, south London, before he was shot dead at the scene by police. Later, ISIS took responsibility for the attack.
The attack again raised the issue of how Europe should deal with jihadist terrorism.
After Amman's terrorist attack, the government announced that emergency legislation would be introduced to end the automatic early release from prison of terror offenders. Terror offenders would only be considered for release once they had served two-thirds of their sentence and with the approval of the parole board. Justice Secretary Robert Buckland said that the latest attack by Amman made the case "for immediate action".
"We cannot have the situation, as we saw tragically in yesterday's case, where an offender - a known risk to innocent members of the public - is released early by automatic process of law without any oversight by the Parole Board," he said.
It remains to be seen, whether releasing a terrorist after serving two-thirds of his sentence, rather than half, will make any difference. "There will be some people for whom their ideology is bulletproof and there is no way we can get inside that," said Ian Acheson, a former prison governor. "If there are people who are absolutely determined not to accept any intervention that will change that toxic mind-set, yes they should be in prison and if necessary, indefinitely."
The attack last week follows the November 2019 terrorist attack on London Bridge -- in which Usman Khan, a convicted terrorist, who also had been released on parole half-way into his prison term, murdered two people and wounded several others.
That attack had prompted the UK Ministry of Justice to launch an "urgent review" of the parole conditions for 74 people jailed for terror offences but released early. In 2012, Usman Khan was given a special jail term known as Imprisonment for Public Protection (IPP), which meant he would serve at least eight years and could not be released unless he had convinced the parole board he was no longer a threat. But in 2013, the Court of Appeal replaced the sentence with a 16-year-fixed term, of which Khan should serve half in prison.
What is worrying is that it needed a deadly terrorist attack for UK authorities to launch a review of convicted terrorists on parole; it is not the first time that convicted terrorists on parole have decided to commit new terrorism. Incidentally, one of the associates of terrorist Usman Khan jailed alongside him, along with another seven men in 2012 for a plot to blow up the London Stock Exchange, was Mohibur Rahman, who was released on parole in 2016, after his lawyer argued that he was "undertaking de-radicalization" in prison. Rahman, however, was jailed again in August 2017 for plotting a "mass casualty attack" on a police or military target with two other men. He is now serving a life sentence with a minimum of 20 years in jail.
The UK has had 15 years -- since the first large-scale incident of jihadist terror on its territory in July 2005 -- to think long and hard about how to deal with the ever-increasing problems with jihadists. These problems include how to treat them under the law, sentencing, and the ongoing radicalization in prisons, as well as potential issues related to recidivism after release.
That a convicted jihadist on parole, who had been in a "deradicalization" program, might commit a new terrorist attack should perhaps not have come as a total surprise.
The deradicalization programs in place -- such as the Healthy Identity Intervention Program, which has been piloted from 2010 and is now the main rehabilitation scheme for prisoners convicted of offences linked to extremism, and also the Desistance and Disengagement Program, in which Usman Khan participated -- have never been fully evaluated as to whether they are producing the desired results, according to a recent report by the BBC.
What the government has evaluated is that Islamist radicalization poses a significant problem in UK prisons. In August 2016, the government published a summary of an unfortunately otherwise classified review of Islamist extremism in British prisons. According to the summary, "the review found evidence that IE [Islamic extremism, ed.] is a growing problem within prisons". The review found:
"... the threat from IE can manifest itself in prison in various ways, including: Muslim gang culture and the consequent violence, drug trafficking and criminality inspired or directed by these groups... offenders advocating support for Daesh and threats against staff and other prisoners, charismatic IE prisoners acting as self-styled 'emirs' and exerting a controlling and radicalising influence on the wider Muslim prison population, aggressive encouragement of conversions to Islam... books and educational materials promoting extremist literature available in chaplaincy libraries or held by individual prisoners... exploitation of staff fear of being labelled racist".
According to leaks from the classified review, Islamic hate literature -- misogynistic and homophobic pamphlets and hate tracts endorsing the killing of apostates -- was freely available on the bookshelves of British prisons. The hate literature was distributed to inmates by Muslim chaplains, who themselves were appointed by the Ministry of Justice. The leaked review also found that chaplains at some prisons encouraged inmates to raise money for Islamic charities linked to international terrorism. Former prison governor Ian Acheson, who conducted the review, said at the time that he found that the prison staff lacked the training to confront and deter Islamist extremist ideology, and "were often fearful they would be accused of racism if they did".
Chris Phillips, a former head of the UK National Counter Terrorism Security Office, warned recently, "We're playing Russian roulette with people's lives, letting convicted, known, radicalised jihadi criminals walk about our streets". Already in 2015, Phillips had warned that staff shortages in prisons were making it harder to tackle Islamic radicalization: extremists were not properly monitored, therefore enabling them to recruit others.
The release of Anjem Choudary -- known as the UK's "most notorious hate-cleric" in October 2018 -- halfway through his five and a half year sentence -- is another example of such "Russian roulette". Choudary was sent to prison in 2016 for encouraging support for ISIS. He is estimated to have inspired "a generation of terrorists" with his preaching. They included Usman Khan, Michael Adebolajo – one of two murderers who hacked soldier Lee Rigby to death in Woolwich, south London, in 2013 -- and Khuram Butt, the leader of the London Bridge terror gang who murdered eight people and injured 48 in a terrorist attack in June 2017. Anjem Choudary is among the 74 released jihadists whose parole is under "urgent review".
The issues that the Sudesh Amman and Usman Khan cases raise, however, are far from exclusively British. They are a European problem. According to CNN:
"In September, the think tank Globsec examined in detail the cases of more than 300 European jihadists implicated in terrorism in a single year, 2015. Some had been killed, but 199 had been convicted of various terror offenses. Kacper Rekawek, one of the report's authors, told CNN that of that number, 45 were due for release by the end of 2019 and a total of 113 would be released from prison by the end of 2023".
Of particular concern was Globsec's conclusion that "jihadi ranks include hardened veterans who have already gone through more than one terrorism conviction and are intent on repeating their feats."
It is not just the UK that needs emergency legislation regarding imprisoned and released jihadists. Most of Europe does.
Judith Bergman, a columnist, lawyer and political analyst, is a Distinguished Senior Fellow at Gatestone Institute.