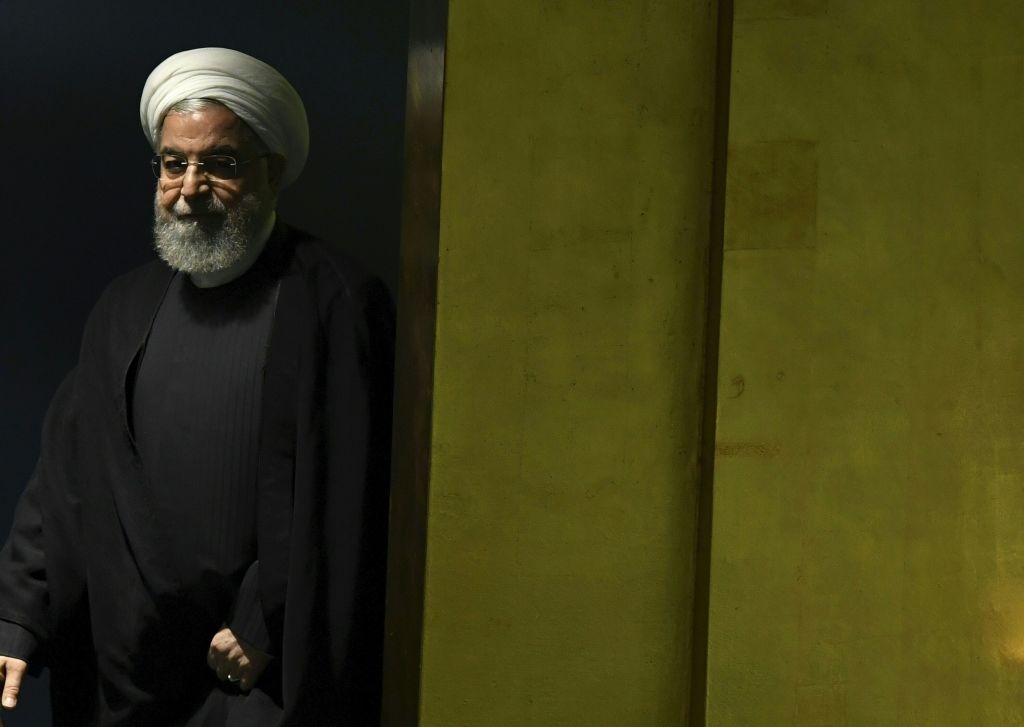 Iran's President Hassan Rouhani may be a talented man of a thousand faces, but 40 years of experience has shown that every one of those faces turned out to be a mask. (Photo by Timothy A. Clary/AFP via Getty Images)
Whatever one might think of Hassan Rouhani, President of the Islamic Republic of Iran, one thing is certain: had things gone differently in Iran 40 years ago, he might have become a writer of penny-dreadfuls with provincial themes. Rouhani's talent for fiction writing is demonstrated by the way he has reinvented himself over the decades.
In 1977, when the first rumbles of revolution roared in Iran, he was a student, going by the name of Hassan Fereidun, in England, seeking a degree in textile design.
A few months later, he re-named himself Rouhani, meaning spiritual or clerical. Fereidun was a Persian nationalistic name and would not do for a man plotting to cast himself as a champion of faith.
He then spent a few weeks of holidays taking classes in Shiite theology. In the meantime, he grew a beard and cast off Western clothes, thus creating a persona soon aggrandized by the claim which he minted that he was the first to grant Khomeini the title of Imam. Rouhani claims that he did so when addressing a memorial service for Khomeini's son Mostafa, who had passed away in Iraq. There is, of course, no evidence that Rouhani was even present at the service which, incidentally was reported complete with a photo in the daily Kayhan.
In his memoirs, Rouhani recalls his first meeting with Khomeini, in exile in a Paris suburb. Rouhani claims that the ayatollah gave him 10,000 tomans (around $1,500 in those days) and asked him to return to England and organize students against the Shah.
In the chaos that followed the Shah's flight from Iran, anyone could have jumped on the revolutionary bandwagon, and Rouhani was among the first to do so. The victorious revolution did not find enough personnel to fill the tens of thousands of jobs left vacant by the previous regime, and he had little difficulty in getting himself elected member of the Islamic Majlis (ersatz parliament), nudging his way towards the top table.
The new "Hojat al-Islam" [title of respect given to a Shi'ite cleric and meaning "Proof of Islam". Ed.] became one of the most radical champions of the revolution, calling for the dissolution of the national army and stopping payments to civilian and military pensioners who had served the Shah. Having found out that the new regime had to depend on its security services, the newly minted Hojat al-Islam attached himself to the Islamic Revolutionary Guard Corps (IRGC) as a liaison between the military and business circles.
During the brief spell of Hashemi Rafsanjani as a "strongman" who tried to cool revolutionary ardor, Rouhani recast himself as a "pro-reform" moderate. As an aide to Rafsanjani, he took part in secret negotiations with emissaries that US President Ronald Reagan had sent to Tehran along with a top agent from Mossad, the Israeli secret service.
By the 1990s, in Western policy circles, Rouhani had acquired the reputation of "a man with whom we can work".
In the meantime, conscious of the fact that Iranians are suckers for real or fake academic titles, to enhance his persona, Rouhani enrolled in a British college in Glasgow to obtain a PhD in Islamic law. Thus, in a few years' time, he was able to rebrand himself as Dr. Hassan Rouhani, the "moderate reformist with Western education."
Two French foreign ministers from opposing political parties, Alain Juppé and Hubert Védrine, claimed that they had identified Rouhani as a rising star in Rafsanjani's entourage. They thought that Rouhani would be one of the men who would eventually lead the Khomeinist revolution into its "Thermidor" or period of normalization. That view later found an even more passionate adept in Jack Straw, Foreign Secretary in Tony Blair's British cabinet.
However, Rouhani's career plan hit a diversion when Rafsanjani propelled another of his acolytes, Hojat al-Islam Muhammad Khatami, into the presidential slot. The diversion was prolonged when Mahmoud Ahmadinejad succeeded Khatami, indicating the slow end of Rafsanjani's influence. During those agonizing years, Rouhani managed to avoid being recycled out of the power system by rendering services to all factions.
The plan worked and rival factions saw Rouhani as their second choice in the wake of the 2009 popular revolts and Ahmadinejad's eventual break with the "Supreme Guide" Ayatollah Ali Khamenei. Though Khamenei had decided to make a deal with the Obama administration, he did not want the credit to go to Ahmadinejad who had, by then, publicly snubbed him. Rouhani had no difficulty singing from the new hymn-sheet in the form of the Joint Comprehensive Plan of Action (JCPOA) that gave the regime access to some frozen assets and gained it a measure of international respectability.
As talented as Lon Chaney, the classical Hollywood actor known as "Man of A Thousand Faces" because he played numerous different roles, Rouhani is now getting ready to play a new role as "leader of transition" from a rigid regime to a "normal" Third-World style outfit, mixing repression at home with good behavior abroad.
To enhance his theological credentials needed to promote himself to the rank of ayatollah, the Hojat al-Islam has launched his theological course, once a week on Thursdays, with over 100 "students", and receiving handsome stipends. In one version of the scenario, Rouhani would combine the positions of president and "Supreme Guide". In another version, he would have the Constitution amended and the position of "Supreme Guide" abolished, with himself as President and head of state.
Rouhani's message, peddled by cronies including Foreign Minister Muhammad-Javad Zarif, is that the internal opposition and foreign powers worried about Iran should be patient and help "moderates" re-orient the storm-stricken ship of the regime towards calmer waters.
Is Rouhani the man for all seasons as his apologists claim? Is he the man who opposed the killing of over 1,500 protesters in three days? Is he the "moderate" who knew nothing about the tripling of petrol prices and the shooting down of the Ukrainian passenger jet?
Will Rouhani's scenario, for easing Khamenei off his pedestal, work?
I doubt it. Rouhani may be a talented man of a thousand faces, but 40 years of experience has shown that every one of those faces turned out to be a mask.
Amir Taheri was the executive editor-in-chief of the daily Kayhan in Iran from 1972 to 1979. He has worked at or written for innumerable publications, published eleven books, and has been a columnist for Asharq Al-Awsat since 1987. He is the Chairman of Gatestone Europe.

This article was originally published by Asharq al-Awsat and is reprinted by kind permission of the author.