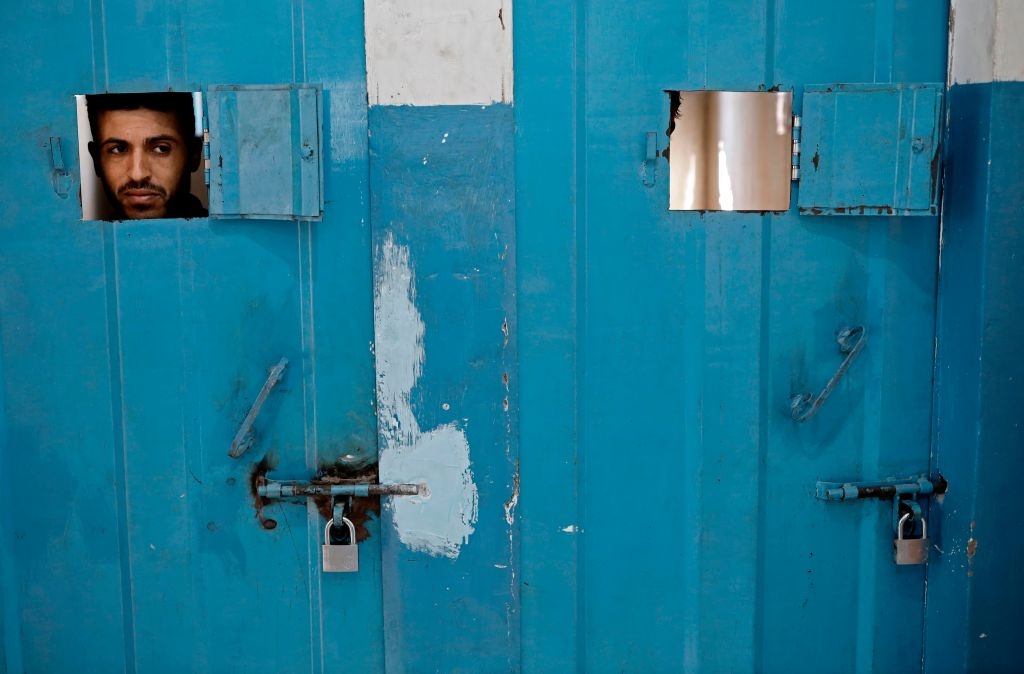 When Palestinians are brutally tortured and die of dubious causes in Hamas prisons, the murders are ignored not only by Hamas, but also by the international community, human rights organizations and media. Pictured: A jailed Palestinian in Gaza City on November 7, 2018. (Photo by Thomas Coex/AFP via Getty Images)
Essam al-Sa'afeen, a 39-year-old Palestinian from al-Bureij refugee camp in the center of the Gaza Strip, was pronounced dead on February 23, one month after he was arrested by Hamas security forces. His family and friends are demanding answers from Hamas regarding the circumstances of the death al-Sa'afeen, a father of six.
Hamas says it has formed a commission of inquiry to investigate the circumstances surrounding his death.
According to the Hamas-controlled Ministry of Interior, which is in charge of the Palestinian security forces in the Gaza Strip, al-Sa'afeen died shortly after he was transferred from prison to a hospital. The ministry said al-Sa'afeen was rushed to the hospital after a "sudden deterioration in his health condition."
The Palestinian Fatah faction, headed by Palestinian Authority (PA) President Mahmoud Abbas, has accused Hamas of brutally torturing al-Sa'afeen during his incarceration.
Al-Sa'afeen was a member of Fatah who previously served as a police officer in the PA security forces before Hamas's violent takeover of the Gaza Strip in 2007. On January 27, 2020, masked gunmen arrested al-Sa'afeen on the streets of al-Bureij refugee camp, apparently for his membership in Fatah.
Hamas often arrests Fatah members in the Gaza Strip for their political activities and criticisms of Hamas's leaders and policies. Similarly, the Fatah-dominated PA in the West Bank regularly arrests Palestinians in the West Bank because of their affiliation with Hamas. Palestinians call the security crackdown by both parties "politically-motivated arrests."
The death of al-Sa'afeen did not surprise Palestinians who are familiar with various methods of torture in Hamas and PA prisons. The Gaza-based Al-Mezan Center for Human Rights said that an autopsy conducted by the forensic medicine department on the body of al-Sa'afeen showed "bruises and a change in the color of the skin" -- implying he had been physically abused.
"Al-Mezan Center regrets the death of the detainee and calls for a serious investigation into the conditions of his detention," the center announced in a statement.
The Center also called on Hamas to investigate whether al-Sa'afeen had received medical treatment during his detention for the high blood pressure and diabetes from which he suffered.
Addammer, a Palestinian human rights organization in the West Bank, also expressed concern over his death and called for an immediate inquiry.
The organization also called for "providing medical care in detention centers to detainees" and urged Hamas to launch a "serious investigation into this incident and hold those responsible to account."
The Independent Commission for Human Rights (ICHR), another Palestinian human rights organization, said that it had first become aware of the detention of al-Sa'afeen in early February, when his family appealed to its representatives for help. "Since ICHR received the family's complaint, it tried to visit al-Sa'afeen in prison to learn about the conditions of his detention," the organization disclosed.
"The [Hamas] Internal Security Agency refused to allow our representatives to visit him. We demand a criminal investigation into this incident, the publication of the results and holding accountable those responsible."
Al-Sa'afeen's mother emphasized that the Israelis treat Palestinians much better than Hamas does. "When the Jews arrest someone, they contact his family to say they are holding him," she stated.
"But Hamas refused to provide us with any information about the detention of my son or his health condition. We didn't receive any phone call from my son and [Hamas] wouldn't allow us to send him clothes or food or medicine."
She added that Hamas did not even inform her family that al-Sa'afeen had been transferred to a hospital. "May God punish all those who assaulted him," she said.
"The Jews allow detainees to phone their families. We didn't receive even one phone call. We told [Hamas] that he's sick and needs medicine, but they refused to give him any treatment. Until today, we don't know why my son was arrested."
The Palestinian news website Amad pointed out that on the same day that al-Sa'afeen was pronounced dead, the Israeli authorities installed phones for the use of Hamas prisoners held in Israeli prisons.
The al-Sa'afeen family later issued a statement saying that in a Hamas prison, their son had died as a result of brutal torture. The family said that they held Hamas and its security forces fully responsible for the death of their son and called for the formation of an independent commission to investigate the circumstances of, and reasons for, his death.
Sadly, al-Sa'afeen's death follows an unacceptable pattern:
In 2011, Hamas announced the death of Ibrahim al-A'raj in one of its prisons two days after he was taken into custody.
In 2015, the family of Khaled al-Balbisi, 41, announced that he had died in a Hamas prison three days after his arrest.
In 2016, a Palestinian human rights group called for an immediate investigation into the death of Ashraf Eid, 40, in a Hamas prison in the town of Deir al-Balah in the Gaza Strip. The group said that Eid died only three days after he was arrested by Hamas security forces.
In 2017, another Palestinian, Khalil Abu Harb, from Gaza City, also died while being held in a Hamas prison. Hamas then promised to investigate the incident, but no results have ever been published. Some reports claimed that Abu Harb had committed suicide.
A year later, another detainee, whose name has never been released, was found dead in his prison cell in the town of Rafah in the Gaza Strip. No one has ever heard the result of any investigation into this case, as well.
Also in 2018, Palestinians reported that a 21-year-old man, whose identity was also not known, had died of a "heart attack" in a Hamas prison in the northern Gaza Strip.
The families of al-Sa'afeen and the other Palestinians who have died in Hamas prisons are deluding themselves if they think they will ever receive satisfactory explanations from Hamas regarding the circumstances of these deaths.
The families' calls for launching investigations into the death of their sons while in Hamas detention have been ignored not only by Hamas, but also by the international community, human rights organizations and media.
Palestinian detainees do not die of dubious causes in Israeli prisons; perhaps that is why no one in the international community seems to care. When Palestinians die in Palestinian prisons, the murders are presumably regarded as the handiwork of supposedly savage Arabs, who are -- with racist contempt -- held to a to lower standard of conduct than Westerners, and therefore regarded as unworthy of human rights, accountable governance, due process or equal justice under the law.
They are evidently considered "just" Palestinian families complaining about brutal torture in Palestinian prisons -- so international human rights organizations do not even notice them.
Bassam Tawil is based in the Middle East.