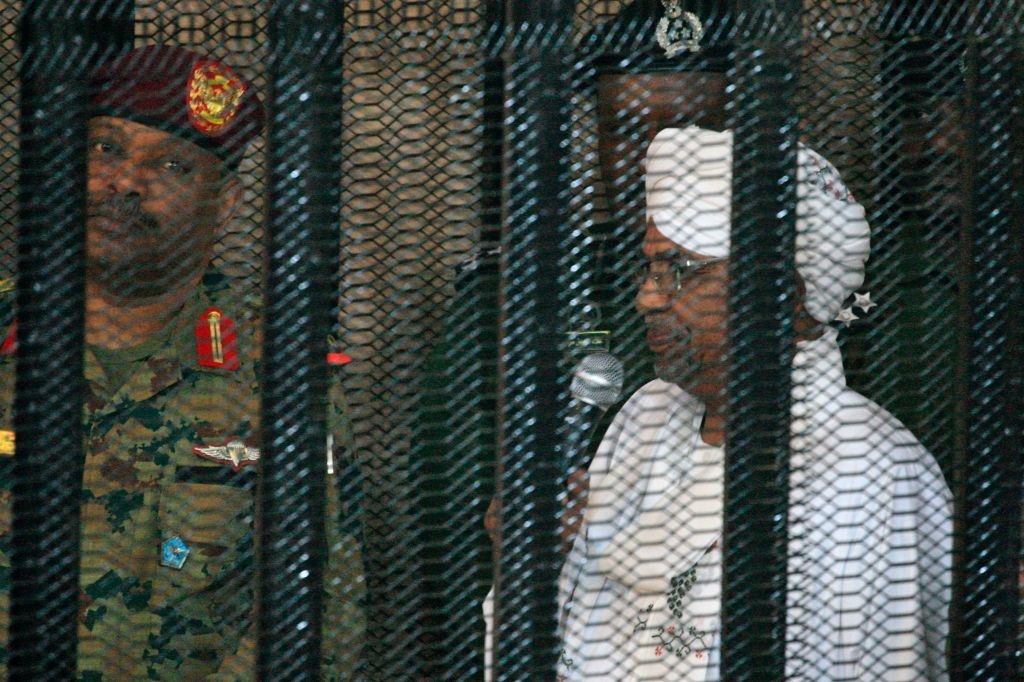 Omar al-Bashir, Sudan's former dictator, reportedly siphoned off "millions of dollars" from one of the world's poorest nations and sent it to bank accounts in Qatar and Iran. The United States needs to pressure Qatar and other states to seize any Bashir regime funds and return them to the Sudanese. Pictured: Bashir stands in the defendant's cage during the opening of his corruption trial in Khartoum on August 19, 2019. (Photo by Ebrahim Hamid/AFP via Getty Images)
The overthrow of Sudanese dictator Omar al-Bashir in April 2019 brought to an end an almost 30-year regime notable for its brutality, skill in weathering political storms and adapting to be able survive for decades.
Sudan's former dictator reportedly siphoned off "millions of dollars" from one of the world's poorest nations and sent it to bank accounts in Qatar and Iran.
Sudan's foreign debt is estimated at $62 billion and the transitional government is desperately trying to locate funds to deal with a worsening economic crisis and treat its nation's Covid-19 patients. Sudan has long been ranked as one of the world's poorer nations by United Nations measurements; a quarter of Sudanese live in extreme poverty.
The Islamist regime of the National Congress Party (NCP) or National Islamic Front (NIF) -- popularly called the Al-Ingaz ("Salvation") regime -- early on prioritized Islamist revolution across Africa and beyond. Bashir and his clique provided sanctuary for Osama Bin Laden, declared jihad against its own citizens in South Sudan, and facilitated an assassination attempt on Egyptian President Hosni Mubarak during a visit to Addis Ababa in 1995.
American and Saudi pressure forced the Bashir regime to expel Bin Laden and curb some of its more overt actions supporting terrorism, although the regime never came fully clean about its dark past. While the regime became shyer about openly practicing terrorism, however, it never stopped stealing.
A new French investigative news report by Melanie Chavron reveals that "according to Sudanese intelligence officers" in the current government, Bashir and his clan siphoned off millions of dollars to bank accounts in Qatar and Iran. Local Sudanese papers also surmised that the Bashir clan might have hidden additional funds in Malaysia, a charge denied by Bashir's second wife. While Qatar and Iran were important supporters of the Bashir regime for years (Sudan's ties with Iran were eventually severed in 2016), Malaysia and China were major partners of Sudan in its oil sector.
Qatar and Turkey remained supporters of the Bashir regime until the very end. Turkey was one of the few non-Arab countries that Bashir could visit without fear of being detained for an arrest warrant from the International Criminal Court. All of these countries, along with several other Arab states, enabled the survival of the regime for years, and greased Bashir's bloody rule with billions in aid -- cash was passing through his government's ministries and parastatals with virtually zero transparency or public accounting.
While Bashir and his ruling elite lived well from plundering the economy, Sudan sank deeper into poverty. The 2018-2019 popular revolt was motivated as much by hunger and inflation as it was by three decades of rule by the Bashir regime.
Today, Sudan's new rulers are struggling with a continuing economic crisis made worse by the disruption and deprivation of a Covid-19 lockdown. The pandemic could prove to be the tipping point into even greater misery. Inflation and hunger are still major concerns and the transitional government desperately needs additional resources. More than a quarter of the population lives in extreme poverty.
This transitional government -- which includes a mostly civilian reformist cabinet under Prime Minister Abdalla Hamdok trying to work carefully with the country's powerful military leaders -- is doing its best, despite the shortcomings and contradictions, trying to improve human rights, provide greater transparency, and address many of the most odious policies of the previous regime. The transitional government is also working hard through dialogue with various rebel groups to bring peace to Sudan.
The Hamdok Administration is not only trying to trace money stolen by the NCP nomenklatura but also to reclaim parts of the economy taken by Bashir and his barons in the security services. All this is happening in the midst of bread, fuel and cooking gas shortages that make Covid-19 social-distancing measures even more cumbersome.
If any government has worked diligently to earn a reset with the Trump Administration, it is Sudan. This fragile yet real reformist approach, coupled with Sudan's strategic geopolitical position and importance for US national security, needs a stronger and more tangible response, in terms of assistance, from the West and especially the United States. American pressure on Qatar and other states to seize any Bashir regime funds and return them to the Sudanese people can and should be part of a new pact to promote reform and human dignity among Sudan's 43 million people.
There are many more secrets of the Bashir regime to uncover, either by journalists or by intelligence agencies. In addition to the whereabouts of its ill-gotten gains, there is the question of hidden or corrupt relationships between the regime and friendly nations, which is poorly or not fully understood from the outside.
Qatar's Doha Document for Peace in Darfur (DDPD) was signed in 2011 but never really implemented. Peace in Darfur is certainly a laudable goal, but how much did this process actually benefit the regime, providing it vital cover, rather than advancing real peace or helping victims and internally displaced persons (IDPs)? Moreover, while the Bashir regime worked productively with several American Administrations against Al-Qa'ida and similar groups, it was at the same time working closely with Iran to smuggle weapons to Hamas in Gaza. What more can be learned about the Bashir regime's hidden ties with the Lord's Resistance Army (LRA) and with politicians and armed groups in South Sudan? What payoffs did the Turks and Chinese distribute as the price of doing business in a notoriously corrupt Bashir regime that was ranked 173rd out of 180 of the most corrupt on the planet?
Tracing possible secret Bashir bank accounts, ranging from the Middle East to East Asia, is an important and urgent endeavor, one that could tangibly help the lives of poor Sudanese. But tracing the Bashir regime's illicit relationships, wherever they may lead, will tangibly help the cause of truth and reconciliation for the Sudanese as well. The new government of Sudan needs and deserves both money and justice -- urgently.
Alberto M. Fernandez is President of Middle East Broadcasting Networks (MBN). From 2007-2009, he served at the topmost U.S. envoy in Sudan. The views expressed herein are solely those of the author and do not necessarily reflect the official views of MBN or the U.S. government.