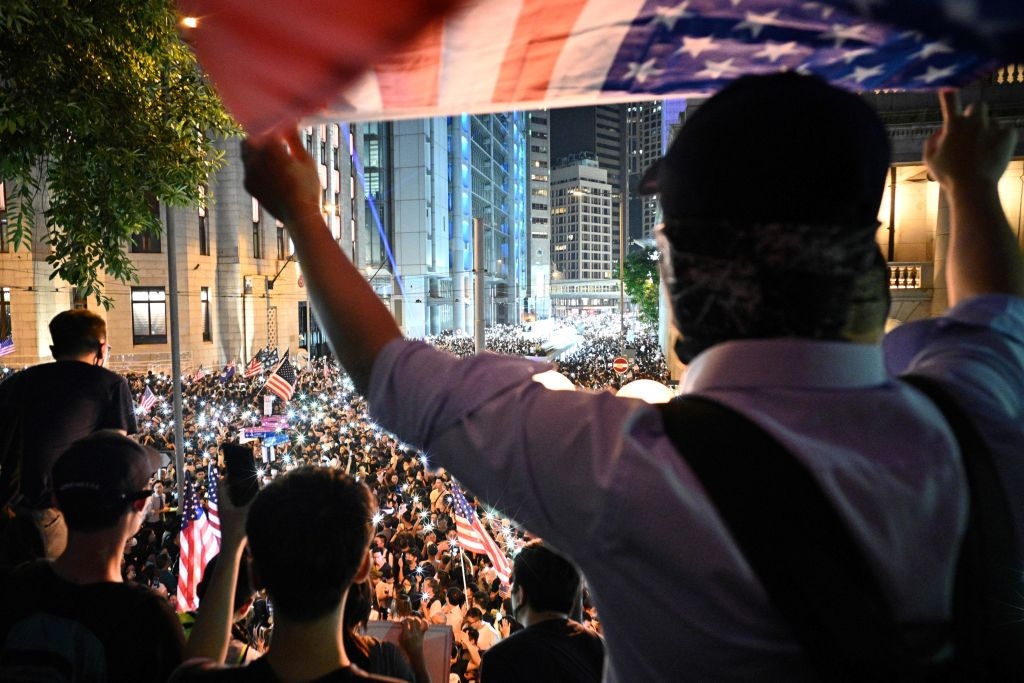 During the last year of protests, Hong Kong's demonstrators have waved the American flag. China well knows the meaning of that small outpost on its doorstep, with its freedom of speech and rule of law. Have you seen the European flag being waved in Hong Kong? No, and with good reason. Pictured: Protesters, many waving American flags, attend a pro-democracy rally in Hong Kong on October 14, 2019. (Photo by Anthony Wallace/AFP via Getty Images)
In the aftermath of China's approval of a new national security law for Hong Kong, which de facto ends the autonomy of the former British colony guaranteed by an international treaty, two Anglo-Saxon democracies immediately protested very loudly.
The United States and the United Kingdom tried to convene a meeting of the UN Security Council to deal with the matter (China prevented it). Then the governments of the United States, Britain, Australia and Canada released a joint statement stressing that the international community has a lasting interest in the stability and autonomy of Hong Kong. The UK even announced that it will extend to more than three million residents of Hong Kong a renewable one-year visa and the eventual possibility of obtaining British citizenship. US Secretary of State Mike Pompeo raised the possibility of canceling the privileged commercial status that the US has so far given to Hong Kong, and President Donald Trump announced sanctions against Chinese leaders responsible for introducing the national security law in Hong Kong.
The last British governor of Hong Kong, Chris Patten, said that China had "betrayed" Hong Kong. True, the Chinese regime has forsaken the commitment laid down in the treaty. But a greater betrayal is from Europe. What did the EU do on Hong Kong? Nothing. It is simply allowing China to overpower and crush its last bastion of freedom.
The EU High Representative for Foreign Affairs, Josep Borrell, ruled out sanctions against China for initiating the new Hong Kong law. "The EU's decision not to use its leverage as the world's biggest trade bloc comes in stark contrast to the U.S., which is threatening trade measures if Beijing proceeds with imposing national security laws", Politico related.
The French Foreign Minister, Jean-Yves Le Drian, at a hearing in the country's Senate, announced that Europe must not get carried away in a clash between US and China, and that "a new cold war" must be avoided. "A policy aimed at isolating China is not in Germany's or Europe's interests", noted Norbert Röttgen, chair of the Foreign Affairs Committee in German parliament.
These Europeans are implicitly saying that, as with turning over Czechoslovakia's Sudetenland to Nazi Germany roughly 80 years ago, that sacrificing Hong Kong is necessary to protect its investments in China. "At the end of the day, I fear that the economic relationship with China is just too important", a European diplomat confessed.
Europe's self-censorship over China is grotesque. Brussels already rewrote a report criticizing China for its handling of the coronavirus. To Jonathan Holslag, a Belgian professor of international politics, the crisis is just another indicator of the continued weakening of an opportunistic Europe in the face of a rising China. Nicole Gnesotto, who holds the EU chair at the National Conservatory of Arts and Crafts, remarked: "Europe is immature: is it a childhood disease that will pass, or a genetic disease?".
"I very much hope Angela Merkel doesn't sacrifice Germany's fundamental values to support the economy and appease China", Joshua Wong, Hong Kong's heroic activist, said. "Being dependent on China will sooner or later do Germany serious harm".
Last year, China fumed over the meeting between Wong and Germany's foreign minister. Now that China has driven the final nail in the coffin of Hong Kong, Germany appeased Beijing and said that it wanted to "mediate" between China and US over Hong Kong. But there is no mediation with Chinese imperialism.
The Chinese artist and dissident Ai Weiwei attacked German appeasement:
"France, England, especially Germany is the most dark, tricky one, they [Germany] also have a great strategic discipline, they're so identified with an authoritarian state, in their blood they have this, they love China so much, you can see all those [German] politicians, they go to China more than they go to see their grandma. Germany is leading the whole Europe, they're so ambitious, they want to be leader but morally they are so collapsed. It's so fake in Germany. That's why the European family don't trust Germany. They want to break away it because the Germans get the most benefits from China. German industrial leaders officially announced that German future belongs to China. German banks, German technology, they're really supporting this so well. And you can never see German leaders criticize China openly, even during this virus crisis, but you can say the same of every European nation. I am really worried. The West is going down so fast because doesn't uphold its beliefs".
Europe is deluding itself on China. As the French scholar François Heisbourg noted, "China is a predator and Europe is its prey".
"Around the world, voices have been raised in support of Hong Kong's brave pro-democracy demonstrators", US author George Weigel wrote. "Has the Holy See's voice been heard? If so, I missed it and so did many others".
The EU and the Vatican have stayed silent about China's takeover of Hong Kong. Criticism also came from Hong Kong's bishop, Joseph Zen: "I'm sorry to say that we have nothing to expect from the Vatican. In these past few years, they have never said anything to reproach China for their persecution". They have "surrendered the Church to the Chinese authority".
The journal Civiltà Cattolica, edited by Jesuits and is reviewed by the Vatican before publication, just launched a new Chinese edition. According to Vatican expert John L. Allen Jr., it is the proof of a "Vatican 'all in' on Chinese courtship". The Vatican's pact with China seems to have bought the Holy See's silence at the expense not only of millions of Catholics, but also of Hong Kong. "We are at the end of a long process of surrender", Cardinal Zen concluded.
Thanks to the alliance of democracies around the United States, the containment strategy, and the struggle for values ​​that allowed the delegitimization of the lies and terror that served as a cement to Soviet communism, the West managed to defeat the Soviet Empire and cause its collapse from within. The West today has all the resources it needs to stop Communist Chinese imperialism. The only thing missing is Europe's will to defend itself. There is still time to avoid the fatal mistake of the 1930s, when Europe's democracies were torn apart by abasement in front of the rise of totalitarianism. Europe needs to wake up and counter China.
Tibet's spiritual leader, the Dalai Lama, also urged Europe not to appease China: "During Chamberlain, just before the Second World War, too much appeasement failed", he said, referring to the misguided attempt of British Prime Minister Neville Chamberlain to reach an accommodation with Hitler's Germany in the 1930s. As Churchill wrote to Chamberlain, "You were given the choice between war and dishonour. You chose dishonour and you will have war".
"Why die for Danzig?", asked the French pacifist Marcel Déat in 1939. He meant that the fate of the city of Danzig was not worth a confrontation. He argued in favor of appeasement with Nazi Germany, which demanded to annex the semi-autonomous Free City of Danzig.
"Why die for Hong Kong?", the Europeans now seem to say.
During the last year of protests, Hong Kong's demonstrators have waved the American flag. China well knows the meaning of that small outpost on its doorstep that refuses to yield, with its freedom of speech, rule of law and religious freedom unthinkable in mainland China.
Have you seen the European flag being waved in Hong Kong? No, and for good reason.
Giulio Meotti, Cultural Editor for Il Foglio, is an Italian journalist and author.