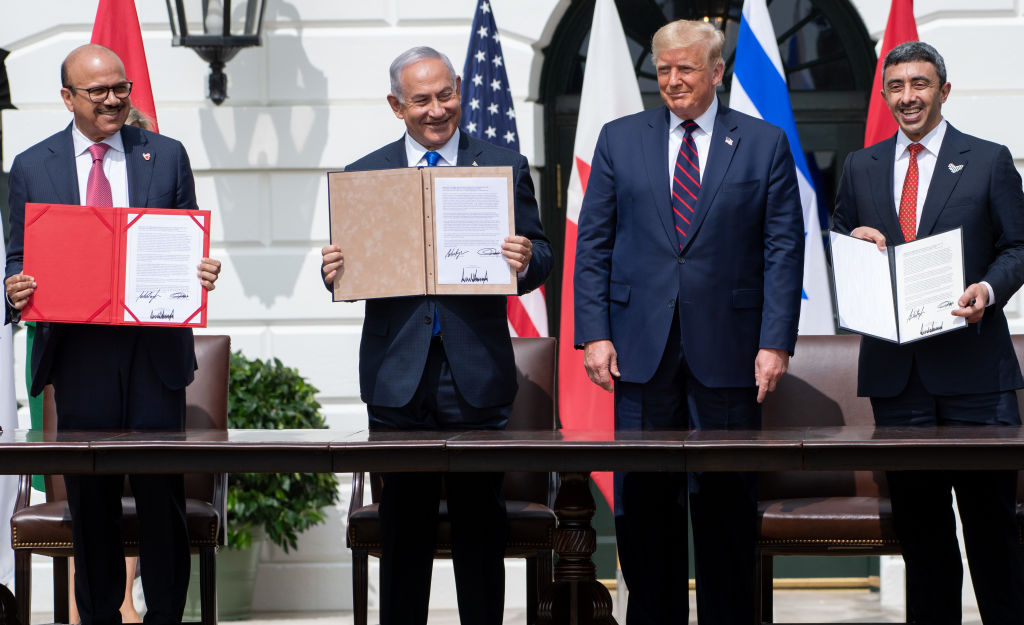 Pictured from left to right: Bahrain Foreign Minister Abdullatif al-Zayani, Israeli Prime Minister Benjamin Netanyahu, US President Donald Trump, and UAE Foreign Minister Abdullah bin Zayed Al-Nahyan participate in the signing of the Abraham Accords in Washington, DC on September 15, 2020. (Photo by Saul Loeb/AFP via Getty Images)
On September 15, two peace agreements with Israel and known as The Abraham Accords – one with the United Arab Emirates (UAE) and one with Bahrain, and -- were made official at a White House ceremony. President Donald J. Trump spoke of a "historic breakthrough" and a "previously unthinkable regional transformation". Israeli Prime Minister Benjamin Netanyahu added that the world is witnessing "the dawn of a new Middle East ".
The agreements, which come 26 years after the last peace treaty, between Jordan and Israel, mark a further step towards the integration of Israel in the region.
The UAE and Bahrain are the first Arab countries to recognize Israel without requiring any concession from Israel (Netanyahu said that the extension of Israeli sovereignty to parts of Judea-Samaria and the Jordan Valley was suspended, not canceled) and without any American financial contribution involved.
The UAE and Bahrain are also the first Arab countries to establish fully normal country-to-country diplomatic relations with Israel. Embassies will open soon. Direct flights will connect Ben Gurion Airport to Abu Dhabi and Manama. Both Arab countries will establish financial and economic relations with Israel, invest in Israel and have already signed contracts with Israeli companies.
Israel, one of the world's most inventive countries and a world leader in high technology, has much to offer wealthy countries. Both Arab countries and Israel will benefit immensely.
The UAE may also reportedly be openly entering into military cooperation with Israel. The defense of the UAE and Bahrain would be significantly improved. Perhaps Israel will be better able to ward off the "Death to Israel" attack that Iran has been threatening since its 1979 Revolution.
The text of the signed document speaks of the need to continue "the efforts to achieve a just, comprehensive, and enduring resolution of the Israeli-Palestinian conflict", but the Emirates and Bahrain apparently did not consider the Israeli-Palestinian conflict an obstacle to peace or to full cooperation with Israel. Neither the UAE nor Bahrain received the slightest condemnation from other Arab countries. In fact, they received congratulations.
Egyptian President Abdel Fattah al Sisi said on Twitter: "I value the efforts of those in charge of the deal to achieve prosperity and stability for our region."
The Arab League, which, at the Khartoum Conference of 1967, delivered the three "nos" -- no peace, no recognition, no negotiations [with Israel] -- this year rejected the Palestinians' demand to reject the Abraham Accords.
Although the Palestinian Authority spoke of "betrayal," support for the Palestinian cause from leaders of the Arab world has been collapsing for years. Palestinian leaders are suddenly discovering that, as the Arab saying goes, "The dogs bark but the caravan moves on" -- possibly without them.
Over the past decade, in fact, a geopolitical earthquake has swept through the Middle East that changed almost everything.
The Muslim Brotherhood seized power in Tunisia and in Egypt (although they were soon rejected). Libya's Gaddafi regime was destroyed and the country found itself abandoned to Islamist gangs. A jihadist "Islamic State" was created in northern Iraq and eastern Syria and quickly became the rear base for attacks against Saudi Arabia and the West. Syria was ravaged by an atrocious civil war. Lebanon came under the control of Hezbollah. The mullahs' regime in Iran showed ever more clearly its expansionist goals, nuclear ambitions and its will to become the regional hegemon.
Saudi leaders and Gulf monarchs presumably feared being overthrown -- and reacted. They helped General Abdel Fattah al-Sisi to seize power in Egypt and weaken the Muslim Brotherhood. They are currently helping Field Marshal Khalifa Haftar, who holds eastern Libya, to fight the Islamist militias and Turkish troops that support Fayez al Sarraj in Tripoli.
Saudi leaders and Gulf monarchs had the sophistication and foresight to see that the Obama administration had accepted and even encouraged Iran's regime, as well as the Muslim Brotherhood's rise to power in Tunis and Cairo, and had led the destruction of the Gaddafi regime. President Obama seemed intentionally powerless in the face of ISIS, the civil war in Syria and Hezbollah's takeover of Lebanon. He signed the Iran nuclear deal that gave the mullahs access to tens of billions of dollars, which they used to tighten their grip on their citizens, the region, and to finance Islamic terrorist groups threatening the Sunni world.
Saudi leaders and Gulf monarchs saw that they and Israel have a common enemy. The Iranian regime, their main enemy, was also Israel's enemy. They saw that Israel was a regional economic and military superpower, the Middle East's "Silicon Valley". They saw that, unlike Iran, Israel has no regional ambitions and is no threat to them. They began to see that it would be greatly in their interest to get closer to Israel and that the "Palestinian cause" had long since ceased to be an asset and had instead become an ungrateful burden. They remember that the Palestine Liberation Organization (PLO) in 1970 attempted to overthrow Jordan's King Hussein and assassinate him. They remember that the Palestinians backed Saddam Hussein during the Iraqi invasion and occupation of Kuwait, which until then had peacefully been employing nearly half a million Palestinians.
Saudi leaders and Gulf monarchs, who were already engaged in discreet, unofficial ties with Israel, had tried pressuring the Palestinian Authority to soften its positions -- to no avail.
On coming to power in January 2017, President Trump saw opportunities to move forward and found in Prime Minster Netanyahu a reliable ally who shared his strategic vision.
Trump also decided to quickly destroy the Islamic State, and a few months later he eliminated its leader, Abu Bakr al-Baghdadi. On May 8, 2018, Trump also removed the United States from the Iranian nuclear deal; put in place strict sanctions against the Iranian regime to try to limit the internal and external damage it was doing and planning to do, and took out the Iran's terror chief General Qassem Soleimani.
In May 2017, in Riyadh, Saudi Arabia, Trump announced his desire to "discard the strategies that have not worked"; proposed that the leaders of the Sunni Arab world "build new partnerships in pursuit of peace to act for "stamping out extremism and vanquish the forces of terrorism", and "to choose between two futures". He told them that if they fought terrorism and reformed, the United States would be on their side against Iran. He also suggested that they move closer to Israel. Trump's flight from Riyadh to Jerusalem was the first between the two capitals, and he was the first sitting President to visit the Western Wall in Jerusalem. He said the United States officially recognized Jerusalem as the capital of Israel, went to Bethlehem to meet with Palestinian Authority President Mahmoud Abbas and, breaking with the previous diplomacy of self-flagellation and appeasement, accused Abbas of being responsible for inciting hatred and terrorism.
Trump also asked that the Palestinian Authority stop payment to terrorists and their families. When the PA refused to do so, he slashed US funding and ceased all dialogue with PA leaders. On May 14, 2018, he moved the US Embassy in Israel to Jerusalem, and shortly after, announced that because UNWRA employs members of Palestinian terrorist groups, it is thus an "irredeemably flawed operation" which the US would no longer fund. He asked the State Department to publish a statement clarifying that from now on the United States will regard as refugees only the people who left the territory of Israel in 1948-49, and not their descendants.
His decisions did not provoke the general uprising of the Arab street that many so-called "experts" had predicted, and led only to mild reactions from Sunni Arab leaders.
Trump also refused to give in to the crippling delusions that had wrecked the now defunct Oslo Accords. He refused to make any concession to terrorists or to subvert the imperatives of security or the historical rights of Israel. He entrusted a group led by his son-in-law, Jared Kushner, to develop a plan to establish peace between Israel and the Sunni Arab countries and to solve the Palestinian problem. The plan, presented in Washington on January 28, 2020, proposed to the Palestinian Authority a state that would be fully demilitarized, on the strict condition that the PA completely renounced terrorism, teach children peace and tolerance, and accepted Israeli control for everything related to security and defense. As expected, the Palestinian Authority rejected the proposal.
Few commentators noted that the ambassadors of the United Arab Emirates, Bahrain and Oman were present at the White House that day, and few noted that the plan had the support of seven Sunni Arab states (Egypt, Saudi Arabia, the UAE, Bahrain, Oman, Qatar, and Morocco).
Other agreements appear set to follow. President Trump has noted that "seven, eight or nine more countries are ready to join the deal".
Saudi foreign minister Faisal bin Farhan Al Saud said on August 19 that Saudi Arabia remained "committed to peace with Israel on the basis of the 2002 Arab Peace Initiative". Helpfully, Abu Dhabi's Prince Mohammed bin Zayed Al Nahyan is close to Saudi Crown Prince Mohamed bin Salman; Prince bin Zayed undoubtedly did not make a decision without speaking to Prince bin Salman. The King of Bahrain, Hamed bin Issa Al Khalifa, is also close to Prince bin Salman. When asked if Saudi Arabia had approved Bahrain's signing the Accord, a spokesman for the kingdom replied that "it remains committed to working with all of its strategic partners to achieve a just and enduring peace within the region".
It is reasonable to think that Saudi Arabia will wait to know the outcome of the US presidential elections and work out the priorities of Saudi royal family members before a further commitment.
They can clearly see that, depending on the result in the US on November 3, the process can either continue smoothly or be threatened. They can also doubtless see that the strict sanctions against Iran put in place by President Trump in 2018 must not be removed if peace is to advance, but that the Democrats, if they win, are considering removing them. The Saudi rulers can also see that Iran recently made an agreement with China, and that President Trump intends to pursue an intransigent policy towards China. They also may justifiably fear that the Democrats, should they win, will revert to their previous policy of trying to persuade hostile regimes to change by appeasing them.
If the US initiative continues, a regional peace could take shape within the next few years. The Iranian regime would be contained and presumably prevented from developing nuclear weapons. The Palestinian Authority would be faced with a choice: either accept what was proposed -- which may dwindle to less than what was proposed on January 28 -- or suffer the consequences of further intransigence, further irrelevance, and even defeat.
For now, the Palestinian Authority is stubbornly sticking to its intransigence. "There is," Palestinian negotiator Hanan Ashrawi recently said, "an erroneous assumption that the Palestinians are defeated". Middle East scholar Daniel Pipes, in a reply to Ashrawai's statement, wrote:
"We [realists] understand that only defeat will convince Palestinians like Mrs. Ashrawi, and through them Iranian, Turkish, Islamist, leftist, fascist, and other anti-Zionists, that the century-plus conflict is over, that Israel has prevailed, and that the time has come to give up on futile, painful, and genocidal ambitions."
Meanwhile, Norwegian MP Christian Tybring-Gjedde has proposed President Trump, the driving force behind the accords, for the Nobel Prize for Peace. A few days later, a Swedish MP, Magnus Jacobsson, also proposed that President Trump receive the Nobel Peace Prize -- this time for agreements he obtained between Kosovo and Serbia (Kosovo, a Muslim state, intends to establish diplomatic relations with Israel and to locate its embassy in Jerusalem). President Trump would be a deserving choice that would shed a renewed honor on the Nobel Committee.
If President Trump is able to continue following the bold, unconventional path he has traced, he will most likely succeed where all his predecessors have failed. What he has accomplished already -- in less than four years, with so many forces determined to undermine him (for instance, here, here and here) -- is extraordinary.
Deploring that France and the European Union refused to recognize the importance of the event and chose to continue supporting the Palestinian Authority unconditionally, French MP Meyer Habib said on television, "In less than four years, Trump has done more for Israel and for a real peace in the Middle East than any other American President in seventy-two years."
British journalist Melanie Philips wrote:
"If the moderate Arab world now finally understands that Israel is not its enemy but its ally, this could begin to undermine the foundations of irrational and self-defeating hatred that has fueled the Islamist war against the West. While intractable Islamic fanaticism will not just disappear, the Abraham Accords might give Arab and Muslim reformers wind in their sails to bring their culture into an accommodation with the rest of the world."
"Western Europe and the American left," she added, "will be the last people on earth to realize this."
Dr. Guy Millière, a professor at the University of Paris, is the author of 27 books on France and Europe.