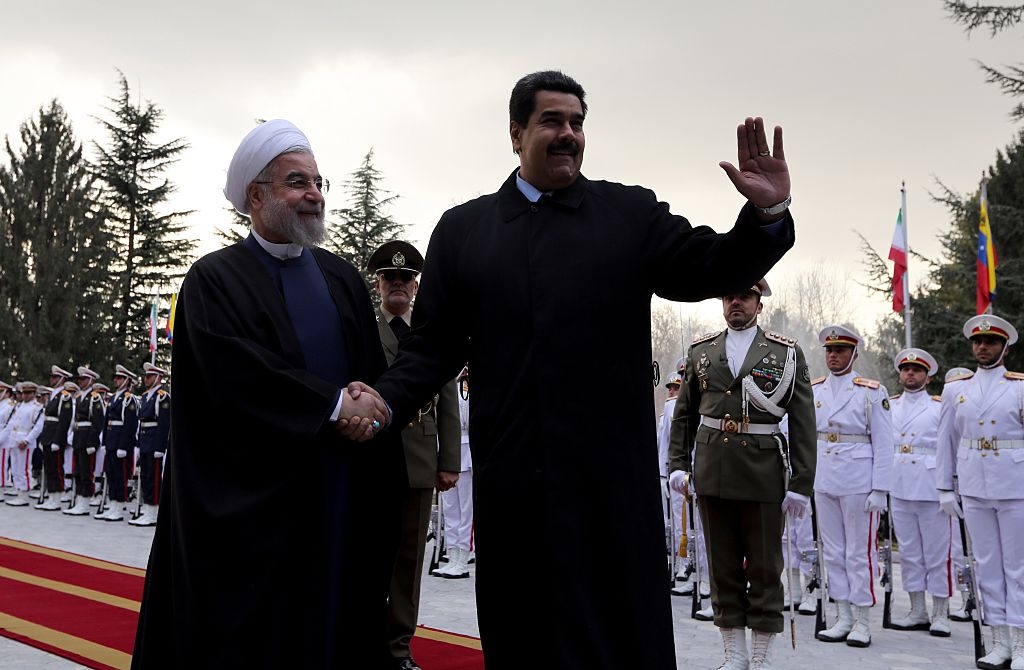 In August, Colombian President Ivan Duque claimed that the Maduro regime in Venezuela was looking to acquire medium-to-long-range missiles from Iran. Pictured: Iranian President Hassan Rouhani (left) reviews the honor guard at the Saadabad Palace in Tehran with Venezuelan President Nicolás Maduro on January 10, 2015. (Photo by Atta Kenare/AFP via Getty Images)
By the end of October, the security landscape in South America could change, with the Islamic Republic of Iran setting up arms sales in South America, from Venezuela to Bolivia. But first, any of these three things must happen:
The United Nations would have to ignore its security council resolutions and effectively let the decades-old Iran arms embargo expire on October 18.
Evo Morales' political party Movement Toward Socialism (MAS) in Bolivia would have to win the presidential elections, set for the same date (October 18).
Venezuela's Nicolás Maduro regime would need to initiate a potential weapons transfer from Tehran, as reported in late August by Colombian President Ivan Duque.
In August, President Duque, speaking at a virtual event, claimed that the Maduro regime in Venezuela was looking to acquire medium-to-long-range missiles from Iran. President Maduro initially responded by denying these claims, then said, "It's not a bad idea" and ordered his defense minister to look into the deal.
More than fuel shipments
To understand the context of this claim by Colombia, it is important to understand the recent developments between Venezuela and Iran. Starting in late May, Iran, in what appears to be a gold-for-gas scheme, repeatedly sent gasoline shipments to the fuel-starved Maduro regime in Venezuela. Last week, the second round of tankers from Iran, carrying an estimated 820,000 barrels of gasoline, arrived in Venezuela.
Despite having the world's largest reserves of petroleum, Venezuela's state-owned oil enterprise, PDVSA, cannot refine its heavy crude due to years of bad investments and a lack of maintenance that ended up plundering the country's refining capabilities. One year ago, for instance, PDVSA's state-owned refining network produced 1.3 million barrels per day (bpd) of fuel for domestic consumption. This past March, PDVSA barely produced more than 7,000 bpd of gasoline, causing long lines of vehicles at Venezuelan gas stations and basically bringing commerce to a halt.
Importing fuel is not that easy for Venezuela: PDVSA is under US sanctions; some of its main trading partners -- Spain, Italy, and Russia -- do not want to risk doing business with it and getting sanctioned themselves. Earlier this year, Russia actually withdrew Rosneft from Venezuela after the U.S. sanctioned some of its sub-units.
This is where Iran enters the picture.
Starting on April 21, 2020, a series of 17 flights flown by Mahan Air, the preferred airline of Iran's dominant militia, the Islamic Revolutionary Guard Corps (IRGC), touched down at Punto Fijo, near the Amuay Refining Complex on the Paraguana Peninsula. China provided the parts, Iran the technicians, and Venezuela's newly minted oil minister, Tareck El Aissami, dispatched one of his top lieutenants to Iran -- a Lebanese-Colombian businessman, Alex Saab -- to work out Iran's reported gold-for-gas scheme. Saab is now being detained in Cape Verde pending possible extradition to the U.S. on eight counts of money laundering.
Months later, the refineries on the Paraguana Peninsula still are not operating, and Venezuela is facing fuel shortages yet again. According to Bloomberg, Iran nevertheless received almost half a billion dollars' worth of gold bullion as payment. While gasoline is needed in Venezuela, the fuel shipments from Iran are likely an excuse to operationalize its once latent IRGC network in the country.
In July, a civil forfeiture complaint by the US Department of Justice claimed that the IRGC controlled the fuel shipments to Venezuela through an Iranian businessman with ties to the National Iranian Oil Company (NIOC). Aside from the five Iranian-flagged tankers that arrived in Venezuela in the summer, another four Liberian-flagged tankers from Iran en route to Venezuela were detained off the coast of West Africa. The US Department of Justice seized a reported 1.1 million barrels of gasoline on the tankers, as well as websites of the Iranian front companies used in the fuel shipment. The interception was labeled the "largest U.S. seizure of Iranian fuel" to date.
The dual-use nature of Iran's "commercial" entities involved in this alleged gold-for-gas scheme -- namely the NIOC, Mahan Air, the Islamic Republic of Iran Shipping Lines (IRISL), as well as others -- are all sanctioned by the US for helping Iran's strategic weapons programs. Accordingly, the US Treasury's 2017 sanctions on Maduro were updated in September 2020 to include his cooperation with Iran.
Covert military cooperation
For the last 14 years, Iran's Ministry of Defense and Armed Forces Logistics (MODAFL) has worked with Venezuela's Company of Military Industries (CAVIM) to set up the IRGC's footprint in the country. On the surface, this cooperation included designing Venezuelan unmanned aerial vehicles (UAVs), constructing ammunition-manufacturing plants, refurbishing jet engines, and trading parts for fighter jets and helicopters. Yet, most of these joint military projects had irregularities, such as being overvalued, under-delivered, and experiencing unusual delays, suggesting that they might have a purpose beyond the overt defense cooperation between the two countries.
Beneath the surface, it appears that Iran used these joint military projects with Venezuela to erect a covert procurement and acquisition network in Latin America. The network was seemingly aimed at amassing prohibited parts, minerals, metals, and technology for Iran's strategic weapons programs. These procurements included sensitive items banned by the UN arms embargo -- for instance missile parts and strategic minerals -- while using cutouts and front companies in Latin America.
According to the #FinCENFiles, a massive leak of documents from the US Financial Crimes Enforcement Network, a Chinese businessman, Cheng Mingfu, between 2010-2015, was allegedly helping finance a secret missile program in Iran from his home base in Leon, Guanajuato, Mexico. Mingfu was sanctioned in 2016 by Treasury's OFAC for his business with Navid Composite Material Company, an Iranian company that, since 2013, has been sanctioned for its involvement in Iran's covert procurement of weapons components. Navid Composite is part of Iran's defense logistics agency, the MODAFL, which oversees Iran's missile production.
From 2006-2013, the MODAFL's main acquisition arm for Iranian rocket fuel, the Defense Industries Organization (DIO), had a subsidiary in Venezuela, Parchin Chemical Industries (PCI), which was ostensibly helping CAVIM produce ball powder for its growing supply of small arms from Russia. Located along the northern Caribbean coast of Venezuela, in a small town called Morón, Iranian petrochemical engineers routinely arrived to work with the Venezuelan petrochemical company Pequiven, a subsidiary of Venezuela's oil conglomerate, PDVSA.
At the time, PCI was sanctioned by the US, Germany, the UK, Japan, and was listed in the annex to United Nations Security Council Resolution 1747, as one of the "entities involved in [Iran's] nuclear and ballistic missile activities."
The covert objective of PCI in Venezuela is not clear; however, the fact that a MODAFL front company involved in Iran's missile programs was operating for several years in a remote town off the Caribbean coast of Venezuela, should be cause for concern.
A Venezuelan general, Aref Richany Jimenez, was in charge of this project while also he served in a unique dual billet at the helm of Venezuela's military industry and as the director of external relations for PDVSA. This dual billet, between CAVIM and PDVSA, blended Iran's and Venezuela's energy and military cooperation while shielding financial transactions through China. That arrangement led to US sanctions on both PDVSA in 2011 and CAVIM in 2013, but, more importantly, served as a precursor for the Iranian fuel shipments now being sent to Venezuela. While these fuel shipments appear to have a humanitarian or commercial intent they seem to have militaristic future.
The air bridge
In April 2019, when Mahan Air flew for the first time from Iran to Venezuela, some analysts dubbed the flight the return of "Aeroterror," a reference to a shared flight from years past between Venezuela's state-owned airline, Conviasa, and Iran Air, the national airline of the Islamic Republic. From 2007-2010, the infamous route between Caracas-Damascus-Tehran reportedly shuttled illicit products and people between Venezuela and the Middle East through a bi-weekly flight. Without much commercial value, the flight lost more than $30 million in its first three years of operation. It was, however, subsidized by Venezuela's Mining Ministry -- a hint at the strategic purpose of the flight.
All the same, the 27-year-old, long-range, wide-body commercial aircraft used by Conviasa for "Aeroterror" became well-known in regional counterterrorism circles, who were meticulously tracking tail number YV1004. In February 2020, Conviasa YV1004 showed up in Uruguay, Panama, and Nicaragua, before returning to Venezuela, then back to Iran. According to the manifest, the Airbus 340 that was used to jet across Latin America in February was flown by former Iranian air force pilots belonging to Mahan Air.
The journey means that Iranian pilots were already on the move in Latin America, through state-owned Venezuelan planes, months before Mahan Air began its official flights to Caracas and Punto Fijo in April 2020. While most attention earlier this year was on Mahan Air flights from Iran to Venezuela, the Conviasa flights have been moving regularly between Iran, Syria, Europe, and Central and South America.
In February 2020, the US Treasury Department's OFAC sanctioned the airplane YV1004 along with the entire fleet of Conviasa aircraft. OFAC reported that "the Maduro regime has commandeered Conviasa's aircraft to promote its own political agenda, including shuttling regime officials to countries such as North Korea, Cuba, and Iran." Nonetheless, "Aeroterror" continues to take to the skies. In March 2020, Conviasa YV1004 restarted direct flights to Syria priced at $1,700, well above what most Venezuelans could afford. The plane also flew humanitarian flights from Mexico, and this year began flights to Buenos Aires, Argentina, although these have been delayed due to the coronavirus pandemic.
Bolivia, between Iran and Venezuela
One of Maduro's closest allies in South America, Evo Morales, the former president of Bolivia who resigned last November, is also a close ally of Iran. The Iran-Bolivia nexus is a lesser-known, but equally important aspect of Iran's outreach to Latin America. Throughout Morales' 14-year tenure as president of Bolivia, Iran made strong overtures to court the Andean country into its geopolitical orbit.
Beginning in 2007 with a strategic framework agreement, Iran and Bolivia quickly established formal ties. In five years, the two countries signed several joint natural resource and mineral extraction projects, engaged in technical and diplomatic exchanges, started anti-narcotics cooperation, and constructed embassies in their capitals, Tehran and La Paz. The Spanish daily El País reported in 2012 that Bolivia had at least 145 registered Iranian diplomats in the country.
Like Venezuela, Iran's formal cooperation with Bolivia has a dual-use component that raises suspicion for potential covert activity.
In July 2019, Morales hosted his final formal delegation from Iran. The group included no less a figure then Foreign Minister Mohamad Javad Zarif. Among the notable agreements signed, was the transfer to Bolivia of Iranian nanotechnology. Iranian engineers have been working for more than a decade, with help from China, to boost Iran's nanotechnology sector, which supposedly exports to 45 countries. It is a business that has raised alarms for some technical experts, worried about nanotechnology's military applications.
Iran's Defense Minister, General Amir Hatami, stated last year that nanotechnology has helped to boost his country's military power: "Nanotechnology has a major impact on the further development of defense systems."
That development causes one to question if Iran were using its commercial and technology cooperation with Bolivia to set up future arms transfers, as it is doing in Venezuela. If so, the resignation last year of its preferred partner in Bolivia, Evo Morales, surely stalled this effort. With the Bolivian election less than a week away, however, and on the same date as the expiration of the UN arms embargo -- October 18 -- there is a chance that Iran could restart its strategic cooperation with Bolivia if Morales' political party, the MAS, returns to power.
A new security challenge for the Americas
The dual-use nature of Iran's cooperation with the Maduro regime in Venezuela, coupled with the possible proliferation from Mexico to Bolivia and beyond, presents a unique set of problems for regional security officials in Latin America.
For casual observers, the ramped-up presence in Venezuela this year will seem as if Iran's recent activities are a product of America's "maximum pressure" campaign against both countries. To informed analysts, however, it is clear that Iran has gradually built up the IRGC's presence and capabilities in the region for almost 20 years -- while using commercial and energy contracts, military-industrial cooperation, high-technology transfers, and other Iranian niche industries to cover its tracks.
Given that October 18, 2020, has been on the calendar since the Iranian nuclear deal was signed in 2015, Iran knew it had five years to strengthen its asymmetric capabilities in Latin America before the arms embargo expired. That way, it could legitimize its military presence while maintaining its covert activity in Latin America. Come October 18, the Iran-Latin America problem could become more complex if any of three situations -- lifting the UN arms embargo, a Morales-MAS electoral victory in Bolivia, or a missile transfer to Maduro in Venezuela -- comes to pass.
Joseph M. Humire is the executive director of the Center for a Secure Free Society (SFS), and a Distinguished Senior Fellow at the Gatestone Institute. He is the co-editor of Iran's Strategic Penetration of Latin America (Lexington Books, 2014).