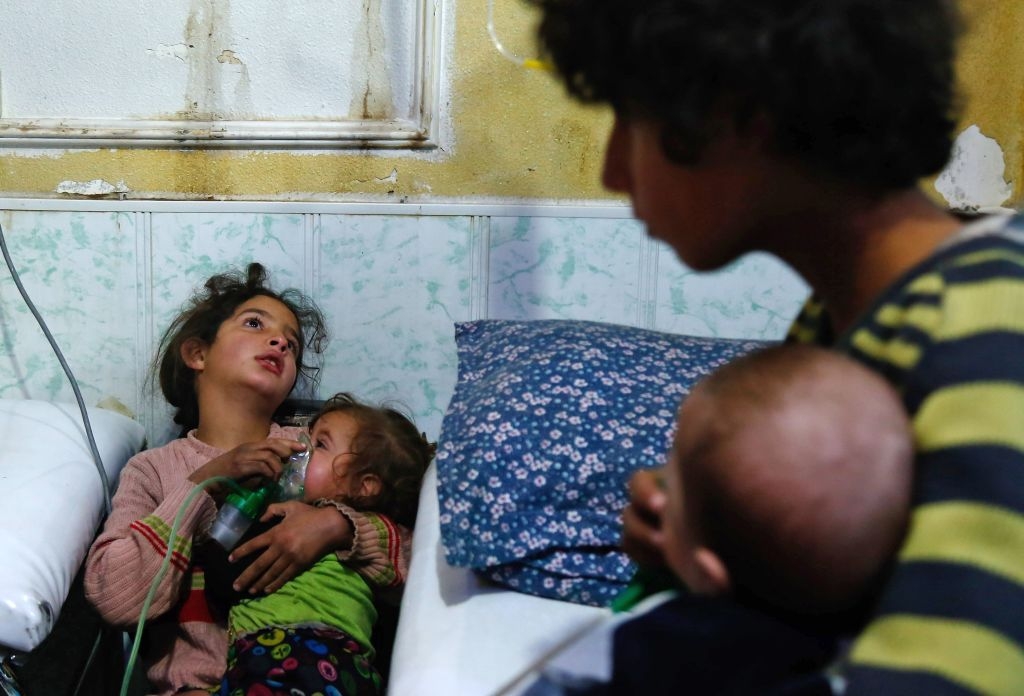 The German company Krempel delivered to two Iranian companies insulating pressboards that were incorporated into Iranian missiles armed with chemical warheads, which were used by the Syrian regime in a chlorine gas attack in January 2018. The attack resulted in 21 injuries, including six children. Pictured: A Syrian girl holds an oxygen mask over the face of an infant at a makeshift hospital following a chlorine gas attack on the town of Douma, near Damascus on January 22, 2018. (Photo by Hasan Mohamed/AFP via Getty Images)
To better understand Europe's current policy toward the Islamic Republic of Iran, it is worth citing an episode recounted in a 2006 essay by Iran expert Amir Taheri.
In 1984, Hans-Dietrich Genscher, then foreign minister of the Federal Republic of Germany and an ex-member of the Nazi party, traveled to Iran in an attempt to moderate the malign conduct of the then five-year-old revolutionary regime of Ayatollah Ruhollah Khomeini.
Genscher declared his intention to engage in "critical dialogue" with the regime, but the notion sparked the joke that "critical dialogue" was really "an exercise in joint criticism, by the mullahs and the Europeans, of the Americans," Taheri wrote. The German foreign minister announced at the time that his dialogue with Iran's rulers was a success in "intensifying" political relations between then West Germany and the Islamic Republic.
Thirty-six years after Genscher introduced the phrase "critical dialogue" into Europe-Iran diplomacy, it is clear that his policy has failed.
Take the most recent example of the obsolete concept of critical dialogue: Tehran's murder last month of the innocent champion wrestler Navid Afkari, which yet again thrust into the global spotlight the regime's utter disregard for basic standards of human rights championed by Europe.
Tehran hanged Afkari for his protest, as part of nation-wide demonstrations, against the fundamental political and financial corruption of Iran's current supreme leader, Ayatollah Ali Khamenei.
The failure of critical dialogue is also apparent in Europe's business ties with Iran. Germany's eagerness to do business with Iran's regime has been a constant since the 1979 Islamic Revolution. Genscher noted in 1984 that economic relations remained solid during the period 1979-1984. Iran's 1979 seizure of the US embassy in Tehran and its taking hostage of 52 American diplomats and citizens, who were held for 444 days, did nothing to upset German-Iranian relations.
Likewise, Europe works not only to keep Iran's regime afloat but also, witting or unwittingly, to enhance Tehran's military apparatus through the provision of dual-use goods (civilian technology that also could have a military purpose).
Switzerland's embassy in Iran, for example, boasted on its Twitter feed on October 19:
"Signed during President Rouhani's visit to Bern in July 2018, the road transportation agreement between #Iran + #Switzerland has passed Majlies with a large majority. The agreement facilitates #bilateral goods + passenger transport, marking the expansion of ties + int'l trade."
It is unclear what type of equipment is involved in the road transportation deal between Bern and Tehran. Governments and monitors of nuclear and long-range missile proliferation should be deeply suspicious of the agreement. As my colleague Mark Dubowitz and I revealed in a 2010 Wall Street Journal article, Swiss and German economic deals might be aiding Iran's illicit nuclear weapons program.
We disclosed in 2010 that the Swiss firm Ceresola TLS reached an agreement with the Rahab Engineering Establishment in Iran to deliver tunneling technology as part of a subway project. This is precisely the type of heavy earth-moving equipment Iran's rulers need to burrow away nuclear facilities underground, as the regime did with the Qom and Natanz nuclear enrichment plants.
Similarly, in 2018, the German newspaper Bild revealed that Berlin's Federal Office for Economic Affairs and Export Control had ostensibly approved a deal for the Krempel company to sell militarily applicable technology to Iranian companies.
Krempel delivered to two Iranian companies insulating pressboards that were incorporated into Iranian missiles armed with chemical warheads, which were used by the Syrian regime in a chlorine gas attack in January 2018. The attack resulted in 21 injuries, including six children. The pressboards manufactured by Krempel can also be inserted into motors.
The United States government, under both the Obama and Trump administrations has classified Iran's regime as the world's leading state-sponsor of terrorism.
Germany has, nevertheless, possibly been the principal adversary of the U.S. "maximum pressure" campaign to isolate Iran's regime and advance Middle East security.
Politico's chief Europe correspondent, Matthew Karnitschnig, wrote this month, "Since [Senator John] McCain's death in 2018, Germany has refused to back the U.S. on just about every major foreign policy front, whether concerning China, Russia, Iran, Israel or the broader Middle East."
Mahmoud Vaezi, chief of staff for Iranian President Hassan Rouhani, also recently stressed after a meeting with Germany's ambassador to Tehran, Hans-Udo Muzel, that "Germany has been Iran's traditional partner."
In September, the German-Iranian Chamber of Commerce and Industry proudly tweeted a statement from its managing director, Dagmar von Bohnstein: "Potentials are high, trade between #IRN and #GER is increasing and German medium enterprises now know how to deal with sanctions."
In other words, the pro-Iran business group in Germany is celebrating its ability to circumvent U.S. sanctions targeting the regime for its malign activities. Germany's foreign ministry has made no secret of its efforts to weaken U.S. sanctions.
Last year, Germany's Social Democratic foreign minister, Heiko Maas, sent his business diplomat, Miguel Berger, to a conference to teach how to evade American sanctions. Björn Stritzel, a Bild journalist, wrote at the time in a scathing commentary:
"While the Tehran regime plays with fire, Germany is also offering the mullahs a stage in Berlin! Yesterday, the Federal Foreign Office sent a business director [Miguel Berger] to a conference to give tips on how to cleverly bypass US sanctions against Iran. Every penny from the business deals that were initiated there [at the conference] flows directly into Tehran's terrorist coffers, with which the mullahs oppress their own people."
Berger has since been promoted to state secretary of the German foreign office.
In October, the German-Iranian Chamber of Commerce announced that trade between the two countries in the first eight months of 2020 was up 8%, and exceeded 1.1 billion euros. The great majority of the trade consisted of German exports to Iran, including "industrial machines" such as "pumps and compressors" -- once again, the exact type of technology that Tehran could utilize for military purposes.
The Association of Iranian Banks in Europe wrote in July:
"45 percent of the EU exports to Iran came from Germany, which delivered goods worth 555 million Euro, with an increase of 31 percent compared to last year. Germany remains the most important european trade partner of Iran with an increase by 25 percent in trade volume..."
All of these trade numbers and deals between Germany and Iran bespeak a profound indifference to international security and the safety of the Jewish state. This despite Chancellor Angela Merkel's famous declaration to Israel's Knesset in 2008 that the security of the Jewish state is "non-negotiable" for her administration.
The massive gap between her rhetoric and her actions belies a largely pro-Iran regime foreign policy. Merkel's version of critical dialogue has built on Genscher's 1984 version. Whereas back then, the U.S. was the object of "critical dialogue" along the lines of Amir Taheri's anecdotal joke and the whipping boy for the German government, both Israel and the U.S. now face the wrath of Merkel's government and the German Bundestag.
Disturbingly, Merkel's administration has shifted away from the West and toward Russia's Vladimir Putin, the Communist Party of China, and the Islamic Republic of Iran.
Europe's most powerful economic engine, Germany, and the rest of the EU have sadly opted to align themselves with the Islamic Republic of Iran on the pressing issues of Iran's nuclear program, and its stomach-turning human rights record.
Benjamin Weinthal is a fellow for the Foundation for Defense of Democracies. Follow Benjamin on Twitter @BenWeinthal