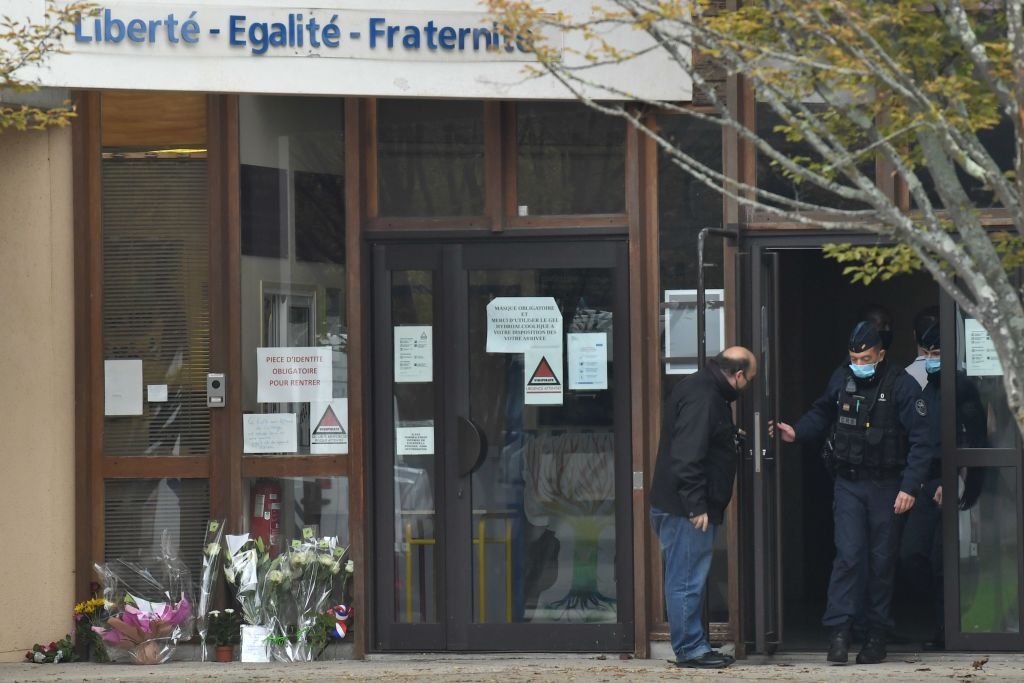 In France, a low-intensity war is bubbling, aimed at radicalizing education. Minister of Education Jean Michel Blanquer revealed that after the beheading of the schoolteacher Samuel Paty in October, 800 Islamist "incidents" had taken place in French schools. Pictured: Bois-d'Aulne College in Conflans-Saint-Honorine, where Paty was murdered on October 16, 2020. (Photo by Bertrand Guay/AFP via Getty Images)
"Unlike you, Colonel, and so many others, Mila will never submit", wrote the French teenager's father to her school's principal in a letter published by Le Point. On January 18, 2020 Mila O., then 16 years old, made insulting comments about Islam during her Instagram livestream.
"During her livestream, a Muslim boy asked her out in the comments, but she turned him down because she is gay. He responded by accusing her of racism and calling her a 'dirty lesbian'. In an angry follow-up video, streamed immediately after she was insulted, Mila responded by saying that she 'hates religion'".
Mila continued: "The Koran is a religion of hatred; there is only hatred in it... Islam is sh*t..." Since then, she has received approximately 50,000 messages and letters that contain threats to rape her, slit her throat, torture and behead her. She has had to keep moving from one school to another.
Once again, Mila has found herself without a high school. On a social network, she accidentally gave the name of her new military school. Its management promptly excluded her for being a potential threat to the students' security. "Devastated by so much cowardice", Mila's father wrote. "Even the army cannot protect her and allow her to continue her education, what can we do, us, her parents? This observation is for us a horror film".
Even the French army cannot protect her? "She is 17 years old and now lives like the staff of Charlie Hebdo, in a bunker; it is unbearable!" Mila's lawyer, Richard Malka, said.
A few days later, "Caroline L.", a professor at the Faculty of Law of Aix-Marseille University, received countless death threats, accusing her of being "Islamophobic". The Aix-en-Provence prosecutor opened an investigation for "public insults for belonging to religion". Her "crime"? The professor had explained to her students there:
"There is no freedom of conscience in Islam. If you were born to a Muslim father, you are a Muslim for life. A kind of sexually transmitted religion. One of the biggest problems we have with Islam, and unfortunately it is not the only one, is that Islam does not recognize freedom of conscience. It is absolutely terrifying".
The Pierre Joël Bonté High School in Riom (Puy-de-Dôme) was closed on January 11 due to "insults and death threats" targeting teachers. "We have decided to close the school following insults and death threats to protect students and staff", a spokesperson of the school explained. A few hours later, a teacher in Toulouse, Fatiha Boudjahlat, asked for police protection after receiving significant threats.
In 2015, Islamic State announced that French schools must be attacked and invited its followers to "kill the teachers". According to Gilles Kepel, an expert on Islamism, "The school, for the supporters of political Islam, has become a citadel to tear down."
An article in L'Express tragically points out that schools are the object of violent campaigns by Islamists throughout the world. In 2014, a military school in Peshawar, Pakistan was targeted by a deadly Islamist attack that claimed the lives of 132 students. The Pakistani Taliban movement, between 2009 and 2012, attacked 900 schools according to a report by the NGO International Crisis Group. Nobel Peace Prize Laureate Malala Yousafzai, known for her fight for girls' education, was shot in the head by the Taliban in Swat. Boko Haram, responsible for numerous attacks in Nigeria, claimed it had kidnapped 276 high school girls in Chibok. In an attack by Islamists affiliated with al-Qaeda on Kenya's Garissa University, 142 students were killed. In Burkina Faso, more than 2,000 schools have closed their doors.
In France, a low-intensity war is bubbling, aimed at radicalizing education. While many Muslims might not support such a transformation, the current effort seems to have begun in 1989, during the bicentenary of the French Revolution and the French publication of Salman Rushdie's fictional novel, The Satanic Verses. A college in Creil refused admission to three students wearing the Islamic veil. French authorities tried by dialogue and appeasement to calm the situation. In an appeal, however, published by Le Nouvel Observateur and signed by authors Alain Finkielkraut and Elisabeth Badinter, several intellectuals denounced the "Munich of the republican school".
The Islamization of French education is now proceeding at a rapid pace. In 1989, the cry was, "Teachers, let us not capitulate!". Since then, some French teachers who have refused to capitulate have paid with their lives.
In October 2020, a French history teacher, Samuel Paty, was beheaded by a Chechen terrorist for having carried out his work: educating his students to respect the founding values ​​of Western societies and the words mounted over the doors of their school (Liberté, égalité, fraternité), for discussing freedom of speech and showing them Charlie Hebdo's cartoons of Mohammed.
"Living together is a fable," Alain Finkielkraut wrote after Paty's beheading; "the lost territories of the Republic are the territories conquered by hatred of France. Eyes have opened, the evidence can no longer be hidden".
French Minister of Education Jean Michel Blanquer revealed that after the beheading of Paty, 800 Islamist "incidents" had taken place in French schools.
Another teacher was physically threatened at the Battières School in Lyon, where Samuel Paty had started his career. This teacher of history and geography had given a lesson on freedom of expression, in accordance with the school curricula, to a fifth-grade class. He stated, among other things, that Emmanuel Macron was not "Islamophobic". The father of a student came to see the teacher, challenging him verbally in front of witnesses. "He was vocal and very intrusive about what he said was and was not allowed to say in his classes", a witness said. Shocked, the teacher was put on sick leave and asked to change schools.
At a high school in Caluire-et-Cuire, near Lyon, a student threatened a teacher to "cut off his head". In Gisors, a girl distributed a photo of Paty's beheading to her companions. In Albertville, Savoy, the police had to summon four ten-year-old children and their parents because in the classroom they said "that teacher deserved to die". In Grenoble, an extremist Muslim was arrested for threatening to behead a teacher of history and geography named Laurent who appears on a reality TV show. "I will behead you" he said . Laurent was evidently preparing a video tribute to Paty. At the Pierre Mendès France School in Saumur, a student told his teacher, "My father will behead you".
It has become impossible even to make a precise list of these incidents. They occur every day in France.
A new survey reveals the level of self-censorship among French teachers. To avoid possible incidents, one out of every two teachers is admitting to self-censoring in class. By means of fear, terror and intimidation, Islamism is reaping what it has sown.
How We Let Islamism Enter the School is the title of Jean-Pierre Obin's new book about the rise of Islamism in French schools. Obin, a former inspector-general of national education, in 2004 coordinated a report on manifestations of religious affiliation at schools. It was not the first report from a French education insider. Bernard Ravet was, for 15 years, the principal of three of the most problematic schools in Marseille. In his book, College Principal or Imam of the Republic?, Ravet wrote:
"For more than ten years, fanaticism has been knocking on the door of dozens of establishments.... It has sought to encroach on the physical territory of the Republic, centimeter by centimeter, by imposing its signs and standards",
French philosopher Robert Redeker wrote in 2006:
"Islam tries to impose its rules on Europe, opening swimming pools at certain times exclusively for women, a ban on caricaturing this religion, the demand for special dietary treatment of Muslim children, the fight for the wearing the veil at school, the accusation of Islamophobia against free spirits."
His column in Le Figaro was titled, "Faced with Islamist intimidation, what should the free world do?" A few days later, Redeker began receiving death threats. "I can't work and I am obliged to hide", Redeker said. "So in some way, Islamists have succeeded in punishing me on the territory of the republic as if I were guilty of a crime of opinion".
We should have paid more attention to that first case. It was the first in a long series of attacks on French teachers and schools. Fourteen years later, Samuel Paty has paid with his life, a university professor just received security protection and another had to leave his school after threats. If extremists have managed to intimidate France's schools and universities, why should they not be able to subdue all of society?
Giulio Meotti, Cultural Editor for Il Foglio, is an Italian journalist and author.