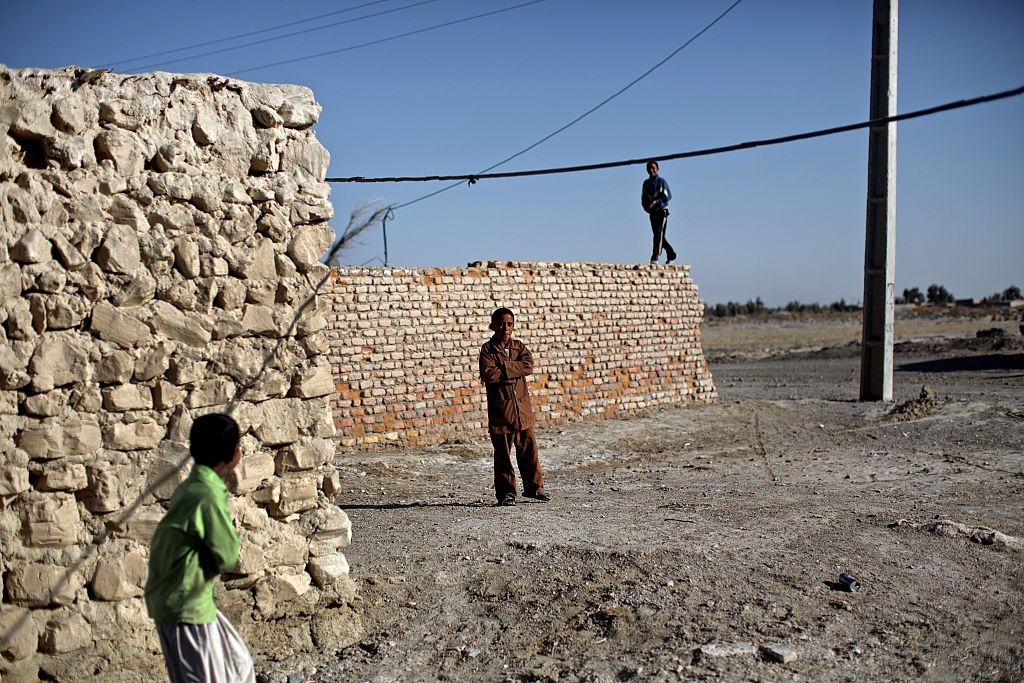 Arrogance, ignorance, and repression are the main features of Tehran's approach to what is a complex socio-politico-economic problem that requires understanding, compassion, and pragmatism, concepts that have no place in the mullahs' lexicon. Their ineptitude has turned Baluchistan into a powder-keg. Pictured: Children wander in Adimi village in Iran's southeastern province of Sistan-Baluchistan, bordering Afghanistan, on February 2, 2015. (Photo by Behrouz Mehri/AFP via Getty Images)
"Like a battlefield!" This is how eye-witnesses describe the scene in Saravan after two days of violence on Monday and Tuesday during which an undetermined number of people lost their lives while local authorities briefly lost control of the city.
Tehran says two people died and five others were wounded. Local reports put the number of dead at 37 with dozens more injured. Because of the credibility gap associated with the regime and its opponents, and in the absence of normal journalistic coverage, it is hard to be sure about the figures. It is equally hard to know how the violence started.
Tehran says the starting shots came from Pakistani troops guarding the border that divides Iranian Baluchistan from the Pakistani one. The Pakistanis deny involvement and blame Iran's Islamic Revolutionary Guard Corps (IRGC) for causing the tragedy with excessive use of force.
The Saravan region is located at the easternmost part of the Iranian landmass, half a time-zone away from the rest of the country. It was reflecting the fact that Iran, under Reza Shah, added 30 minutes to its time zone calculated from the Greenwich Meantime (GMT).
"When the sun reaches Iran, it first kisses Saravan," runs the refrain of a Baluchi folk song.
Saravan, and with it the rest of Baluchistan, offer a tale of suffering during the 42 years of rule by Khomeinists. To be sure, even before the mullahs seized power, Baluchistan, which administratively is part of the Sistan and Baluchistan, the largest of Iran's 31 provinces, was always treated like a Cinderella. When I first visited the province in 1969 for a series of features for the daily Kayhan International, I quickly felt that I had embarked on a time-machine taking me back to the middle ages.
Less than a decade later, however, things had changed somewhat, with the sleepy province woken up with scores of development projects, including the building of aero-naval bases on the Gulf of Oman. Towns such as Khash, Iranshahr, Nikshahr, and above all, Zahedan, the provincial capital, had entered the era of economic boom fueled by Iran's rising oil revenues. But even then Baluchistan, though given new clothes, had not shed its Cinderella status.
At the time, Iranian economic planners were obsessed with the rate of economic growth. Following the "take-off" myth popularized by the American economist WW Rostow, they argued that developing nations like Iran should focus on portions of their territory capable of producing the highest and fastest return on capital invested. In the case of Iran, that meant fast return areas such as Khuzestan, Azerbaijan, and, above all, Tehran. Baluchistan's remoteness was another reason for its Cinderella status.
The province had no link with the national railway network and only one airport, capable of handling only small aircraft. Even traveling by road was not easy. Crossing a short but trans-provincial passage known as Rig-Spakeh, a snake-like stretch of shifting sands, could take days instead of hours. Its almost total lack of hospitality facilities until the mid-70s meant that, despite the amazing beauty and diversity of its nature, Baluchistan could not enter even the domestic tourism market in any big way. Few Iranians had even heard of the majestic Jazz-Murian lake, the river Jakiguvar where crocodiles thrived, or the Taftan, the only volcano still active in the Iranian plateau. The magnificent coastline of the Gulf of Oman with its sandy beaches and year-round spring-like climate also remained unknown.
Another reason why Baluchistan was neglected was that it represented Iran's most secure border. By 1973, the entire border, almost 1000 kilometers, was guarded by fewer than 300 gendarmes while the national army's only garrison, in Khash, had been withdrawn. Baluchistan's potential for agricultural development remained untapped as did its rich mineral resources, including uranium mines. After a debate in decision-making circles in Tehran, the government admitted that a country shouldn't be run as a private company where a quick return is the paramount concern. It made good sense to invest in Baluchistan even if that meant a smaller and slower return. By 1977, as Tehran completed its " Go East" plan to turn Sistan-Baluchistan into a major development pole, the country was heading into the zone of turbulence that led to the seizure of power by mullahs.
Once again, Cinderella was consigned to the kitchen of oblivion.
The mullahs had another reason to neglect the Baluch, a majority of whom are Sunni Muslims and deeply suspicious of a regime based on a militant Imamist ideology. During the past four decades, an accumulation of grievances has pushed the Baluch into a rebellious mood.
Widespread poverty, the dereliction of already scant infrastructure, forced conversion to Khomeinist version of Shiism, lack of security, and what is perceived as cultural humiliation have provoked mass immigration, mostly to Pakistan, and the emergence of armed rebel bands, at times linked to drug traffickers, black-marketers and people-smugglers.
In 2017, Tehran claimed that over 80 armed bands based in Pakistan were operating against Iran. In 2016, President Hassan Rouhani's assistant for family affairs shocked Iran by revealing that during a wide tour of Baluchistan, she found that in many villages and small towns most families had lost their fathers, killed in gunfights with the Islamic Revolutionary Guard Corps, or executed as drug-traffickers.
According to a study by the Ministry of the Interior, almost 30% of the death sentences that make the Islamic Republic the second nation with the highest number of executions in the world, after China, are passed on the Baluch, who account for 1.8% of Iran's population. According to the same source, over 3,000 Baluch, including religious teachers and students, languish in Iranian prisons.
Over the past decades, scores of Iranian border guards and other security personnel, among them ranking officers including Gen. Shushtari, have been killed in armed clashes with those bands.
The only military prowess that Tehran cites for the late Gen. Qassem Soleimani is a four-week clash he had with Baluch rebels almost 30 years ago. In 2018, the IRGC handed over the guarding of the portion of the border touching on Afghanistan to the regular army. The IRGC also demanded an additional 4,000 men and a supplementary budget of $100 million a year to secure the portion touching on Pakistan. As far as we could ascertain, neither demand has been satisfied as Tehran faces a cash flow problem that has also led to cuts in stipends for Hezbollah, Hamas, and Bashar al-Assad.
Arrogance, ignorance, and repression are the main features of Tehran's approach to what is a complex socio-politico-economic problem that requires understanding, compassion, and pragmatism, concepts that have no place in the mullahs' lexicon. Their ineptitude has turned Baluchistan into a powder-keg.
Amir Taheri was the executive editor-in-chief of the daily Kayhan in Iran from 1972 to 1979. He has worked at or written for innumerable publications, published eleven books, and has been a columnist for Asharq Al-Awsat since 1987.

This article was originally published by Asharq al-Awsat and is reprinted by kind permission of the author.