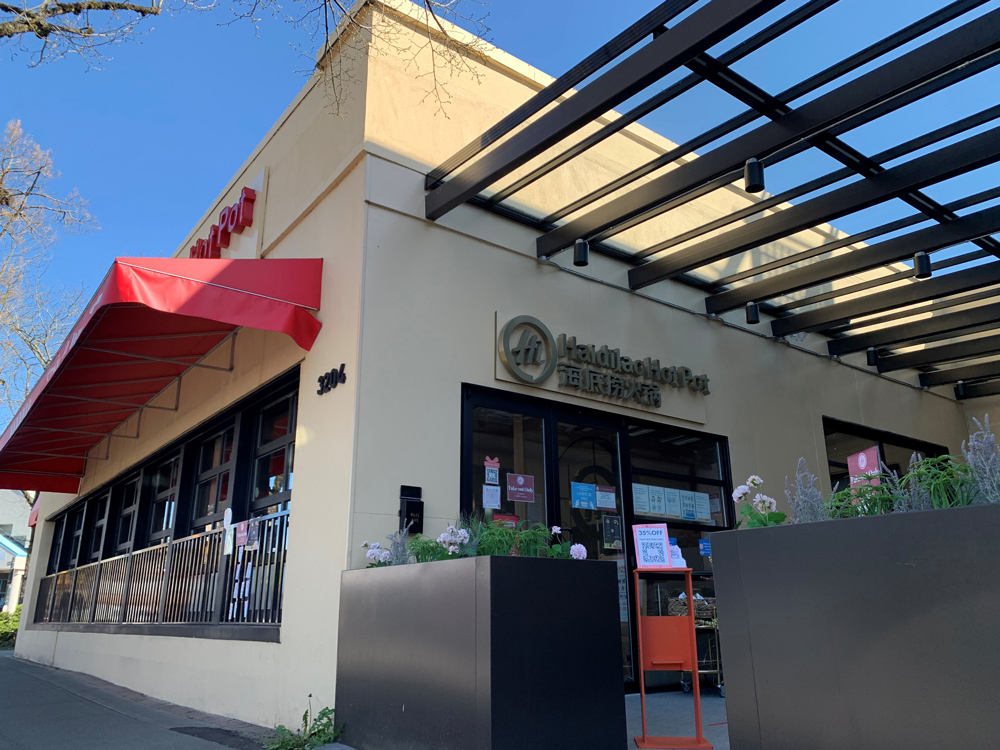 In the Haidilao Hot Pot restaurant in the Kitsilano district of Vancouver, Canada (pictured), more than 60 surveillance cameras watch 30 tables and send feeds to China. The cameras, manager Ryan Pan explained to Scott McGregor and Ina Mitchell, are there to "people track" and are "part of the social credit system in China." (Image source: Ina Mitchell)
China is surreptitiously collecting, for use in its domestic social credit system, video from a popular eatery in Canada.
In the Haidilao Hot Pot restaurant in the Kitsilano district of Vancouver, more than 60 surveillance cameras watch 30 tables and send feeds to China. The cameras, manager Ryan Pan explained to Scott McGregor and Ina Mitchell, are there to "people track" and are "part of the social credit system in China."
This restaurant is corporate-owned, one of two Haidilao locations in that port city in British Columbia. There are more than 935 of the chain's restaurants worldwide with over 36 million VIP members. The business started in China's Sichuan province.
Why do we care? Beijing is evidently extending its totalitarian controls to the rest of the world.
In 2014, China's State Council issued guidelines for the establishment of a national "social credit system" by 2020, with the feeds from about 626 million surveillance cameras and smartphone scanners and with data from a multitude of sources.
That system was designed to assign to every person in China a constantly updated score based on observed behaviors. For example, criticizing Chinese ruler Xi Jinping in a social media posting would result in the lowering of an individual's score.
There are consequences for low-scored individuals. As officials say, the purpose of the system is to "allow the trustworthy to roam everywhere under heaven while making it hard for the discredited to take a single step." People with low scores have been denied social services, mortgages, and even the right to board trains and planes. There are also "interconnecting repercussions for family, friends, associates, and businesses both in and outside China," Mitchell, an investigative journalist and co-author with McGregor of the upcoming The Mosaic Effect, tells Gatestone.
At the moment, there are various local social credit systems in place throughout China, but they have yet to be linked together in a single, integrated one. "Today, the social credit system still remains a disjointed mix of ambitious national level targets and guidance, varying regional pilot programs, and scattered mass data collection mechanisms," write Jessica Reilly, Muyao Lyu, and Megan Robertson on the Diplomat site.
The Communist Party's Central Committee in January appears to have established 2025 as the new target for the implementation of the nationwide system. In the meantime, as Reilly, Lyu, and Robertson write, "there is a lot of information being collected."
Why did Beijing select Ryan Pan's restaurant for such intensive collection of information? For starters, it is in British Columbia's most important city for China. "Vancouver," says Mitchell, "is a gateway for the Chinese Communist Party into North America where they engage in pervasive foreign interference activity, mobilizing overseas United Front units to strategically lure political and business leaders using financial inducements and other incentives to promote the Party's agenda."
Moreover, that particular restaurant is near the house rented by Huawei Technologies for staff attending to Meng Wanzhou, the firm's chief financial officer. Meng is in the middle of a multi-year struggle to avoid extradition to the U.S. for alleged bank fraud relating to sanctions evasion, and she is allowed to stay in one of her homes. Beijing, therefore, wants to know what people around her are saying and doing.
China's officials, however, also want to keep tabs on the rest of the world. From 2012 to 2017, for instance, they secretly downloaded data from the computers housed in the Beijing-donated and Chinese-built headquarters of the African Union in Addis Ababa, Ethiopia through ... Huawei servers.
Beijing's ambition does not stop there. It has provided tens of billions of dollars of subsidies to Huawei so that the Shenzhen-based giant, the world's largest maker of telecom networking gear, can provide equipment for the world's 5G networks. 5G — the fifth generation of wireless communications — makes possible the Internet of Things, which will connect virtually all the world's devices, from cars to toasters to pacemakers.
China can take data from those devices and feed it into its artificial intelligence (AI) systems, thereby making those systems robust. AI lives off data.
In addition to posing a crucial national security risk, the secretive transmission of video to China is a violation of British Columbia law, specifically, the province's Personal Information Protection Act.
You might think that Canada would care about the filching of data from hot pot devotees. You would be wrong.
So far, the Haidilao Hot Pot restaurant — and China — have gotten off scot-free. "Fewer than 15% of Canadians agree with Ottawa's passive approach to the malign behavior of the People's Republic of China, including espionage," Charles Burton of the Macdonald-Laurier Institute's Centre for Advancing Canada's Interests Abroad said to Gatestone in the wake of the Vancouver disclosures. "One wonders how far the PRC's violations of Canadian sovereignty and security have to go before we see any response from Canada's political elite, which has been deeply co-opted by Chinese Communist Party agents of influence."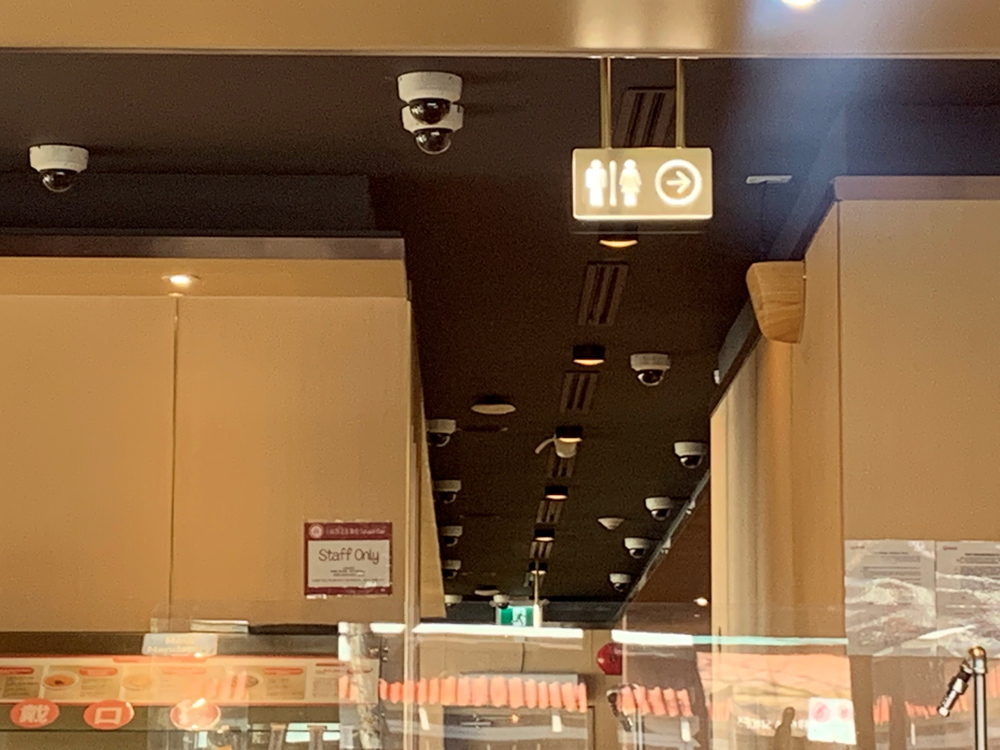 In this photo of the interior of the Haidilao Hot Pot restaurant in Vancouver, 14 surveillance cameras can be seen on the ceiling in one area of the eatery. (Image source: Ina Mitchell)
Beijing will, at some point, be able to assign a social credit score to just about everyone on the planet. Yes, it is true that its officials have yet to overcome the obstacles — mainly bureaucratic — in knitting together a China-wide social credit system for individuals, but it is just a matter of time before they succeed.
China's Communist Party wants to know everything that happens everywhere. So far, the Western democracies do not seem to be putting up much of a fight.
The Communist Party, in hundreds of millions of locations across China and in one hot pot restaurant in Vancouver, is creating what the Economist called "the world's first digital totalitarian state."
This dystopian system is, unfortunately, coming to us.
Gordon G. Chang is the author of The Coming Collapse of China, a Gatestone Institute distinguished senior fellow, and a member of its Advisory Board.