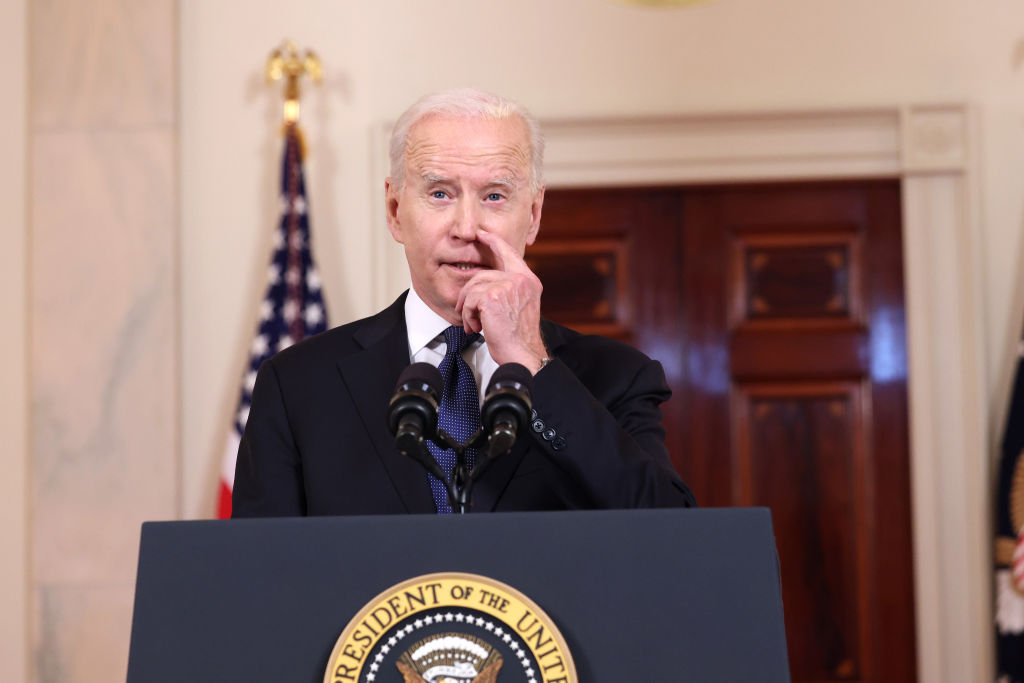 The Biden administration acts as if it does not see that it puts Israel and other longtime American allies in danger; it acts as if it does not see that behind Iran and the mullahs, China is on the move. President Biden made no distinction between a democratic ally of the United States and a terrorist organization he did not even name. Pictured: President Biden delivers remarks on the Middle East, at the White House on May 20, 2021 in Washington, DC. (Photo by Anna Moneymaker/Getty Images)
May 10, 6.07 pm. Six missiles fired by Iran's proxy militia, Hamas from the Gaza Strip fly into Israel and quickly become more numerous. Most were destroyed by the Iron Dome, but not all. Within a week more than 3,000 missiles had been fired by Hamas. Some caused deaths, injuries and destruction. Hamas's goal was to exhaust the capabilities of the Iron Dome and cause as many civilian casualties as possible. To that end, it targeted Tel Aviv at night when people are asleep. Without the Iron Dome, there would have been thousands of deaths. Hamas has committed war crimes and crimes against humanity.
Hamas's attacks were preceded by unrest in Jerusalem and assaults on Jews. An Israeli court decision to evict Arabs who did not pay the rent and squatted in homes belonging to Jewish families in Jerusalem, was used as a pretext for riots. Violent incidents also took place on the Temple Mount, where Arab rioters shouted Islamist slogans calling for the death of Israel and bombing Tel Aviv.
As Hamas launched its missiles, Israeli Arabs in mixed Jewish-Arab cities such as Lod, Jaffa, Acre, Ramle and Nazareth assaulted their Jewish neighbors, torched Jewish synagogues, homes, cars and businesses, and flew Palestinian Authority and Hamas flags.
The Israeli Defense Forces (IDF), in airstrikes in Gaza, destroyed countless missile launchpads, underground tunnel systems Hamas built to house its arsenals and protect its terrorists, and buildings that housed Hamas headquarters, offices, media outlets, cyber-warfare units and intelligence units. The IDF strikes also killed several senior Hamas leaders and the head of Palestinian Islamic Jihad, the other Islamic terrorist organization participating in the attacks from Gaza.
On May 11, Israeli Prime Minister Benjamin Netanyahu said that those who attacked Israel would pay "a very heavy price". On May 14, he added that Israel now needed to fight on two fronts: Gaza and Israel. He promised to defeat Hamas and Palestinian Islamic Jihad, and to "restore law and order to the cities of Israel".
Israel, attacked by Hamas in the past, in 2014 also had to intervene in Gaza, which Israel had totally evacuated in 2005 to give the Palestinians living there the opportunity of turning it into the "Singapore of the Middle East."
Arab Israelis have participated in riots before; some Israeli Arabs have even carried out terrorist attacks.
US Senator Marsha Blackburn tweeted on May 11,: "The conflict in Israel would not be happening if President Trump were in office". While it is impossible to know what would have happened if Trump were still president, it must be noted that sudden changes have taken place in American policy towards Israel, the Middle East, Russia, and China since President Joe Biden entered the White House.
The Biden administration has constantly shown its desire to return to the disastrous 2015 Iran nuclear deal, which permits Iran to keep enriching uranium and have all the nuclear weapons it wants just a few years from now. The Biden administration also apparently is eager to lift US sanctions against Iran, thereby enriching it to arm once again not only Hamas, but also other Iranian proxies in the region, such as Hezbollah, which now runs Lebanon; the Palestinian Islamic Jihad, and the Houthis in Yemen. The Biden administration, however, never speaks of Iran's support for Islamic terrorist groups, or of the regime's obsessive will to destroy Israel.
The Biden administration has radically broken with the policies of the administration that preceded it: President Trump decided to walk away from Iran's nuclear deal precisely because the mullahs' regime was funding Islamic terrorism and constantly threatening Israel the United States, as well as Saudi Arabia, Lebanon, Syria, Libya and Iraq. Iranian leaders appear see the Biden administration in a position of weakness and ready to turn a blind eye to even Iran's most hideous atrocities, either inside the country or outside it.
That the Biden administration chose Robert Malley, the lead negotiator for the 2015 Iran nuclear deal, to conduct negotiations again, makes the Iranian leadership even more intrigued by the Biden administration's weakness. Negotiations are currently underway in Vienna, Austria. The Iranians have refused to meet with the American delegation. The Iranian delegation has told Mikhail Ulyanov, Permanent Representative of Russia to International Organizations, that they were "still not ready" to meet Americans.
It seems Iran's leaders thought that they could supply Hamas and Palestinian Islamic Jihad with sophisticated missiles without risking an American reaction -- and they did. The Biden administration did not react. In a PBS interview on April 2, one of the American negotiators, Robert Malley, announced that he wants "to remove those sanctions that are inconsistent with the deal", "so that Iran enjoys the benefits that it was supposed to enjoy". Nothing shows that the Biden administration has changed that position.
On January 26, less than a week after Biden's inauguration, his administration stated that it would work toward "a two-state solution to the Israeli-Palestinian conflict", and "restore relations with the Palestinians' leadership". It did not demand that the Palestinian Authority break its incitement to violence or support for terrorism. That policy, too, was a clear departure from that of the Trump administration, which decided to close PLO mission in Washington and said the United States would not have any relations with the Palestinian Authority until the PA completely broke with terrorism.
On April 7, a US Department of State press statement said that the Biden administration had decided to restore US financial "aid to Palestinians", without requiring that American money not be used for terrorist purposes -- also a clear departure from the policy of the Trump administration. In addition, President Biden waited for a month before calling Israeli Prime Minister Netanyahu, a delay widely interpreted as a sign that the new administration wanted to distance itself from Israel. The appointment to the post of Deputy Assistant Secretary for Israeli-Palestinian Affairs of Hady Amr, a man who has accused Israel of "ethnic cleansing" and "apartheid", and said that he was "inspired by intifada", seemed to confirm that the Biden administration would not be particularly "pro-Israel".
Week after week during April and the first week of May, as Hamas speeches in the Gaza Strip grew more virulent, the Palestinian Authority leaders in the West Bank also made virulent speeches and did not seem nervous about drawing negative American remarks.
On April 29, PA President Mahmoud Abbas, now in the sixteenth year of his four-year term of office, postponed Palestinian parliamentary elections that had been scheduled for May, most probably out of fear of a Hamas victory. Hamas leaders apparently thought even then that they could launch an attack on Israel: they had weapons, Iranian support, and assumed that the United States would barely react. They were not wrong.
"Israel," President Biden said on May 13, "has the right to defend itself when you have thousands of rockets flying into your territory". He did not explicitly condemn the Hamas attack or even say that Hamas committed war crimes.
"Palestinians and Israelis" Biden remarked on May 16, "equally deserve to live in safety and security and enjoy equal measures of freedom, prosperity and democracy, and my administration will continue to engage Palestinians and Israeli and other regional partners towards sustained calm".
Biden thus placed Israel and the "Palestinians" on an equal footing. He made no distinction between a democratic ally of the United States and a terrorist organization he did not even name. He spoke as if he did not know that the calm was broken by a terrorist organization and by no one else, and that what prevents Palestinians from having freedom, prosperity and democracy is precisely that they are ruled by terrorists and people who supports terrorism.
Israeli commentators seem to think that the harsh rhetoric used by Hamas and the Palestinian Authority leaders -- combined with the view that Israel no longer had strong American support -- had led some Israeli Arabs to openly show their hatred for Israel and the Jews.
The Israeli government cannot afford to criticize President Biden, but they can clearly see that he does not show unambiguous support for Israel. There were no threats to stop the new funding he had promised the Palestinians until they stopped firing rockets. He did not threaten to withdraw his promise of an office in Washington DC for them. Most unsettling of all, while Iran's proxy, Hamas, was raining nearly 4,000 rockets and missiles into a country the size of New Jersey, the US was engaged in talks in Vienna to discuss how much money the US was prepared to give Iran – to buy more weapons to batter Israel again?
In addition, the Israeli government could see that the Biden administration's Deputy Assistant Secretary for Israeli and Palestinian Affairs in the US State Department, Hady Amr, met Palestinian Authority Prime Minister Muhammad Ishtayya in Ramallah to negotiate the use of US financial aid to the PA while Israel was under missile fire, and that Ishtayya had said that Israel was carrying out "aggression in the Gaza Strip" and practicing an "ethnic cleansing policy" in the presence of Hady Amr, who remained silent.
The Biden administration still appears to want to lift sanctions on Iran's regime, even though it is weapons designed or financed by Iran that are being used against Israel, while Iranian leaders praise Hamas for having launched an attack on Israel.
The Biden administration recently removed yet another Iranian proxy, the Houthi militias -- who have been waging another war on behalf of Iran against Saudi Arabia -- from the list of terrorist organizations. A few weeks later, the Houthis attacked a Saudi oil facility and a Patriot anti-missile system. The US still has not reacted.
The Biden administration has, instead, imposed a freeze on US arms sales to Saudi Arabia, and decided no longer to have any relationship with Crown Prince Mohamed bin Salman , popularly known as MBS. Seemingly to destabilize the prince, the US administration made public a report accusing the him of being responsible for the murder of the anti-Saudi writer, Jamal Khashoggi, without specifying that Khashoggi was an agent of the Muslim Brotherhood, an arch-enemy of the House of Saud.
The Israeli government realizes that if there are not to be rockets pummeling Israel every few years, Hamas must be made to pay a high price -- so that its leaders will think long and hard before initiating an attack on Israel again.
President Biden said that the United States would provide humanitarian support to Gaza, "in full partnership with the Palestinian Authority... in a manner that does not permit Hamas to simply restock its military arsenal". He did not explain what the United States could do to prevent Hamas from stockpiling weapons again. He ensured Prime Minister Netanyahu of his "full support to replenish Israel's Iron Dome system."
Israeli Defense Minister Benny Gantz said that the Israeli Defense Forces "reached military achievements unprecedented in their scale, precision and strategic significance for the struggle with terrorist organizations in Gaza.... The reality on the ground," he added, "will determine how we move forward."
"[I]n war and conflict," historian Daniel Pipes has written, "one side wins and one side loses.... Israel must do what all nations... are doing to achieve victory: beating its enemy...." Hamas's rocket infrastructure in Gaza, he said, must be "completely destroyed."
Israeli leaders know it, and it must be wished that the damage dealt this month to Hamas's military infrastructure is significant enough so that Israel does not face the risk of a major attack in the years to come.
A recent article by Michael Doran and Tony Badran on Tablet explains why Israel needs to stay on guard and be ready to act decisively. A project designed during the Obama presidency and aiming to "create a new Middle Eastern order" seems to be underway. It would place the interests of Iran over those of US allies in the Middle East, thereby leading to the hegemony in the region of Iran. The project would erode new the Abraham Accords, push Saudi Arabia and the United Arab Emirates to come to an agreement with Iran and involve "forcing Israel into a more passive posture in the face of Iran's rising power". Is this project that the Biden administration is now implementing?
Sensing that the United States seeks to destabilize the Saudi kingdom and him, Saudi Crown Prince Mohamed bin Salman declared in April: "We are seeking to have good relations with Iran. We aim to see a prosperous Iran. We are working with our partners in the region to overcome our differences with Iran." He then went to Baghdad, Iraq to meet with Iranian diplomats.
The Biden administration acts as if it does not see that it puts Israel and other longtime American allies in danger; it acts as if it does not see that behind Iran and the mullahs, China is on the move. China and Iran just signed a 25-year "strategic partnership" that will allow the mullahs' regime to have hundreds of millions of dollars, help it expand its nuclear program, and presumably lead to greater military cooperation between them.
Journalist Melanie Phillips asks:
"Might Biden be turning America into Israel's foe?.... Obama's hostility to Israel and his empowerment of Iran made his double-term presidency a nightmare for the Jewish state. But if that was bad enough, it will take a measure of strategic genius for Israel to defend itself against Obama's surrogate third term and keep its people safe".
Is the Biden administration about to seriously diminish the status of the United States and the Free World to herald in a new world order that is radical and monstrous?
Dr. Guy Millière, a professor at the University of Paris, is the author of 27 books on France and Europe.