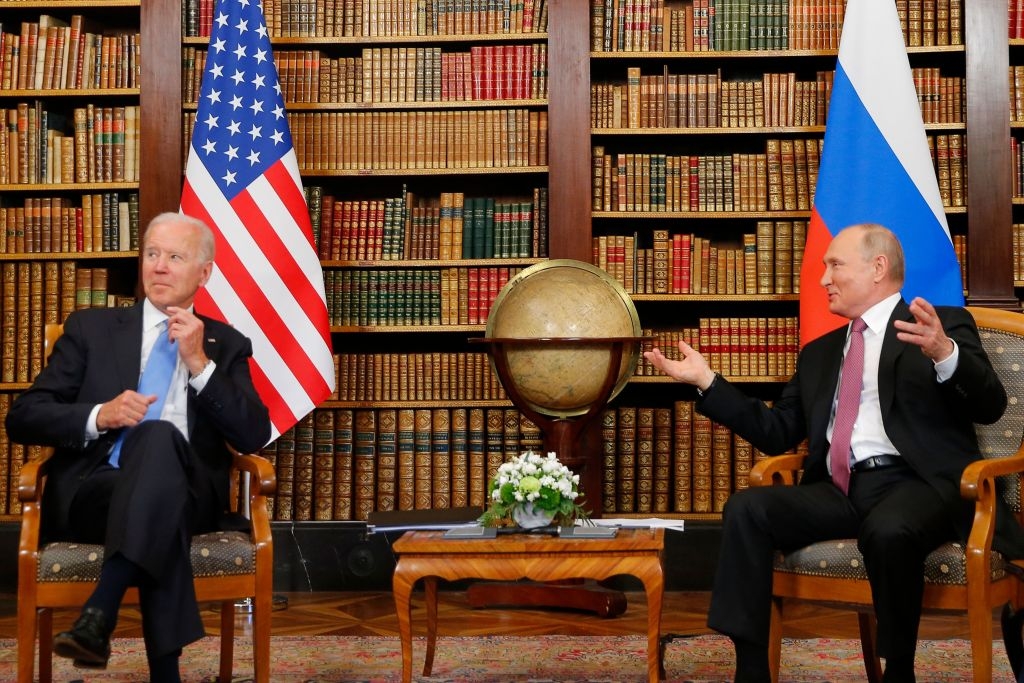 The smirking Russian President Vladimir Putin returned home from his meeting with US President Joe Biden to intensify pressure on Ukraine, boost the Belarusian despot Viktor Lukashenko, unveil the largest nuclear submarine in history and even threaten to sink a British warship in Ukrainian waters. Pictured: Biden and Putin meet Geneva on June 16, 2021. (Photo by Denis Balibouse/Pool/AFP via Getty Images)
A presidential term in the US could be studied in eight segments of six months each, in which the man in the White House must negotiate political minefields as he tries to implement his program or, at least, pretends to be doing so.
Experience shows that a president is most effective in the first three of the six-month segments, as in the fourth he faces mid-term congressional elections that often require dicey changes of trajectory. The fifth and sixth segments often amount to a liminal challenge, depending on the incumbent's ability to mobilize support for his vision, provided he has one. The seventh and last segments are, of course dominated by the next presidential election and the strategy needed for winning a second term.
Joe Biden has already spent the first of his eight segments. And the result, at least as far as foreign policy is concerned, is far from brilliant, to say the least.
Biden opened his gambit with the slogans "America Is Back", "Diplomacy Is back" and "Multilateralism is back". The slogans, reminding people of Arnold Schwarzenegger's movie catch-phrase of "I'll be back", sounded sexy and won plaudits from some who longed to see the back of Donald Trump. However, when translated into action, Biden's policies have proved to be little more than confused and at times contradictory gestures.
True, in the G-7 summit in Cornwall, America was back but only for a series of photo-ops and an afternoon with the Queen at Windsor Castle. The agenda was controlled by British Prime Minister Boris Johnson, who on one occasion had the temerity to correct a presidential slip. There was much talk of climate change but real decisions were left for the next world climate summit in Glasgow, which Johnson is slated to host. The promise to donate a vast number of Covid-19 vaccines to poor countries grabbed the headlines but ignored the lack of logistical support and trained personnel for translating that act of generosity into real jabbing of over a billion people in some 70 countries.
America, in the shape of Joe Biden, also dropped in for a NATO summit with promises of "multilateralism". However, the US president was adamant that he would implement Trump's promised withdrawal from Afghanistan without waiting for a credible accord with the Taliban. As a result, many allies decided to forge their own withdrawal plans with different cadences and one at least, that is to say Turkey, decided to linger on a bit longer.
What the allies were not told was that the cut-and-run ordered by Biden would come like a bolt out of the blue, months before the September deadline initially announced. The Afghan allies were even more cheesed-off as "America is Back" turned into "America dropped in to say adieu". Even then, there was no formal leave-taking with tears pouring and handkerchiefs waving as the Americans, in the words of a senior Afghan ally, left "like a thief at night" without informing the Kabul authorities.
What happened was even worse than what the "senior Afghan ally" colorfully suggested. A thief taking French-leave at night carries stolen goods with him. The Americans running away from Bagram left behind an Ali Baba's cave of goodies, including armored vehicles, an assortment of weapons, large quantities of food and clothing offered in the commissaries at US bases across the globe.
Some of the left-behind goodies ended up in black markets in southern Afghanistan and northern Pakistan through the drug-smuggling and contraband networks set up by the Taliban.
At the NATO summit, Biden told allies that they should look to Washington for leadership on how to deal with Russia and that he would personally handle Vladimir Putin. The curtailed tête-à-tête with Putin was hailed by some US pundits as a triumph for Biden. A Washington Post opinion columnist claimed that "Biden wiped the smirk off Putin's face."
In reality, however, Putin left the meeting with a much broader naughty-boy smile. Biden agreed to close the chapter of diplomatic expulsions opened by Trump, with the US and Russia exchanging ambassadors in a back-to-normal exercise. Biden also cancelled Trump's veto on the controversial Russian gas trunk-pipeline to Germany. He did something even more amazing; he presented a list of 16 critical infrastructure "entities" in the US which he wanted Putin not to target in cyber-attacks, or face unspecified "consequences". Does this mean that, as long as he spares those highly sensitive targets, Putin would have a free hand in doing cyber mischief across the US?
The smirking Putin returned home to intensify pressure on Ukraine, boost the Belarusian despot Viktor Lukashenko, unveil the largest nuclear submarine in history and even threaten to sink a British warship in Ukrainian waters.
Not surprisingly, the NATO allies decided to try and write their own script on how to deal with Russia, with Germany and France promoting a Russia-European Union summit.
With one-eighth of his tenure over, Biden has not yet revealed his strategy for dealing with either Russia or China. Both are routinely vilified, often with justice, but we are not told how they should be regarded: as enemies, rivals, competitors or even, in terms used by Thomas Jefferson of the United States' worst foes at the time, "hostis generis humanis"?
Meanwhile Senator Bernie Sanders, the angel on Biden's left shoulder, is warning him against fomenting "a new Cold War".
There are other places where America isn't back, even if only for a social call. Along with France and Russia, the US has been a guarantor of peace and stability in Transcaucasia. In the past six months of war, turmoil and Russian expansions, however, the US has been marked out by its absence.
For his part, North Korea's Kim Jong Un is back to his old tricks, burying the last empty promises he had made to President Donald Trump during their stormy but brief courtship.
On Yemen, Biden has talked tough against those who back the legitimate UN-recognized government while ignoring the atrocities committed by Houthi insurgents singing from the Khomeinist hymn-sheet composed in Tehran.
Biden has also eased pressure on Nicolás Maduro's clique in Venezuela without offering a policy either for normalization or for consequential support for the democratic forces challenging the authoritarian regime.
One place "America is back" has taken place is in talks in Vienna about the ill-conceived "nuclear deal" with the Islamic Republic of Iran, which was concocted by President Barack Obama and advertised as the greatest part of his legacy in foreign policy terms. But even there, Biden's representatives seem unsure of what they are supposed to do. The initial idea was to end sanctions imposed by Trump and thus boost the so-called "moderate" faction's chance of making an impression in the recent presidential elections in Iran. However, that didn't happen and the "moderates" were wiped out, leaving Biden to decide whether to lift the Trumpian sanctions and encourage Tehran's belligerence tout-azimut or impose tougher sanctions opposed by European allies.
One eighth is gone and, though it has no wings, time flies.
Amir Taheri was the executive editor-in-chief of the daily Kayhan in Iran from 1972 to 1979. He has worked at or written for innumerable publications, published eleven books, and has been a columnist for Asharq Al-Awsat since 1987.

This article was originally published by Asharq al-Awsat and is reprinted by kind permission of the author.