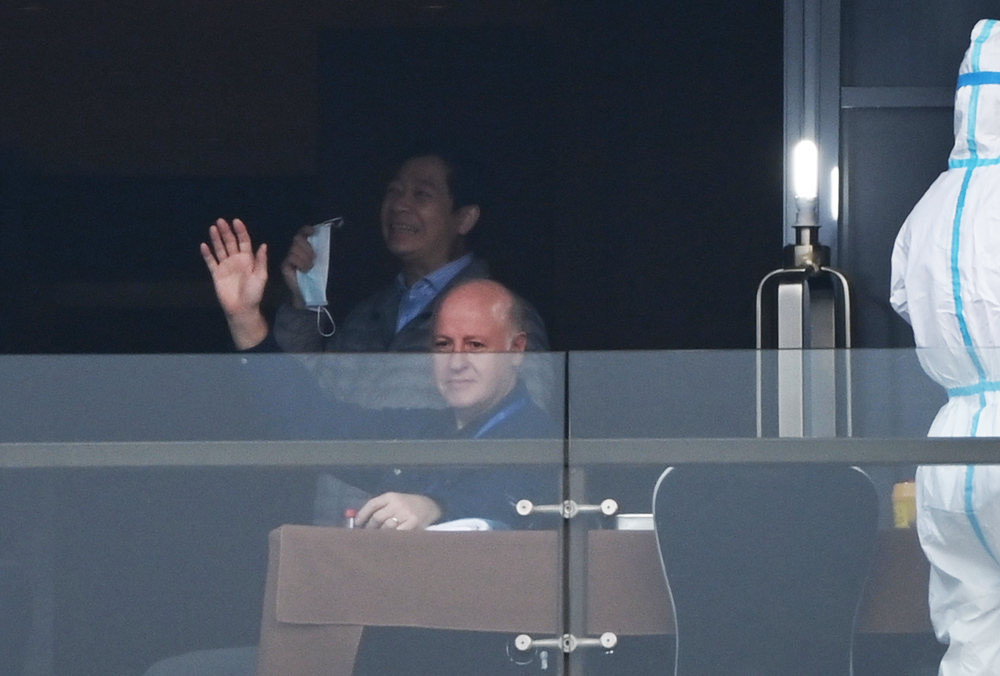 Peter Daszak functioned as an apologist for the Beijing regime, parroting its nonsense that the SARS-CoV-2 originated somewhere else and somehow made its way to China. Pictured: Daszak waves to the media from inside the Wuhan Hilton Optics Valley hotel in Wuhan, China on February 6, 2021. (Photo by Hector Retamal/AFP via Getty Images)
Peter Daszak is in many ways typical of the international world of disease prevention. As the president of EcoHealth Alliance, Daszak has spent millions of dollars of grant money from the National Institutes of Health in recent years. His organization's special focus is on preventing the outbreak of emerging diseases, such as coronaviruses. He was deeply involved with the Wuhan Institute of Virology (WIV) because his organization had funded bat coronavirus research that lab was doing when the COVID-19 outbreak occurred in late 2019.
Daszak wrote an email on April 18, 2020, still early in the pandemic's course, to thank Dr. Anthony Fauci for dismissing the idea that COVID-19 might have originated in a lab, "on behalf of our staff and collaborators." As we are now aware, that possibility is still very much under current investigation. President Joe Biden has ordered the U.S. intelligence community to investigate the origins of COVID-19 and report back to him within three months.
Fauci replied the next day to Daszak's email, thanking him for his "kind note." Earlier in the day, Fauci had been asked directly during a coronavirus briefing for the press about this exact possibility. He replied that the scientific evidence "is totally consistent with a jump of a species from an animal to a human." This email chain in included in more than 3,200 pages of Fauci's emails that the website BuzzFeed obtained through a Freedom of Information Act request and posted online recently.
Daszak has been a good friend to the Wuhan Institute of Virology and the Chinese Communist government that runs it for years. His role in trying to discredit the lab leak theory has come under scrutiny amid a pronounced shift in media attention towards the theory and amid revelations about Daszak's own ties to the Institute.
Early in the pandemic, Daszak was behind the creation of an open letter, signed by several scientists, which squarely rejected the suggestion that a lab accident at the WIV may have released the virus into the city of Wuhan. Daszak did not disclose his conflict of interest when signing the letter, which would receive significant coverage in news reports purporting to debunk the lab leak theory.
The good news from all this is that Daszak finally recused himself from a COVID-19 commission that was established by the medical journal The Lancet after his conflicts of interest with the WIV came to light. The bad news is that up until then, Daszak had been functioning as an apologist for the Beijing regime, parroting its nonsense that the SARS-CoV-2 originated somewhere else and somehow made its way to China. "There was a virus from Thailand close to the SARS-CoV-2, and also Japan and Cambodia. EcoHealth Alliance is already starting our work in tracing their origins," he claimed to China's state-run media earlier this year.
Worse still, Daszak was the only representative of the U.S. appointed to a 10-person panel convened by the World Health Organization (WHO). That panel's report, which was released in February, was dismissed even by the Biden administration as superficial and unpersuasive. The joint WHO-China team's report asserted strong conclusions about how the pandemic started based on very little supporting evidence. Nor did Chinese authorities fully cooperate with its investigation.
For public confidence, however, the worst part may be that we only learned of Daszak's conflict of interest because of the FOIA request of Anthony Fauci's email archive. This means that no one at WHO seemed to think that Daszak's direct financial ties to the Wuhan Institute of Virology, which he had funded with $600,000 of grant money to perform research on bat coronaviruses, might make him unsuitable to participate in thoroughly scrutinizing its procedures, record-keeping, anti-contamination habits, and other practices.
Daszak told a reporter in April that he has "no conflicts of interest" in working to defend the WIV and its lead bat-based coronavirus researcher, Shi Zhengli.
Rutgers University professor of chemical biology Richard H. Ebright, who is frequently quoted in media reports as an expert on coronaviruses and public health, said in April it "would be hard to imagine a more brazen lie" that Daszak has no conflict of interest with the WIV.
Uncovering evidence of China's noxious influence on international public health organizations is, sadly, not new. The WHO itself came under significant criticism from the Trump administration for its kid-glove treatment towards China in the wake of the outbreak and for its pro-China tendencies.
In our published investigative work up until now, we at the Government Accountability Institute have been focusing on the Peter Daszaks of the world, and there are many of them. They are movers and shakers in many different industries and professions. They are lured in by the Chinese government through various incentives and find themselves doing their bidding. Even well-intentioned people in the public health sector are not immune to the subtle, incremental ways the Chinese have of using the freedom afforded in the West to their own advantage. The problem is widespread, and the extent of it will shock many Americans.
Peter Schweizer, President of the Governmental Accountability Institute, is a Gatestone Institute Distinguished Senior Fellow and author of the best-selling books Profiles in Corruption, Secret Empires and Clinton Cash, among others.