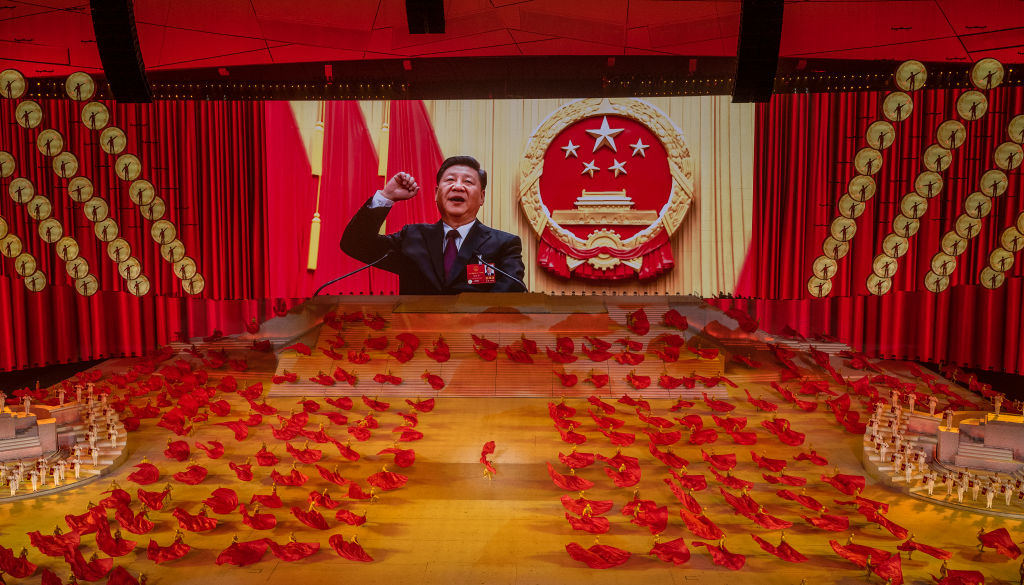 Chinese President Xi Jinping's moves to force China's companies off foreign exchanges could be in preparation for an expropriation of foreign shareholdings in Chinese businesses. Pictured: Xi appears on a large screen as performers dance during a mass gala marking the 100th anniversary of the Communist Party on June 28, 2021, in Beijing, China. (Photo by Kevin Frayer/Getty Images)
On August 11, the Chinese Communist Party's Central Committee and the central government's State Council issued what the official Xinhua News Agency called "an outline on promoting the building of a rule of law government from 2021 to 2025, on the basis of the successful implementation of a previous 5-year plan."
The Chinese party-state's announcement included a promise to enact a series of laws on, among other things, national security, tech innovation, monopolies, education, health and quarantines, food and drugs, and foreigners.
"The announcement," Reuters stated, "signals that a crackdown on industry with regard to privacy, data management, antitrust, and other issues will persist on through the year."
Just "through the year"? By its own terms, the announcement makes clear that the crackdown will continue until at least the end of the ongoing 14th Five-Year Plan, in 2025.
Moreover, crackdowns in Xi Jinping's China never really end. They are more than just "wiggles," as superstar hedge-fund manager Ray Dalio called them in a July 30 LinkedIn posting, as he attempted to explain away Beijing's harsh moves against business.
These anti-capitalist assaults look as if they will last as long as Xi holds power. That could be decades, as he clearly intends to break the two-term pattern set by his two immediate predecessors as Party general secretary.
Xi's recent attacks on private business are undoubtedly more than a momentary event, something far more long-lasting than "crackdown" implies. At no time since the early days of the People's Republic has China turned so quickly inward, shutting off the outside world. The August 11 announcement confirms that the insular move will be institutionalized by the adoption of laws.
The announcement follows a series of stunning attacks on private business. The assault began with the unprecedented halt to the initial public offering of Ant Group early last November, just 36 hours before the scheduled start of trading in what would have been the world's biggest IPO. Similarly, Beijing on July 2 launched a regulatory barrage against DiDi Global, which began trading shares in an IPO on the New York Stock Exchange two days earlier.
Since then, the attack on business has broadened from tech companies to others, most notably businesses in the private tutoring sector. In the middle of last month, Beijing issued rules prohibiting those firms from operating on a for-profit basis on core school subjects.
So far, Xi's actions have been responsible for wiping more than $1.2 trillion in value from Chinese stocks, but the carnage is far from over. The laws contemplated by the August 11 announcement will severely limit China's ability to innovate and create wealth in the future. Xi, a China-watching friend told me, is about to administer a large dose of formaldehyde to Chinese society, eliminating dynamism outside the Communist Party.
Yet Xi does not appear to care about the damage he will cause. The new measures will facilitate something he craves: even more Communist Party control.
Part of his campaign for control is a broad-based attack on foreigners. For instance, private tutoring firms have, in response to Beijing's pressure, stopped offering classes taught by foreigners based outside China. Tencent-backed VIPKid took quick action to stop foreign tutoring, and ByteDance's GoGoKid ended all English-language help.
The anti-foreign sentiment has also hit China's booming gaming businesses. Xinhua's Economic Information Daily on August 3 called online gaming "spiritual opium" and "electronic drugs," thereby linking them to British colonial exploitation of the 19th century. That inflammatory language sent Tencent shares tumbling 11% in intraday trading.
At the same time, Xi is forcing Chinese companies to stop listing on foreign exchanges, especially New York's. Companies are being quietly pushed to go public in Hong Kong, one of the two special administrative regions of the People's Republic. That territory, which was promised a "high degree of autonomy" until 2047, is increasingly coming under the direct control of Beijing.
Xi's moves to force China's companies off foreign exchanges could be in preparation for an expropriation of foreign shareholdings in Chinese businesses.
Xi is seeking to create in the near future his idealized version of China's past. In that past, Chinese rulers periodically shut off their domains from the rest of the world, especially when they thought foreign influences threatened their system.
General Secretary Xi Jinping says he wants to make China a "powerful nation," but his moves will end up accomplishing the opposite. He is attempting to regain control over the economy and society by bolstering the state sector, by cutting off dissenting voices in the Communist Party and society at large, and by promoting Chinese culture as a cure for foreign influence.
Xi is trying to recreate what Fei-Ling Wang of Georgia Tech refers to as the "China Order." In The China Order: Centralia, World Empire, and the Nature of Chinese Power, he writes that the People's Republic is "a tenacious dictatorial state of 'controlocracy' and 'sophisticated totalitarianism' that in fact performs rather poorly."
There is disaster ahead. As Wang notes, "the China Order has a record of suboptimal performance that features despotic governance, long stagnation of economy, suffocation of science and technology, retardation of spiritual pursuits, irrational allocation of resources, great depreciation of human dignity and life, low and declining living standards for the masses, and mass death and destruction periodically and frequently."
There appears to be an extremely dark future for foreigners on Chinese soil. Xi Jinping's xenophobic moves are bound to have consequences, especially because Chinese rulers, as they have closed off their country, have gone after foreigners and foreign influence. Historically, rulers have not been able to both stir up anti-foreigner feelings and then control the racism and tumult that follows.
The Qing dynasty, for example, tried to incite anti-foreign sentiment as the 19th century gave way to the 20th. The result was the bloody Boxer Rebellion, in which tens of thousands of foreigners and Chinese Christians were slaughtered by nationalistic elements. China is now a volatile society, and the current ruler is stirring up emotions that can lead to China's next great uprising.
China is at risk, as are all who remain there.
Gordon G. Chang is the author of The Coming Collapse of China, a Gatestone Institute distinguished senior fellow, and a member of its Advisory Board.