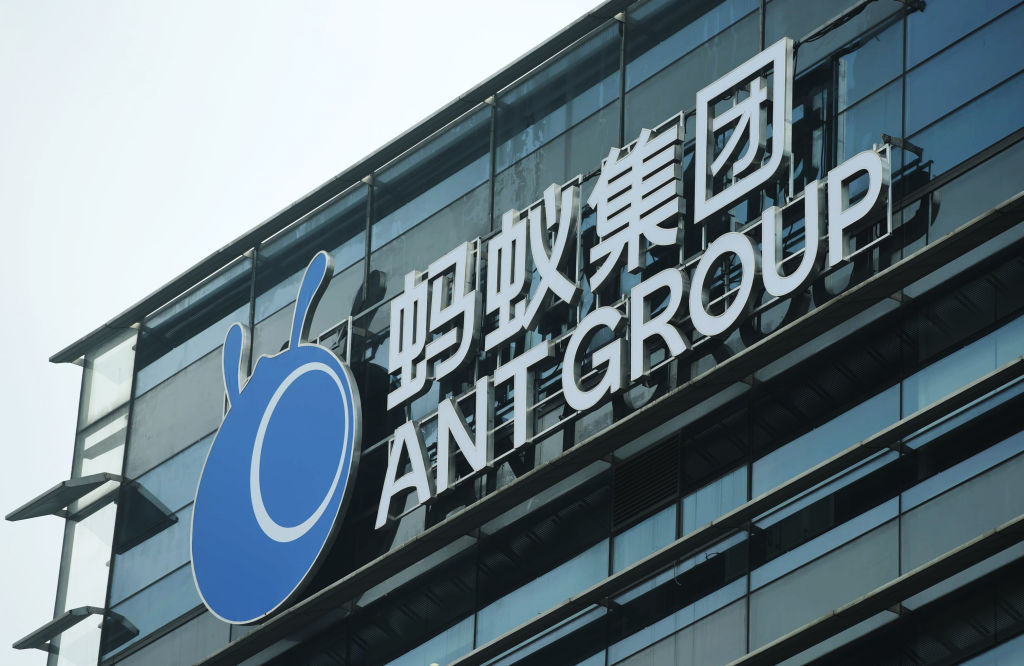 On November 3, Shanghai's Nasdaq-like STAR Market and the Hong Kong Stock Exchange announced the suspension of the largest initial public offering in history, of Ant Group Co., Ltd., about 36 hours before the scheduled start of trading in Hong Kong. The unprecedented actions shocked domestic and international investors. Pictured: The Ant Group headquarters in Hangzhou, China. (Photo by STR/AFP via Getty Images)
Investors in Hong Kong this week dumped more than $250 billion in Chinese tech stocks. Particularly hard hit were Alibaba Group, JD.com, Tencent, and Meituan Dianping.
The rout followed the stunning postponement of what would have been the largest initial public offering in history. Ant Group Co., Ltd., an Alibaba Group affiliate, was set, with the overallotment option, to raise $39.5 billion.
Investors were valuing the six-year-old company at $359 billion, making it worth more than American-based behemoth J.P. Morgan and the world's largest bank by assets, the state-backed Industrial and Commercial Bank of China.
On November 3, Shanghai's Nasdaq-like STAR Market and the Hong Kong Stock Exchange announced the suspension about 36 hours before the scheduled start of trading in Hong Kong. The unprecedented actions shocked domestic and international investors.
The now-accepted narrative is that Ma Yun, the driving force behind Ant, angered Chinese regulators in a speech in Shanghai. Another often-heard explanation was that China's stodgy state banks, threatened by the lightly-regulated Ant, retaliated. Others think regulators panicked when they realized that Ant had become a giant.
In any event, Beijing, by ordering the suspensions at the last moment, has cast doubt on the soundness of China's equity markets and, more broadly, on the long-term viability of the country's private sector.
What happened? There are reports that Chinese ruler Xi Jinping personally made the decision to suspend the Ant offering.
China is not big enough for two big personalities. Xi is building a personality cult, and so is Ma Yun, better known as Jack Ma to the international financial and business communities. Ma built Alibaba Group, the New York Stock Exchange-listed online sales platform, and he can act -- and literally dress up -- as if he is a rock star, especially in front of domestic audiences.
On October 24, at the Bund Summit in Shanghai, Ma publicly accused Chinese banks of having a "pawnshop mentality," a reference to their collateral-based lending. He also said Ant would spur reform and trigger lending to small businesses.
Ma even had choice words for China's central bank and the country's banking regulators. "We cannot manage an airport the way we manage a train station, nor can we manage the future the way we managed yesterday," he said.
Hong Kong's South China Morning Post called the speech "rousing," but to Beijing, Ma's comments were fighting words. Ant was, in recent years, transforming itself into a lender and loan arranger, going far beyond its Alipay unit's original business as a mobile payment platform.
Ant's lending volumes grew fast because the company was largely unregulated. Fees that banks paid to its CreditTech unit grew 59% in the first six months of this year. Such fees accounted for 39% of Ant's total sales during the period and constituted the largest segment of its business, outstripping even revenues from its mobile payment platform. As the Financial Times pointed out, "the rapid growth of its credit business has been a key selling point to investors."
The central bank -- and the Communist Party itself -- is coming on all fronts for Ant. It is clear that Ant's lending business will be more heavily regulated going forward. On November 2, the People's Bank of China and the China Banking and Insurance Regulatory Commission issued draft regulations restricting online lending, and China's State Administration for Market Regulation on November 10 issued draft anti-monopoly guidelines for internet businesses. Moreover, the central bank's new digital currency, now circulating in trial runs and soon to be introduced nationwide, is going to undercut Alipay and other mobile payment apps.
Ominously, observers think the regime is also targeting Ma himself. As Chen Zhiwu of Hong Kong University told the Financial Times, "The message is that no big private businessman will be tolerated on the mainland."
Xi Jinping tolerates no one, but not all the reasons for the listing suspensions are necessarily suspect. The Shanghai Stock Exchange pointed to "major issues," including the possible failure to meet "listing conditions or information disclosure requirements."
Analysts believe the reference to inadequate disclosures relates to the new regulations to be issued to rein in Ant, yet they could also refer to more serious problems. Jack Ma, after all, has been accused of acting like a pirate -- for instance divesting Yahoo! of its interest in Alipay. Another way to put this is that Ant, through insufficient disclosures, may have been trying to pull a fast one on the investing public.
Given uncertainty about the extent of the last-minute regulation, the IPO certainly carried too high a valuation. Some believe regulators acted to protect investors from a sudden post-IPO drop.
Most analysts believe the IPO will be delayed for "months," as the South China Morning Post suggested, and others think the postponement will last a half year.
The delay will have consequences. Beijing's new rules will result in Ant raising perhaps "less than half of what it is now," as a fund manager in Shanghai told the FT.
Of course, Ant and its regulators should have worked out disagreements long before this month. That they did not do so is a reflection of a political system that has, under Xi Jinping, acted capriciously and erratically and moved in the wrong direction of more control over markets. Xi demands absolute obedience, something incompatible with a modern financial system.
The lesson here is that China's communism and modernity do not mix.
China this month crushed a giant ant, nuked its markets, and once again revealed the essential nature of its political system.
Gordon G. Chang is the author of The Coming Collapse of China, a Gatestone Institute Distinguished Senior Fellow, and member of its Advisory Board.