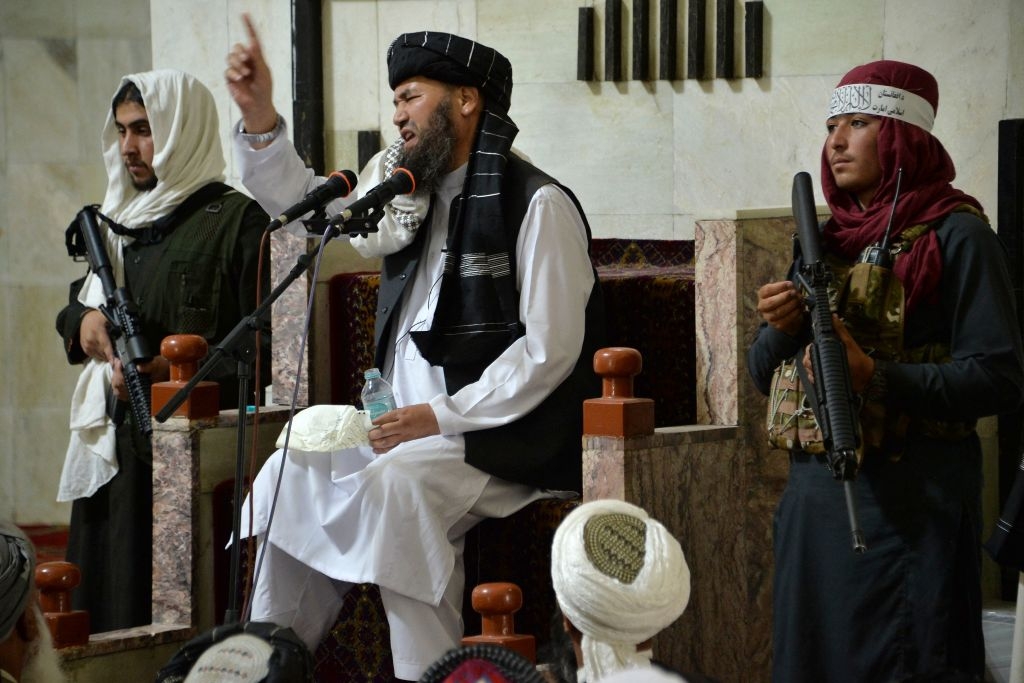 The Taliban may promise not to threaten Western interests directly.... however, a regime that treats its own people with utter contempt is unlikely to offer foreigners, especially the "infidel," a better deal. In most cases, a regime's foreign policy is the continuation of its domestic policies. Pictured: Taliban gunmen stand next to a mullah, who is speaking during Friday prayers, at the Pul-e Khishti Mosque in Kabul on September 3, 2021. (Photo by Hoshang Hashimi/AFP via Getty Images)
As the world tries to absorb the shock of Taliban's return to Kabul, officials in Western democracies are launching a debate on how to deal with the new masters of Afghanistan.
So far the main theme in this debate seems to be a desire to recognize the gun-toting "religious students" as the legitimate government of that long-suffering land. However, to ward off charges of appeasing a terrorist group, Western officials set a number of conditions before the implied recognition is granted. French President Emmanuel Macron, on a visit to Baghdad, has set four conditions while British Foreign Secretary Dominic Raab has unveiled four conditions of his own.
The conditions are about giving up terrorism, respecting human rights, allowing Afghans who wish to leave the country to do so, and stop oppressing women. For its part, the Biden administration has harped about a single condition that Taliban should promise not only to refrain from terrorism but also take over where the US left in the "war on terror." In a nutshell, the Western leaders invite Taliban to become good boys before they are admitted into the club of respectability.
But isn't all that a bit premature?
It is not certain that the Taliban actually do control Afghanistan in any meaningful way. Sure, they have lots of gunmen in Kabul and some other big cities. So far, however, there is little sign that they can go beyond what they achieved in Afghanistan in the 1990s with help from Pakistan, that is to say imposing a reign of terror against unarmed Afghans.
More importantly, perhaps, it may be naïve to demand that Taliban give up terrorism -- the very method that has given them some significance for more than a quarter of a century. Terror is the very raison d'etre of this outfit. The scorpion does not sting because it wants to behave badly; it stings because its nature dictates it.
The Taliban are what they do. As Aristotle noted, character is action.
There are, of course, those who, talking about nasty regimes, preach the old "hawks and doves" gospel. Western journalists and pundits produced tons of literature about "efforts by moderates" to temper the violent nature of the Stalinist regime.
The New York Times ran reports glorifying the USSR at a time that the Georgian master of the Kremlin carried out bloody purges. And, for a while at least, President Franklin D. Roosevelt saw Heinrich Himmler as leader of "moderates" in Nazi Germany and, through his dentist, initiated a "dialogue" in Sweden with an emissary of the SS chief.
In the 1950s, the search for "moderates" was extended to Maoist China while in the 1960s and 70s, the so-called Great Proletarian Cultural Revolution fascinated the bourgeois kids in Paris, London and New York.
In the late 1970s the Carter administration, supported by Joe Biden, then a young senator, looked for "moderates" within the Khomeinist coalition that had seized power in Tehran.
Carter's emissary Warren Christopher signed the Algiers Accord with the mullahs after they promised to release American hostages and take no more hostages in the future. Needless to say, for the past four decades, the mullahs of Tehran have never had a single day without holding some American hostages.
Four decades later, the "moderates" praised by Richard Haas and company are sent packing, some back to the US with their green cards, while the most hardline antediluvians consolidate their hold on power.
Does all that mean that regimes that defy or challenge the world order cannot change?
Not at all.
Communist China is one, albeit limited, example of success. But that was achieved because the US set a number of precise conditions before agreeing to forge full diplomatic relations with Beijing. China stopped "exporting revolution," ended its almost daily harassment around Taiwan, reined in North Korea and pulled the carpet from under guerrilla movements in Asia, Africa and Latin America.
Even then, China has not morphed into the "moderate" power that Henry Kissinger, Beijing's chief lobbyist in the US, claims. In fact, with a mixture of Maoism and crude nationalism, President Xi Jinping is trying to re-write the rules of international behavior.
The key concern right now is the disarray in the so-called democratic camp. At a time that President Joe Biden plans to host a summit of democracies, key US allies prefer to play their own tunes. Macron says he will do what is needed "regardless of what the US might do". Germany's Chancellor Angela Merkel sings her swan song in Moscow while British Prime Minister Boris Johnson urges "realism" in dealing with the Taliban. (Note to Biden: This is no time to host a democratic summit with no clear agenda and amid growing cacophony.)
Back to the hopeful demands made from Taliban.
Why should the group listen to Western powers when they have neither a coherent policy nor the hard power needed to back that policy? The Taliban know that they owe their very existence to terror and repression. They are there because they can impose ferocious beards on men and burqas on women while sheltering kindred terror groups form across the region. They reached the top of the pile because they could cut throats, stone women to death and dot the roads used by foreign troops with home-made bombs.
The Taliban may promise not to threaten Western interests directly. They may, as their contact-men with Washington claim, even put pressure on the mullahs' in Tehran to help Biden secure "success" in the "nuclear deal" talks with the Islamic Republic in Iran. In the final analysis, however, a regime that treats its own people with utter contempt is unlikely to offer foreigners, especially the "infidel," a better deal. In most cases, at least in the short and medium terms, a regime's foreign policy is the continuation of its domestic policies.
There is no need to rush towards any deal with Taliban.
Right now, they need the outside world more than the outside world needs them. They are not stupid enough not to know that without some measure of international legitimacy they won't be able to discourage domestic opponents and persuade the mass of Afghans to quietly submit to the new regime.
Any policy towards the Taliban should be based on a simple axiom: taking them seriously tactically but despising them strategically.
In other words, while admitting that they are there, making it clear that they shouldn't be there. This means arraying a range of options from containment to sanctions to proximity pressure with the ultimate aim of helping Afghan people if and when they reach consensus for regime change. In dealing with nasty regimes, the choice is not limited to full scale invasion or abject surrender.
Amir Taheri was the executive editor-in-chief of the daily Kayhan in Iran from 1972 to 1979. He has worked at or written for innumerable publications, published eleven books, and has been a columnist for Asharq Al-Awsat since 1987.