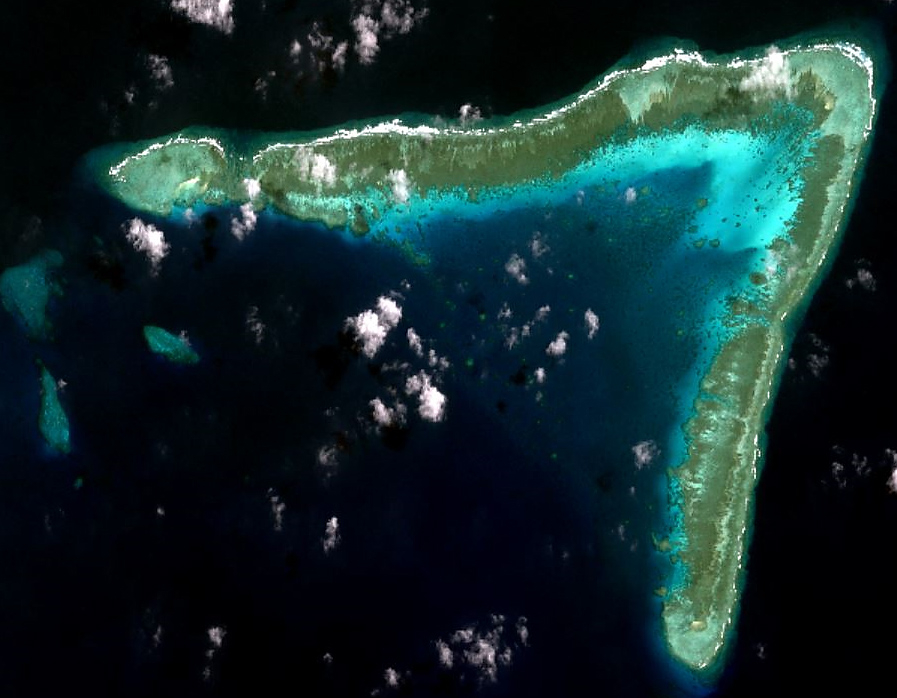 In March, a huge Chinese fishing fleet descended on Whitsun Reef, which lies within the exclusive economic zone of the Philippines. The Philippine government called on China to cease "militarizing the area". Almost eight months later, however, more than 150 Chinese vessels reportedly remain in Philippine waters. Pictured: Whitsun Reef, as seen from space. (Image Source: United States Geological Survey/NASA/Wikimedia Commons)
Tensions continue to rise in the South China Sea, as China, or, rightly, the Chinese Communist Party (CCP), ramps up its military activities in the region. Within only the first four days of October, China conducted a record-breaking 150 incursions into Taiwan's air defense identification zone (ADIZ) -- after China's People Liberation Army Air Force (PLAAF) had already, in September, set another monthly record with 117 incursions, some with nuclear-capable bombers, fighter jets and reconnaissance planes. The incursions were reportedly the highest monthly number on record since Taiwan's Ministry of National Defense began reporting Chinese aerial incursions 13 months ago. In addition, in August, the first-ever incursion of Chinese military helicopters into Taiwan's ADIZ took place, with experts suggesting that the PLA was probing Taiwanese defense capabilities by using different aircraft.
Also in August and September, China conducted assault drills near Taiwan with war ships, early-warning aircraft, anti-submarine aircraft and bombers. "The joint fire assault and other drills staged by the Eastern Theater Command troops are a necessary action to further safeguard China's sovereignty under the current security situation in the Taiwan Straits," Colonel Shi Yi, spokesperson for the PLA Eastern Theater Command said, "and also a solemn response to the interference of foreign forces and the provocation of 'Taiwan independence' secessionists." Shi stated that military exercises would be "conducted regularly" based on the situation in the Taiwan Strait and the "need to maintain sovereign security". China has conducted 20 naval island-control exercises in the first half of 2021, compared to 13 in all of 2020.
This activity -- in addition to diplomatic and economic pressure -- is evidently meant to exhaust Taiwan, force it to capitulate to China and relinquish its independence without China firing a shot. "China is pursuing an all-of-party approach that seeks to coerce, corrupt and co-opt the international community," former commander of the U.S. Indo-Pacific Command, Philip Davidson, recently warned, "in a way in which they may be able to achieve their geopolitical edge... to force Taiwan to capitulate because of extreme, diplomatic, economic, pressure and strain". Failing that coercion, Davidson estimates:
"the changes in the [People's Liberation Army]'s capabilities, with their missile and cyber forces, and their ability to train, advance their joint interoperability and their combat support logistics, all those trend lines indicate to me that within the next six years they will have the capability and the capacity to forcibly reunify with Taiwan, should they choose force to do it."
With China assessing America's lack of resolve to protect its allies -- China's illegal takeover of Hong Kong and Taliban's seizure of Afghanistan, where the US even failed to save all US citizens -- China could be planning to use force to capture Taiwan much sooner than that -- while the opportunity looks inviting. The question is: if China attacks Taiwan, whether the US will defend the island -- or even put in place serious deterrents. It will not help anyone except the Chinese Communist Party if the consequences for invading Taiwan consist of nothing more damaging than "strong letter to follow."
Taiwan's Defense Minister Chiu Kuo-cheng announced on October 6 that China already has the ability to invade his country. "By 2025, China will bring the cost and attrition to its lowest. It has the capacity now, but it will not start a war easily, having to take many other things into consideration."
Elsewhere in the South China Sea, also in September, the PLA air force conducted troop transports with a number of large Y-20 transport aircraft to three airstrips in the Spratly archipelago, where China has built and militarized artificial islands on top of the reefs, according to Chinese state media. Global Times, the Chinese Communist Party's (CCP) mouthpiece, wrote that the aircraft "conducted amphibious landing drills under complex conditions, showing the PLA's capabilities in safeguarding peace and stability in the region." It was the first time that the PLA confirmed that it had used aircraft of this type to transport personnel to the islands. Vietnam, which also claims sovereignty over the disputed Spratly archipelago, protested China's transport mission to the islands and called it a violation of Vietnam's sovereignty.
"Surely, this announced feat is aimed at demonstrating the PLA's force projection capability over vast maritime distances across the South China Sea," said Collin Koh, a research fellow at the S. Rajaratnam School of International Studies in Singapore.
"And definitely it's aimed also to demonstrate that the airstrips constructed on the artificial islands are capable of supporting flight operations by large aircraft. If Y-20 can be supported, so will the H-6 bomber."
China considers almost all of the South China Sea, an area covering roughly 3.5 million square kilometers, and its estimated 190 trillion cubic feet of natural gas and 11 billion barrels of oil, in addition to maritime resources such as fish, part of Chinese territory. The Permanent Court of Arbitration in the Hague firmly rejected China's sovereignty claim in 2016 but five years after that ruling, China continues to reject the court's authority. China's claim to sovereignty over the South China Sea and its willingness and ability to pursue it has long been creating friction with countries in the area, who stake their own claims to parts of the sea, including Brunei, Indonesia, Malaysia, the Philippines, Taiwan, and Vietnam.
China also regularly uses its large civilian fishing fleet to further its goals in the South China Sea. In March, a huge Chinese fishing fleet descended on Whitsun Reef, which lies within the exclusive economic zone of the Philippines. The Philippine government called on China to cease "militarizing the area". Almost eight months later, however, more than 150 Chinese vessels reportedly remain in Philippine waters. On September 29, Philippine Foreign Secretary Teodoro Locsin Jr. said he wanted diplomatic protests "filed on China's radio challenges against Philippine maritime patrols, unlawful restriction of Filipino fishermen from Bajo de Masinloc (Scarborough Shoal), and the continued presence of Chinese ships in the vicinity of Iroquois Reef..."
In addition, China's newly revised Maritime Traffic Safety Law (MTSL), which entered into force on September 1, requires certain foreign vessels sailing into Chinese "territorial waters" to notify Beijing in advance. Foreign vessels such as foreign submarines, nuclear-powered ships, ships carrying radioactive, toxic or hazardous materials and any other vessels that "may endanger the maritime traffic safety" of China are required to provide information including their ships' names and numbers, recent locations, satellite telephone numbers and dangerous goods. "Article 2 of the MTSL expands application of the law from 'coastal waters' to 'sea areas under the jurisdiction of the People's Republic of China.'"
"The term 'sea areas under the jurisdiction of the People's Republic of China' is not defined in the law and is purposely vague", wrote Captain Raul Pedrozo, Professor of International Law at the U.S. Naval War College.
"Enacting ambiguous and imprecise laws allows China to alter its position on the applicability of the law based on the circumstances at the time. Nonetheless, given China's excessive maritime claims and prior enforcement activities, the MTSL is likely intended to apply to all waters and seabed areas (1) encompassed by the nine-dash line in the South China Sea, (2) extending to the Okinawa Trough in the East China Sea, and (3) beyond Ieodo (Socotra Rock) in the Yellow Sea...China is once again testing the international community to gauge how it will react to the enactment of yet another maritime law that exceeds the permissible jurisdictional limits of international law, as reflected in UNCLOS [The United Nations Convention on the Law of the Sea.] China will undoubtedly use the new law to engage in grey zone operations below the threshold of armed conflict to intimidate its neighbors and further erode the rule of law at sea in the Indo-Pacific region."
Vice Admiral Michael McAllister, commander of the US Coast in the Pacific said the revised law was "very concerning", and seemed "to run directly counter to international agreements and norms", while building "foundations for instability and potential conflicts" if enforced.
"This looks like part of China's strategy of casting legal nets over areas that it claims ... to 'normalize' these claims," said Robert Ward, senior fellow for Japanese security studies at The International Institute for Strategic Studies in London. "Enforcement will be difficult, but this may matter less for Beijing than the slow accumulation of what it sees as a legal underpinning". The Philippine Defense Secretary Delfin Lorenzana has already said that his country will ignore the revised maritime law. "Our stand on that is we do not honour those laws by the Chinese within the West Philippine Sea because we consider that we have the sovereign right within this waters. So we will not recognise this law of the Chinese," Lorenzana said during an event marking the Philippines' Mutual Defense Treaty (MDT) with the United States.
The revised maritime law came into effect just seven months after China's new coastguard law went into force on February 1. The Chinese coast guard law gives China's coast guard authority to use lethal force on foreign ships operating in Chinese waters, including disputed areas such as the South China Sea. In January, the Philippines filed a diplomatic protest against the Chinese coast guard law saying that it is a "verbal threat of war to any country that defies the law".
John Richardson is a researcher based in the United States.