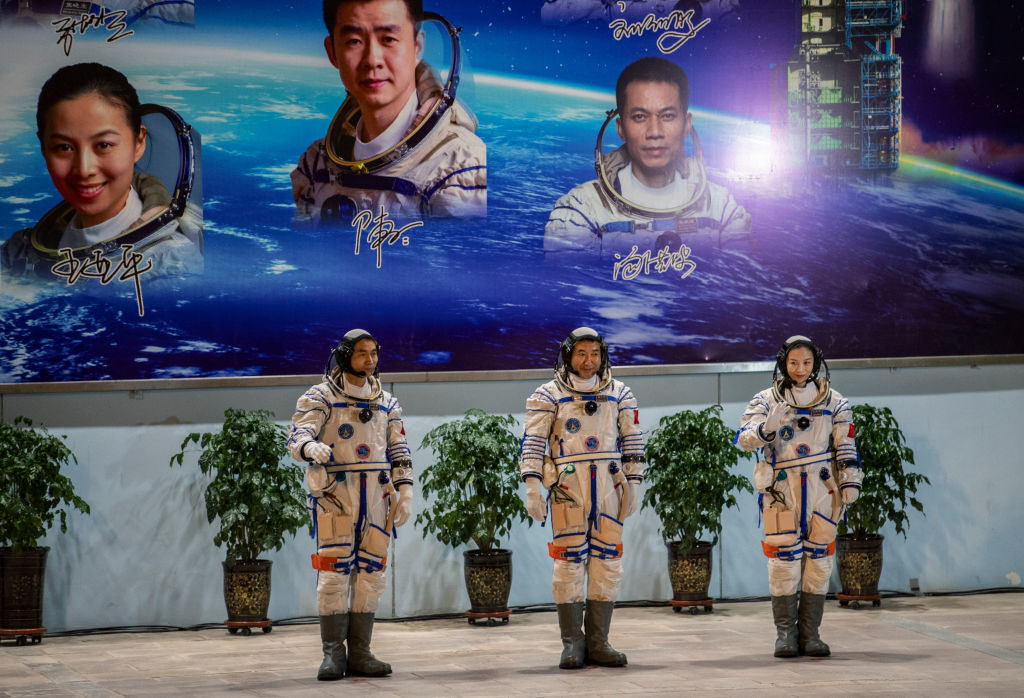 China's militant regime wants the United States to aid its space program, and some, including those in the U.S. space community, are eager to provide assistance. It seems fanciful that Chinese cooperation in space could proceed while the Communist Party maintains its goal of destroying the U.S. Pictured: The crew for China's new space station, astronauts Wang Yaping (R), Zhai Zhigang and Ye Guangfu (L), take part in a pre-launch departure ceremony on October 15, 2021 at the Jiuquan Satellite Launch Center in China. (Photo by Kevin Frayer/Getty Images)
China's militant regime wants the United States to aid its space program, and some, including those in the U.S. space community, are eager to provide assistance. Such cooperation, however, would be extremely disadvantageous for the United States, as it has always been.
On January 28, Beijing issued "China's Space Program: A 2021 Perspective," its fifth white paper on the subject. Listed priorities include moon landings, asteroid defense, and space debris removal.
Beijing also thinks nations should pool efforts in the heavens. "Peaceful exploration, development, and utilization of outer space are rights equally enjoyed by all countries," the paper states. "China calls on all countries to work together to build a global community of shared future and carry out in-depth exchanges and cooperation in outer space on the basis of equality, mutual benefit, peaceful utilization, and inclusive development."
In the white paper's rollout, Wu Yanhua, deputy director of the China National Space Administration, said Beijing will be even more amenable to cooperating with international partners "on higher levels and larger projects."
Wu mentioned that China and Russia "will jointly launch the international lunar scientific research station plan—which is a major long-term international scientific cooperation project." Yet Beijing is looking beyond its traditional partner. "We welcome," he said, "the participation of all interested countries, international organizations, and scientists and engineers."
The Chinese appeal for help is appealing to many. "We need different ways to cooperate," said Canadian Chris Hadfield, former astronaut and once commander of the International Space Station, talking about the U.S. and China with Hong Kong's South China Morning Post. "It's crazy to repeat each other's efforts. It's wasteful. When something as complex and dangerous, and therefore as expensive, as space flight it's really good to be able to cooperate."
"Hadfield," Richard Fisher of the International Assessment and Strategy Center tells Gatestone, "has consistently fronted for cooperation with China in space, never acknowledging how the Chinese Communist Party seeks to dominate Low Earth Orbit and the moon to gain military dominance on Earth to impose a new global hegemony."
"Has Hatfield ever acknowledged that 'peace in space' has never preceded 'peace on Earth'?" Fisher, one of the first Americans to warn of China's military ambitions, asks. "Peaceful and expansive U.S.-Russia space cooperation was only possible after the collapse of the Communist Party of the Soviet Union."
It seems fanciful that Chinese cooperation in space could proceed while the Communist Party maintains its goal of destroying the United States. Nonetheless, many want to repeal the Wolf Amendment, enacted in 2011, which prohibits NASA from working with China. "The utopians who populate U.S. national space policy are at it again," Brandon Weichert, author of Winning Space: How America Remains a Superpower, tells Gatestone.
The utopians, however, are having a few problems these days, thanks to Beijing. Take David Dodwell, an opinion columnist in Hong Kong. "To many experts, it has already become clear that simply blocking dialogue and cooperation with China is counterproductive and dangerous—as much in tackling pandemics and global warming as in managing activity in space," he wrote in a January 22 opinion piece in the South China Morning Post.
"Tackling pandemics" is definitely not an argument for space cooperation with China. Wherever SARS-CoV-2 came from—whether or not from a Chinese biological weapons lab—China's leaders deliberately spread COVID-19 beyond their borders by, among other things, lying about contagiousness and, while locking down their own country, pressuring others to take arrivals from China without restrictions or quarantines.
That means the nearly 5.7 million people who perished from this disease outside China were murdered. And because a specific group was targeted—non-Chinese—the crime constitutes a "genocide" as defined in Article II of the Genocide Convention of 1948. That toll includes 884,000 in the United States.
So how could Washington consider cooperation, on space or in any other area, with a regime that deliberately took the lives of hundreds of thousands of Americans?
Americans and others from democracies find it hard to comprehend the maliciousness of China's Communist Party. "We all have our better angels and our worst devils in each of us," Hadfield, who has worked for NASA, correctly notes. The problem is that the worst of humanity is now running the Chinese regime, and cooperation with China, in space or below, is morally and strategically wrong.
Strategically right is the American-led Artemis Accords, an agreement among the U.S. and 14 other countries to work to return to the moon. The coalition faces a China-Russia partnership, which, as the Chinese white paper points out, contemplates the establishment of a joint lunar base. It is possible that the Sino-Russian cooperation will be so close that Russia will pull out of the International Space Station in 2025, as it threatened in June.
"It is completely mind boggling how, after decades of doing deals with China over a variety of issues that only seem to end with the further weakening of the United States and the strengthening of China, the same voices are now calling for massive space cooperation with Beijing, which would only be the largest technological transfer in history," Weichert, who also produces The Weichert Report, says. "The insanity must stop and America must hold firm against the siren song of cooperation with China in space."
Gordon G. Chang is the author of The Coming Collapse of China, a Gatestone Institute distinguished senior fellow, and a member of its Advisory Board.