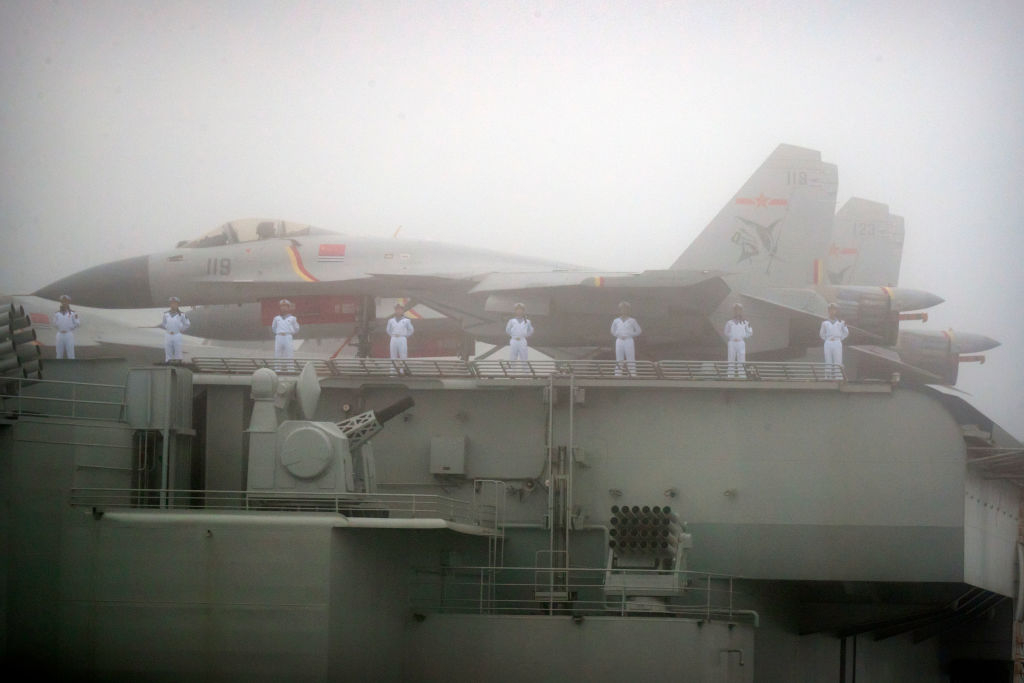 While the world is preoccupied with Ukraine, China continues to make aggressive moves in the South China Sea, almost the entirety of which China claims to be part of its territory. One of China's most controversial moves in the area has been to build artificial islands in the Spratly archipelago and then proceed, despite promises to the contrary, to militarize them. Pictured: Sailors and fighter jets on the deck of the Chinese People's Liberation Army (PLA) Navy aircraft carrier Liaoning in the sea near Qingdao, in eastern China's Shandong province on April 23, 2019. (Photo by Mark Schiefelbein/AFP via Getty Images)
While the world is preoccupied with Ukraine, China continues to make aggressive moves in the South China Sea, almost the entirety of which China claims to be part of its territory. At least three islands there have become "fully militarized" according to U.S. Indo-Pacific commander Admiral John C. Aquilino, who told Associated Press on March 21, that on the three islands -- Mischief Reef, Subi Reef and Fiery Cross -- China has deployed anti-ship and anti-aircraft missile systems, laser and jamming equipment, and fighter jets:
"China has fully militarized at least three of several islands it built in the disputed South China Sea, arming them with anti-ship and anti-aircraft missile systems, laser and jamming equipment, and fighter jets in an increasingly aggressive move that threatens all nations operating nearby.... They have advanced all their capabilities and that buildup of weaponization is destabilizing to the region."
The South China Sea covers roughly 3.5 million square kilometers, and is estimated to have deposits under the seabed of around 190 trillion cubic feet of natural gas and 11 billion barrels of oil, in addition to (fast declining) fishing stocks that are estimated to generate $100 billion annually. In 2016, the Permanent Court of Arbitration in the Hague firmly rejected China's claims of sovereignty over the South China Sea.
China, however, has never accepted the court's authority, and continues to pursue sovereignty over the sea, parts or all of which are claimed by other countries in the area, including Brunei, Indonesia, Malaysia, the Philippines, Taiwan, and Vietnam.
"The ruling is illegal and null and void. China does not accept or recognize it," Chinese Foreign Ministry spokesperson Wang Wenbin said as recently as January 2022.
"China has historical rights in the South China Sea. China's sovereignty and related rights and interests in the South China Sea have been established in a long period of history and are consistent with international law."
Wang's comments were in response to a US State Department report, "Limits in the Seas", released in January, which presented the US view that China's claim is inconsistent with international law and has no legal basis.
One of China's most controversial moves in the area has been to build artificial islands in the Spratly archipelago and then proceed, despite promises to the contrary, to militarize them. "Relevant construction activity that China is undertaking does not target or impact any country and there is no intention to militarize," Chinese President Xi Jinping said in 2015.
"The function of those islands is to expand the offensive capability of the PRC [People's Republic of China] beyond their continental shores," Aquilino said. "They can fly fighters, bombers plus all those offensive capabilities of missile systems."
"It is a very significant military buildup," said Peter Jennings, executive director of the Australian Strategic Policy Institute in a podcast interview with ABC Radio National.
"Now, what we have is three quite large fully functioning military bases with missile systems permanently in place and the ability to take combat aircraft and long-range bomber aircraft and house them securely there, should China deploy them," "What it means is that China has greatly extended the range that it can send its military forces... 1500-1600 kilometers from the Chinese mainland... this presents a security risk to all countries in southeast Asia... where China has now built itself the capacity to control the skies and control the sea lanes through that region very effectively... It reflects the overall growth of the Chinese military, which in the last decade has just been astonishingly fast... control of the South China Sea would be a major step for the PRC in prosecuting a military campaign against Taiwan. It certainly makes it much harder for the United States, for example, to get its military forces closer to Taiwan... it really becomes a mechanism to control all of southeast Asia, this is a region of ten countries, 650 million people... if you are the militarily dominant power in the South China Sea you dominate south east Asia. That at least was the strategic thinking of the Japanese in the Second World War and I think it is the strategic thinking of China right now."
While the militarization of the islands is a crucial aspect of achieving dominance, China's aggressive moves to control the South China Sea are not limited to the islands. In March, China conducted a week-long military drill in parts of Vietnam's exclusive economic zone (EEZ), prohibiting all others entry to the area of the drill. China's naval exercise, according to Vice Admiral Yoji Koda, former commander in chief of the Japan Self Defense Fleet, was more than just a regular military drill; it was also an attempt to try to deny Vietnam's EEZ. "China is accumulating as many precedents as possible that would support its groundless claims in territorial and EEZ disputes in the South China Sea," Koda said.
Hoang Viet, a lecturer at the Ho Chi Minh City University of Law in Vietnam, said China was using the military drill to push its claims in the South China Sea, while international attention is focused on the conflict in Ukraine. "This was what China did in 2020 when many countries were focused on dealing with Covid: It undertook many activities to assert its claims in the South China Sea."
The drill coincided with China's announcement of its annual military budget for 2022, according to which China will be increasing its defense spending by 7.1% to $230 billion, up from a 6.8% increase the year before. China has the world's second-largest defense budget after the United States, where the defense budget for 2022 is $715 billion.
China, however, is not transparent about what its defense budget includes – and does not include. The Stockholm International Peace Research Institute (SIPRI) found that China consistently under-reports its actual defense budget. In 2019, for instance, SIPRI estimated that China's actual defense budget was nearly 40% higher than the official one. "While China announces an annual defense budget, how much China actually spends on its military is widely debated," the China Power Project of the Center for Strategic and International Studies (CSIS) wrote.
"China's lack of transparency leads to discrepancies between official figures and outside estimates. Official figures do not account for a number of military-related outlays, including some military research and development, aspects of China's space program, defense mobilization funds, authorized sales of land or excess food produced by some units, recruitment bonuses for college students, and provincial military base operating costs."
Furthermore, China's paramilitary units, such as the Coast Guard, which plays a large role in asserting China's maritime claims, and the People's Armed Police (PAP), a part of China's military that is charged with internal security, are excluded from China's official defense budget.
In addition to all of the above, China continues to conduct illegal exploration or survey activities across the span of the entire South China Sea for the purpose of doing marine scientific research, oil and gas exploration, and military research, according to a report by CSIS published in March.
"The immediate impact and apparent intention of these surveys is to demonstrate Chinese control over waters it claims as its own," according to the report.
"Aside from their symbolic goals, these surveys also produce data on seabed conditions that hold value for both civilian and military purposes. While seismic data is critical in assessing geological conditions and the presence of hydrocarbons, water and seabed conditions also affect the ability to detect submarines. And research vessels purportedly involved in scientific research can also use their instruments for naval reconnaissance, gathering intelligence on foreign military facilities and vessels."
The report showed that the surveys regularly led Chinese vessels to go into the exclusive economic zones (EEZ) of other countries in the area, an activity that is illegal without permission. The report also found that Chinese survey vessels were busy during 2020-2021. "The report highlights the scale and hypocrisy of China's survey activities," said Greg Poling of CSIS. "Beijing conducts dozens of operations in its neighbors' EEZs every year which, if civilian in nature, are illegal or, if military, are exactly what China claims other countries are not allowed to do in its own EEZ."
John Richardson is a researcher based in the United States.