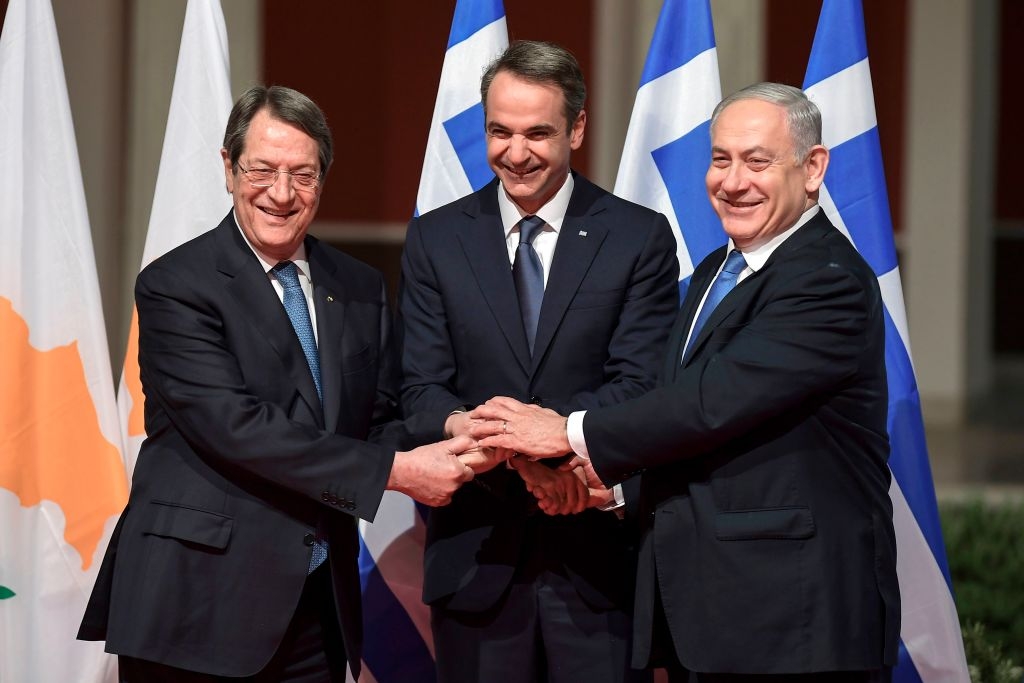 The European Union is finding it more than difficult to beat its dependence on Russian oil and gas, thereby, sadly, financing Russia's war effort. One alternative is the proposed EastMed pipeline, which would carry natural gas extracted from fields under the waters of Israel's and Cyprus's Exclusive Economic Zones, to Greece and from there to other European countries. Pictured: Cypriot President Nicos Anastasiadis (left), Greek Prime Minister Kyriakos Mitsotakis (center) and then Israeli Prime Minister Benjamin Netanyahu shake hands in Athens on January 2, 2020, ahead of signing the pipeline agreement. (Photo by Aris Messinis/AFP via Getty Images)
Russia is expected to make almost $321 billion from its energy exports this year -- over a third more, according to Bloomberg, than last year.
Twenty-seven European Union member states, despite adopting five packages of sanctions since Russia invaded Ukraine on February 24, have nevertheless spent at least around 35 billion euros -- around $38 billion -- in payments to Russia for its oil and gas since the invasion, according to the EU's foreign-policy chief, Josep Borrell.
The EU is finding it more than difficult to beat its dependence on Russian oil and gas, thereby, sadly, financing Russia's war effort. Thirty-six percent of Russia's revenues last year came from the sale of oil and gas. "Oil revenue makes up a large share of Moscow's budget. It is a key funding source for Putin's invasion of Ukraine. Slashing Russia's oil revenue could hasten an end to the conflict," American Enterprise Institute resident scholar Michael R. Strain recently wrote.
The EU as a whole, thus far, has only managed to agree on banning imports of Russian coal, which last year amounted to a mere €4 billion annually, a much smaller number than for oil and gas. Facing increasing pressure to stop importing Russian oil and gas as Russian war crimes continue to mount, Europe is frantically looking for energy alternatives, both short- and long-term.
There are, however, European countries that have already decided to stop importing Russian oil and gas. Lithuania recently did so; its president, Gitanas Nauseda, tweeted, "If we can do it, the rest of Europe can do it too." Poland also announced that it will end imports of Russian oil and gas by the end of this year.
On April 27, Russia declared that it was cutting gas to Poland and Bulgaria. Both countries had refused to pay for gas imports in Russian rubles, as Russia's President Vladimir Putin had demanded. Other countries may now also soon face a sudden cut-off of Russian gas deliveries. According to Edward Gardner of Capital Economics:
"President Putin's decree that gas payments made by 'unfriendly' countries must be denominated in rubles raises the risk that supply could be cut off to other European countries when payments are due in the next few weeks."
Germany's Chancellor Olaf Scholz warned that a disruption of Russian gas supplies could cause Germany to enter a recession. Germany, he said, must be prepared that it could be the next country to which Gazprom cuts gas deliveries. Europe, therefore, needs a multitude of alternatives to the Russian energy supply.
One of those alternatives is the proposed 1,900-kilometer EastMed pipeline, which would carry natural gas extracted from offshore gas fields under the waters of Israel's and Cyprus's Exclusive Economic Zones, to Greece and from there to Italy and other European countries. The pipeline was originally scheduled for completion by 2025, at an estimated cost of 6 billion euros, and is projected to have the initial capacity to transfer 10 billion cubic meters of natural gas a year. The pre-feasibility studies, conducted from 2015-18 and paid for by the European Union, found that the project was "technically feasible, economically viable and commercially competitive."
"The analysis conducted for the activity related to the economic, financial and competitiveness studies, evidenced that the [EastMed] Project contributes to the improvement of market integration of currently isolated countries such as Cyprus and some Greek regions, to the enhancement of energy security diversifying the supply sources for Europe and to the reduction of the EU-wide consumers' gas bill. Moreover, taking into account the need of additional net imports to satisfy EU gas demand by 2030 and the risk associated to the current production availability, procurement and transport of gas supply, the Project provides strategic contribution to the EU security of supply."
The EastMed pipeline project, therefore, went on to the next phase of the feasibility studies, which are still ongoing.
"Financial and political support by the EU can facilitate the final investment decision-making process by the private entities that are considering their participation in the project," Michalis Mathioulakis, an energy expert at the ELIAMEP think tank, said recently, adding that the significant rise in natural gas prices in Europe favors the economic viability of the pipeline.
It was all the more surprising, therefore, when in January, the United States, in a complete policy reversal, unofficially communicated to Israel, Greece and Cyprus that it no longer supported the pipeline. Then, on April 6, US Undersecretary of State for Political Affairs Victoria Nuland made it even clearer that the US was officially killing off the EastMed project. As the final feasibility report on the project is still underway, the US decision seemed to come out of the blue.
During a visit to Greece, Nuland said in an interview with the newspaper Kathimerini:
"We don't need to wait for 10 years and spend billions of dollars on this stuff. We need to move the gas now, And we need to use gas today as a transition to a greener future. Ten years from now we don't want a pipeline. Ten years from now we want to be green. So we've got to use LNG [liquefied natural gas] and we've got to use electricity connections that we can do more quickly."
Nuland's comments came across as remarkably tone-deaf at a time when the US has actively been seeking to lower oil prices worldwide by appealing to dictatorships such as Saudi Arabia to increase oil production and even courting Venezuela. If anything, oil is even less "green" than natural gas, and the projected time during which the EastMed pipeline can be built is probably not ten years, but significantly less. Furthermore, natural gas is likely to be relevant for decades to come. It is, to say the least, highly unlikely that there will be enough renewable energy to cover European energy needs within the next decade. Fossil fuels will most likely still be needed for the foreseeable future to manufacture those electric cars and fly those airplanes. The greatest beneficiaries of the US and the West closing down their energy industries will be Russia, Iran and other countries set to make a windfall selling their fossil fuels.
Nuland's comments appeared especially odd as, after meeting with her counterparts in Turkey on April 4, she told the Turkish newspaper Hurriyet that more pipelines were needed in the Eastern Mediterranean:
"There are lots of different kinds of opportunities in the eastern Meditteranean some involving Turkey's nearer neighbors, some involving new exploration and new pipelines, Nuland suggested."

"'So, we want to work with you on all of that, and we particularly want to help Turkey and its goal of diversifying away from Russian dependence,' she said."
The US, it appears, prefers to steer the business to Turkey's strongman, President Recep Tayyip Erdogan, rather than to America's democratic allies, Cyprus, Israel and Greece.
What makes Nuland's comments appear even more hypocritical is that Secretary of State Antony Blinken, during his recent visit to Algeria, is thought to have urged Algeria to reopen a pipeline that used to carry Algerian natural gas through Moroccan territory to Spain, to help European countries reduce their energy dependence on Russia.
According to the Biden administration, therefore, pipelines that go via Turkey are apparently acceptable, Algerian gas pipelines are also acceptable, but the long-planned Israeli-Greek-Cypriot EastMed pipeline is not acceptable.
Members of the EastMed project, however, did not sit back and accept Nuland's remarks, which is perhaps also an indication of the Biden administration's reduced standing in parts of Europe.
"The EastMed [pipeline] is alive and kicking." Greek Foreign Minister Nikos Dendias said in response.
President of Cyprus Nicos Anastasiades said in response to Nuland's remarks:
"What we are waiting for is the final report which is financed by the EU. And I repeat, the position was from the start – and that is why the study is being carried out – if it is viable, if there are investors, if the seabed permits, then it will be carried out. The US government does not decide about a European project..."

"What everyone can see, and this is very important, is the need for the EU to cease being dependent on specific markets and the alternatives channels for natural gas to Europe and the closest is none other than the basin of the eastern Mediterranean."
Nick Larigakis, president of the American Hellenic Institute, a US-based lobbying organization that works to strengthen US-Greek and US-Cypriot relations, also found Nuland's remarks concerning:
"Energy cooperation is a critical component of the '3+1' mechanism between Greece, Cyprus, Israel, and the United States. However, it must not be up to one of the parties, the United States, to impose its own energy policy upon the parties, but rather, it should be up to the parties to arrive at an energy policy that best serves their collective interest. Under Secretary Nuland's contradictory messaging on Eastern Mediterranean pipeline projects, indicating her support and subsequent skepticism of such projects within the same week, is confusing and unhelpful. It gives the appearance of appeasement of Turkey."
Turkey has been opposed to the EastMed pipeline project all along. Back in January, when the Biden administration first announced its unofficial opposition to the project, the reasons given by the US were primarily environmental and financial. Then, suddenly, Nuland claimed that the timeline for the project is too long because Europe needs gas "now." Whatever the reasons given, they come across as an ill-disguised attempt at placating Turkey at the expense of Europe's energy security, and attempts to free itself of Russian energy dependency. The Biden administration is once again demonstrating how, unfortunately, it prefers to do business.
John Richardson is a researcher based in the United States.