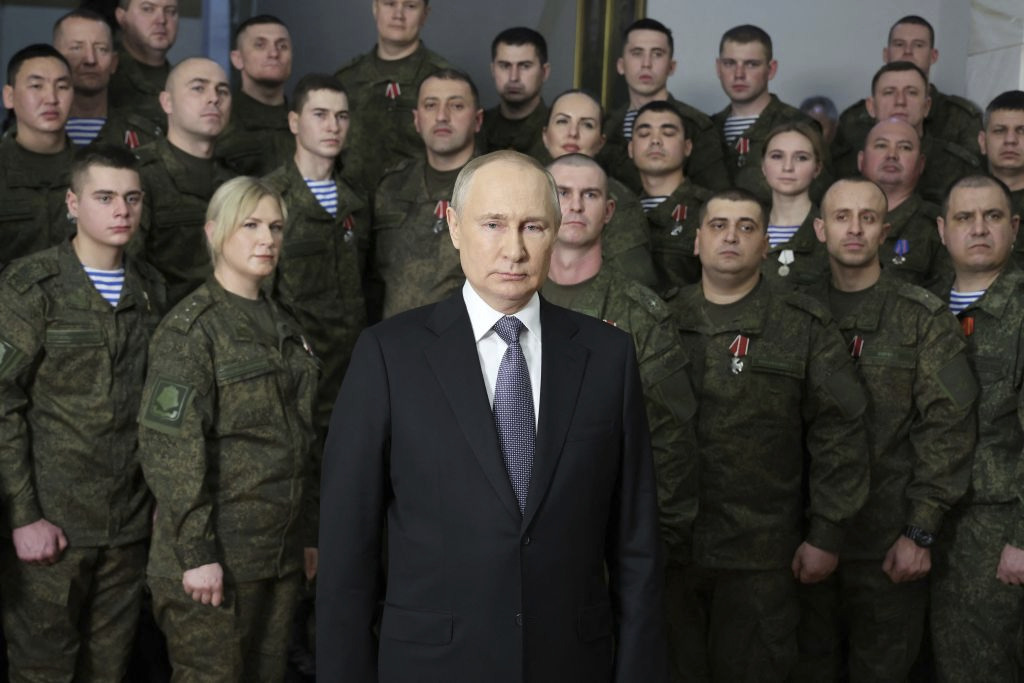 December 13, 2022. UK Defense Secretary Ben Wallace tells the House of Commons that, since the start of the war in Ukraine, "over 100,000 Russians are either dead, injured, or have deserted". Today, the figure is undoubtedly higher. The losses to the Russian army have been such that on September 21, Putin decreed a mobilization. Tens of thousands of men were sent to ,military training. Thousands of others were immediately deployed to the front, with no training, no arms, or with only rusty guns, and sent to a certain death. Another mobilization seems to be in the works. Russian Defense Minister Sergei Shoigu recently said that the Russian army will soon number 1.5 million men, but whatever the number, if front-line soldiers do not have adequate equipment, they will be killed.
Russia's losses of military equipment were also considerable. In November, it was reported that Russia was estimated to have lost half its tanks. Western sanctions essentially prevent Russia from acquiring many of the microprocessors and electronic components needed to manufacture high-precision missiles. Russia may therefore be unable to replenish its stockpiles.
Although the Russian and Chinese militaries have carried out joint maneuvers, China has reportedly not delivered military equipment to Russia, and probably will not. China's economy is dependent on trade with the United States; Chinese leaders doubtless calculate that they too cannot afford to risk US sanctions. On December 30, during a virtual meeting, Putin proposed building a military alliance to Chinese President to Xi Jinping. Xi responded with a significant silence. Russia presently can only buy military equipment from two rogue states, North Korea and Iran, while the US "scrambles" to stop Iran from sending Russia still more deadly drones.
Since the beginning of September 2022, the Russian army has suffered two major defeats, one east of Kharkiv, the other in Kherson, in southern Ukraine. Russia so far has lost 39,000 square miles of the Ukrainian territory it had previously conquered and is now regrouping, building defensive lines to preserve what remains of the Ukrainian territory it still occupies, and reportedly planning for a spring offensive.
The Ukrainian army also lost countless soldiers and much military equipment; Ukrainian soldiers, however, are fighting for the survival and sovereignty of their country. Most Russian soldiers do not know why they are fighting. That makes a difference. The Ukrainian army does not have a problem of resupply and will not have one so long as the United States and the NATO countries continue to send materiel. If Putin succeeds in winning even a little territory, his victory will embolden other predators.
Retired British Army Colonel Richard Kemp describes Putin's plan as a "desperate gamble.... Moscow at present does not have the numbers to decisively overcome resistance from the depleted Ukrainian army". Putin nevertheless has the ability to turn Ukraine into a grease-spot, then take on Moldova, the Baltic States and whatever else he wants.
Putin knows that if he loses, it will be the end of his rule, maybe his life.
In June 2022, he compared himself to Peter the Great, a tsar who led wars of conquest against the neighboring countries of Russia and enlarged the Russian empire by violence. Putin, however, may also be concerned that he may well go down in history as the dictator who accelerated Russia's decline and led to its downfall.
A year ago, the Russian military was ranked by some as the world's second-most powerful. One can say now say that it is extremely deficient, "in a woeful state," equipped with poorly maintained weapons, plagued by a lack of financial means as well as by corruption. Russia's only advantage are thousands of nuclear warheads, many dating from the Soviet era. Russia is too poor to maintain a strong military (before the war, its GDP was smaller than that of Texas) -- a state of affairs that does not seem to have much chance of improving. Russia appears to be relying on its few allies and on America's lack of will -- last seen in its disorganized, impulsive withdrawal from Afghanistan and the chatter of many who seem not to understand that, as opposed to Las Vegas, "what happens in Ukraine does not stay in Ukraine." Even a partial win for Putin could end up costing America far more in the long run -- in both lives and treasure. It would have been so much easier to stop Hitler before he crossed the Rhine.
Russia also has other problems that make Putin's "desperate" fight even harder.
For several decades, Russia had been confronted with a serious birth deficit, increased aging and a decrease in its population. In 1991, Russia had 148 million inhabitants; in 2021, it had 143 million. Available data show that in 2022, Russia's already low birth rate fell even further. Thousands of young Russian men sent to their deaths in Ukraine will now not have children.
Russia is, in addition, experiencing a catastrophic loss of human capital. More than 3.8 million Russians left Russia during the first three months of 2022. The mobilization decreed by Putin in September of 2022 led to the flight of more than 700,000 men in three weeks. The Russians who left were mostly those with the means to flee and marketable skills. Russia has been suffering a "brain drain" unprecedented since the collapse of the Soviet Union in 1991.
The Russian economy, which is not highly diversified, also is not strong. Russia lives mostly from the sale of energy. In 2021, gas and oil accounted for 60% of its exports; revenues from exported gas and oil accounted for 45% of its GDP. Until the war, European countries were the main buyers of Russian gas and oil. Since December 5, 2022, Russia no longer sells gas to European countries, with the exception of Hungary, and European countries no longer buy Russian oil. Although Russia has been selling more gas and oil to India and China, it is sold at discounts of 30-40% and does not begin to compensate for the loss of European markets. Russia's revenue losses in 2023 are again expected to be high. If Russia wants to increase its gas and oil sales to India and China, new pipelines will be necessary. Building them will be an expensive and long process.
Until its invasion of Ukraine, Russia was the word's main exporter of wheat. Russia's agriculture, however, depends on Western technological means, and Western sanctions have prevented Russia from acquiring them. Russian wheat production therefore will decline. The microprocessors and electronic components that the Russian arms manufacturers no longer have are also lacking in the car manufacturing and aeronautical sectors. Western automakers, like many other Western companies, have left Russia. Russian automakers are not faring well. Additionally, Russian airlines had to suspend many international routes, and to dismantle airplanes to recycle the parts for use in other aircraft. Although Russia had accumulated financial reserves, those outside Russia, in Western banks, are frozen.
Politically, at the moment, Russia, appears stable. As Putin has placed men loyal to him at the head of the military, chances of a coup seem remote. The oligarchs who criticize Putin have reportedly been undergoing an epidemic of fatal accidents; others seem to prefer losing billions to losing their lives. No one, of course, can predict what will happen. Will the Russian army indefinitely agree to send Russians to die in a meat grinder? Will Russia continue using mercenaries whose deaths do not affect the Russian public? Will Russia turn to unacceptable weapons?
Putin apparently hopes that by destroying civilian infrastructure and inflicting even harsher punishment on the Ukrainian people, he will break their morale and gain their submission. The Ukrainians, although suffering immensely, have been exhibiting breathtaking resilience.
Putin is probably betting that Western leaders and populations will eventually stop supporting Ukraine. So far at least, the West has stood strong.
Western leaders, with the exception of Hungarian Prime Minister Viktor Orbán -- who decided to stay out of the conflict, a position that has been condemned as a betrayal by Hungary's Western allies -- have reaffirmed that they will support Ukraine until it wins. Some, including Putin, spoke of negotiations; however, he warned that all his demands must be met and that he intends to fight until victory -- meaning that he will accept only unconditional surrender.
Western populations who view the Russian army's atrocities grasp that to abandon Ukraine will lead to an even wider bloodbath.
Leaders in the West most likely see that without Putin's defeat, a return to stability in Europe is effectively impossible. To make the slightest concession to Putin would send all predators the message that they can invade a country, annex it in whole or in part, and commit war crimes to their hearts' content without any consequences.
It now seems as if Ukraine will finally be receiving the US M1 Abrams and German Leopard 2 tanks it needs, as well as tanks from the United Kingdom (France is apparently looking for excuses not to send its Leclerc tanks); yet Ukraine needs more.
The Telegraph's Defense and Foreign Affairs Editor, Con Coughlin, notes that "all the indications are that Putin is currently losing his war, and Western support can make sure he suffers a catastrophic defeat."
"When the war in Ukraine will end is unknown," noted Luke Coffey, a senior fellow at Hudson Institute, "but it will likely mark the dissolution of the Russian Federation (the legal successor of the Soviet Union) as it is known today."
Whether the dissolution of the Russian Federation takes place or not, Russia after this war will likely be a devastated country that has lost the last remnants of its status as a great power.
Russia's nuclear arsenal, the stockpiles of chemical and biological weapons at Russia's disposal, the persistent hostility towards the Western world by Russian propaganda to this day, will all require extreme vigilance.
What is clear is that NATO will be strengthened, and fully emerge again as the defense structure of the democratic world.
The European leaders who believed that the collapse of the Soviet Empire would lead to an era of perpetual peace, who had illusions about Russia and Putin, and who had largely given up their military spending, discovered the catastrophic extent of these illusions. Last year, they saw that without the existence of NATO and the power of the U.S. military, they would have faced a crushing hardship. Two European countries, Sweden and Finland, have asked to join NATO. When that happens, Russia will have an additional 1,340 kilometers of border with a NATO country, Finland.
It is not yet clear whether European countries such as France and Germany will learn the lessons of the war or whether they will fall back into their illusions. Moldova, Poland, the Baltic countries and Finland might end up having to bring them back to reality.
Ukraine will need to be rebuilt -- an effort that will be long and expensive, but essential. Many other cities have suffered significant damage. Most of the country's power stations have been attacked. The heroic Ukrainian people have suffered unimaginable losses. Finding the Ukrainian children who have been taken from their families and deported to Russia should be an imperative.
The United States -- if it does not lose its nerve and its will to protect the West -- will emerge as the big winner, but this should not overshadow the damage and destruction that the Biden administration – even though it has been extremely generous – caused by dithering and often providing materiel often too little, too late. If the US had pre-armed Ukraine, the invasion might actually have been prevented in the first place. Let us hope that the United States does not make the same costly mistake by failing adequately to pre-position "porcupine weaponry" in Taiwan to make the risk to China too great even to think about invading.
It would be dangerous to forget that without the weakness that the Biden administration exhibited toward China; without the disaster it inflicted on both the United States and Afghanistan; without Biden's suggestion that if Russia limited itself to a "small incursion", that would be fine, it was in effect green-lighting aggressors. If American soldiers in Ukraine had not withdrawn a few days before Russia's invasion, there probably would have been no invasion and no war.
It would also be dangerous to forget that during the first days of the invasion, U.S. President Joe Biden reportedly offered Ukrainian President Volodymyr Zelensky help to leave Ukraine. The message was that Biden was ready to abandon Ukraine to Putin. The Biden administration has so far not provided long-range strike capabilities or air cover to Ukraine, thereby giving sanctuary to the Russian military to fire into Ukraine or proceed with a scorched-earth aerial bombardment. The cost to innocent Ukrainian people will be countless lives lost -- and prolonging the war.
It would be particularly dangerous to forget that it was the failure of the Russian army in the first days of the invasion, the resistance of the army and the Ukrainian population, and the refusal of Zelensky to abandon his country, all of which essentially changed the situation and led the Biden administration and the rest of the Western world finally to support Ukraine. For the future of the West and the Free World, the Biden administration should continue to do exactly that.
Dr. Guy Millière, a professor at the University of Paris, is the author of 27 books on France and Europe.