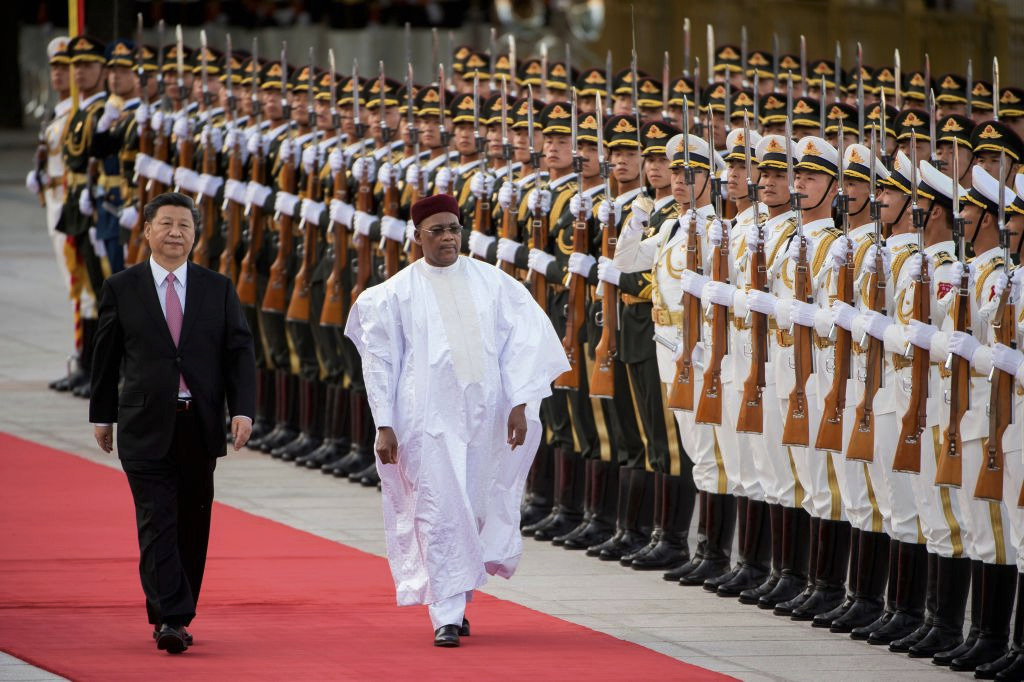 It has been just over a year since the European Union launched its Global Gateway infrastructure project to compete with China's Belt and Road Initiative (BRI).
The Global Gateway project was launched in December 2021. Meanwhile, China's BRI was launched in 2012 and has spread all over the globe, especially to Africa, Latin America and Asia, where it has gained China vast influence. The Communist Party newspaper China Daily recently claimed that in 2022 alone, China had signed new contracts with BRI countries worth nearly $100 billion.
Promising to dedicate up to €300 billion between 2021 and 2027 to invest in the digital, energy and transport sectors in developing countries and to strengthen health, education and research systems across the world, the EU and its member states have vowed to become a sustainable alternative to China's BRI. It is questionable, however, whether such an ambition is even feasible at this late stage.
As of March 2022, the number of countries around the world that have joined the BRI by signing a Memorandum of Understanding with China was 147, according to the Green Finance and Development Center at Fudan University in Shanghai. Forty-three of those countries were in sub-Saharan Africa and another 18 countries were in North Africa and the Middle East.
"The European model is about investing in both hard and soft infrastructure, in sustainable investments in digital, climate and energy, transport, health, education and research, as well as in an enabling environment guaranteeing a level playing field. We will support smart investments in quality infrastructure, respecting the highest social and environmental standards, in line with the EU's democratic values and international norms and standards. The Global Gateway Strategy is a template for how Europe can build more resilient connections with the world," President of the European Commission Ursula von der Leyen said at the time of the EU project's launch.
"Global Gateway is a values-based offer. Our investments reflect European social and environmental standards," Jutta Urpilainen, European Commissioner for International Partnerships, recently told Foreign Policy. "Of course, it is also a geopolitical project. Infrastructure is at the core of geopolitics today."
The US Center for Global Development has criticized the Global Gateway program as a "mere packaging exercise of things that have already been programmed," and saying that the €300 billion promised in new investments is not new at all.
"The €300 billion is mainly made up of a mixture of existing commitments from European development finance institutions... The Global Gateway also makes highly questionable assumptions about leveraging private investment, rather than actual spending or any new commitments... the EU's Global Gateway appears more of a branding exercise rather than a groundbreaking plan for domination in global infrastructure. How the EU intends to finance the plan is poorly explained, and it is hard to get a sense of actual scale, especially as it largely relies on European development and financial institutions to bankroll a large portion of the money. With a global remit and an expansive scope, turning the pipedream into reality will be no easy feat."
According to the US Council on Foreign Relations:
"Global Gateway raises just as many questions as it answers. So far, there is no indication that Global Gateway will have a dedicated budget or staff, making it possible that this will simply be a rebranding of existing and proposed infrastructure investments. In order to offer a meaningful alternative to BRI, Global Gateway will need to both harmonize the efforts of export credit and development agencies within the EU and also get access to additional funds for investments... It is also unclear to what extent—if any—Global Gateway will work in tandem with the Group of Seven's (G7) response to BRI, 'Build Back Better World' (B3W)... Unless B3W and Global Gateway coordinate their approaches, neither will meet its full potential."
According to Barry Andrews, an Irish Member of the European Parliament, the Global Gateway project is "a strategy to put together what was already going to happen and present it as something new, and if our partners are tricked by this then more fool them". He has also said that the project lacks "transparency and clarity."
Half of the proposed Global Gateway funds -- €150 billion -- have been earmarked for Africa in what has become known as the EU-Africa Global Gateway Investment Package. African experts, however, already criticized the initiative at its launch a year ago.
According to Euractiv, African criticism of the project points out that, "While China has roads, bridges and dams to show for its 20-year-engagement with Africa... the EU brings red tape and a lecture."
China has been visibly active on the African continent for several decades. It has held high-level ministerial conferences with 53 African countries every three years since 2006 -- the last one taking place in 2021 -- within the framework of the Forum on China-Africa Cooperation, established in 2000. Three of those summits were higher-level China-Africa leaders' summits, the last in 2018. In addition, since 1991, China's foreign ministers have made it a tradition always to travel to Africa on their first trip abroad in the New Year. This year, China's new Foreign Minister Qin Gang visited Ethiopia, Gabon, Angola, Benin and Egypt in a week-long tour.
"Who listens and understands the context in which African countries are operating is going to be the better development partner," Ovigwe Eguegu, a Nigerian policy adviser at consultancy Development Reimagined, said.
"The EU is the one that doesn't listen. The EU now realizes that Africa is serious about wanting to build infrastructure. In a way, the EU coming up with the global gateway is acknowledging that China got development in Africa right... Was there consultation with African partners leading up to the global gateway? Zero. You can't expect any enthusiasm because there is just ignorance of what these promises will mean and how they will translate on the ground... Nigeria is not going to sit back and let the EU dictate whether it's going to expand its hydrocarbon investments, but it will seek deals with other partners including China, Turkey or an increasingly engaged UAE."
"China's financing is through loans but at least it's on the table," said Faten Aggad, a former Algerian advisor to the African Union's high representative on Africa-EU negotiations, adding that she thought the EU Gateway was disappointing and lacking a firm commitment to new and additional funding. "As things are, China will certainly remain a much more attractive partner. The EU will need to up its offer if it's to be truly relevant."
According to the European Union, the first projects under the Global Gateway Africa-Europe Investment Package "were launched in March 2022 with Ghana, Ivory Coast and Niger."
"There has also been progress on infrastructure investment, efforts to increase African autonomy in the production of medicines and vaccines (over €1 billion invested in Rwanda, Senegal, Ghana and South Africa) and supporting regional value chains. In the education sector, the EU is investing in 25 capacity building projects in vocational education and training, involving 26 African countries."
The above is unlikely to make even the smallest dent in China's dominant position on the African continent. Perhaps because, unlike Europe and the US, China has made Africa a focal point in its foreign policy.
"Beijing has long viewed African countries as occupying a central position in its efforts to increase China's global influence and revise the international order," as the US-China Economic and Security Review Commission wrote in its 2020 Report to Congress.
"Beijing uses its influence in Africa to gain preferential access to Africa's natural resources, open up markets for Chinese exports, and enlist African support for Chinese diplomatic priorities on and beyond the continent."
John Richardson is a researcher based in the United States.