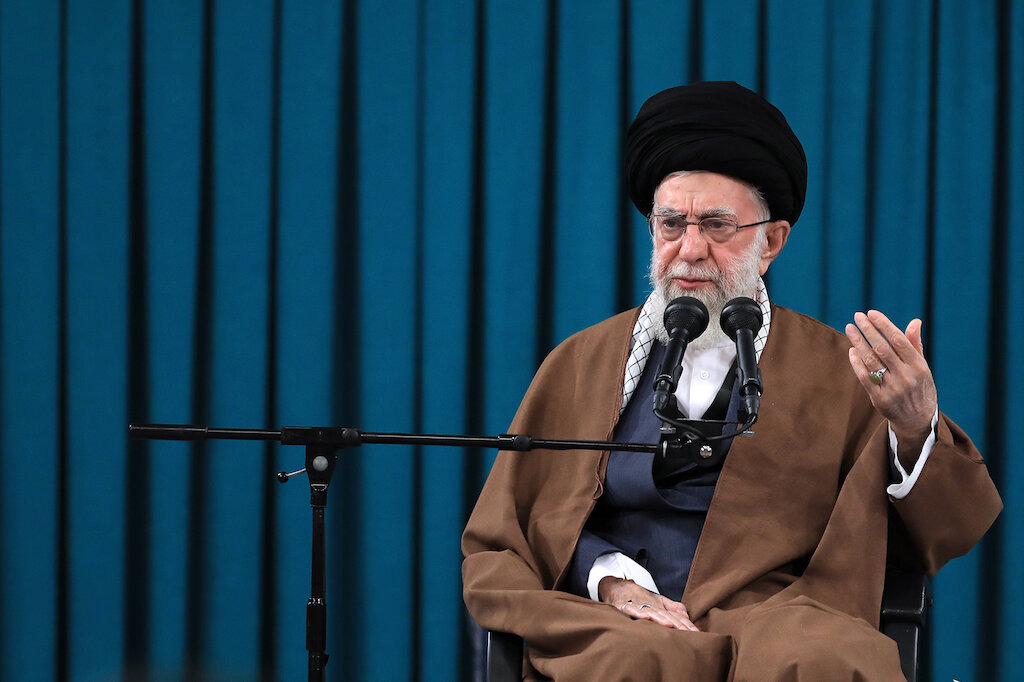 The great Marx, Groucho not Karl, once said that he wouldn't join a club that would have him as a member.
Iran's rulers today face a different dilemma, trying to join clubs that wouldn't have them as member. For weeks, Tehran propaganda harped on the theme of President Ebrahim Raisi travelling to South Africa to attend the annual summit of the BRICS group (Brazil, Russia, India, China, South Africa).
The Islamic Republic has been asking to be admitted into the club since 2010, when "Supreme Guide" Ayatollah Ali Khamenei announced his intention to create a "New World Order" through a triple alliance of Iran, China and Russia.
Tehran sources say the Iranian demand, though supported by South Africa and India, has been quietly vetoed by Russia and cold-shouldered by China.
The irony in that is that Khamenei's senior foreign policy advisor Ali-Akbar Velayati, a leading Russophile, has on several occasions claimed that Russia would back Iran's application for membership.
This year, the whole fantasy assumed a comical aspect when South Africa "advised" Russian President Vladimir Putin not to attend the summit on 23-24 August. The reason is that the International Criminal Court in The Hague has issued a red alert for Putin on charges of war crimes and crimes against humanity. Russia hasn't signed the treaty that created the court but South Africa has, and, as a result, would have had to arrest Putin on arrival. Putin will now attend the summit through a video connection, not exactly a strong position from which to recommend the Islamic Republic as a future member.
It is clear that Russia, even if it wanted to help Iran join BRICS, which it does not, will not do so. But it could help the Islamic Republic join other clubs that Tehran thirsts to join. One such club is the Eurasian Economic Union (EEU), which Moscow created in 2014 in the hope of reviving the Soviet Union at least on the economic front. The EEU consists of Armenia, Belarus, Kazakhstan, Kyrgyzstan and Russia, with China, Moldova and Uzbekistan as associate members. Tehran lodged its application for associate membership in 2016 as Ayatollah Khamenei preached his "looking to the East" strategy.
Again, according to sources within the Tehran regime, it is the Russian veto, never formally announced, that keeps the Islamic Republic out in the cold.
Last year, however, Russia removed its veto on Iranian membership of another club, the Shanghai Cooperation Organisation, presumably because of Chinese "persuasion". Having decided to invade and annex Ukraine, Putin also thought he would need Iranian support in the form of drone supplies and recruitment of Syrian and other mercenaries to fight on the Russian side. Even then, Iran had to wait one more year on probation before entering the club. whose precise aims remain unclear.
To make matters worse, both China, through its President Xi Jinping, and Russia, via Foreign Minister Sergei Lavrov, have signed communiques that clearly question Iran's territorial integrity, becoming the only two veto-holding members of the United Nations Security Council to do so.
Khamenei's dream of a "New World Order" led by Iran, China and Russia, has proven to be a pipe-dream shaped in the mind of a leader that operates in a fantasy universe. In a series of speeches, the "Supreme Guide" has claimed that the "American Great Satan" has tried to make Iran like the rest of the Middle East while it is Iran that is making the rest of the Middle East like itself on the way to reshaping the world as a whole.
The pipe-dream was partly punctured last week when Turkish President Recep Tayyip Erdogan made his first foreign visit after his election victory to Saudi Arabia, the United Arab Emirates and Qatar, ignoring Iran altogether.
According to Tehran sources, Ra'isi had to wait three days before he could arrange a phone call to Ankara to congratulate Erdogan on his re-election.
In the meantime, Tehran was announcing "significant diplomatic victories" not in Khamenei's "Looking East" region but west, in the African states of Kenya, Uganda and Zimbabwe. Chief among these victories was Uganda's decision to waive visas for Iranian tourists, provided they can somehow get there.
For the first time, Khamenei's "Looking East" fantasy is openly questioned by regime insiders and commentators close to "deciders" in Tehran. At a meeting of the so-called Strategy Council for Foreign Policy last week, attended by five former foreign ministers and several other senior retired or semi-retired diplomats, mumbled criticism was heard of reliance on an imagined alliance with China and Russia. According to sources, one participant, thought to be former Foreign Minister Ali-Akbar Salehi, reminded the audience that the late "Imam" Ruhollah Khomeini had preached a "neither East nor West" foreign policy.
Former Foreign Minister Javad Zarif has also said that Russia has "stabbed us in the back" on a number of occasions and for years. The former head of the Islamic Majlis's National Security Commission Heshmatallah Falahat-Pisheh has warned that both China and Russia have treated the Islamic Republic as nothing but a source of profit for themselves. Another Majlis member, Masud Pezeshkian has called for a thorough review of the "Looking East" policy. A new political grouping known as Sherian, believed to be set up by the Islamic Revolutionary Guard Corps in view of next year's general election, openly demands dropping the "Looking Est" slogan and returning to Khomeini's "Neither East nor West".
Former Oil Minister Bijan Zangeneh has warned that Russia, having pushed Iran out of the European oil market, is now trying to do the same in the Indian and Chinese markets by offering mouth-watering discounts. Since last March, China's oil imports from Iran have fallen by almost 40 percent, according to unofficial estimates, with Russia claiming the part that Iran has lost.
Meanwhile, regarding what some Iranians see as an attack by Lavrov on the nation's integrity, many are unhappy about Raisi's refusal or inability to read the riot act to the Russians. The concern is that Tehran's lack of reaction to the Russian and Chinese moves could encourage other nations to adopt a similar stance against Iran.
Khamenei, aged 84, seems unlikely to abandon what he had hoped would be his "historic legacy" or, in his own words "driving the Great Satan and its allies out of the region." This is perhaps why, as long as Khamenei is in charge, neither Beijing nor Moscow is worried about angering Iran, whatever they do.
Amir Taheri was the executive editor-in-chief of the daily Kayhan in Iran from 1972 to 1979. He has worked at or written for innumerable publications, published eleven books, and has been a columnist for Asharq Al-Awsat since 1987. He is the Chairman of Gatestone Europe.

This article originally appeared in Asharq Al-Awsat and is reprinted by kind permission of the author.