According to a report by Karim Dahimi that was widely reported in Farsi, on March 6, 2014, an Ahwazi Arab-Iranian poet and human rights activist living in the Netherlands, Mr. Saeed Mousa Mosavi, was kidnapped and beaten by agents of the Islamic Republic of Iran after he returned to his home in the evening.
Mosavi stated that during his ordeal, he was stripped naked, videotaped and tortured with electric shocks. The agents apparently knew about Mosavi's daily activities, and interrogated him about Ahwazi activists who had visited him at his home. He was also questioned about several specific Iranian-Arab activists.
Previously, in Hamburg, Germany, Mosavi had received phone threats in Farsi after his Arabic poetry recitals, but said he had chosen to ignore the calls. During his his captivity, he said, his captors told him "he should have listened to their earlier warnings."
Mosavi is one of the most famous poets of Ahwaz. His activities, both inside and outside Iran, have always been of a cultural nature, specifically classic Arabic poetry.
The Islamic Republic systematically persecutes various ethnic and religious minority groups inside Iran. Arabs in Iran constitute approximately two-to-five million people, or up to seven percent of the population. They mainly live in the oil-rich Khuzestan province in southern Iran, which is also known as Ahwaz by the Arab-Iranians.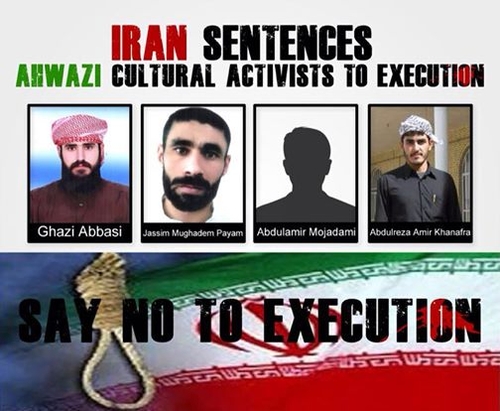 A poster from the Facebook page of the National Liberation Movement of Ahwaz.
According to an Amnesty International report on Iran,
"Despite constitutional guarantees of equality, individuals belonging to minorities in Iran are subject to an array of discriminatory laws and practices. These include land and property confiscations, denial of employment under the discriminatory gozinesh selection criteria and restrictions on social, cultural, linguistic and religious freedoms leading to other human rights violations, such as the imprisonment of prisoners of conscience, grossly unfair trials of political prisoners before Revolutionary Courts, corporal punishment and use of the death penalty, as well as restrictions on movement and denial of other civil rights"
The assault on Mosavi is not the first time an Ahwazi activist has been targeted by the Iranian regime outside Iran. Previously in the Netherlands, the house of another Iranian Ahwazi was set on fire after he was directly threatened by agents of the Iranian government.