Iranian security forces, in anti-riot gear and using metal batons, beat political prisoners for approximately five hours on in Ward 350 of Evin prison, according to HRANA News Agency.
About 100 Iranian security servicemen stormed the prison on April 17, 2014, they said "for inspection."
The prisoners, apparently fearing that their few belongings would be confiscated, as before, asked that their possessions -- acquired with difficulty and at high prices, given the prison restrictions -- be inspected in their presence.
The security men then turned on them, seriously injuring dozens. Reportedly more than 30 prisoners were injured, and at least four had to be transferred to a hospital outside the prison -- a rare event, as medical aid is vehemently withheld from prisoners.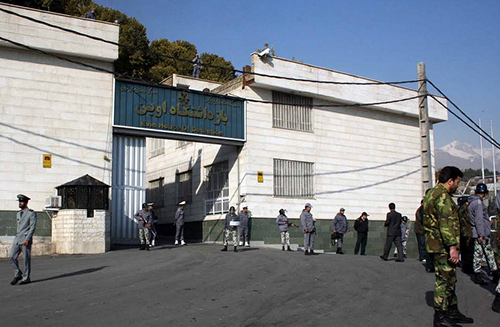 One of the entrances to Evin Prison, in Tehran, Iran. (Image source: Flickr/sabzphoto)
Thirty-two prisoners were transferred to solitary confinement despite grave injuries, while being further beaten with batons during their transfer. Some prisoners reportedly sustained broken ribs and skull fractures.
The Committee to Protect Journalists [CPJ] reported that seven journalists were among the badly beaten political prisoners: Mohammad Davari, winner of CPJ's 2010 International Press Freedom Award; Saeed Matin-Pour, a freelancer imprisoned since 2009; Omid Behroozi, website journalist reporting on the persecution of the Gonabadi Dervish community, and imprisoned since 2011; Hossein Ronaghi Maleki, a blogger imprisoned since 2009; Siamak Ghadari, a blogger imprisoned since 2011; Saeed Haeri, a member of the Committee of Human Rights Reporters who documented human rights violations inside Iran; and Mohammad Seddigh Kaboudvand, head of the Human Rights Organization of Kurdistan, and imprisoned since 2007.
Sahamnews reported that blogger Hossein Ronaghi Maleki -- who suffers from a debilitating kidney disease -- along with religious activist Emad Bahvar were seriously wounded in the attack.
With the exception of Mr. Behroozi, who was apparently transferred to hospital due to a ruptured vein in his arm, the rest are presently in solitary confinement without medical aid, visitation or phone calls, under dire conditions. [According to a subsequent report, apparently nine of the prisoners in solitary were since returned to their cells.]
Maedeh Soltani, the daughter of jailed human rights lawyer Abdolfatan Soltani, told Radio Farda, via a telephone interview from Iran, that her father was one of those beaten in the attack and sent to solitary confinement. "About 100 guards, members of anti-riot forces, entered the prison. Under the excuse of inspecting Section 350, they brutally attacked the prisoners and beat them up," she stated. She added that she received the information from "reliable sources" inside Iran.
Gholamreza Esmaili, the head of the Iran Prisons Organization has dismissed the report as simply "rumors." He was quoted by ILNA -- Iran's semiofficial news agency -- saying: "We should not pay attention to reports by the anti-revolutionary media."
In addition to the reports of the raid having been confirmed by the families of political prisoners, 74 political prisoners from Ward 350 wrote their eyewitness account of the attack in a signed letter to Kalame News website. The letter was republished in Farsi on various websites.
Amnesty International created an urgent action report and stated: "[R]eports about the raid have raised fresh fears about the safety of prisoners in Iran."
Kalame News, which broke the news, says the "unprecedented raid is the most violent action against political prisoners in the past 20 years."
There has been no statement thus far from Iran's President, Hassan Rouhani.