Libya has a new man, willing to fight against Islamist extremists. Maj. Gen. Khalifa Haftar, commander-in-chief of a breakaway military force, and denounced by the Libyan central government, has been described as the new "Libyan Al-Sisi."
Just as newly elected Egyptian President Abdel Fattah El-Sisi declared open war on the Muslim Brotherhood, Haftar vows to crush Islamists in Libya.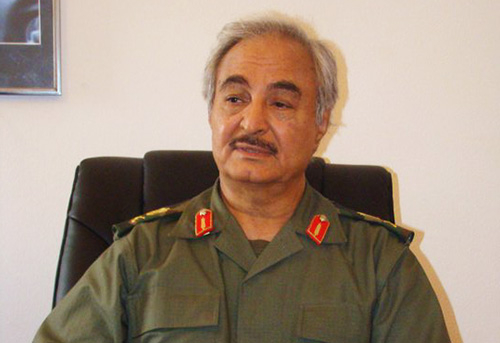 Maj. Gen. Khalifa Haftar.
Sisi seems to be Haftar's role model. The Libyan general is willing to follow Sisi's model in what he sees as a fight against Egypt's and Libya's common enemy: the Muslim Brotherhood [MB].
In a recent interview in the Saudi-owned daily, Asharq Al-Awsat, Haftar defined the MB as a "malignant disease that is seeking to spread throughout the bones of the Arab world."
To fight Islamism, Haftar has launched "Operation Dignity," a military campaign against Islamist militia groups in Benghazi.
In May, Haftar's forces assaulted terrorists there, including anti-aircraft batteries in the east of the city. The magazine Al-Majalla reported that the commander-in-chief of Libya's Air Force, Col. Gomaa Al-Abbani, in a televised address, publicly backed Haftar's offensive against Islamist militias in the east of the country. "The Air Force's Chief of Staff announces its full accession to Operation Dignity," Abbani said, and called on the Libyan people to "support the armed forces in their battle against terrorism and to restore security."
Earlier in May, Libya's Special Forces announced that it would be joining Haftar's forces. Libya's Interior Ministry, Military Intelligence Directorate and Tripoli's Police Directorate also announced their support for Operation Dignity.
According to Alarabiya.net, Haftar commands a growing force of possibly thousands of men with a core group of 500-1000. In addition, Haftar's forces use sophisticated weapons, air raids, and urban tactics. Because Haftar prefers war over dialogue, the international media have been trying to discredit him. They have been describing him as a killer, and saying that that he represents a disaster for Libya.
But according to Haftar -- also an American citizen who spent 20 years in the U.S. after rebelling against the Gaddafi regime in the 1980s -- a war on terror is the only solution to get rid of Islamists. "We see that confrontation is the solution. What is the discussion? They are armed. I do not think talks will work with them. These are criminals, international criminals from Europe and Asia and Africa. Unfortunately, we are not defending only Libya, we are now defending the entire world. The criminals who escape and the killers, they move from place to place. If we expel them from Libya they will just go somewhere else, but if we follow them everywhere, the situation will be different for all countries that fight terrorism."
As the Egyptian media outlet Al-Ahram reports, "Operation Dignity" also expanded to "include political aims related to the nature of the current interim authority." Haftar wants to fight Islamists not only in the battlefield, but also politically. Last month, evidently worried by the increasing power of the Muslim Brotherhood in government, Haftar led loyal armed gunmen in storming the General National Congress [GNC], Libya's interim legislative body, and demanded its suspension and the creation of a civil assembly of judges to administer the state and supervise general elections. On June 9, the Libyan Supreme Court ruled that the parliament's election last month of Ahmed Maiteg as prime minister was unconstitutional, leading Maiteg to declare that he was stepping down.
According to Al-Ahram, storming the GNC reflected the political motives behind Operation Dignity. "It seeks to build up a challenge to the mounting grip of the Islamist alliance ... over the interim government ... more recently, the Islamist majority extended the term of the GNC, which had been set to end in February, until December 2014."
Haftar is now the Islamists' number one enemy in Libya. Last week, Haftar managed to escape an assassination attempt organized by Islamist movements. Al-Qaeda in the Islamic Maghreb [AQIM] has labeled Haftar an "enemy of Islam" and urged Libyans to fight him. "We call on you to unite to remove the symbol of treachery and apostasy, Khalifa Haftar ... the traitor Haftar has launched a war against Islam on the pretext of fighting terrorism. We warn our Libyan brothers that the criminal Haftar is carrying out a crusader plan against sharia [Islamic law], and we especially urge the Libyan heroes of the revolution strongly to resist it", AQIM announced in a statement posted on jihadist internet forums.
In an official statement, the Libyan Muslim Brotherhood has also accused Haftar of leading a "desperate coup attempt," and called on the Libyan people "not to be distracted by calls inciting discord."
International media has labeled Haftar a "renegade." Haftar, however, does not agree, and stresses that Libya's military is behind him, and that what he is doing is in Libya's best interests.
Haftar told Asharq Al-Awsat: "I am an officer in the Libyan Army who is committed to carrying out my duty towards the Libyan people. We always ask ourselves what we can give to our people, who have given us everything. This is my only job, and I stand always ready to give the Libyan people whatever they need."
Last month, Haftar said -- after possibly thousands demonstrated in Tripoli, Benghazi and other cities such as Ajdabiya and Gharghour to support him in his campaign against terrorists -- that the Libyan people had given him a "mandate" to press ahead with his offensive. Many demonstrators carried banners with slogans such as, "No to terrorism" and "We want a nation with dignity, not a state of militias."
Soon after this show of support, Haftar declared that there would be "no steps backward until the country is liberated; security and stability restored, and freedom and democracy established."
Al-Ahram also reported that, in an interview with the Dutch website, "Here's Your Voice," Haftar said that his campaign against Islamist militants could take anywhere from three months to a year. It is impossible to bring it to a conclusion quicker, he said, because, "We face an enemy that is not systematic, that fights from different places and that receives support from its counterparts abroad."
Like Sisi, Haftar is determined to finish off the Muslim Brotherhood without any compromise. Asked by Asharq Al-Awsat whether he intends completely to "purge" the Brotherhood from Libyan territory, Haftar said: "Yes ... completely. I am not looking for reconciliation."