This week, on May 7, Saeed Abedini, an American pastor, will "celebrate" his 35th birthday behind bars in a prison for "violent offenders" in Iran, simply for being a Christian.
He has already been held in two of Iran's most brutal prisons -- first in Evin, and now in Rajai-Shahr -- for three years, out of an eight-year sentence.
According to his official website, "On 28 July 2012, during a visit to Tehran to visit family and to finalize the board members for an orphanage he was building in Iran, the Iranian Revolutionary Guard detained Abedini, asserting that he must face criminal charges for his Christian faith."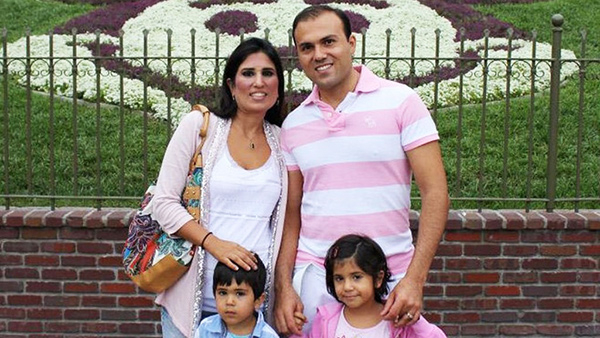 American Pastor Saeed Abedini with his family, before his imprisonment in Iran. (Image source: American Center for Law and Justice)
In an interview with Gatestone Institute, Abedini's wife, Naghmeh Abedini, said that her husband is still exposed to pressures and mistreatment both from the guards and also from different Islamic militant groups within the prison:
"The hardliners and prison guards continue to harass Saeed and threaten him with long prison sentences if he does not deny Christ and return to Islam. Recently, prison guards have threatened that even if he serves the full eight years, he will not be released and that they will find new grounds to continue to hold him indefinitely."
Mrs. Abedini said that his parents visit him in prison every Wednesday -- this was how she learned about his continued harassment by guards and fellow prisoners. "He also does not get clean water or protein," she reported,
"and this lack of nutrition is causing his health to deteriorate. We have been able to communicate through letters. Unfortunately, any letters sent to him by the regular post have been undelivered and guards have lied and told him that he has not received any of the thousands of letters people have sent to the prison. These letters, even if never delivered to Saeed, are important to his cause. The Iranian government, when they review every letter sent to the prison, sees concern growing all over the world. Despite the government's attempt to discourage him, he is aware of the hundreds of thousands of people who continually advocate for his release."
Mrs. Abedini added that their two children last saw him in June of 2012. "They miss him and struggle daily," she said. "We watch videos and look at albums of him with them to keep his memory alive. It comforts the kids. It is difficult for them emotionally, as anyone might expect. But they are learning to trust God and have the patience to wait."
Other Iranian converts from Islam -- including the Protestant pastor, Youcef Nadarkhani -- were also imprisoned for sharing their Christian faith. Hossein Soodmand, who opened a house church in his basement after converting to Christianity, was executed on December 3, 1990 "for remaining steadfast in Christianity."
The Iran Human Rights Documentation Center (IHRDC) reports:
Under Iranian law, a Muslim who leaves his or her faith or converts to another religion can be charged with apostasy.

In addition, any person, Muslim or non-Muslim, may be charged with the crime of "swearing at the Prophet" if he or she makes utterances that are deemed derogatory towards the Prophet Mohammad, other Shi'a holy figures, or other divine prophets.

Both apostasy and swearing at the Prophet are capital offenses. While the latter has been specifically criminalized in the Islamic Penal Code, the former has not been explicitly mentioned as a crime.

"It is for his faith – no other reason," said the Reverend Franklin Graham. "If Islam truly is a religion of peace, then why are they holding a man, beating him and torturing him because of his faith in Jesus Christ? If Islam is a religion of peace, then I call on the Iranian President to let Saeed come home to his wife and children and quit torturing him, quit beating him and trying to get him to renounce his Lord and Savior Jesus Christ."
As Pastor Abedini is held hostage in an Iranian prison, the negotiations regarding Iran's nuclear program continue. Mrs. Abedini said that she is hoping the U.S. government is pressuring Iran for the release of her husband. Shamefully, though, the U.S. government has apparently said that the four Americans held in Iranian prisons -- former U.S. Marine Amir Hekmati; Washington Post journalist Jason Rezaian and retired DEA agent, Robert Levinson, in addition to Abedini -- are not even a part of any of the current negotiations with Iran. Said Mrs. Abedini:
"I am expecting that the U.S. government would not walk away from the negotiation table with Iran without having had secured the release of my husband. Saeed is a U.S. citizen. He is a proud American. He has broken no law and the Iranian government has admitted that his only "crime" was peaceful gathering with fellow Christian believers in private homes – and that in their eyes, this act is a threat to the security of Iran. Our government was founded on religious freedom – we must take a strong stand to ensure that this right is protected."

"By releasing Pastor Saeed, Iran would make an international gesture of goodwill," noted Jay Sekulow, Chief Counsel of the American Center for Law and Justice. "Why doesn't Iran send a powerful message to the world by sending this husband and father of two young children home?"
No wonder the great historian Bernard Lewis says that "America is harmless as an enemy but treacherous as a friend." Even to its own citizens.
Uzay Bulut is a Turkish journalist based in Ankara.