A few weeks ago, I was in Garland, Texas, at a conference and an exhibition of Muhammad cartoons. Shortly after I had spoken, a terrorist attack took place. Islam and the terrorists do not want us to show these cartoons. But terror and violence may never defeat freedom of speech. That is exactly the reason why we should do what the terrorists want to prevent us from doing.
I asked the Board of the Dutch Parliament if I could show the cartoons in their building. They refused. And yet it is very important that we show them. That is the only way to assure that the terrorists do not defeat freedom of speech. That is why I show them to you today.
"You can't draw me," says Muhammad.
"That's why I draw you," says Bosch Fawstin, the winner of the cartoon contest.
That says it all.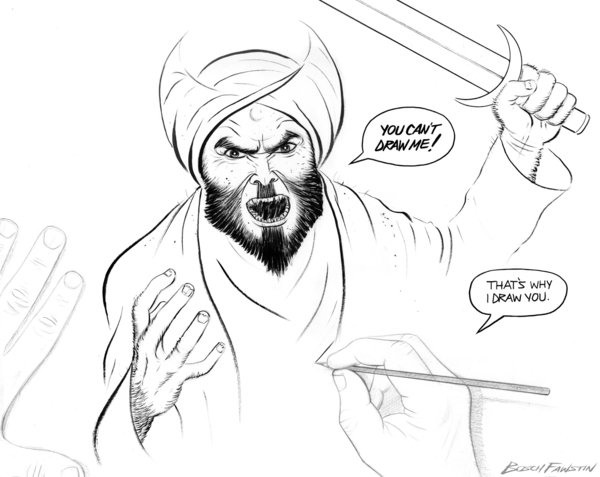 Bosch Fawstin's winning entry in the Muhammad Art Exhibit and Contest in Garland, Texas, held on May 3, 2015. (Image source: Bosch Fawstin)
What is not allowed by Islam and by the violence of terrorists, we will do it anyway.
And we call that: Freedom of speech.
I do not broadcast the cartoons to provoke; I do it because we have to show that we stand for freedom of speech and that we will never surrender to violence. Freedom is our birthright. Freedom of speech must always prevail over violence and terror.
Editor's note: On June, 24, 2015, a selection of Muhammad cartoons were shown on Dutch public television, during the broadcasting time allotted to the Dutch Party for Freedom (PVV). The cartoons were from the May 3, 2015 Muhammad Art Exhibit and Contest in Garland, Texas.